There's only one Brattleboro in this big wide world, and it's tucked away in southeastern Vermont on the banks of the Connecticut and West Rivers. With just over 12,000 residents, Brattleboro is a small town with urban flair.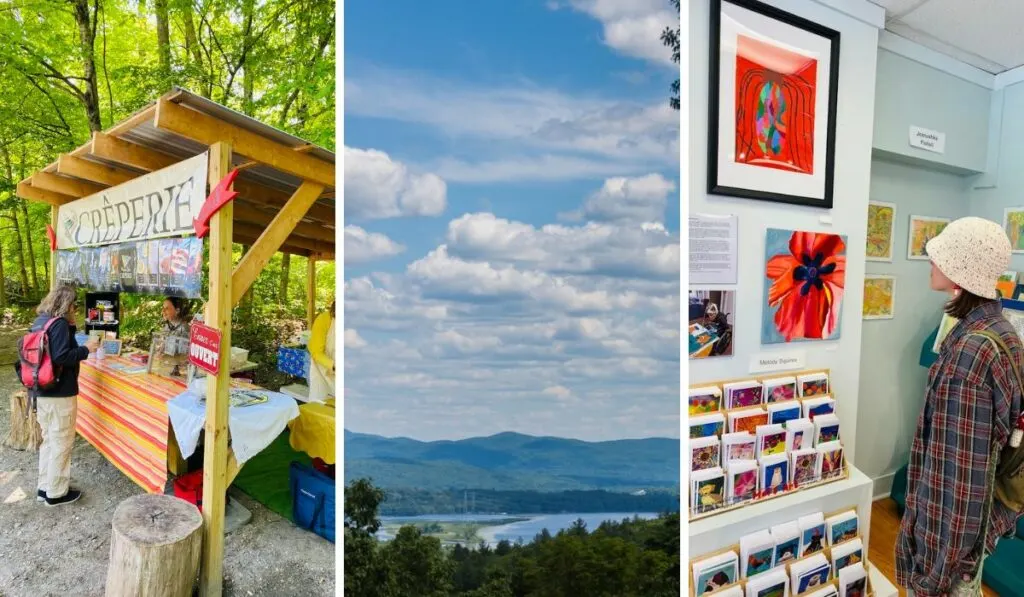 The Abenaki people called the area Wantastiquet, which means 'lost river', 'river of the lonely way', or 'river that leads west'. The town was chartered as Brattleborough in 1753 and grew up as a Mill Town before becoming a vibrant commerce hub.
Modern-day Brattleboro is an oasis of art galleries, music venues, boutique shopping, and farm-to-table restaurants.
We live just an hour from Brattleboro, and it's one of our favorite spots for a weekend getaway or adventurous day trip. Want the inside scoop? Here are some of our favorite things to do in Brattleboro VT.
Explore the Shops in Downtown Brattleboro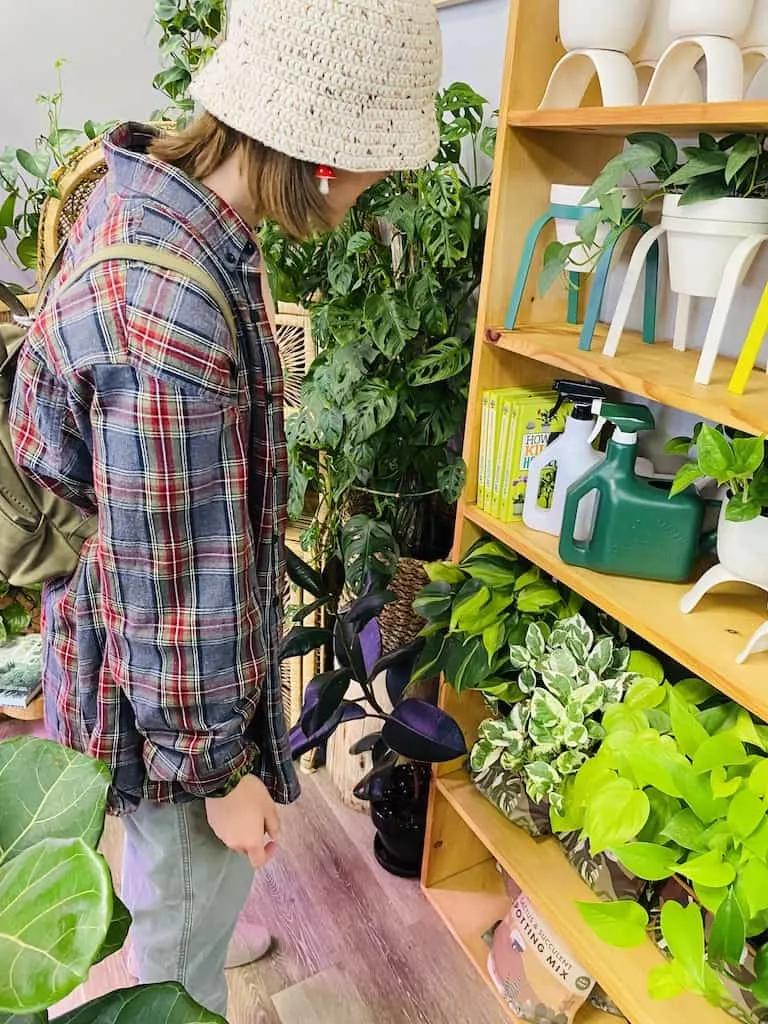 Brattleboro's Main Street feels like it belongs in a much larger town. There are enough distinctive shops, galleries, and restaurants within walking distance of downtown to fill multiple days of retail therapy and foodie adventures.
From large multi-level stores like Sam's Outdoor Outfitters and the seemingly endless antique emporium, Twice Upon a Time, to smaller boutiques like the vintage clothing and apparel shop, Boomerang, Brattleboro has a veritable avalanche of options for the avid shopper.
We often spend large chunks of our time downtown in and out of two excellent bookstores just off Main Street.
Everyone's Books, which had a particularly well-curated section on history, politics, and current events, and Brattleboro Books, which boasts a massive collection of used manuscripts in every genre imaginable.
Visit Retreat Farm
Retreat Farm has been a mainstay in the Brattleboro community since its founding in the 1830s. Encompassing 500 acres of conserved forests, farmlands, trails, and waterways, Retreat Farm is a gathering spot for the community and an oasis of rural living.
Retreat Farm seems to offer something to appeal to any interest; from the rich history of the farm with its lovingly preserved buildings, to its commitment to environmental justice and sustainability, to the celebration of farm-to-table cuisine, and of course all the farm animals, it's impossible not to fall in love with Retreat Farm.
If you happen to be visiting Brattleboro on a Thursday during the summer, make sure you stop by the farm for the famous Food Truck Roundup.
This outdoor celebration of great food and music features over a dozen food and drink vendors from the Brattleboro area and a live music lineup curated by the Stone Church. It's an event that you won't want to miss (but be sure to leave your dogs at home).
Hike a Trail at Fort Dummer State Park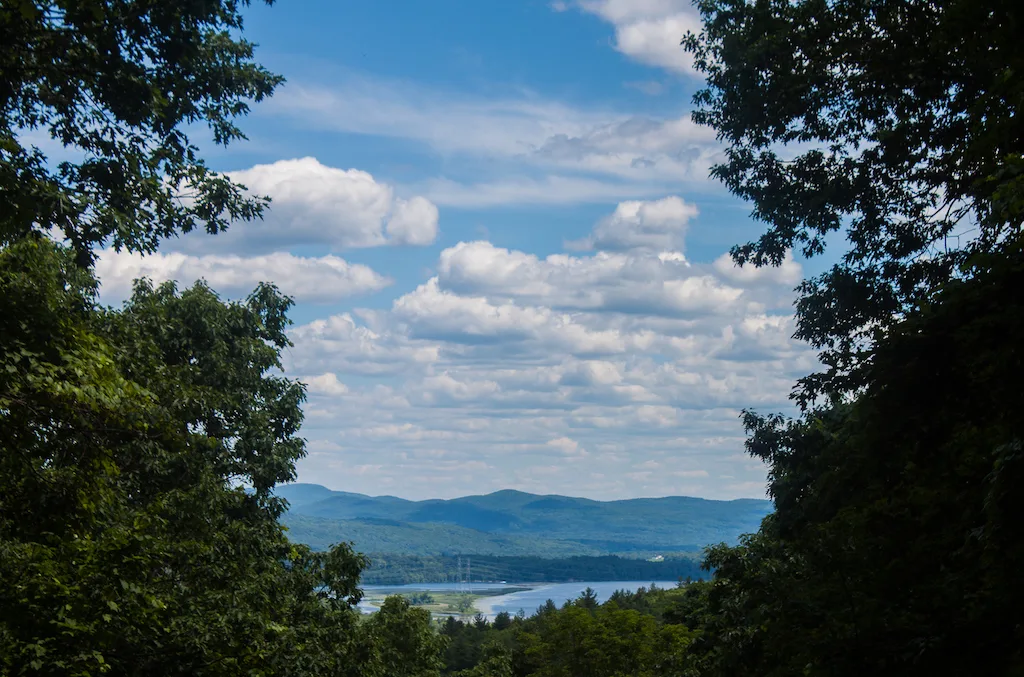 Fort Dummer State Park is about a 10-minute drive from downtown Brattleboro. The park has several trail options for short day hikes, and the well-maintained campgrounds make it a great choice for visitors who want to avoid hotels and motels.
The campsites are spread out, giving campers ample privacy during their stay, and the three hiking trails are all within walking distance of the campground.
During our visit, we hiked the Sunrise Trail and the Broad Brook Trail. The Sunrise Trail was a mile loop through the woods, and was fairly flat, making it a nice relaxing walk.
The Broad Brook Trail, although a little shorter than the Sunrise Trail, was very steep and might prove challenging to novice hikers, but had a much more rewarding final destination, with the trail leading to a small picturesque swimming hole on Broad Brook.
Visit the Art Galleries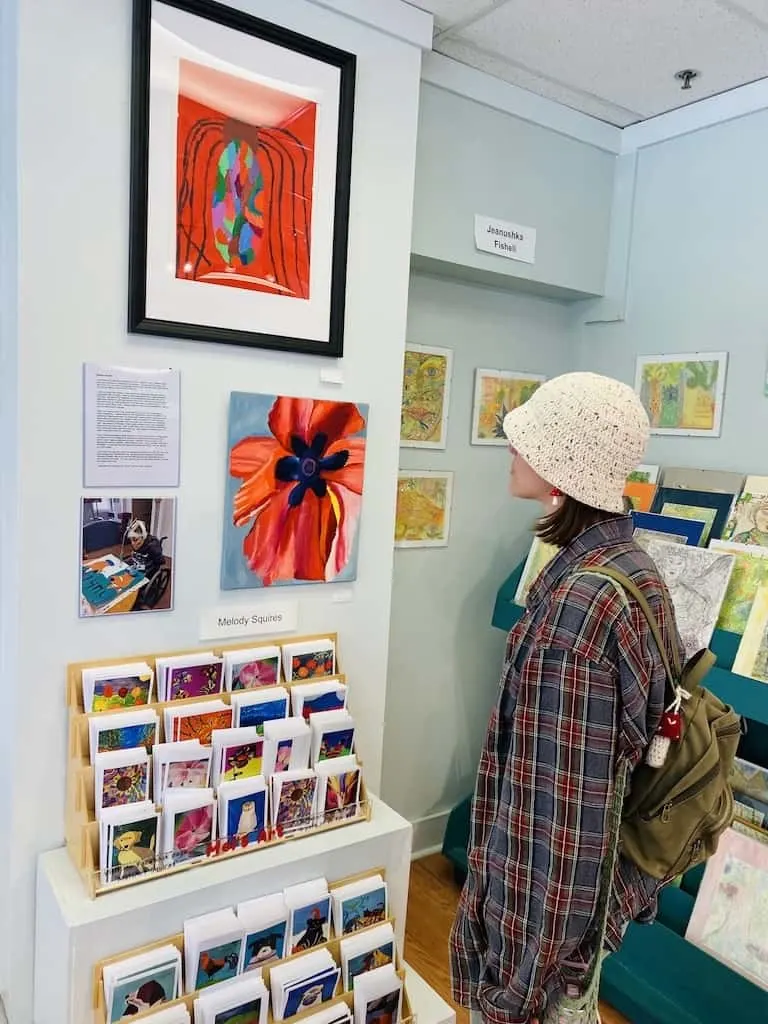 Downtown Brattleboro is packed with galleries where you can browse or purchase locally-made pieces.
During our recent visit, we stopped by Gallery in the Woods, which had some beautiful ceramic pieces alongside handcrafted jewelry, incredibly detailed felt animals, and a wide range of prints and original works from some of Vermont's best contemporary artists.
We also paid a too-short visit to Harmony Collective Artist Gallery.
Harmony Collective felt more like a mini-museum, with hundreds of unique paintings hanging throughout the shop, and central displays devoted to indescribable sculptures crafted using both traditional materials like clay and paper mache, as well as used handbags, scrap metal, and recycled bottles and cans.
Although we only had the chance to explore two galleries during our recent stay, there were many more options to choose from, and you could easily spend a whole weekend in Brattleboro going in and out of different galleries.
Windham Art Gallery, The Artist's Loft Fine Art Gallery, Vermont Artisan Designs, and Gallery in the Woods are all within walking distance of each other, and you can find even more options by venturing just a little ways off of Main Street.
Check out Brattleboro Museum & Art Center
Located in the middle of downtown, Brattleboro Museum and Art Center, or BMAC, is an unforgettable addition to the wealth of artistry on display in Brattleboro.
The museum contains six galleries that rotate exhibits every few months, which means you can keep coming back to see new things every time you're in town.
Admission to the museum is "pay-what-you-can"; a donation of $5-10 per person is recommended but not required.
Step Back in Time at the Creamery Covered Bridge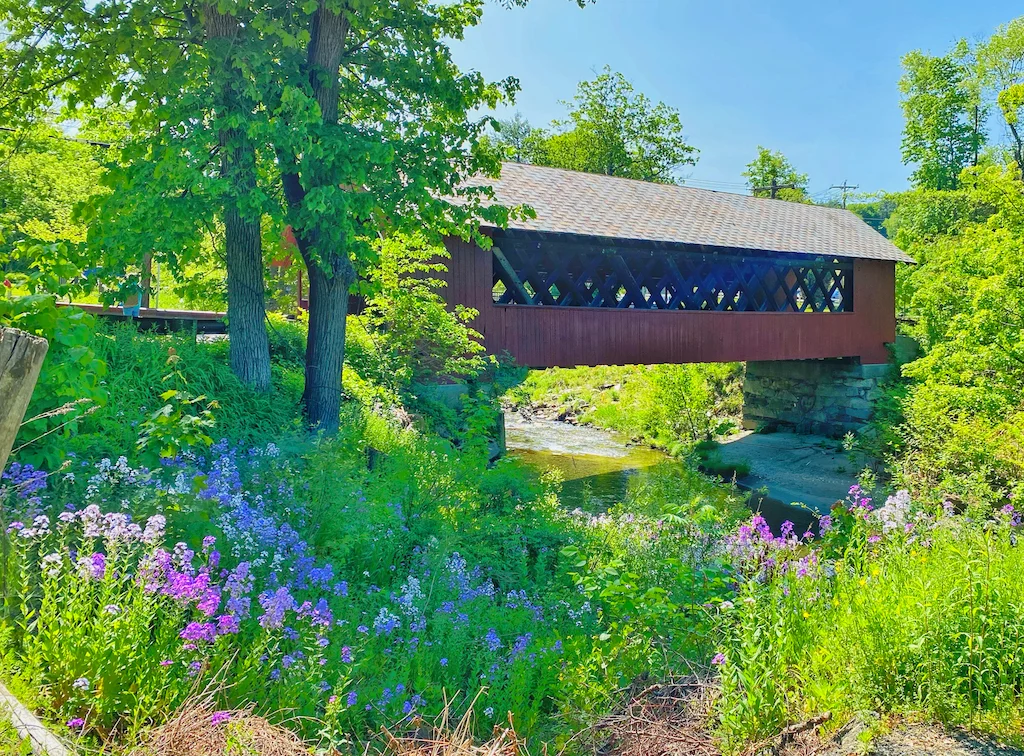 Creamery Covered Bridge is another addition to Vermont's famous catalog of covered bridges and is the only one visible from Route 9. Constructed in 1879, this bridge is now closed off to traffic but remains open to pedestrians.
Its proximity to the Brattleboro Farmer's Market and the Vermont Country Deli makes the Creamery Covered Bridge a popular destination for tourists, and we found that the grassy area beside the bridge was the perfect spot for an impromptu picnic.
Discover the Estey Organ Museum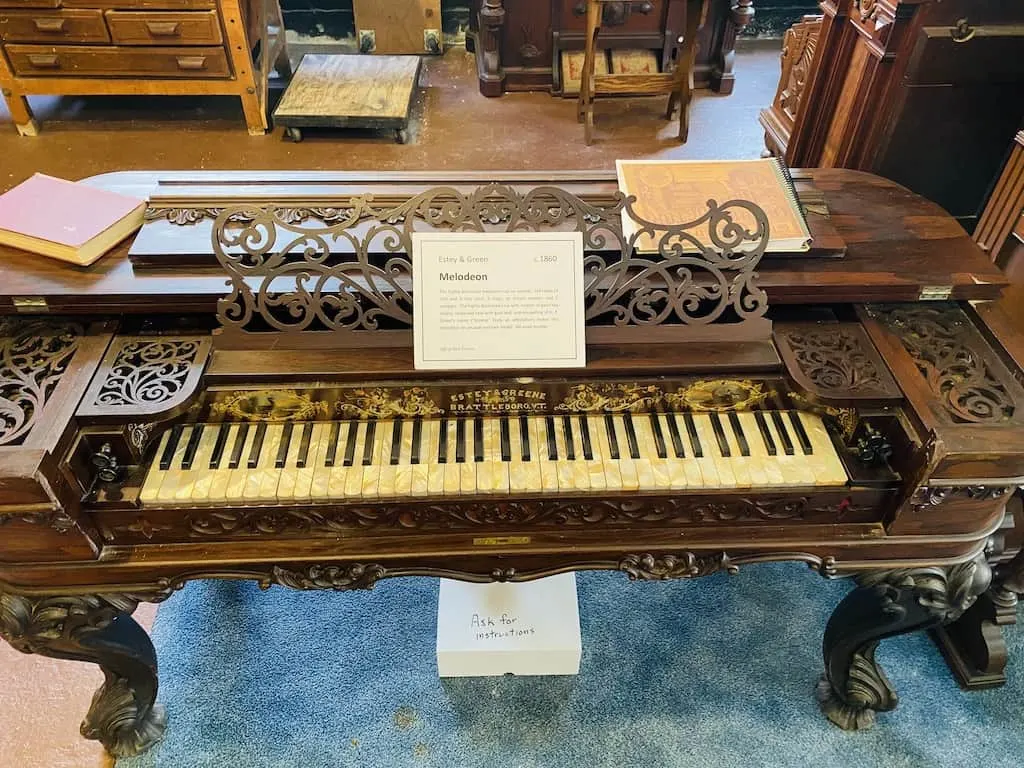 The Estey Organ Museum was one of the biggest surprises of our recent trip to Brattleboro; it's a small museum devoted to a fairly uncommon instrument, and the fact that the museum was only open for two hours a week meant we had pretty low expectations.
However, the Estey Organ Museum ended up being one of our favorite destinations on our trip.
The museum is located inside the old factory buildings where Estey Organs were once made. The large slate buildings have since been renovated to house various businesses and apartments alongside the museum.
Inside you'll find dozens of organs and pianos on display.
Some organs are hooked up to electric power supplies, while others require a hand crank or foot pedals to be worked in order to produce any sound. Best of all, every instrument in the building is available for visitors to play.
Getting the chance to play antique organs was an absolute blast even if we could only remember how to play Hot Cross Buns and Chopsticks.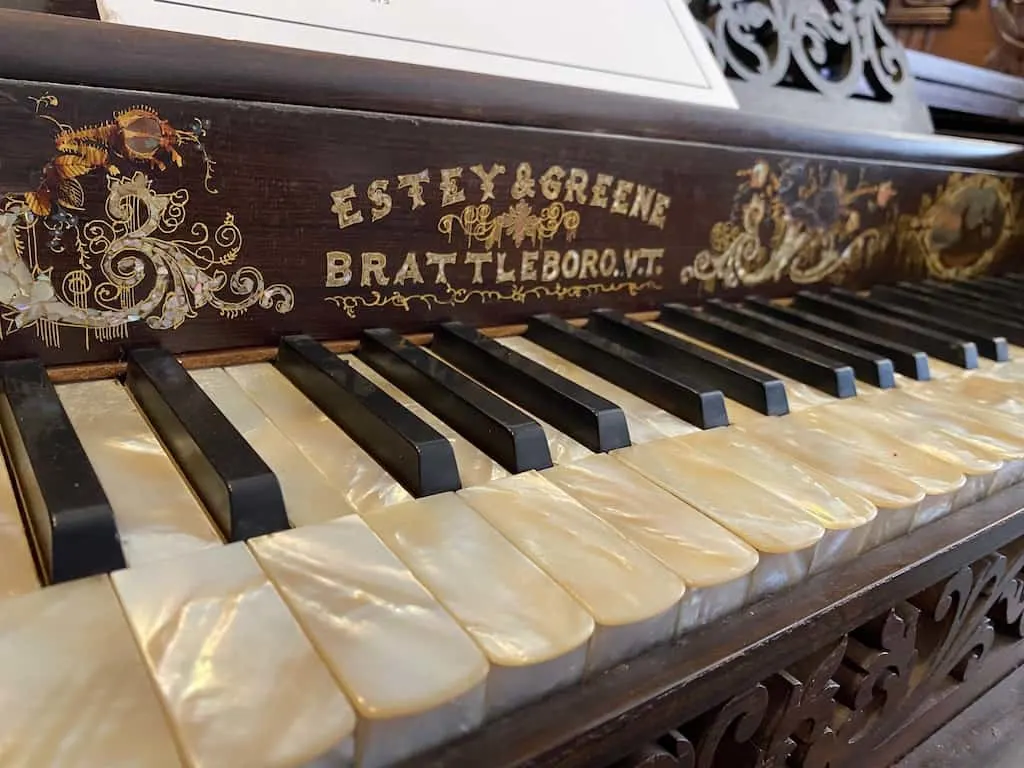 Our favorite instrument was a traditional pipe organ with an open back which allowed you to literally go inside the instrument while someone else played, creating the ultimate surround-sound experience.
If the interactive aspect of the museum wasn't enough, there was an abundance of interesting information to discover about the history of organ making in Southern Vermont.
The staff member who was working when we visited had an encyclopedic knowledge of Brattleboro town history which gave context to the exhibits and made us want to stay for hours.
This museum is one of the best things to do in Brattleboro VT, especially if you're into musical instruments or the history of commerce in Southern Vermont, and will be especially fun for pianists and organ players. Hours are 2-4 pm every Saturday from May through mid-October.
Check Out Live Music at Stone Church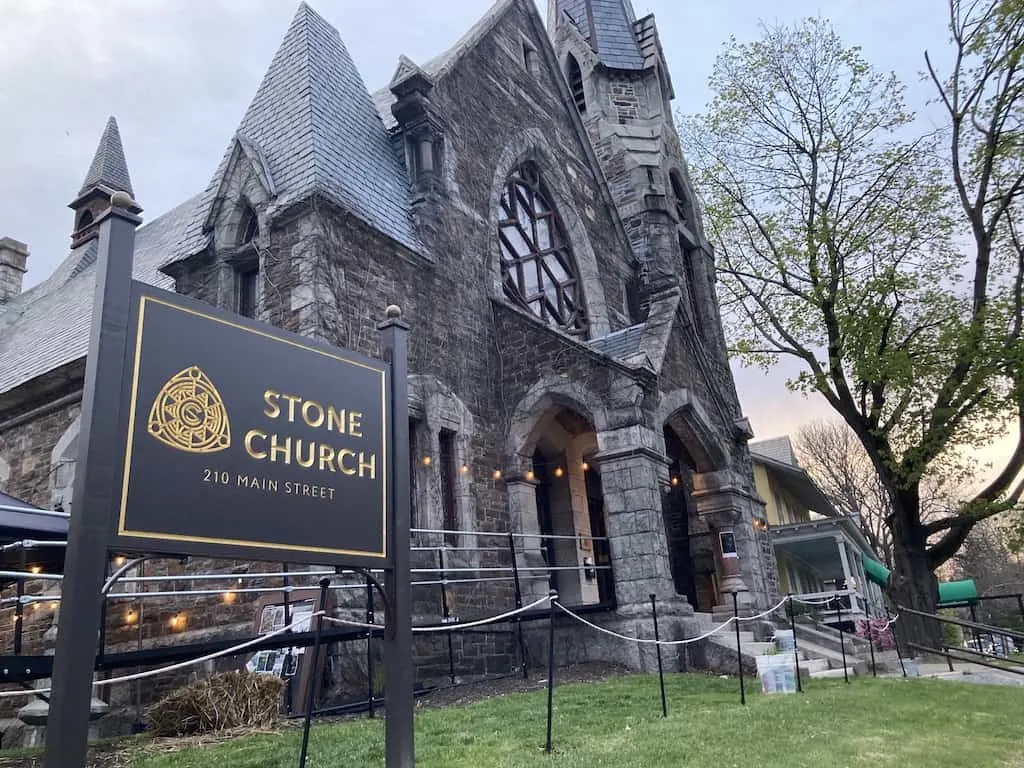 The Stone Church is one of Brattleboro's most well-known and loved destinations and it's easy to see why.
The church was renovated to create a unique venue for performers stopping in Southern Vermont, and the gorgeous Gothic architecture creates a performance space unlike any other in Vermont.
The Stone Church has hosted music legends like Don McClean and consistently brings in talented artists from New England and beyond.
The Stone Church has live music almost every weekend, with wildly varying genres. During our visit, there were concerts featuring a folk-punk band with heavy metal influences, and a Caribbean funk duo.
The sheer number of concerts held at the Stone Church makes it pretty easy to find one that will fit your taste, but even if you're not sure whether you'll like the artist that's playing while you're in town, we still recommend checking them out; it's a great way to explore new types of music, and the venue alone is well worth a visit.
Discover the New England Center for Circus Arts
The New England Center for Circus Arts (NECCA) is an institution based around the instruction and practice of circus arts. These include acrobatics, balancing, parkour, juggling, aerials, and much more.
NECCA offers frequent performances as well as classes and workshops for adults and children. Come for the amazing displays of balance and coordination, and stay for the knowledgeable instructors and state-of-the-art facilities!
Visit the Vermont Jazz Center
Similar to the New England Center for the Circus Arts, the Vermont Jazz Center offers both training and performances.
The institution has workshops, classes, and jam sessions for all skill levels, and offers programs for both instrumental musicians and vocalists.
If you're not a musician yourself, you can still enjoy a visit to the Jazz Center; the Center's accurately named "Big Band" is well-known in the community for their incredible concerts.
Go Swimming in the West River at West River Park
West River Park is the perfect place to go when you need to escape the summer heat.
If you feel like doing more than just relaxing in the cool, clear water (with a sandy bottom too–water shoes are optional here!), there are some great picnic spots where you can eat while enjoying views of the river.
The park also has several short trails crisscrossing throughout, making it the perfect place for a short walk, and a long swim.
Hang out at the Brattleboro Area Farmers' Market on Saturdays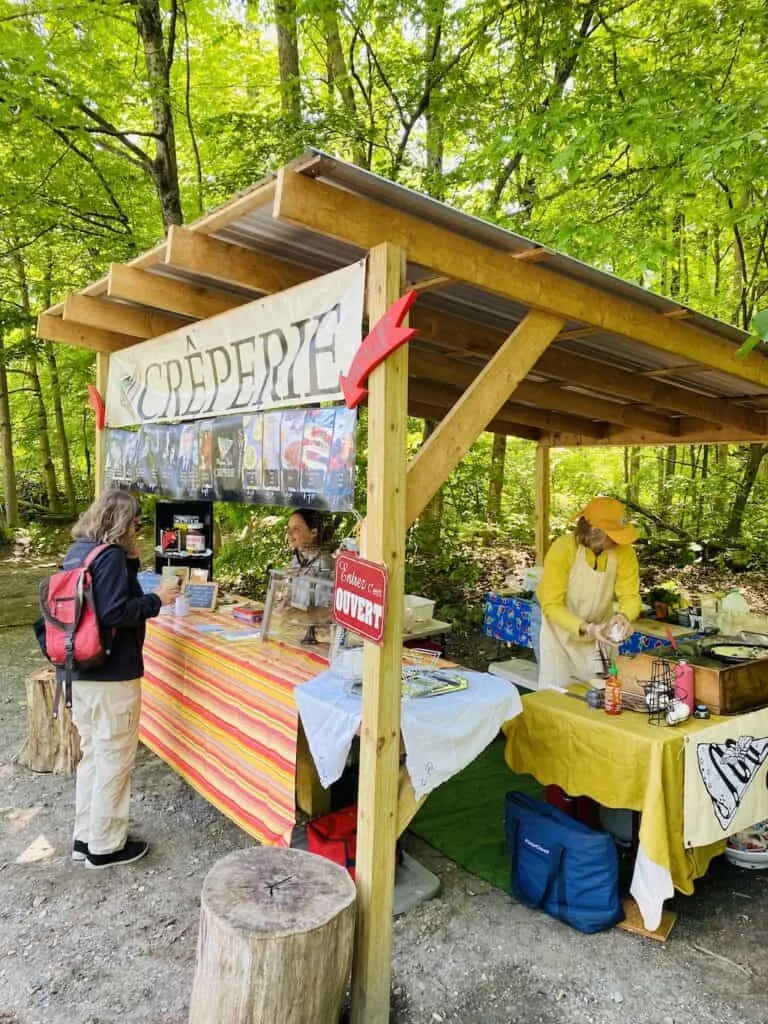 The Brattleboro Area Farmers' Market is in serious competition for the best Farmers' Market in Vermont, and once you get there you'll know exactly why.
If the overflowing parking lots weren't enough of an indication of what is to come, the smells of spicy Thai food, deep-fried samosas, cheesy crepes, and savory tacos will assure you that you're in the right place.
Besides an abundance of delicious food made with fresh ingredients, you can also pick up an assortment of beverages, from fruit smoothies that are blended to order right before your eyes, to strawberry lemonade and piping hot (or icy cold) coffee and tea.
Once you've made it through the gauntlet of tents selling fresh produce and serving food and drink (this took us quite a while as I wanted to eat something from just about every tent we saw), you'll realize that you've only just begun to scratch the surface of what this market has to offer.
Amongst the many vendors, you can find handcrafted jewelry, alpaca wool clothing, fresh fruits and veggies, baked goods in every shape and size, Vermont-made wine and spirits, soap, candles, honey, maple syrup, and much more.
We spent almost two hours wandering around the market and I'm still convinced that we didn't see everything, so make sure you give yourself plenty of time to explore.
Rent a Boat from the Vermont Canoe Touring Center
Being situated right on the banks of the Connecticut River, the longest river in New England, Brattleboro has a close relationship with the water which is evident in the number of boaters you'll see out on the river when you're there.
If you're feeling envious watching kayaks and canoes dip in and out of the little inlets and coves of the river, then it's high time you joined them.
Take a trip up the road from downtown Brattleboro to visit the Vermont Canoe Touring Center where you can rent canoes, kayaks, and paddleboards to explore the waterways at your leisure.
Boats are rented in 1, 2, or 4-hour increments, or you can save yourself the trouble of needing to keep track of your time and just rent them for the entire day.
Indulge in a Craft Beer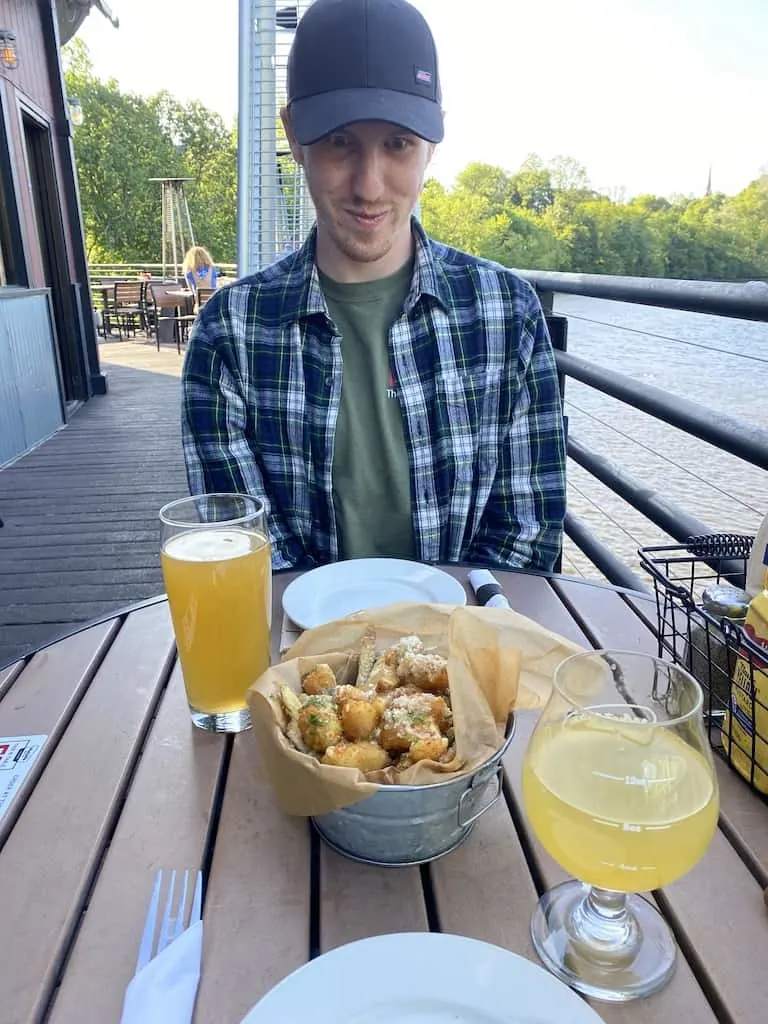 Like most of Vermont's larger towns, Brattleboro has plenty of options to satisfy any beer lover. We stopped into Whetstone Station for dinner and enjoyed some fruity brews (an excellent blood orange sour and pear cider) alongside some of the best poutine I've ever tasted.
If you decide to visit Whetstone, be sure to check if outdoor seating is available, as the brewery is situated on the bank of the Connecticut River, offering a gorgeous and serene view while you sip your drinks.
A little way up Main Street from Whetstone you'll find Hermit Thrush Brewery. Hermit Thrush specializes in sours, so it was right up my alley, and although we didn't get a chance to visit the brewery itself, we picked up a delicious four-pack of their Brattlebeer, a golden sour made with apples grown in Brattleboro.
For another eatery featuring a wide selection of craft beers from all over Vermont, we recommend River Garden Marketplace. The marketplace frequently hosts live music and other interesting events, and on top of their large beer menu, they also serve great food and cocktails.
Catch a Show at Latchis Theatre
The Latchis Theatre is a historic movie theater and performance venue in downtown Brattleboro and is connected to the Latchis Hotel (more on that later). The building which houses both the theatre and hotel was built in 1938 in the art deco style, which was very popular at the time.
The art deco movement isn't the only unique aesthetic choice on display at the Latchis; inside the theatre, you'll find stunning Greek murals depicting mythological scenes.
The combination of classic Greek murals with art deco architecture is dubbed "Greco Deco" by the Latchis Theater website, and its one-of-a-kind aesthetic makes the Latchis one of those rare places which can only be fully appreciated in person.
The Latchis plays current films from popular blockbusters to smaller indie affairs and acts as a venue for live events. The space can also be rented out for private events.w
Venture Over to Madam Sherri Forest in Chesterfield, NH
If you're looking for a beautiful day hike during your visit to Brattleboro, consider paying a visit to Madam Sherri Forest, which is just a short drive across the New Hampshire border.
You'll find several trail options to choose from with various difficulty levels. The Anne Stokes Loop Trail is a two-mile hike perfect for hikers who want a less intensive experience.
The trail features a scenic view of Indian Pond at about 0.5 miles, and also goes past the ruins of Madam Sherri's "castle," a crumbling stone structure reminiscent of the ancient castle ruins found across Europe.
For a more difficult hike, you can check out the Wantastiquet Mountain trail, a 3-mile round trip hike leading to a gorgeous overlook of the Connecticut River Valley with Mount Monadnock rising in the distance.
Visit Scott Farm Orchard
Scott Farm Orchard is the ideal fall destination in Brattleboro.
During autumn, the expansive orchards overflow with enthusiastic harvesters who have come to celebrate Vermont's state fruit and indulge in one of the Green Mountain State's oldest and most well-loved traditions: apple picking.
The farm has two orchards each with a wide variety of apples and two kinds of peaches. During the harvest seasons, visitors can come to pick their own fruit or choose from over 130 varieties of apples at the Farm Market.
Embark on a Connecticut River Byway Road Trip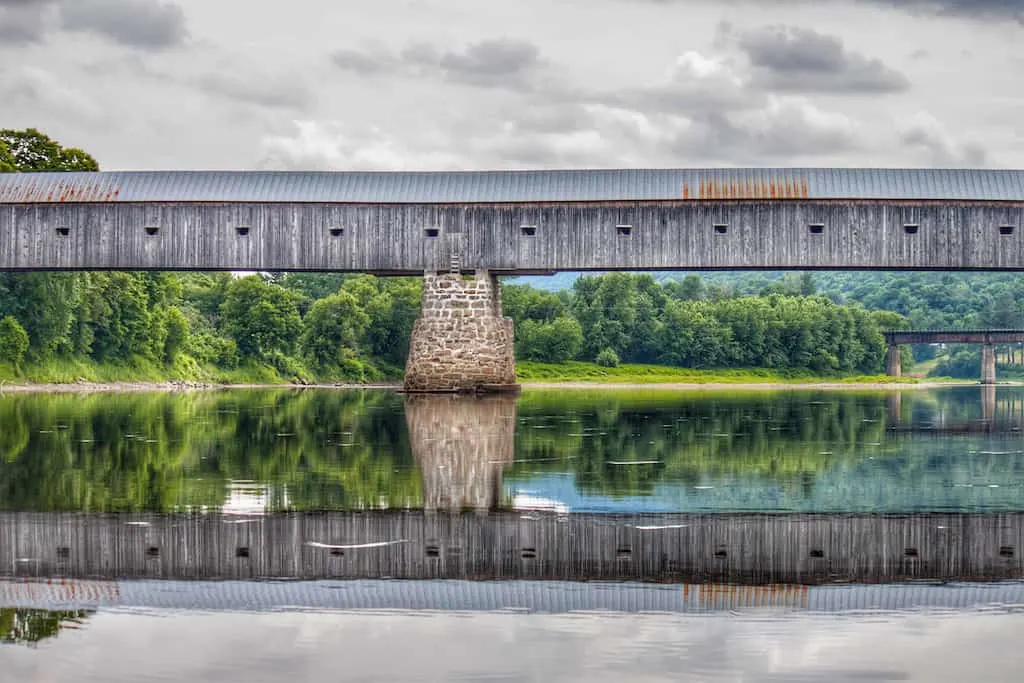 Travel along 410 miles of the Connecticut River from one end of Vermont to the other on Vermont's only designated National Byway.
The Connecticut River Byway is a three-state, 500-mile byway, spanning the west and east shores of the Connecticut River starting in Massachusetts and traveling north through both Vermont and New Hampshire all the way to the Canadian border.
It passes right through Brattleboro and is one of the most scenic drives in all of Vermont.
Sip Bourbon at Saxtons River Distillery
Saxtons River Distillery is a nationally recognized producer of fine spirits located in Brattleboro. The distillery gained its local and national renown from its maple syrup-infused alcohols like the famous Sapling Maple Bourbon.
When we visited we opted for a bottle of barrel-aged Snowdrop Gin, and I never want to go back to any other brand.
The distillery is open to the public for tastings and dining, and you can browse their wide selection of liquor, wine, mead, and cider on their website.
Where to Stay in Brattleboro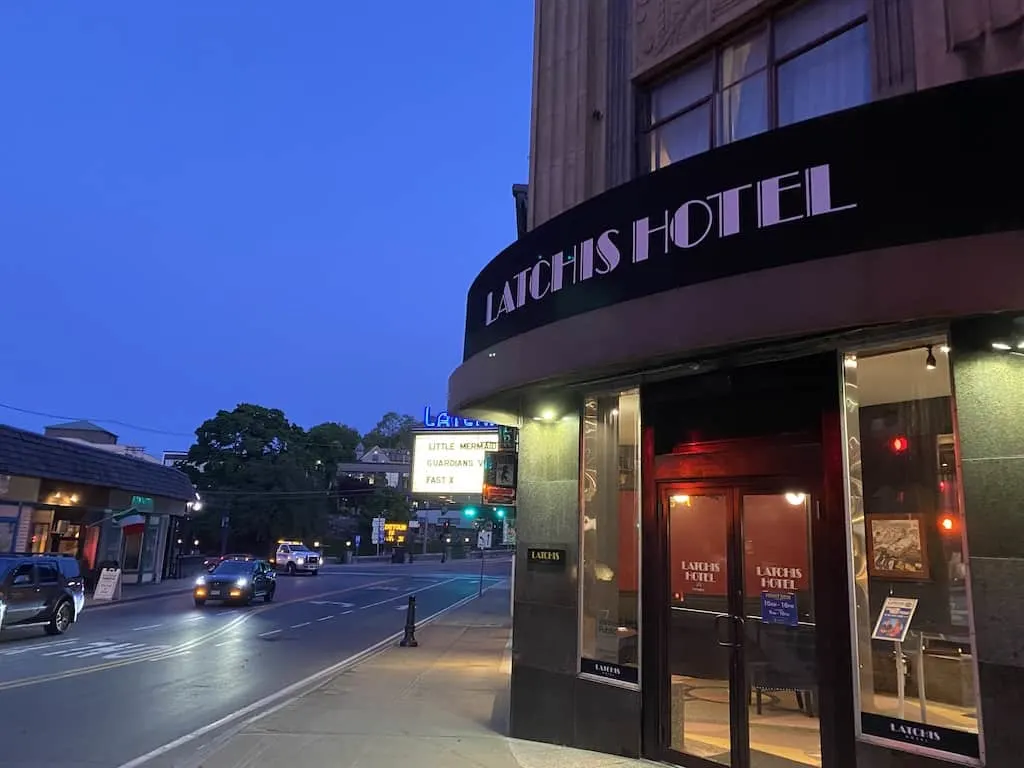 The Latchis Hotel ended up being the perfect place for our recent stay in Brattleboro. The Latchis Hotel also features the same Greco Deco aesthetic that we loved from the Latchis Theatre, giving it a grand historical feel.
Located right on Main Street, the hotel is within walking distance of all the best food and drink Brattleboro has to offer, although one doesn't even need to leave the hotel to find some of the best things to do in Brattleboro.
You can visit the movie theatre connected to the hotel by its own separate entrance, or the Latchis Pub and Underground Lounge which serves food and drink late into the night.
For a budget hotel in Brattleboro, drive a minute or two outside of the downtown area and stay at the Colonial Motel and Spa. The rooms are basic but very comfy, and the indoor saltwater pool makes it feel like a more high-end vacation.
Want a posh vacation rental with historical significance? Stay at Naulakha, the former home of Rudyard Kipling and a National Historic Landmark.
Much of Kipling's original furniture remains, which means that guests can sit at the very desk where the famed author wrote The Jungle Book, Captains Courageous, and portions of the Just So Stories.
This fully furnished three-story house makes an enchanting family getaway for a special occasion.
Awesome Brattleboro Restaurants for Your Dining Pleasure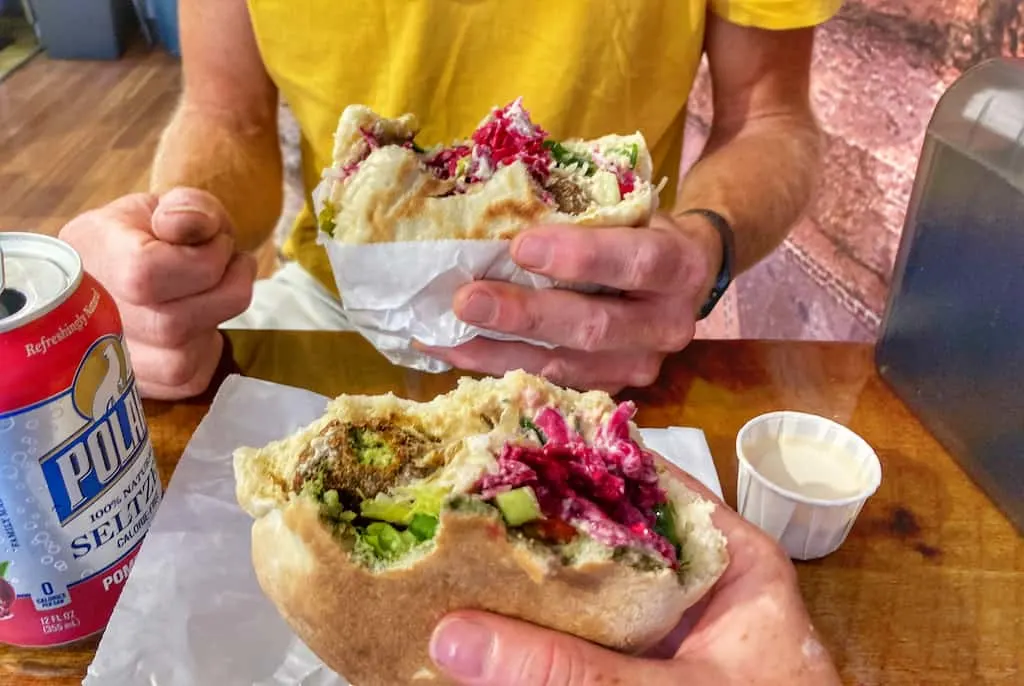 Yalla: This wonderfully addictive little eatery is one of the reasons I make the drive to Brattleboro over and over again. Serving Eastern Mediterranean specialties like falafel, hummus, homemade pitas, and a bunch of other delicacies. This is one lunch spot that you absolutely have to put on your Brattleboro itinerary.
Whetstone Station: For dinner, we enjoyed visiting Whetstone Brewery where you can pick up classic American pub food like burgers, hot dogs, and wings, as well Vermont favorites like poutine (yes, I know poutine is Canadian, but Vermont is as infused with Canadian culture as any US state can be, so let us have this).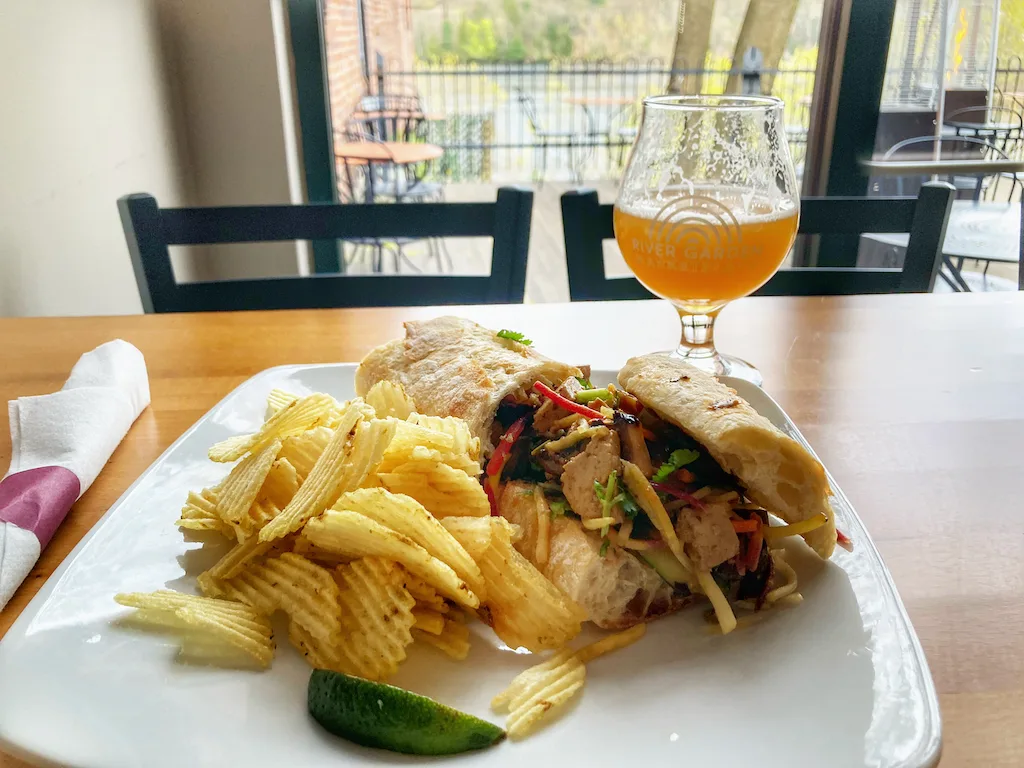 River Garden Marketplace: River Garden Marketplace is great for a casual drink and a snack, or a full meal. With a frequently changing menu of tasty appetizers and entrees, and an extensive selection of beer, cider, and hard seltzer, this is one spot that we keep coming back to.
Amy's Bakery Arts Cafe: We stopped into Amy's for lunch on a whim and discovered yet another not-so-hidden gem on Brattleboro's Main Street. Amy's features a relatively small menu of sandwiches, soups, and salads, as well as fresh baked goods, coffee, and tea. We loved the sourdough bread they used to make their sandwiches, as well as the mountain of toppings they packed between the slices.
Check out these incredible things to do in Brattleboro VT the next time you're passing through the southeast corner of the state. You'll love exploring this beautiful Vermont town.
Follow us on social media for more Vermont inspiration!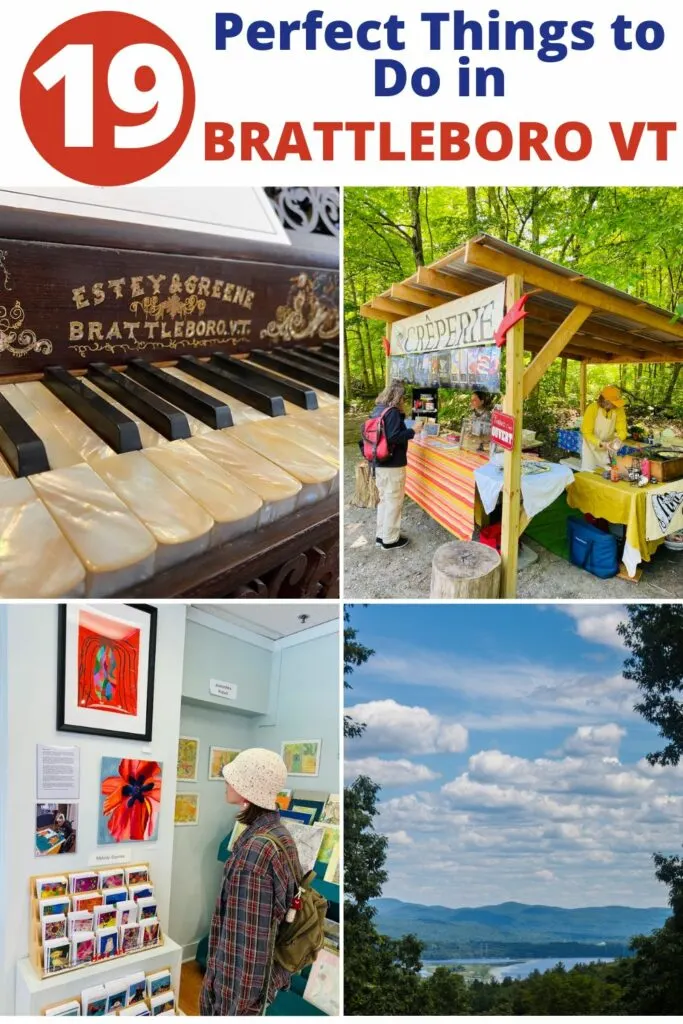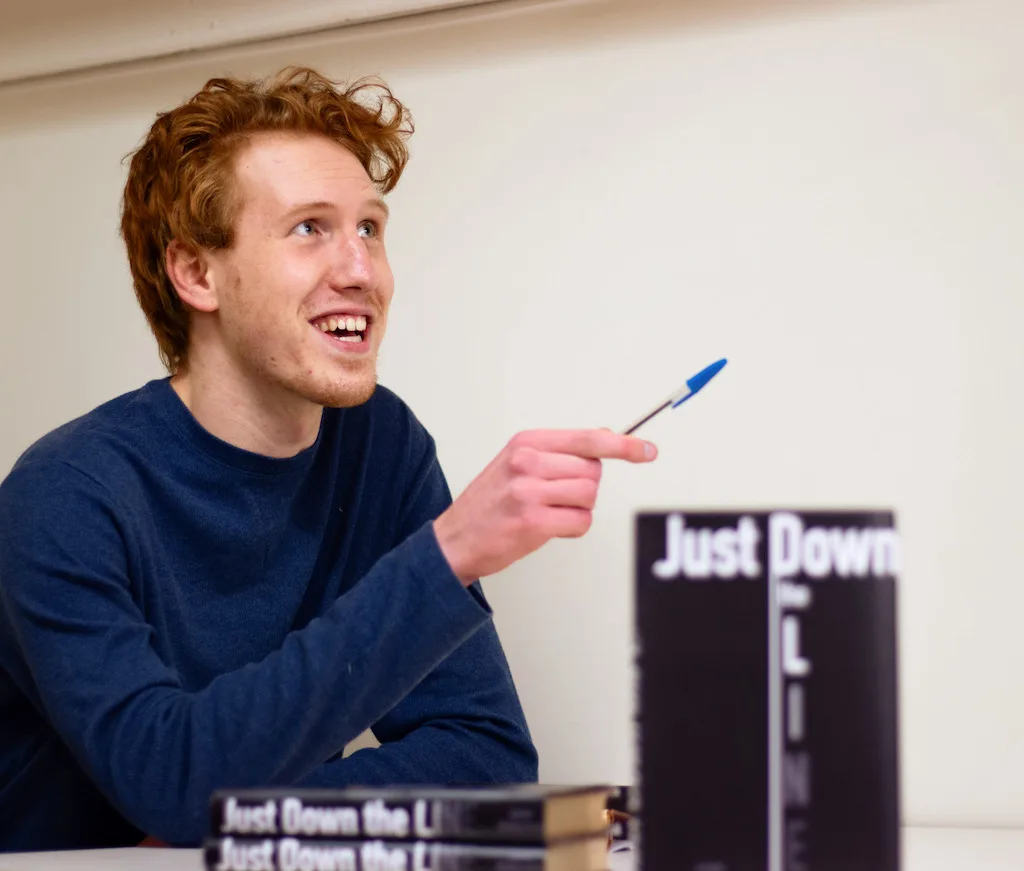 Gabriel Reed is a college student and occasional freelance writer and photographer from Southern Vermont. He has spent time as an editor and reporter for Keene State College's student newspaper, The Equinox, and also enjoys writing fiction for pleasure. In his free time, Gabe enjoys spending time outdoors and pursuing his love for fantasy stories, medieval aesthetics, and grilled meats.