There's no arguing that autumn in Vermont is special. It's the annual gala event, and of course, you're invited!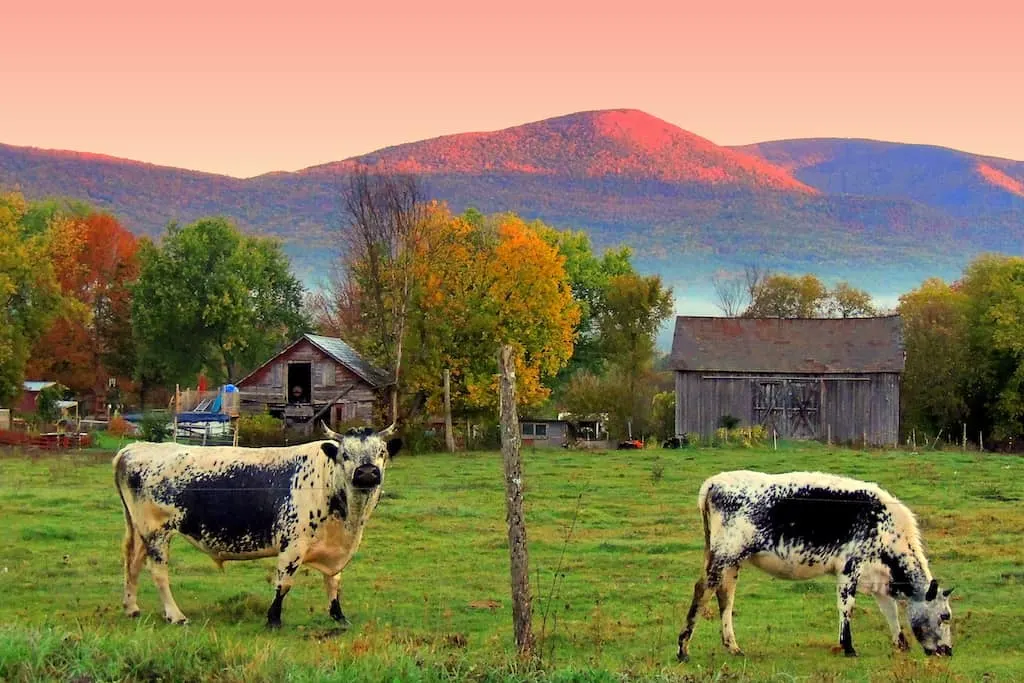 The Vermont landscape in autumn is so stunning, so vibrant, that I have to make a point to watch the road and only the road when I'm out and about.
It just seems impossible to go about daily life when the natural world is putting on a display that just begs to be enjoyed and photographed.
The solution to this beautiful distraction? A little Southern Vermont fall foliage road trip!
Why Southern Vermont?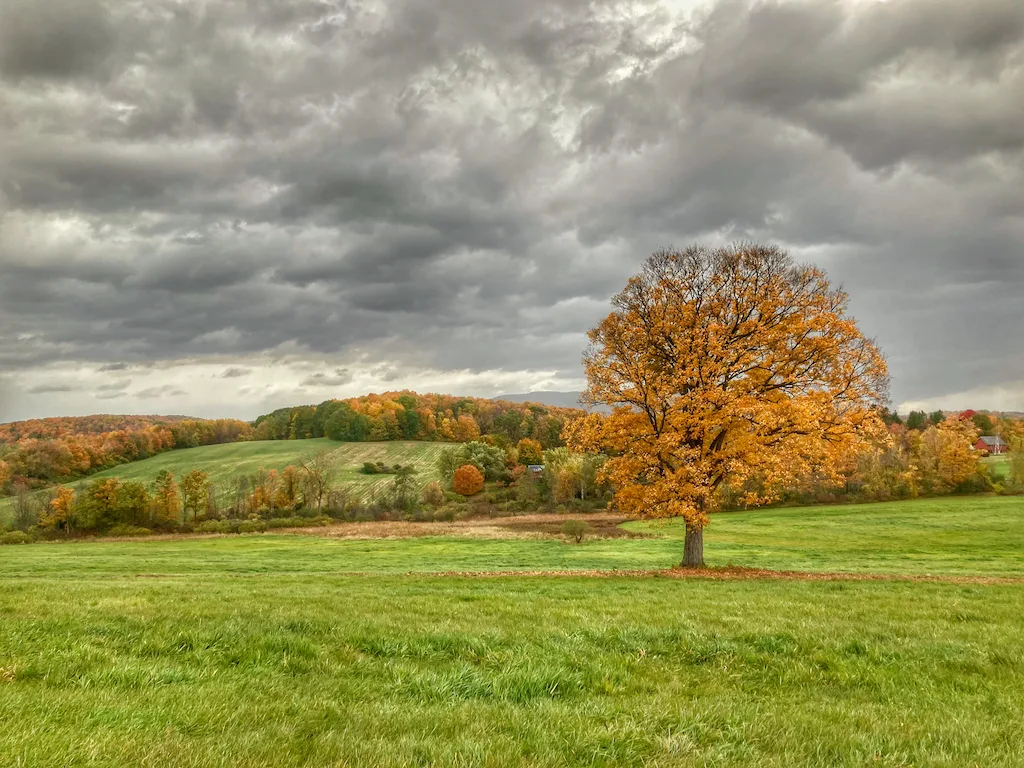 I try and explore a new part of Vermont each fall, but I'm based in Bennington, so I spend a lot of time leaf-peeping close to home.
There are a lot of beautiful back roads in Bennington and Windham counties, and my favorite pastime is to get lost on them in October. If I get too lost, I just use my GPS to get back home – gotta love modern technology!
Another perk to exploring Southern Vermont is that it's just a few hours from Boston and New York City, so it makes a perfect long weekend retreat for families and couples who want to leave behind chaotic urban life for a few days.
If you want to explore more of Vermont this fall, browse through this website – we've got a lot of ideas, including the top things to see and do in Vermont in autumn.
When to Take this Southern Vermont Road Trip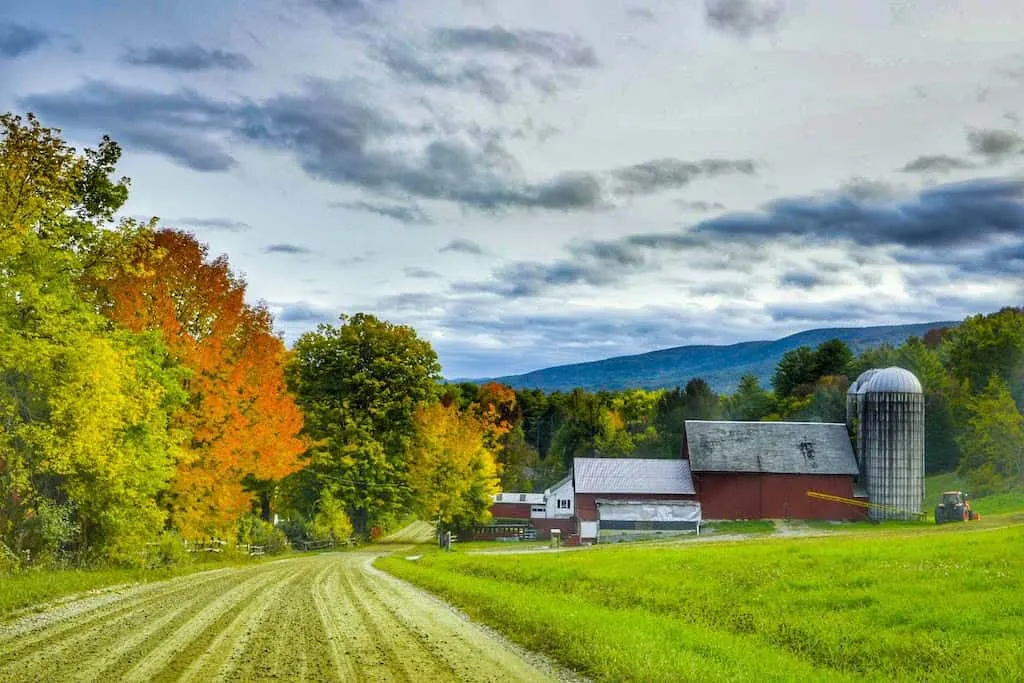 The time frame for the leaf-peeping season depends on the temperature and amount of rainfall in any given year.
I can't predict with 100% accuracy when the leaves will start changing or when we'll hit peak fall foliage colors in Southern Vermont.
It's a safe bet that you will see beautiful fall colors if you plan this road trip between October 5th and 15th, and there's even some leeway on either end of those dates.
A Few Tips for Exploring Southern Vermont in the Fall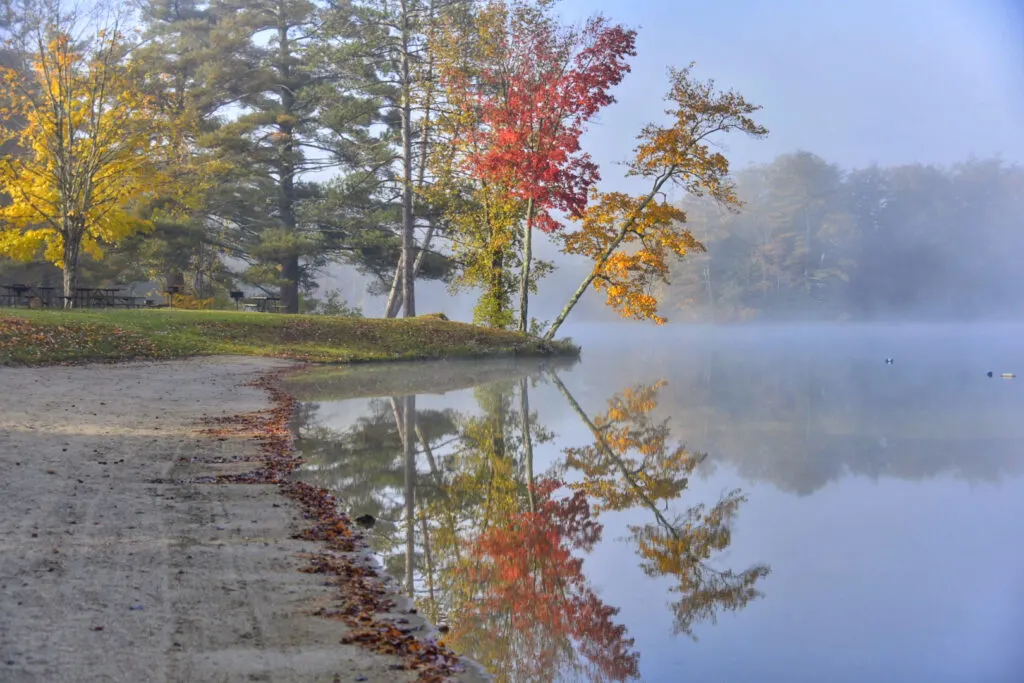 Before we delve into this weekend getaway, we've got a few tips to help you make the most of your Southern Vermont getaway.
A Southern Vermont Fall Foliage Weekend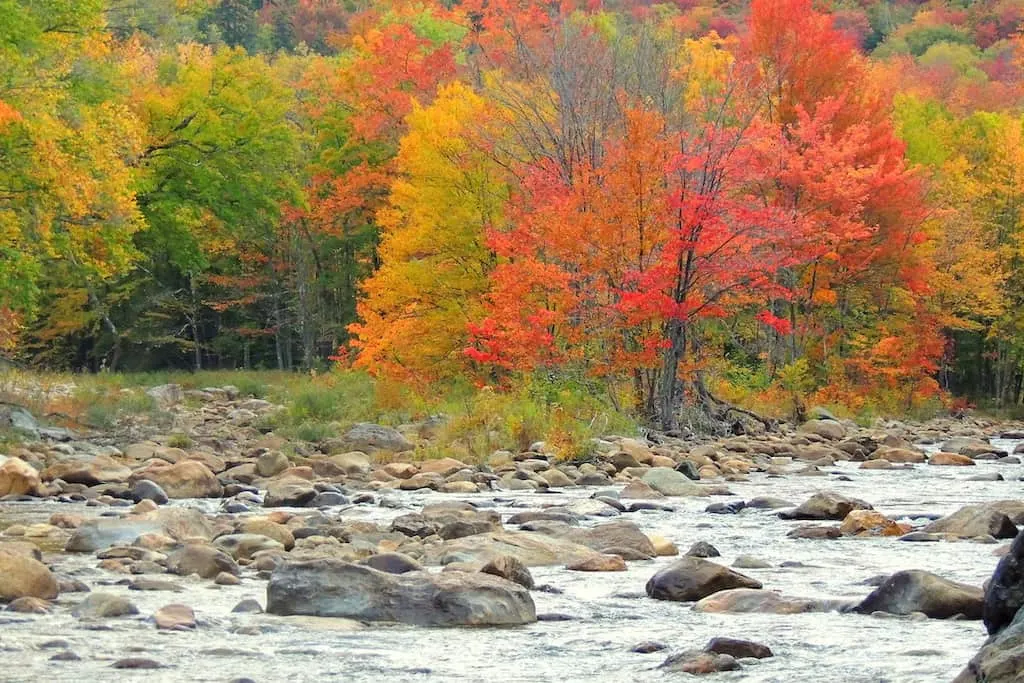 If you have two or three days to explore this fall, why not head up to southern Vermont?
This southern Vermont fall foliage getaway will give you the perfect opportunity to drive beautiful back roads, explore a few cool towns, and check out some breathtaking fall landscapes.
Here are the highlights of a three-day trip through the mountains and villages of southern Vermont.
The total driving time for this Vermont road trip is only two and a half hours, and you'll only encounter a handful of traffic lights, so take your time and enjoy!
Southern Vermont Fall Foliage Weekend Map
Here's a map of this little bitty road trip. Click on 'More options' to open it in Google Maps.
It includes a night in Manchester and a night in Wilmington, but you can easily stay anywhere on this route. It's not a long trip!
You can even do it in a single day if you start early enough — you want to have plenty of time for exploring.
First Stop: Bennington, Vermont
Your weekend begins and ends in Bennington, which is just an hour away from Albany, New York. If you are flying, we recommend coming into Albany International Airport and renting a car for this road trip.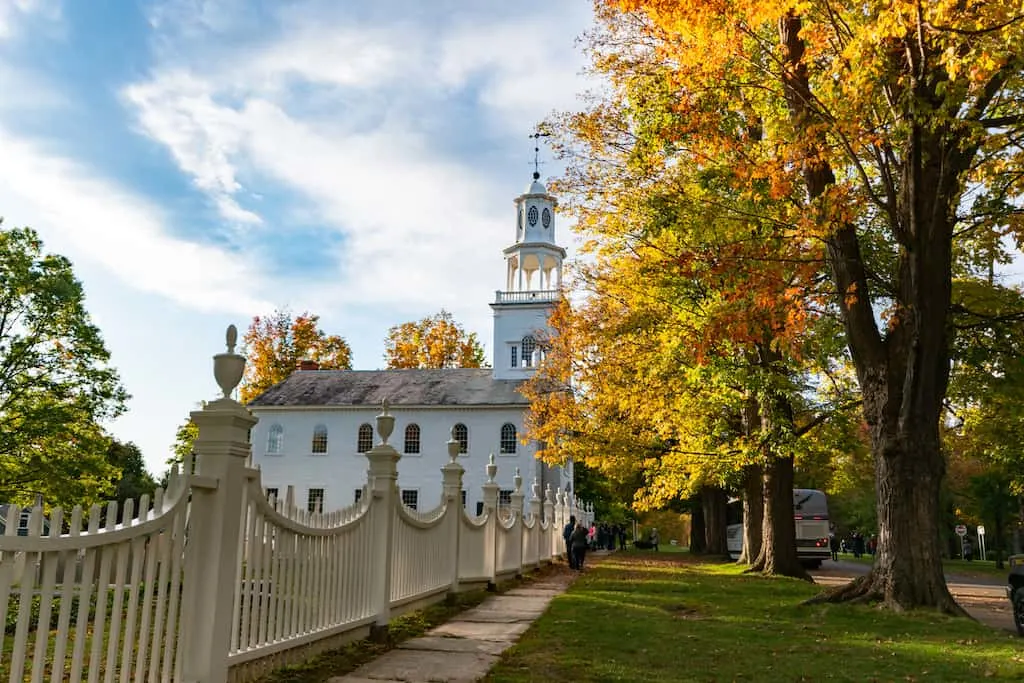 Bennington is only three and a half hours from New York City and three hours from Boston.
With a little over 14,000 people, Bennington is a small town sandwiched between the Green Mountains to the east and the Taconic Mountains to the west.
Bennington is actually a pretty big town by Vermont standards, the sixth-largest in the state! It's the county seat and a hub of activity in southwestern Vermont.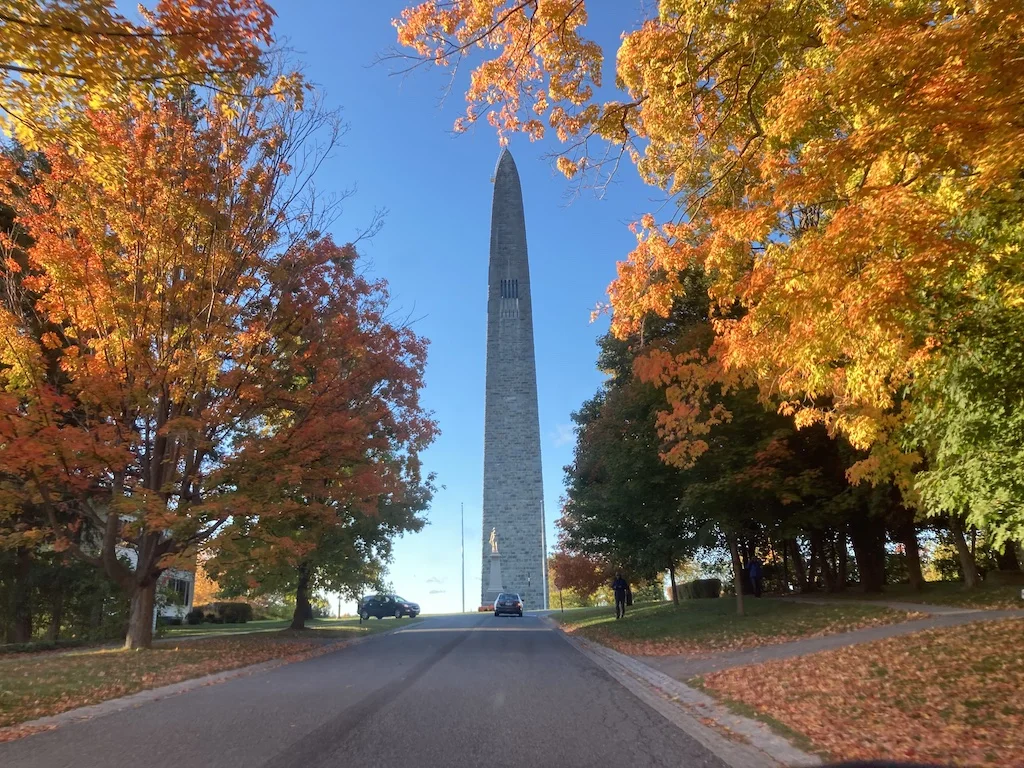 Here are a few of the most beautiful and interesting spots to check out in Bennington, Vermont. You can read a more detailed overview in our Bennington guide.
Lake Shaftsbury State Park: Shaftsbury, Vermont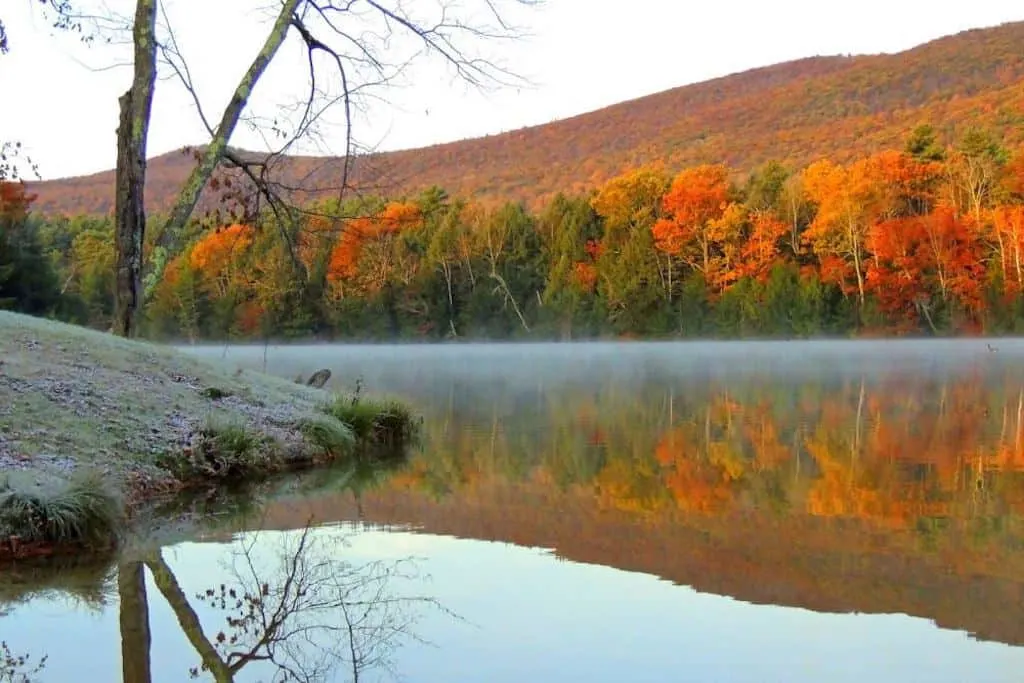 Just north of Bennington on historic Route 7A is the little town of Shaftsbury, Vermont.
You will drive through the single stop light in the town center and head directly into farm country. Rolling hills with flaming forests behind them will encourage you to stop for a few photos as you head north.
You're heading just 11 miles up the road to Lake Shaftsbury State Park.
Before you get to the park, you may want to stop at Clear Brook Farm for fresh veggies and picnic items (locally-baked bread, cheese, meats, and fruit) or the Chocolate Barn right across the road for the best ice cream cone in Vermont.
Lake Shaftsbury is more of a summer destination, with its sandy beach, grassy picnic area, and busy playground.
In the fall, you're likely to see more wildlife than people, and the mile-long loop trail around the lake offers lots of gorgeous vantage points to check out the foliage reflections in the water, as well as migrating birds on the lake and in the treetops.
Because Lake Shaftsbury is small and shallow, you may even be able to go for a dip! Read more about visiting Lake Shaftsbury State Park.
Arlington Green Covered Bridge: Arlington, Vermont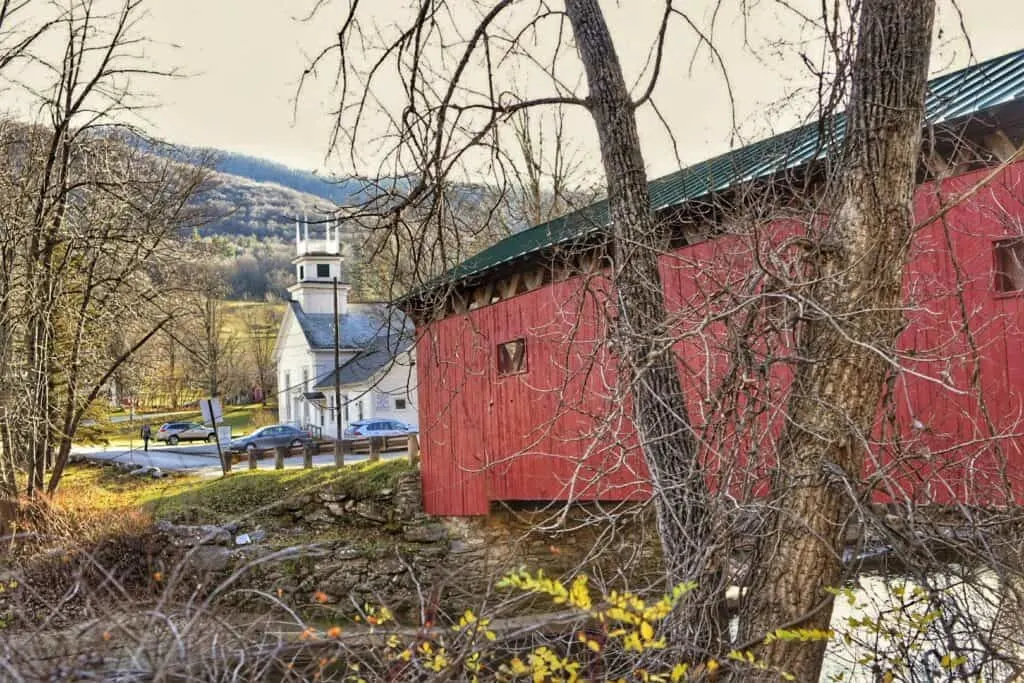 Did you know that Norman Rockwell made his home in Vermont from 1938 to 1953?
He lived in the little village of Arlington for nearly 14 years. It was here that he got his start painting small-town life.
Take a short detour off of 7A and head east on Route 313 when you get to Arlington. In about four miles, you'll come to the Arlington Green Covered Bridge.
This is the most photographed covered bridge in Vermont and it's beautiful in the fall (I missed fall foliage by a few weeks in the above photo, which was taken in November).
Drive through the bridge and park your car on the other side. After taking in the pastoral views, stroll down the road a piece to Rockwell's Retreat, a historic inn that was built in 1792.
The view of the bridge from in front of the inn is the very same that Norman Rockwell enjoyed in the decade he lived here with his family.
Onward to Manchester, Vermont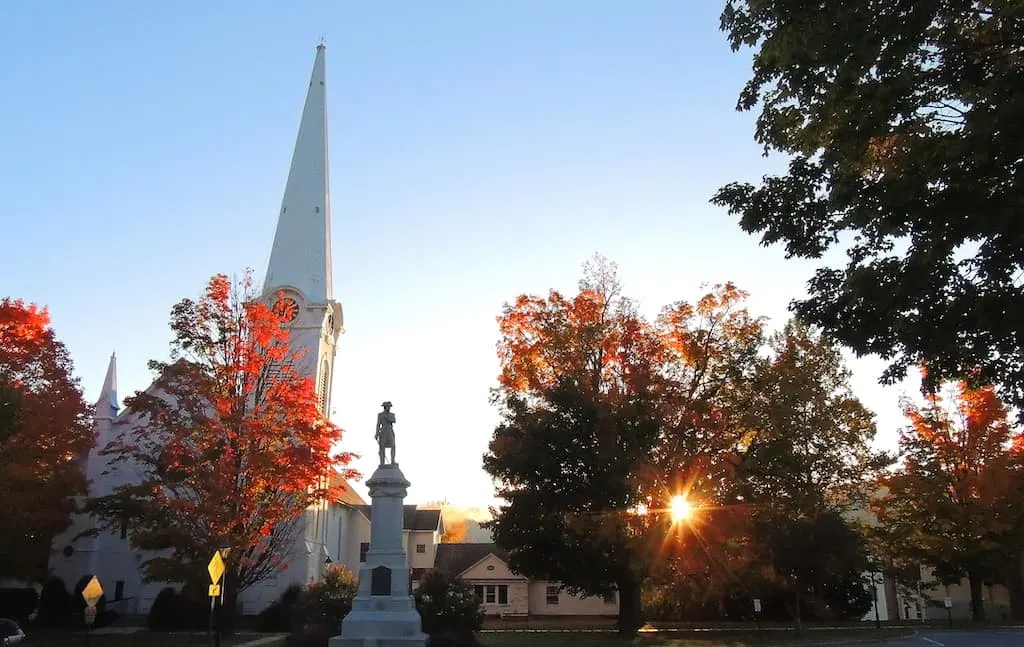 Manchester is the North Shire of Bennington County and a great place to spend the afternoon. It is best known for being the summer hometown of Robert Todd Lincoln (son of Abraham Lincoln).
It is also the home of Orvis, the American Museum of Fly Fishing, and countless outlet stores if you're in the mood for some retail therapy.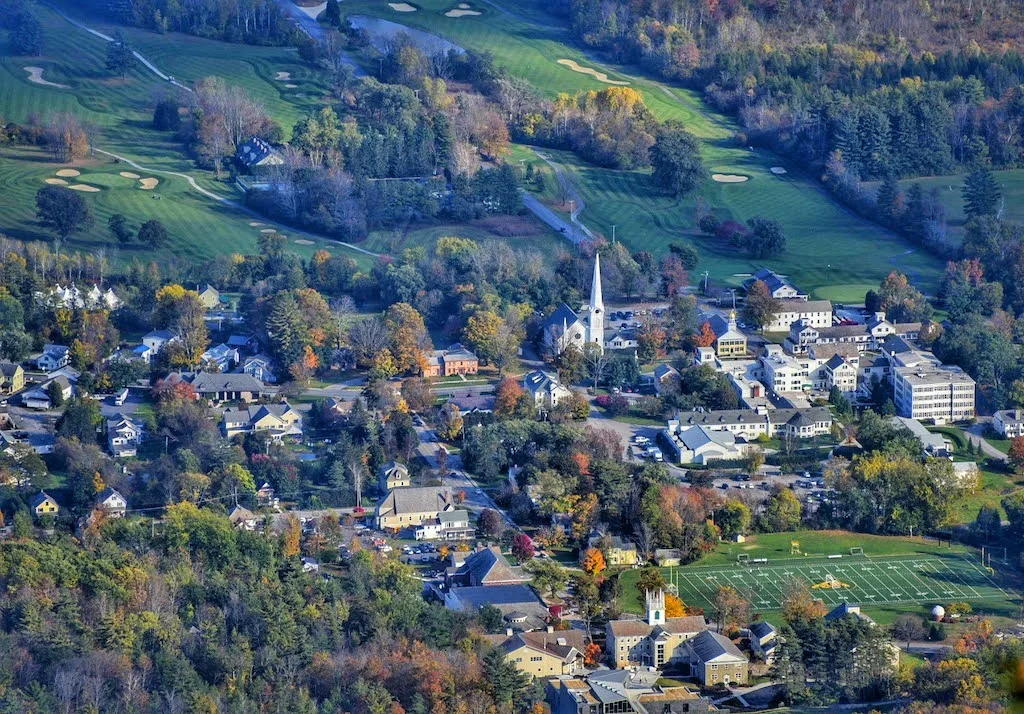 Here's what we'd recommend checking out in Manchester, but for a more detailed list check out our complete guide to Manchester, Vermont.
Where to Stay in Manchester, Vermont
For the first night of your weekend road trip, we recommend booking accommodations in Manchester.
You've got lots of choices for lodging, but here are a few of our favorites. Fall foliage is a busy time for hotels and vacation rentals, so book your stay as soon as you have dates in mind (6 months in advance if you can!).
Ball Mountain Dam and Jamaica State Park, Jamaica, Vermont
From Manchester, drive east on Route 30 into the Green Mountains.
The landscape will become more forested as you go up in elevation. More forests also mean more beautiful southern Vermont fall foliage, but this is a winding road without a lot of great spots to pull off and take photos.
Follow Route 30 for 19 miles to Ball Mountain Dam and Ball Mountain Lake.
The massive Ball Mountain Dam was constructed between 1957 and 1961 for flood control on the West River. It is 247 feet high and 915 feet long. It's a pretty awesome feat of engineering and cool to see in person. It shouldn't take you long to visit the dam and view the lake.
Be sure to take some photos as this is a great vantage point of the surrounding forested mountains.
Keep driving on Route 30 for another 1.5 miles, following signs to Jamaica State Park.
This gem of a park is tucked away next to a rustic mountain village of the same name. Jamaica, Vermont may not be the Caribbean, but it's as welcoming a place as you'll ever find in the Green Mountains.
In Jamaica State Park, we recommend meandering along the West River Rail Trail (bring your bike!), and hiking the Overlook Trail from the campground.
If you have more time, you can hike to Hamilton Falls (6 miles, round-trip), which is one of the most beautiful waterfalls in Vermont.
We've created a guide to visiting Jamaica State Park in the summer. Fall isn't much different. You just might not want to go swimming!
Wilmington, Vermont
From Jamaica, you'll be heading south on Route 30/100 for about 26 miles to Wilmington, Vermont. Wilmington is one of my favorite small towns, with lots of recreation, a cute downtown area, and gorgeous fall foliage!
Wilmington is also home to several swoon-worthy restaurants, a sweet little bookstore, and boutique shopping.
Since you'll be visiting Wilmington during peak foliage season, you have to visit the different picnic areas along Lake Whitingham (Harriman Reservoir) for views of the foliage against the lake. I recommend visiting just after sunrise for clear water reflections.
Read more about all the beautiful spots to discover in Wilmington, Vermont.
Where to stay in Wilmington, Vermont
Spend the second night of your road trip in Wilmington, which has a few unique lodging opportunities.
Woodford State Park: Woodford, Vermont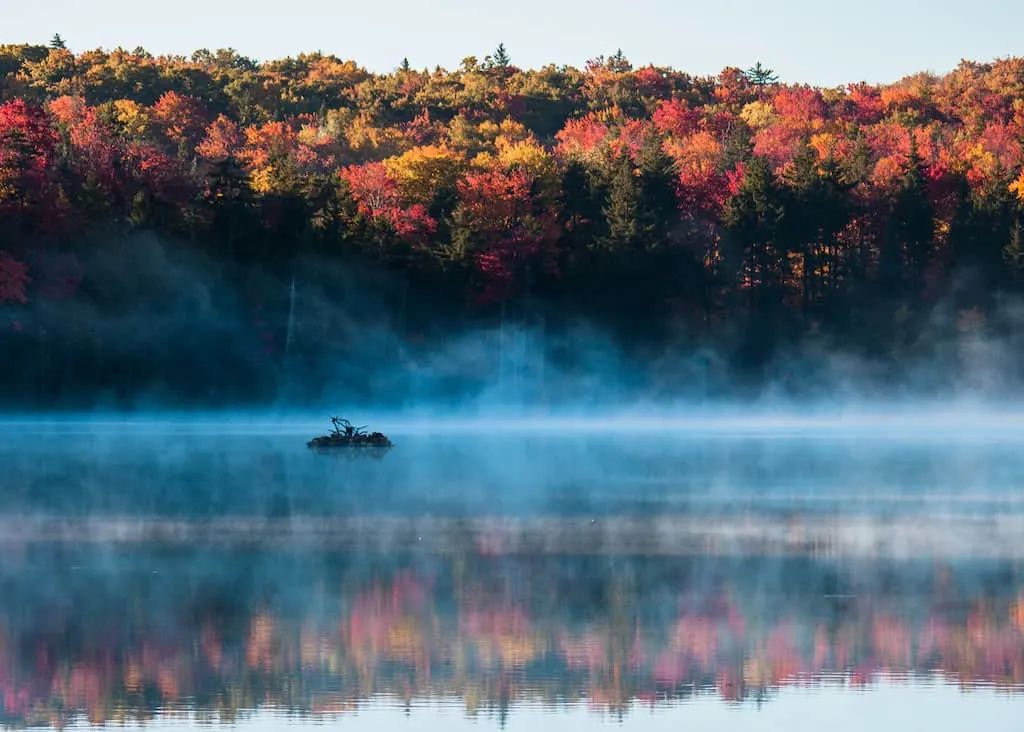 If you've still got more leaf-peeping left in you, drive west on Route 9 back toward Bennington and stop at Woodford State Park.
The centerpiece of Woodford State Park is a small, shining lake called Adams Reservoir. The lake is surrounded by forest, with pretty campsites nestled into the trees along the shore. At 2,400 feet in elevation, this is the highest public campground in the state.
Hike the 2.7 miles around the lake for great fall views and a peaceful end to your journey.
Where to Next?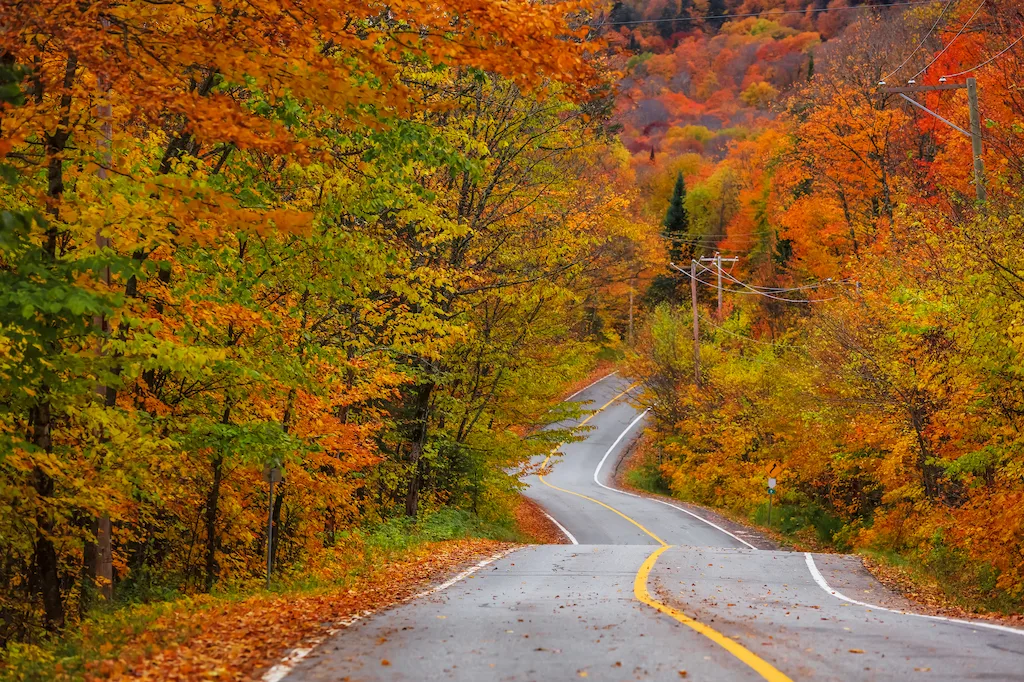 From Woodford, you can continue west on Route 9 for 10-ish miles to get back to Bennington. If you have more than a few days to explore Vermont in the fall, we've got some additional ideas:
---
Follow us on social media for more Vermont inspiration!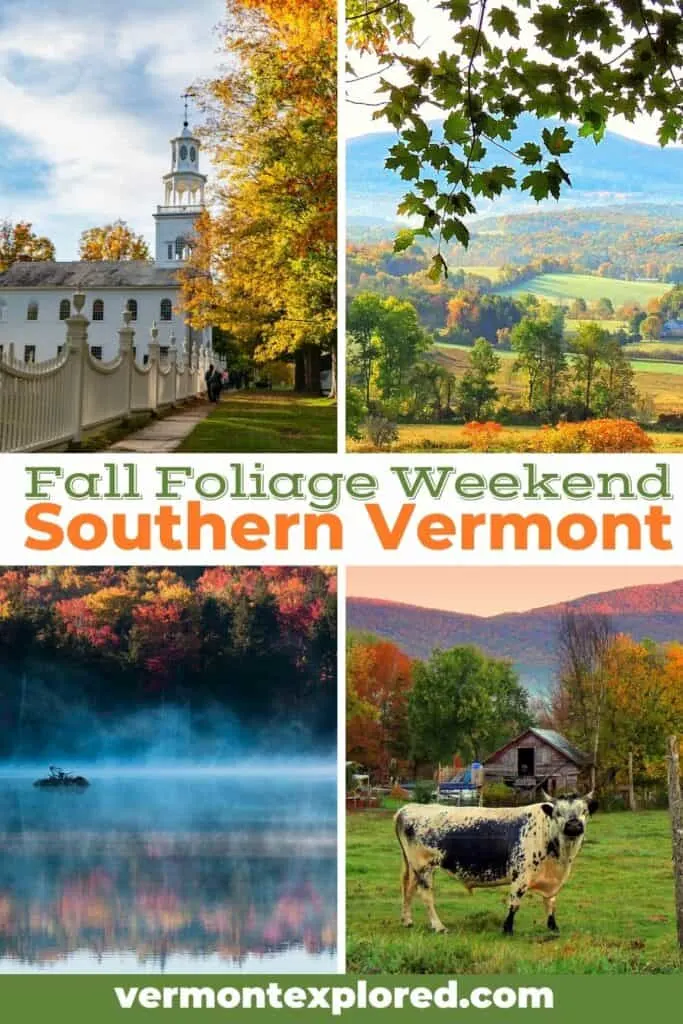 Tara Schatz is a freelance writer, and the founder and editor-in-chief of Vermont Explored and Back Road Ramblers, an American road trip blog. She is also the co-author of the 3rd edition of AMC's Best Day Hikes in Vermont, which was released in May 2023, and the author of 100+ Wonderful Ways to Experience Vermont.