July is high summer in Vermont, when locals book every moment of every weekend with barbecues, outdoor concerts, camping trips, and other adventures that require long days, short nights, and balmy temperatures.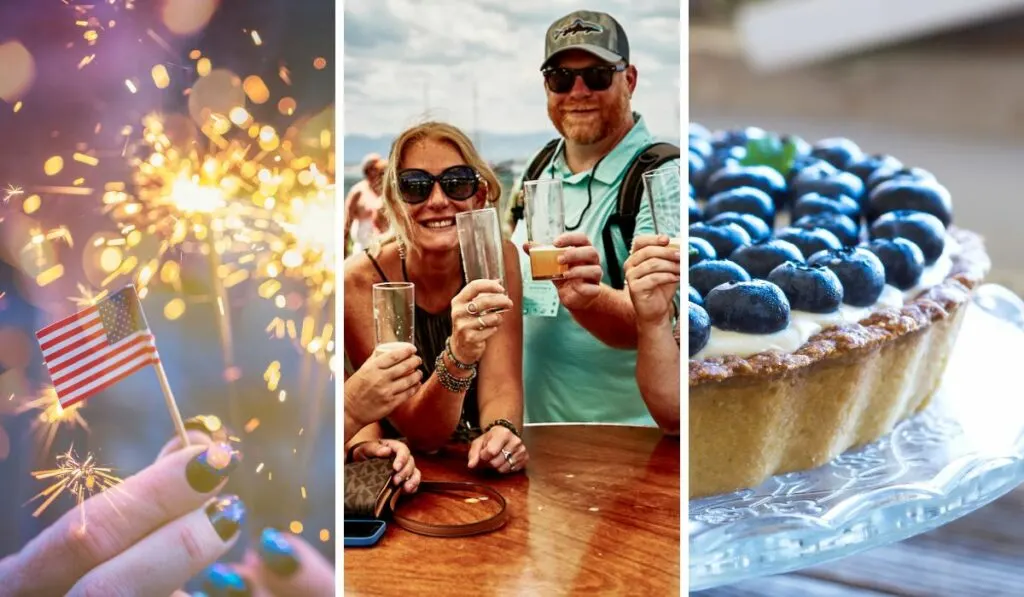 On any given July weekend in Vermont, you will have your pick of celebrations, festivals, and opportunities for summer shenanigans. Don't believe me? Here are a few of the best events to celebrate July in Vermont and endless summer vibes.
Vermont Events: July 1-9, 2023
Vermont Symphony Orchestra's TD Bank Summer Festival Tour: American Swing with Ray Vega, July 1-4, 2023: VSO's summer season promises to be an exciting one! Sponsored by TD Bank and featuring a lineup of summer favorites, this is the perfect excuse to pack a picnic and catch one of four spectacular July concerts.
Guest trumpeter and jazz legend Ray Vega joins the Vermont Symphony Orchestra and Argentinian/Italian conductor Michelle di Russo in a concert of swing, jazz, spirituals, and marches.
Relax under the summer sky and enjoy feisty, soothing, and unforgettable music by Duke Ellington, Louis Armstrong, Thelonious Monk, George Gershwin, John Philip Sousa, Johnny Mandel, and more.
Celebrate July in Vermont with the following VSO concerts (all concerts start at 7:30 pm):
Independence Day Celebrations in Vermont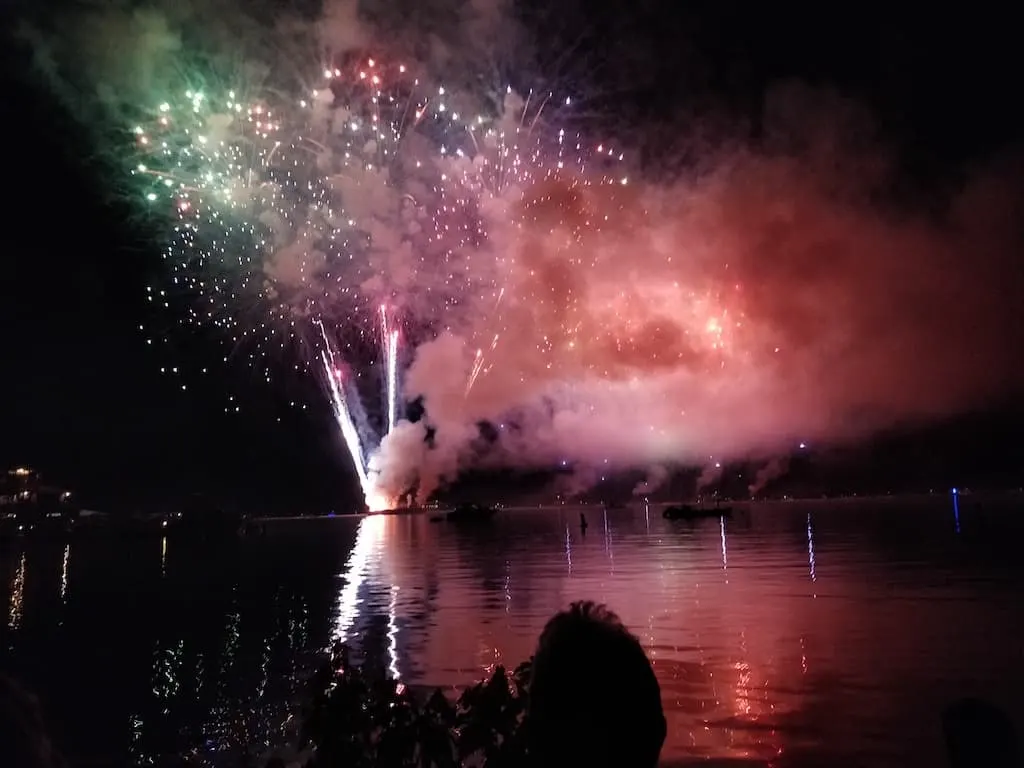 Almost every Vermont town celebrates the Fourth of July in some way, shape, or form. Here are just a few of the distinctive celebrations across the state in 2023.
Dead of Summer Music Festival in Manchester, July 7-9, 2023: Dance and jam to your favorite tunes in one of the most beautiful outdoor settings in Vermont.
Dead of Summer features two full days of incredible live music, food and craft beer vendors, family-friendly activities, and camping in Manchester, Vermont.
This year's stellar line-up includes Melvin Seals and JGB, Pink Talking Fish, and 11 additional bands that will keep you dancing till the wee hours.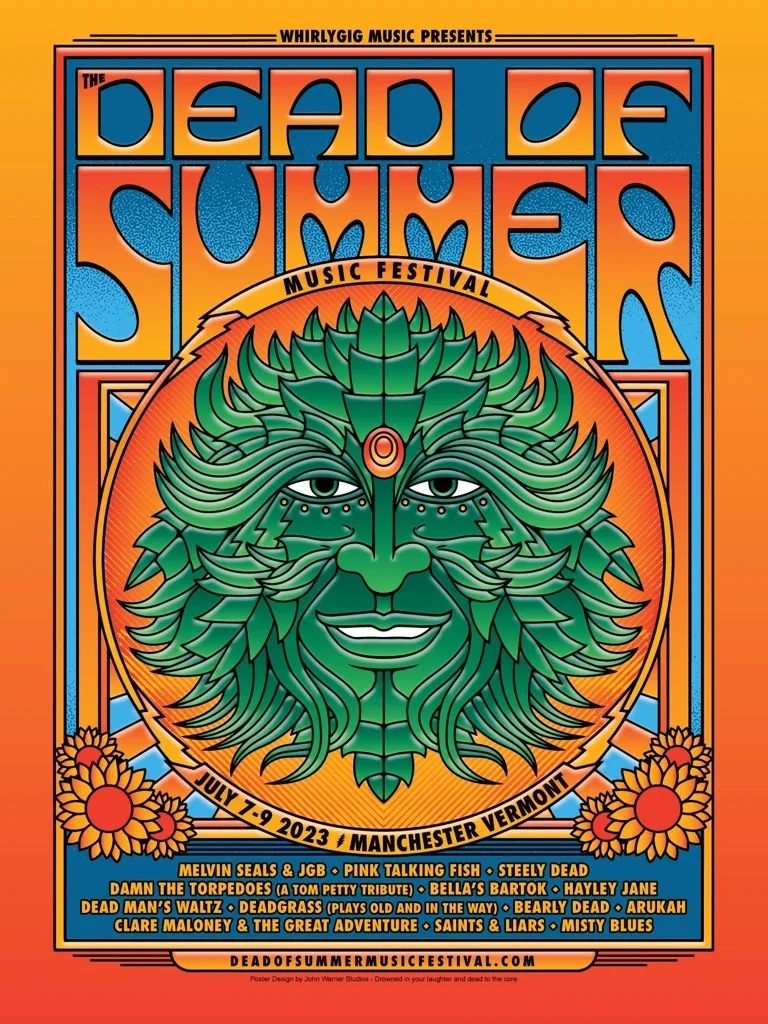 ---
Read Next: 17 of the Best Things to Do in Manchester, Vermont
---
Jeezum Crow Festival at Jay Peak, July 7-8, 2023: This is the 8th Jeezum Crow Festival celebrating two days of music at the Stateside Amphitheater with an outstanding lineup of great bands, including Sam Grisman Project, Leftover Salmon, The Devil Makes Three, Yonder Mountain String Band, and more. Camping is not permitted, but lodging packages are available.
Craftsbury Antiques and Uniques, July 8, 2023: Welcome to the 50th anniversary of the Craftsbury Antiques & Uniques Festival! This is the place to find vintage pieces, delightful antiques, artisan crafts, local food, plants, flowers, and so much more.
Meander around beautiful Craftsbury Common, starting at 9 am for a day of shopping and eating, while live performers keep your toes tapping and your heart smiling. This is a free event sponsored by the Town of Craftsbury for the benefit of local nonprofits.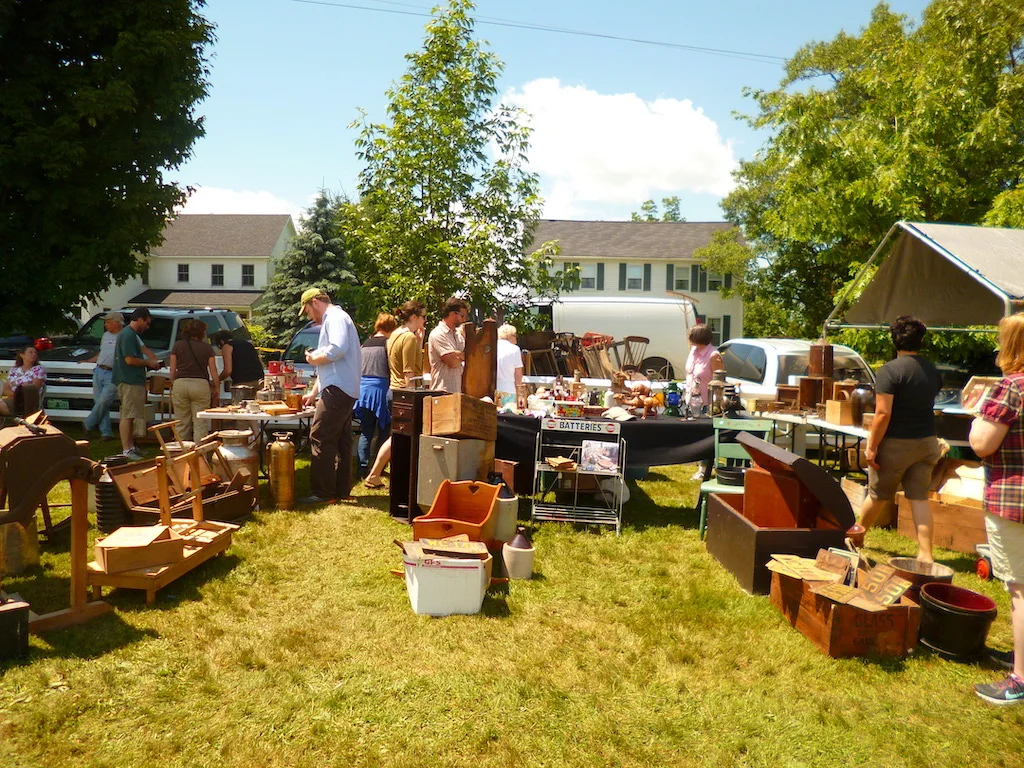 Mad Marathon, Mad Half & Relays in the Mad River Valley, July 9, 2023: Runner's World has named the Mad Marathon a 'Bucket List Race' many times over, and very few will argue that it's one of the most gorgeous marathon routes in the country. There are multiple races for all levels of participants, including the full Mad Marathon, a Mad Half, relays, a 5K, and a 10K.
Travel on back roads with gorgeous views of the Green Mountains, past rolling farm fields, covered bridges, and historic barns. It's a road race for the ages!
Vermont Events: July 10-16, 2023
44th Annual Middlebury Festival on the Green, July 9-15, 2023: A full week of festivities including free nightly concerts, family-friendly noontime entertainment, and a street party on Saturday featuring the Vermont Jazz Ensemble. This incredible tribute to summertime in Vermont crosses multiple musical genres to celebrate community, culture, and the outdoors.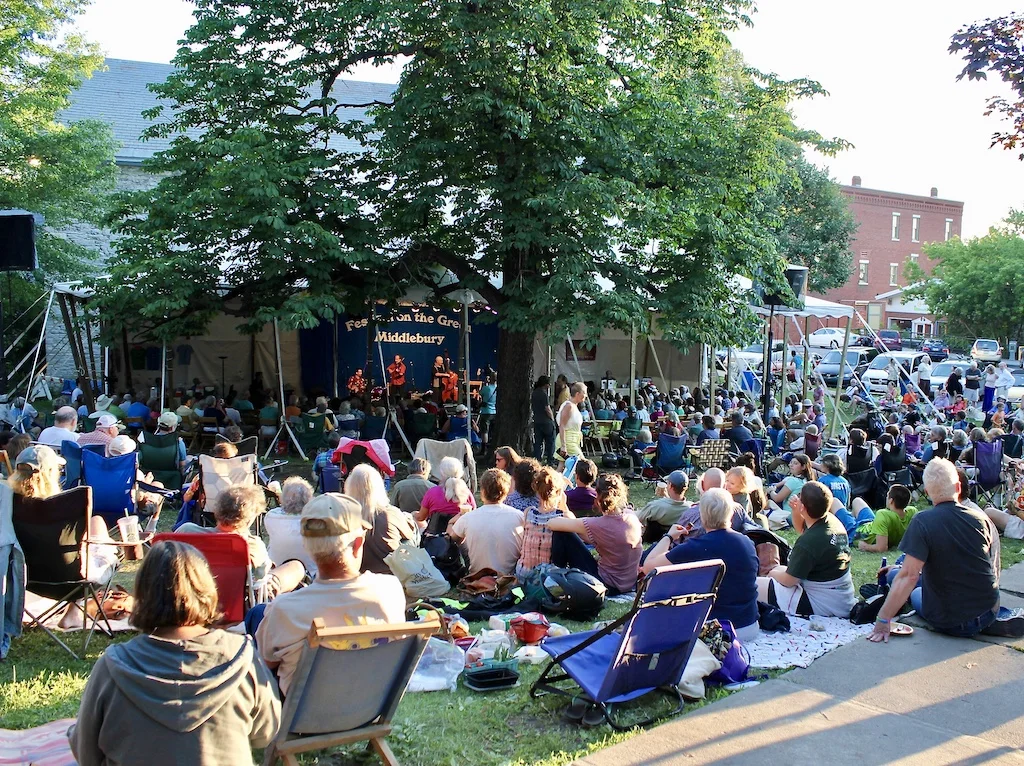 Waterbury Arts Fest, July 10-11, 2023: This signature summertime event is held each July and proudly hosted by Revitalizing Waterbury. Festivities start with a free Friday night block party, and on Saturday, thousands of art enthusiasts, visitors, and families descend on Waterbury to browse the works of more than 100 artists, eat delightful festival fare, and listen to live music.
Do Good Fest in Montpelier, July 15, 2023: Four fantastic bands, food trucks, kids' activities, and a nonprofit village round out this year's Do Good Fest supporting Branches of Hope Cancer Patient Fund.
Two-time Grammy-nominated Plain White T's will headline, along with All-Night Boogie Band, Fastball, and lovelytheband for an unforgettable outdoor concert on the National Life Lawn.
Jerry Jam in Cabot, July 14-16, 2023: Lovers of jam bands and Deadheads of all ages will congregate at Pransky Farm in Cabot for the annual Jerry Jam, featuring Melvin Seals & JGB, Pink Talking Fish, Kung Fu, Max Creek and more. All general admission tickets include tent camping, and you can buy an RV camping pass for an additional fee.
Vermont Events: July 17-23, 2023
Vermont Brewers Festival in Burlington, July 21-22, 2023: Beer enthusiasts won't want to miss the 30th annual Vermont Brewers Festival in Burlington, with three tasting sessions showcasing the best beer coming out of Vermont and beyond, from old favorites to upcoming stars on the brewing scene.
Sip your favorite brews while enjoying spectacular views of the Adirondacks and Lake Champlain. Choose from a Friday evening tasting session, or one of two sessions on Saturday. 21+, rain or shine.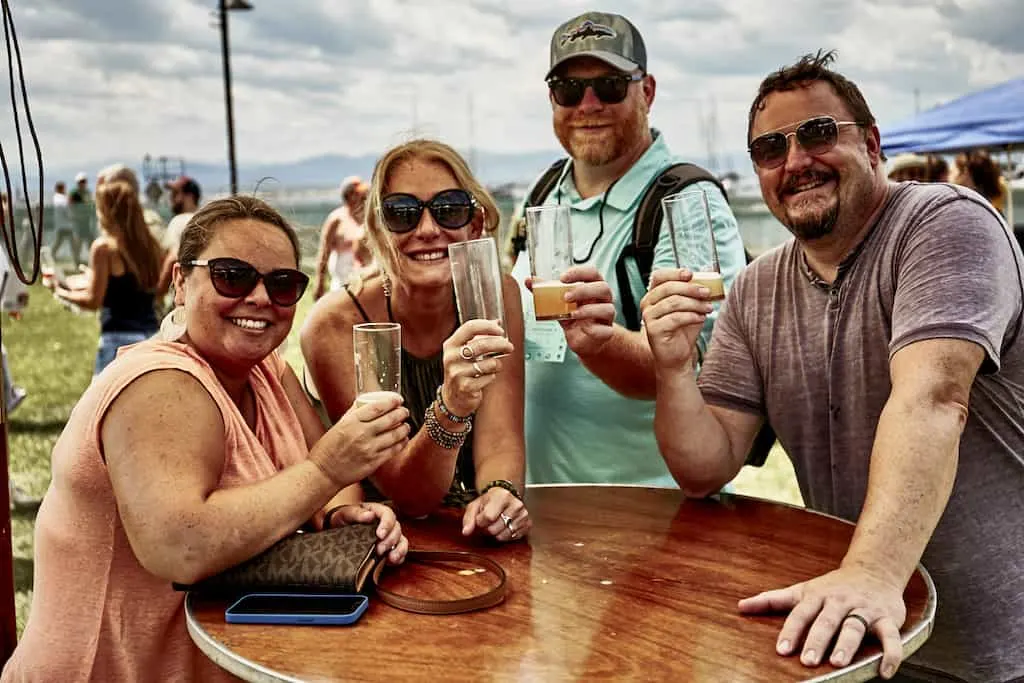 ---
Read Next: 6 Outstanding Breweries in Burlington, Vermont
---
Killington Wine Festival, June 21-22, 2023: Enjoy two days of fantastic wine tastings, tasty treats, and live music at the Killington Wine Festival. In addition to two tastings at Killington on Friday and Saturday, be sure to follow the Killington Wine Trail to local businesses in the region.
Maple Roots Festival in Montpelier, July 22, 2023: Presented in partnership with Catamount Arts, this full-day festival at Morse Farm Maple Sugarworks celebrates live music, great food and drink, and family-friendly fun.
The 2023 Maple Roots lineup includes Soule Monde, the Vermont Jazz Ensemble, High Summer, and Sole Oceanna, along with food trucks, kids' activities, and more.
Vermont Events: July 24-31, 2023
The Om Festival in Arlington, July 26-30, 2023: Head to the beautiful West Mountain Inn for five days of transformational experiences that feature yoga, dance, healing arts, and community building.
Set on 150 acres on the Battenkill River, this beautiful festival includes mountain hikes, farm-to-table food, and live music. Primitive camping and lodging are both available.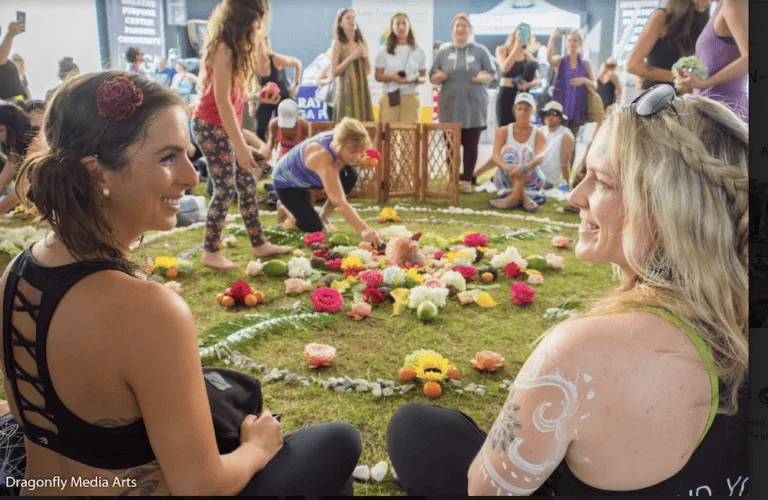 Cabot Arts and Music Festival, July 28-29, 2023: A multi-genre festival including 10 bands, Cajun and Contra dances, kids' activities, food trucks, crafts vendors, a labyrinth walk, and fantastic community arts projects.
The weekend kicks off on Friday night with a Cajun dance party from 7-9 pm, followed by a full line-up of bands on Saturday that includes a Contra Dance at 3 pm, a break for dinner, and more bands in the evening.
Cabot Arts is committed to bringing beautiful events and transformative arts experiences to Cabot and the surrounding communities.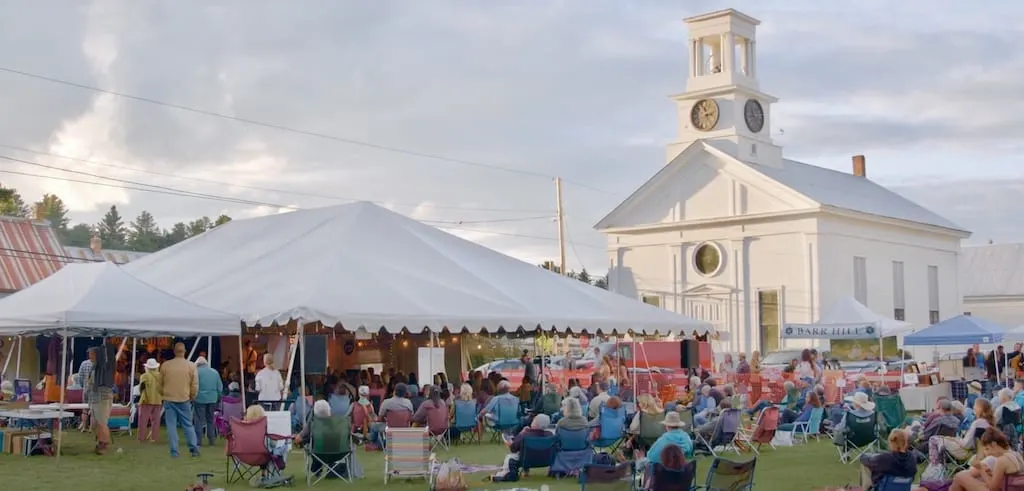 Vermont Blueberry Festival in the Deerfield Valley, July 28-August 6, 2023: How many days does it take to celebrate the deliciously humble blueberry? In Vermont's Deerfield Valley, it takes 10!
This expansive festival celebrates the agricultural roots of the Deerfield Valley — with live music performances, blueberry-themed menus at local restaurants, special sales, pick-your-own blueberries at Boyd Farm, a craft fair, a blueberry parade, and more!
---
Even more iconic events in Vermont: 26 Iconic Fairs and Festivals You Won't Want to Miss!
---
July in Vermont wouldn't be the same without these fantastic outdoor festivals to celebrate summer in style. Did we forget your favorite event? Send us an email and we'll check it out!
Follow us on social media for more Vermont inspiration!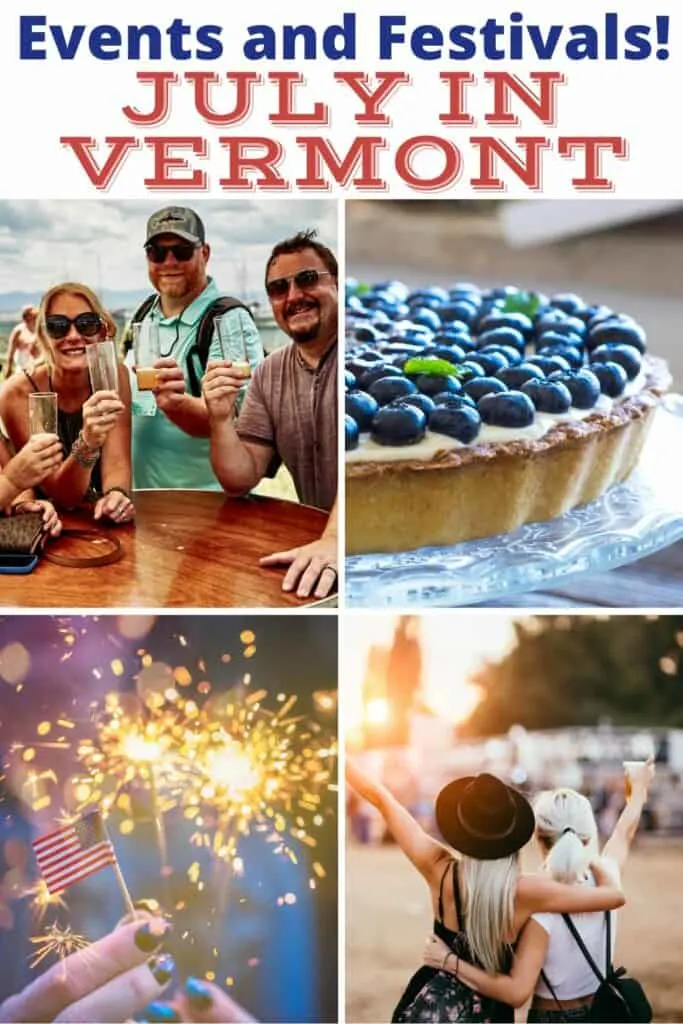 Tara Schatz is a freelance writer, and the founder and editor-in-chief of Vermont Explored and Back Road Ramblers, an American road trip blog. She is also the co-author of the 3rd edition of AMC's Best Day Hikes in Vermont, which was released in May 2023.