Planning a New England vacation and looking for a few beautiful Vermont scenic drives? Want to fill your days with far-reaching vistas, pastoral landscapes, and opportunities for outdoor recreation?
Fill up your gas tank, charge your camera, and pack your sturdy footwear – it's time for another incredible Vermont road trip!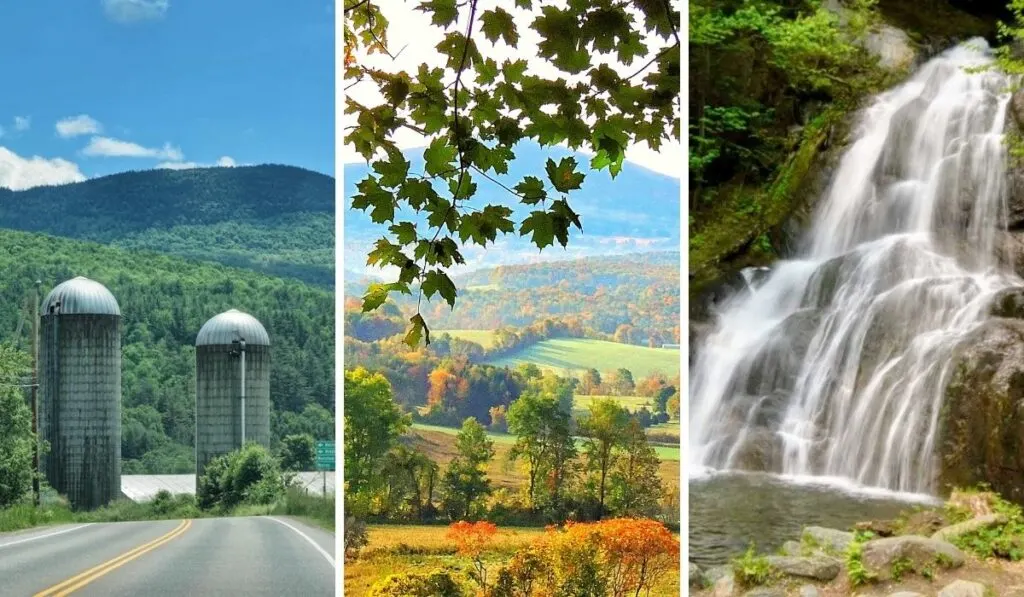 Whether you want to get away for a week or an afternoon, these 10 incredible byways are the most scenic drives in Vermont, encompassing everything you love about Vermont road trips!
There's a Vermont road trip here for everyone, whether you've only got an afternoon to spend or you're planning a weekend adventure.
Connecticut River Byway: Brattleboro to St. Johnsbury
2-3 days, 128 miles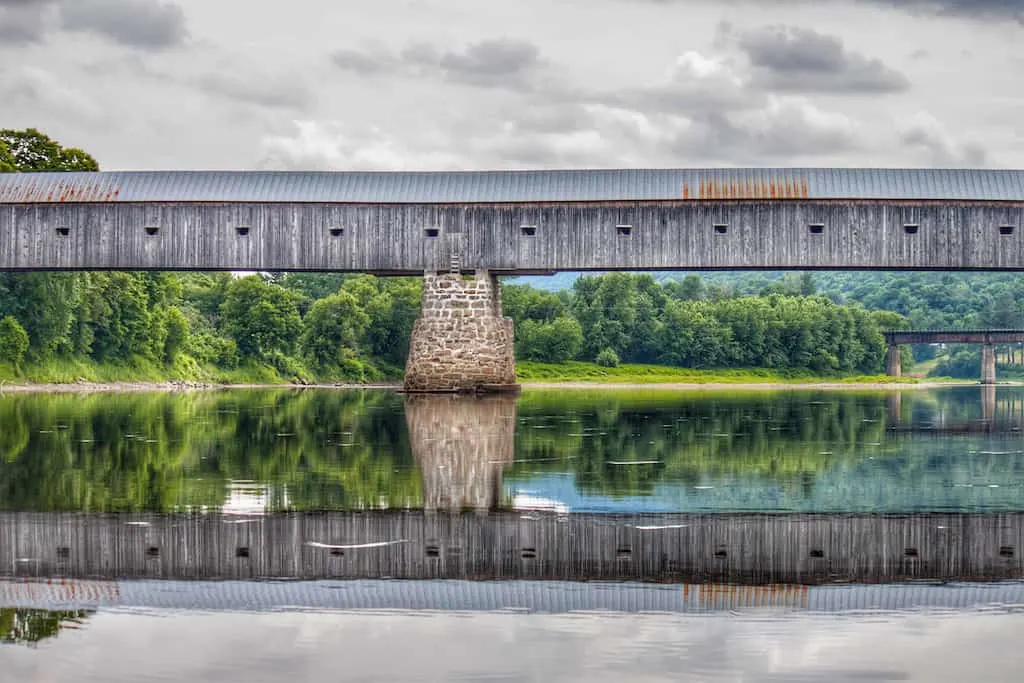 Travel along 410 miles of the Connecticut River from one end of Vermont to the other on Vermont's only designated National Byway.
The Connecticut River Byway is a three-state, 500-mile byway, spanning the west and east shores of the Connecticut River starting in Massachusetts and traveling north through both Vermont and New Hampshire all the way to the Canadian border.
A journey on this meandering stretch of pavement includes far-reaching river views, historic river towns and cities, and acres of fertile farmland. We recommend taking a weekend trip and driving 128 miles on Route 5 from Brattleboro to St. Johnsbury, Vermont, but of course, you can drive all the way to Canada if you have time.
The Connecticut River Byway is one of the most scenic drives in Vermont, with ample opportunities for extending your vacation.
Here are some of the stops we'd recommend on this beautiful Vermont road trip:
Where to Stay on the Connecticut River Scenic Byway
---
Read Next: Paddle the Connecticut River in Windsor, Vermont
---
Crossroads of Vermont Byway: Rutland to Quechee
1-2 days, 41 miles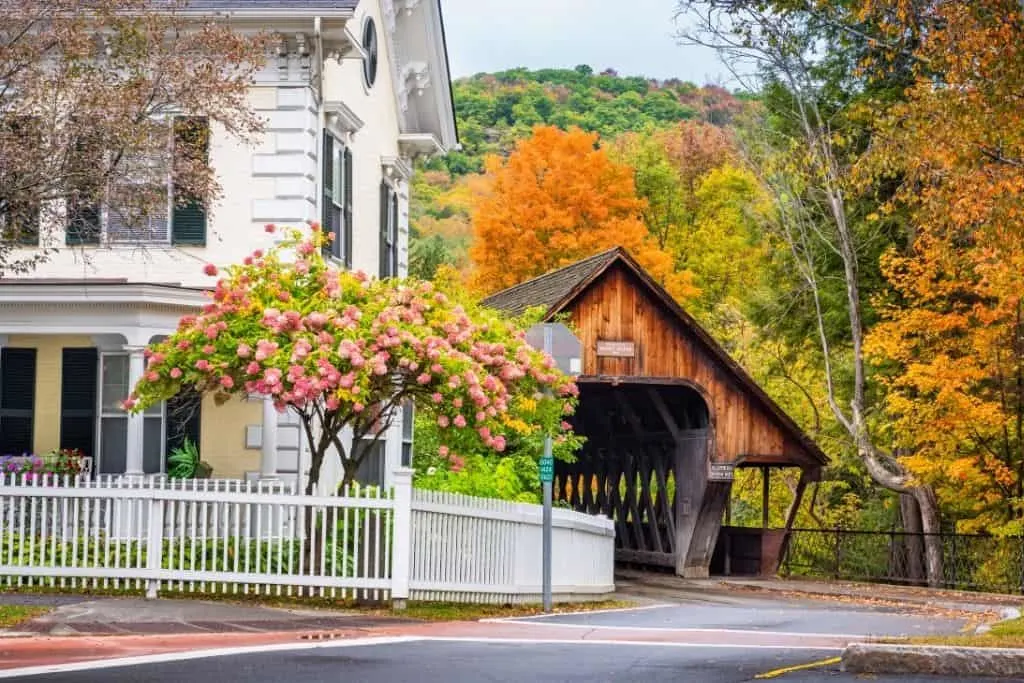 This 41-mile Vermont road trip travels from east to west through the middle of the state, traversing the Green Mountains. It can be completed in a single day, or you can stretch it out a bit and make a weekend of it.
Start your adventure in Rutland, which got its start as a working-class city and a leading producer of marble, but has quickly become a premier destination for art lovers. As you head east, you'll travel through the mountain towns of Mendon, Killington, and Bridgwater before descending into Woodstock and Quechee.
You can easily do this trip in a single day, spending the morning in Rutland and arriving in Woodstock in time for a late dinner. If you spend the night in Woodstock, you should spend another full day there exploring and adventuring.
Recommended stops on this Vermont road trip:
Where to Stay in Woodstock
We just couldn't narrow it down, so here are a few choices!
---
Read Next: 10 Perfect Things to do in Woodstock in the Fall
---
Green Mountain Byway: Waterbury to Cambridge (loop)
2-3 days, 71 miles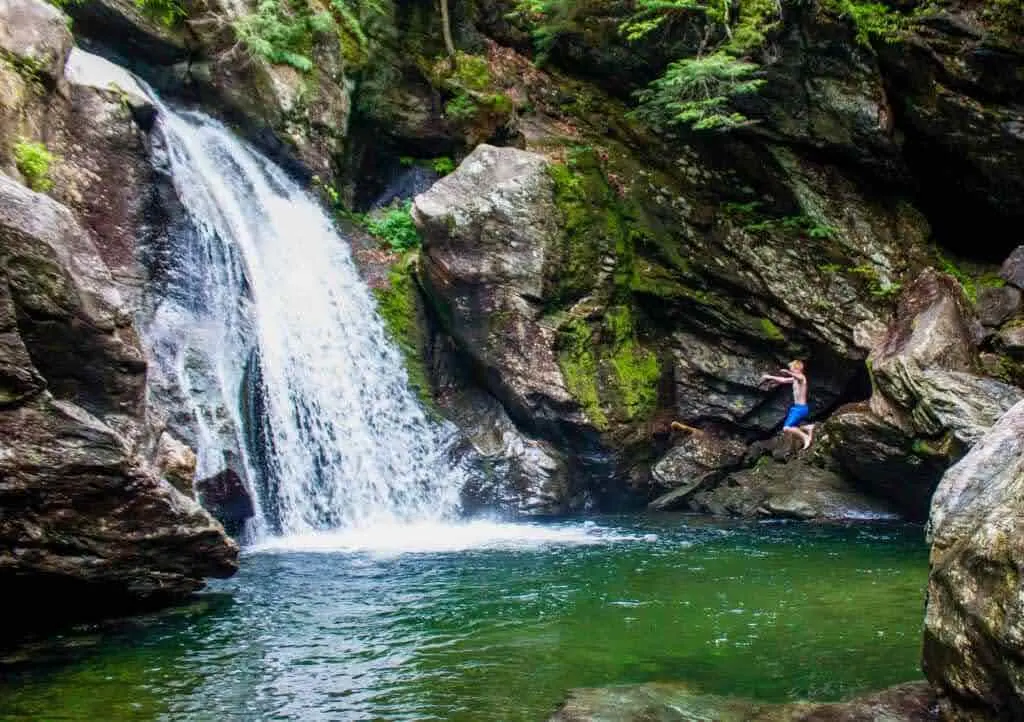 This 71-mile scenic Vermont road trip is part of the larger Route 100 corridor, which in my opinion is one of the most scenic drives in New England.
The Northern Green Mountains are home to both jagged peaks and open farmland. Vermont's highest peak, Mount Mansfield, as well as the stately Worcester Range, make this a dramatic landscape to explore.
The many historic towns that dot the landscape may seem isolated, but they have worked together to create communities that are as unique as they are welcoming to visitors.
The Green Mountain Byway starts in Waterbury and travels north through Stowe, Morrisville, Johnson, and Cambridge. You'll drive through the famous Smuggler's Notch, visit gorgeous waterfalls, and stop for a sampling of Vermont's best ice cream, beer, cheese, and donuts. It's quintessential Vermont in a weekend-long adventure!
While the Green Mountain Byway is a short loop, we recommend giving yourself a full weekend (or longer) to check out these sites:
Where to Stay in Stowe/Waterbury
---
Read Next: The Best Places to Visit in Vermont in the Fall
---
Lake Champlain Byway: Addison to Alburgh
2-3 days, 67 miles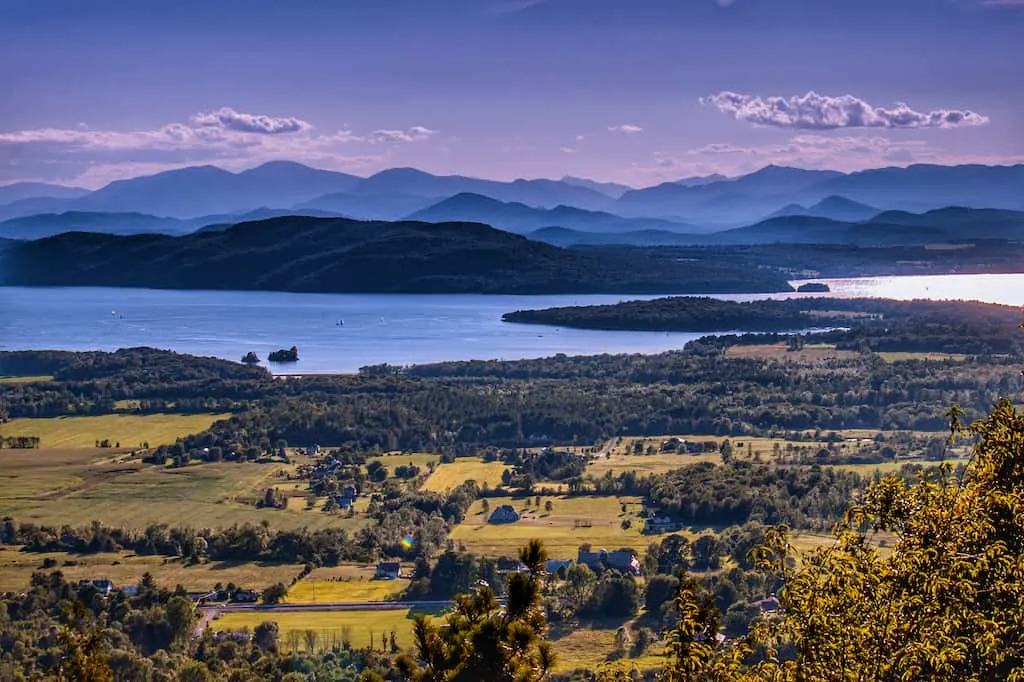 In its entirety, the Lake Champlain Byway totals 185 miles, hugging the length of Lake Champlain all the way to the Canadian Border.
Traveling through fertile farmland with both the Adirondacks and the Green Mountains as a distant backdrop, this scenic Vermont drive has something for everyone, whether you want to get out on Vermont's biggest lake, explore Vermont's biggest city, or get lost on a back road.
Start in Vergennes, Vermont's smallest city (by area), and drive north on picturesque Route 7 into the relative metropolis of Burlington for a day of shopping and culture, and a night on the town.
Finally, spend some time exploring the Lake Champlain Islands, including Vermont's first commercial winery and an ancient coral reef.
We recommend taking two to three days to see the following sites on this beautiful Vermont road trip:
Where to Stay on the Lake Champlain Byway
---
Read Next: The Best Things to do in Burlington, Vermont this Summer
---
Mad River Byway: Warren, Waitsfield, and Middlesex
1 day, 36 miles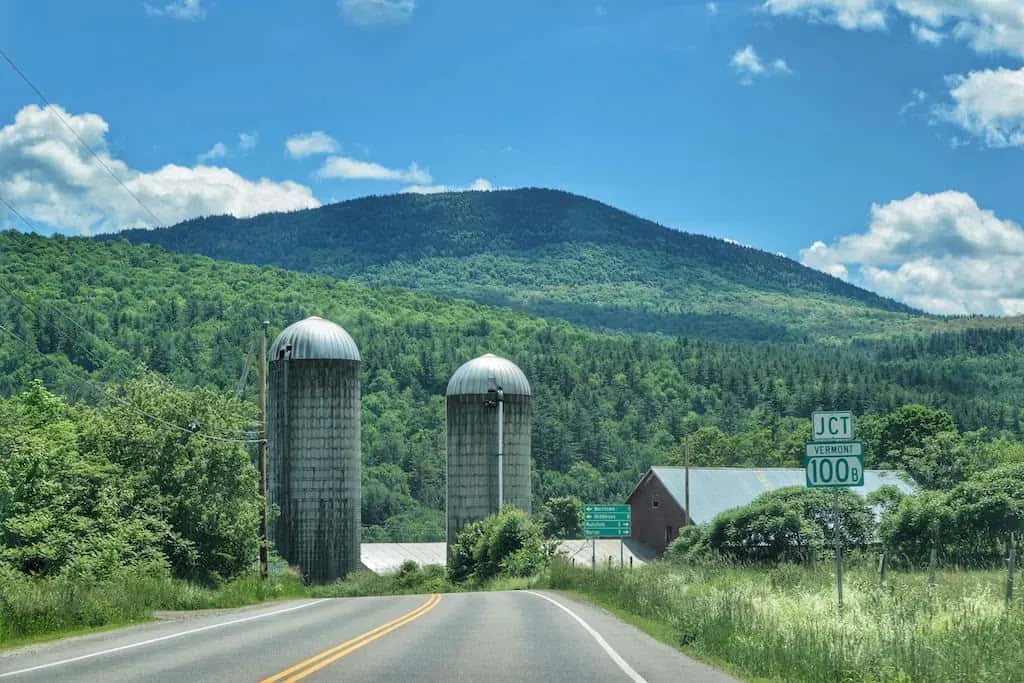 The Mad River Byway is another short Vermont road trip that covers a small section of Route 100 and 100B, from Warren to Middlesex. If you have a few extra days, you should add this section to the Green Mountain Byway or Scenic Route 100 Byway.
If you are looking for a fantastic day trip, the Mad River Byway is ideal. We recommend doing it in the summer, so you can take advantage of all the swimming holes and hiking in the area, but the leaf-peeping is spectacular here too.
Here are some of our favorite stops on this Vermont road trip:
Where to Stay on the Mad River Byway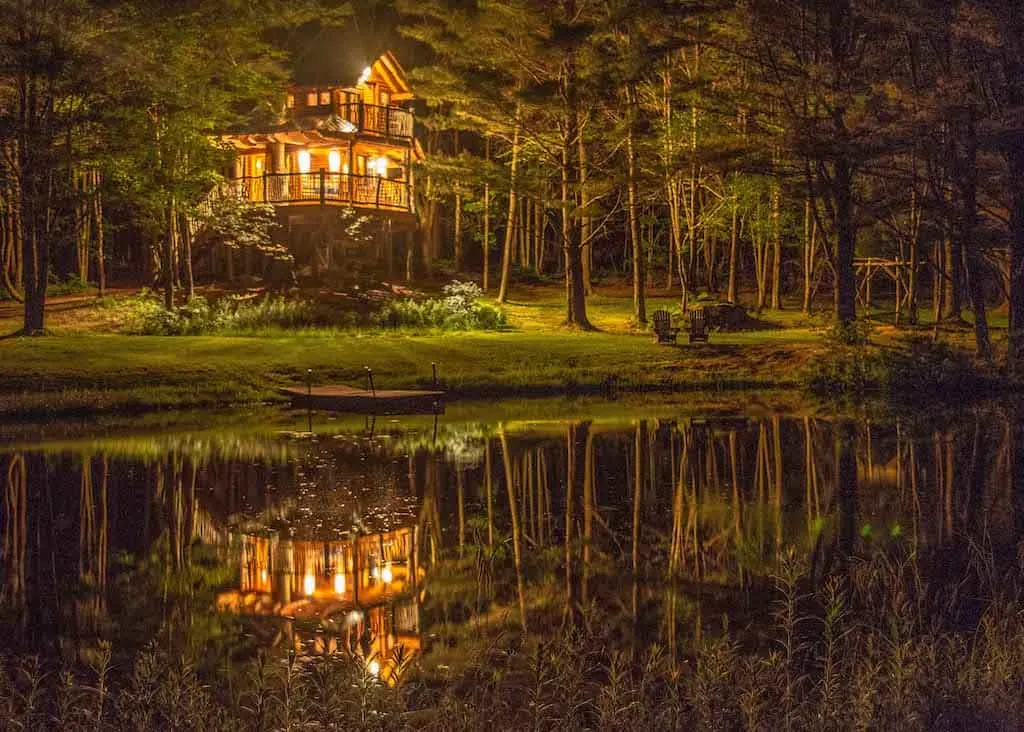 Seeing as this is a short road trip, you probably won't require an overnight in the area. If you are planning for a special occasion, though, I do have to mention this luxurious treehouse rental near Waterbury at the northern end of the Mad River Byway and the southern end of the Green Mountain Byway.
We stayed at Moose Meadow Treehouse for our anniversary a few years ago and loved every minute of it. Moose Meadow Lodge also offers more traditional lodging. Visitors have access to a hot tub, a delightful breakfast, and hiking trails.
Molly Stark Byway: Bennington to Brattleboro
3 days, 48 miles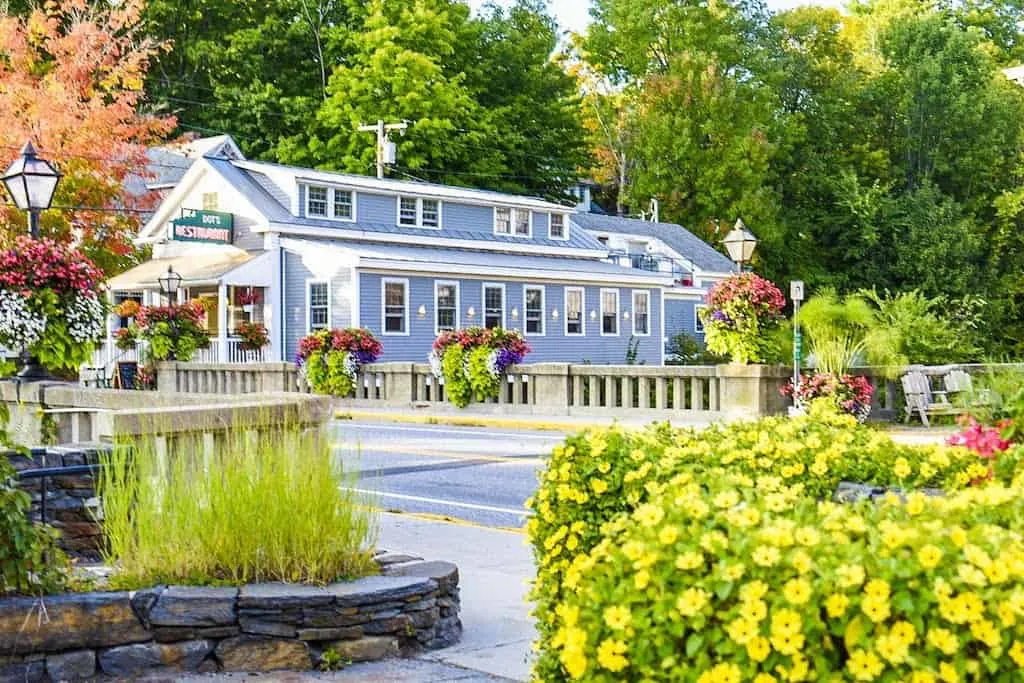 The Molly Stark Byway is another short road trip that you can easily do over a long weekend. It begins in Bennington and travels through the Green Mountains on Route 9 through Woodford (the highest village in Vermont at 2,215 feet), Wilmington, ending in Brattleboro.
In case you are curious about Molly Stark – she was the wife of General John Stark, who led a Colonial militia to victory at the Battle of Bennington in 1777.
The region provides the perfect mix of history, art, and outdoor recreation, and we recommend giving yourself three days to explore the following sites:
Where to Stay on the Molly Stark Byway
---
---
Northeast Kingdom Byway: St. Johnsbury to Newport
2 days, 51 miles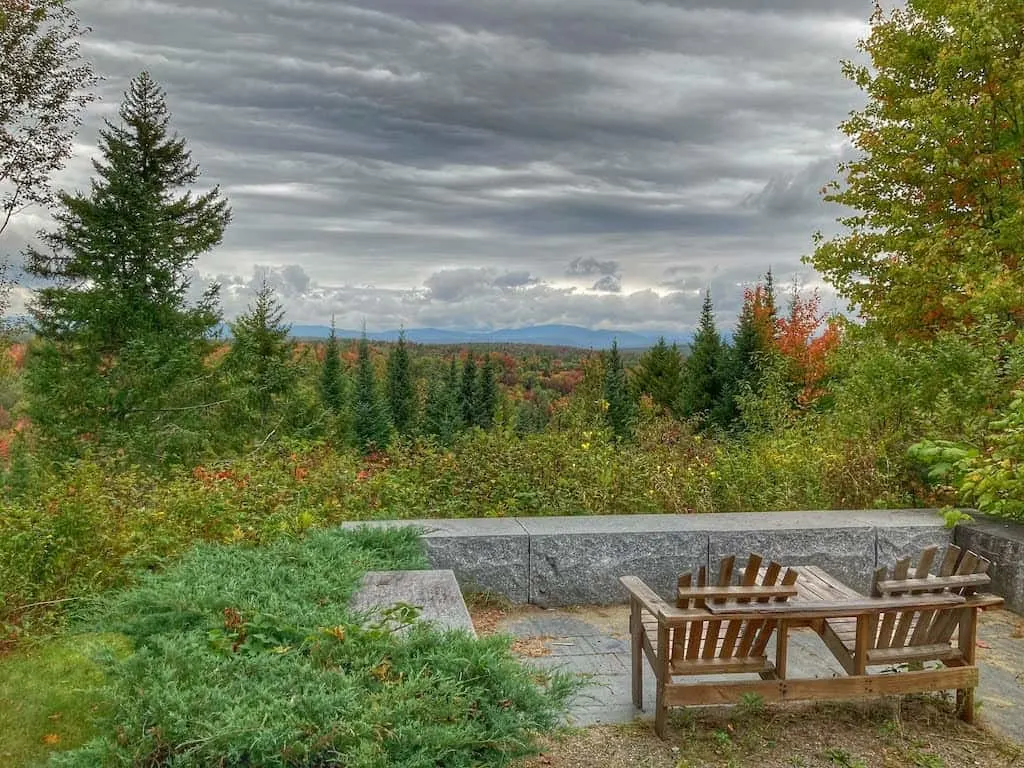 The Northeast Kingdom is one of the wildest places in Vermont and has some of the most beautiful landscapes in the country.
Featuring lush, impenetrable forests, hidden lakes, and enduring farmsteads, the Northeast Kingdom is special. You do have to look beyond the lousy cell service and unpredictable weather, but what you'll discover is a little piece of paradise.
The Northeast Kingdom Byway covers 51 miles between St. Johnsbury and Newport, as well as the small towns of Lyndon, East and West Burke, Westmore, Charleston, and Derby. This Vermont road trip is for nature lovers – be on the lookout for moose and deer as you drive – slowly.
Give yourself two days to explore the Northeast Kingdom.
Here are the must-visit sites and attractions on this special Vermont road trip:
Where to Stay on the Northeast Kingdom Byway
There are few hotels in the area, but plenty of campgrounds and cottages for rent. Check out Mountain Lake Cottages on the shore of Lake Willoughby to unplug and relax while exploring the Northeast Kingdom.
Scenic Route 100 Byway: Wilmington to Granville
2-3 days, 103 miles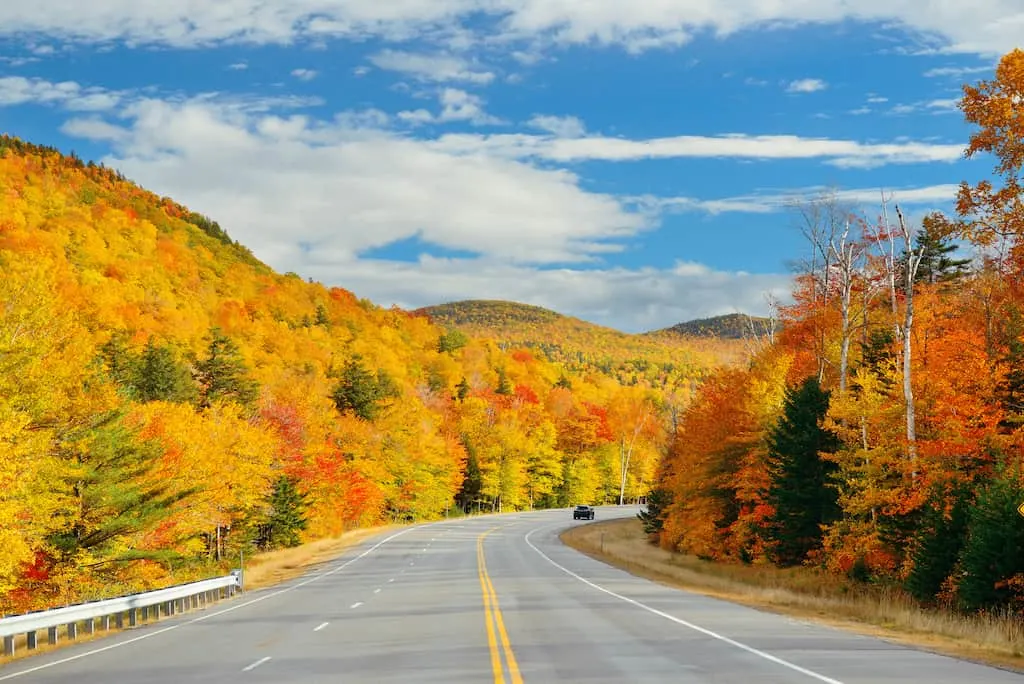 If you can only choose one road trip through Vermont during your vacation, drive Route 100 from Wilmington north to Granville. Yankee Magazine called this route the best foliage drive in New England, and we couldn't agree more.
Start in Wilmington (mentioned in the Molly Stark Byway) and head north on a leisurely journey through the mountains. Two days should be sufficient, but take three if you want to explore more of the trails and natural areas. The northern end of the Scenic Route 100 Byway connects with the Mad River Byway in Warren.
Here are the stops you won't want to miss on this spectacular Vermont road trip:
We cover the whole 217 miles of Route 100 in our 5-day fall-foliage itinerary.
Where to Stay on the Scenic Route 100 Byway
---
Read Next: The Best Things to do in Wilmington, Vermont
---
Shires of Vermont Byway
2 days, 23 miles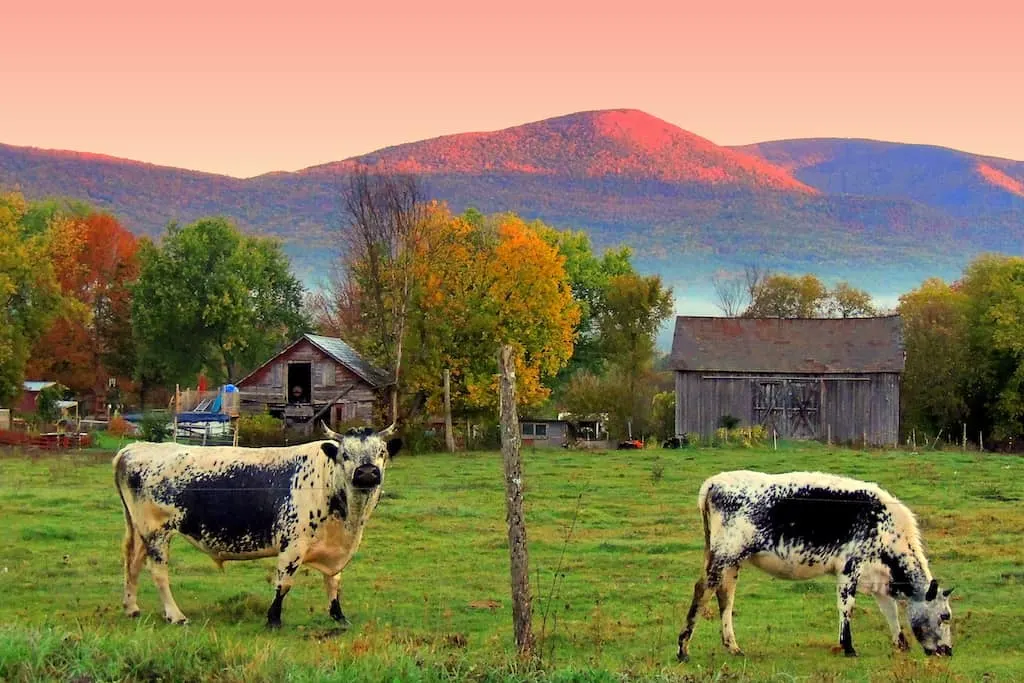 Welcome to my home turf! The Shires of Vermont Byway is named for the scenic region it passes through in southwestern Vermont.
This pastoral road trip takes through a narrow valley between the Taconic Mountains to the west and the Green Mountains to the east.
Start your journey in Bennington, which is also the start of the Molly Stark Bway mentioned above. Drive north on Route 7A through historic towns and farms. Dirt and gravel side roads will undoubtedly tempt you, so be sure to give in a few times. You never know what you'll see on the back roads of southwestern Vermont!
Spend a night in Bennington and a night in Manchester to discover this 23-mile road trip.
Here are a few spots you won't want to miss on the Shires of Vermont Byway:
Where to Stay on the Shires of Vermont Byway
---
---
Stone Valley Byway: Manchester to Hubbardton
2 days, 43 miles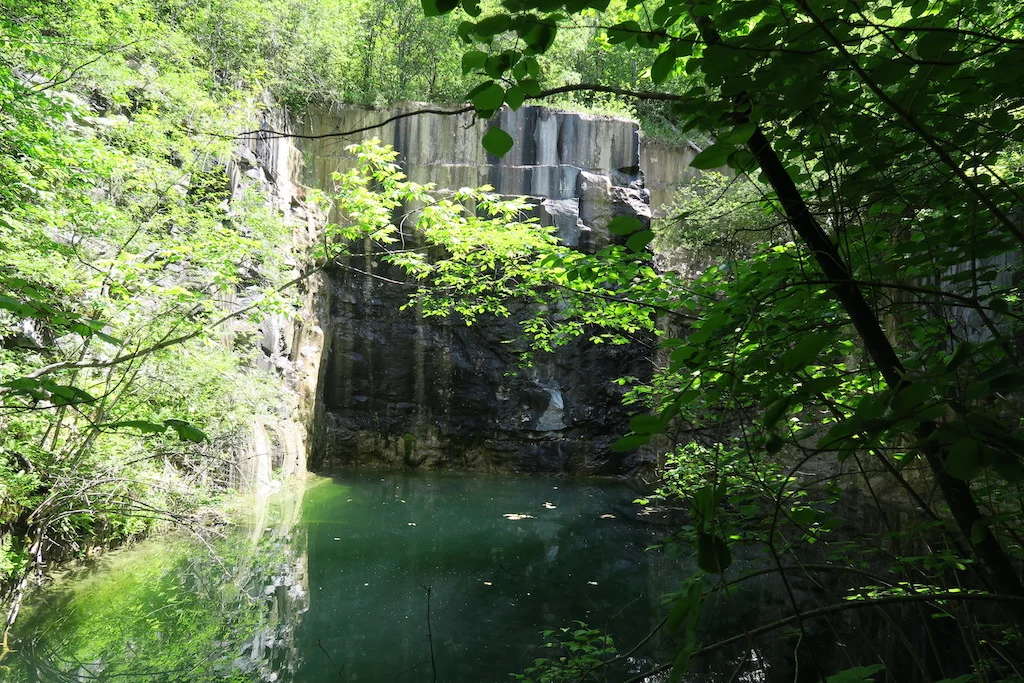 Starting in Manchester, where the Shires of Vermont Scenic Byway leaves off, hop on the Stone Valley Byway, where you will learn about America's most noted marble and slate quarries on your way to the historic town of Hubbardton.
Some of the abandoned quarries, like the Dorset Quarry, have been repurposed into popular swimming holes. Others, like the Gettysburg Quarry (pictured above), are abandoned and can be accessed via hiking trails.
Winding through fertile farmland along Route 30 for 43 miles, this Vermont road trip makes a perfect weekend adventure. This is also a spectacular bicycle route for those of you that enjoy traveling best on two wheels.
Here are the sites you won't want to miss on the Stone Valley Byway:
Where to Stay on the Stone Valley Byway
---
For more information about these Vermont scenic drives, as well as a downloadable map and brochure, visit Vermont Vacation.
Which one of these incredible Vermont scenic drives do you want to explore first? Leave a comment and let us know!
---
Follow us on social media for more Vermont inspiration!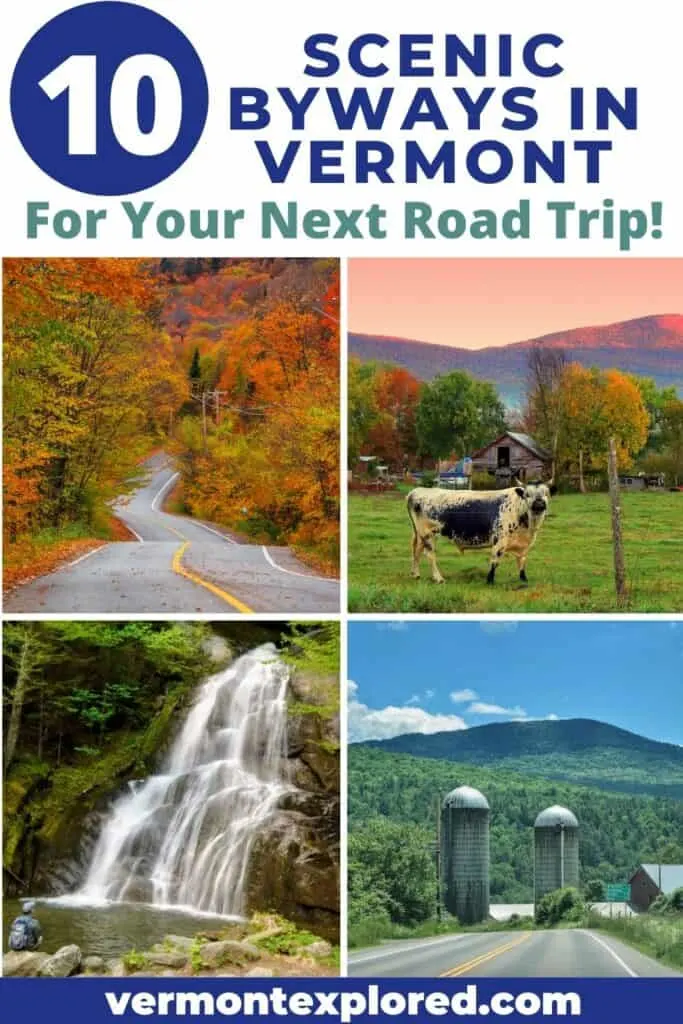 Tara Schatz is a freelance writer, and the founder and editor-in-chief of Vermont Explored and Back Road Ramblers, an American road trip blog. She is also the co-author of the 3rd edition of AMC's Best Day Hikes in Vermont, which was released in May 2023.