Tucked away in the southwest corner of Vermont, Bennington is a small town bookended by two mountain ranges (the Greens and the Taconics), and surrounded by farms and forests.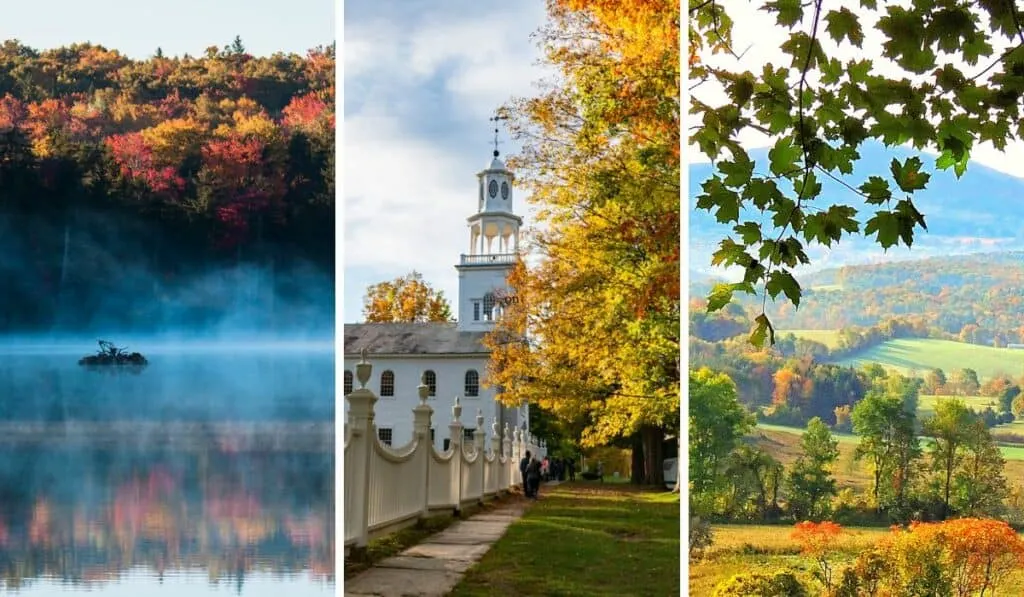 Beautiful places in Vermont are pretty easy to come by, but Bennington's historic treasures and incredible outdoor recreation, make an ideal fall foliage destination. Bennington's walkable downtown includes three fantastic breweries and a distillery, intriguing shops, and great restaurants.
Located just three and a half hours from New York City, three hours from Boston, and an hour from Albany, Bennington is the gateway to Vermont, and well worth a visit no matter where you're coming from.
It won't be long before we're trading our shorts for wool sweaters, munching on cider donuts, and taking in the jaw-dropping beauty that is the Vermont fall foliage season. Now is the time to plan your fall vacation in Bennington.
Take an Old Bennington Walking Tour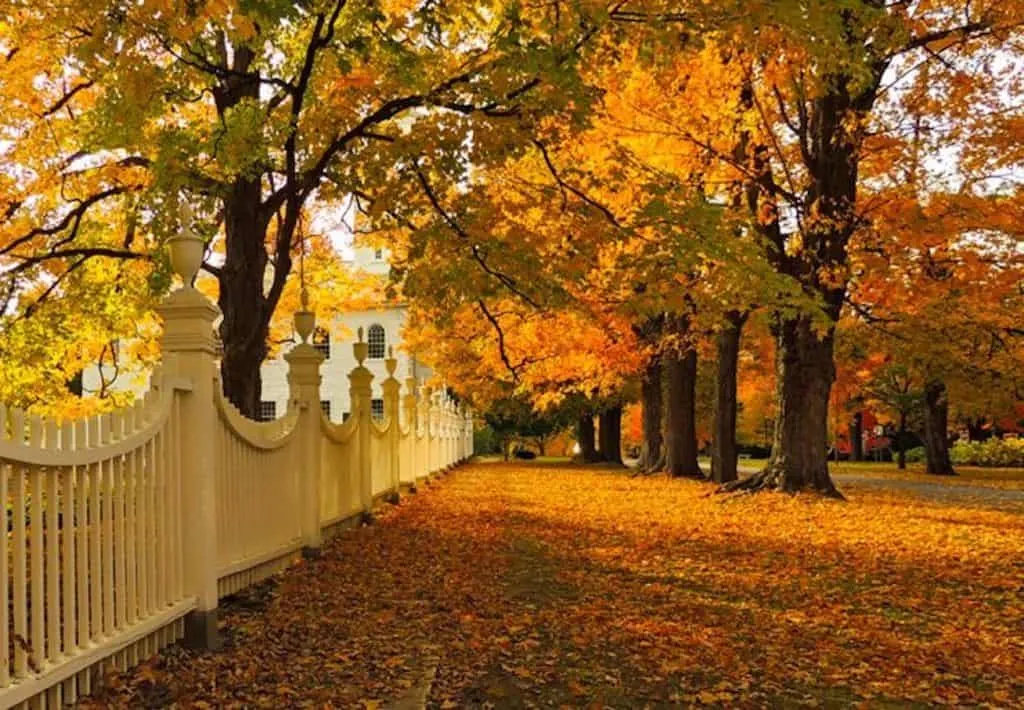 Whether you've explored Old Bennington before or are visiting for the first time, there's a lot to discover on an Old Bennington walking tour. This self-guided tour of Old Bennington will lead you past some of the area's most interesting historic sites, including the Old First Church, the Bennington Battle Monument, and the site of the former Catamount Tavern.
The oldest home on the tour is the Jedidiah Dewey House, built in 1763. The homes on the tour are private residences, but it's fun to meander past them as you tour Monument Avenue.
Put on your walking shoes, park your car at the Bennington, Museum, and don't forget your camera.
Celebrate the Harvest During Fall in Bennington VT
The bounty of harvest season provides lots of opportunities to enjoy the local flavors of fall while taking in those spectacular fall foliage views. Here are some ideas for enjoying farm-fresh food and celebrating the harvest in and around Bennington.
Find the Perfect Pumpkin for Pies and Jack o' Lanterns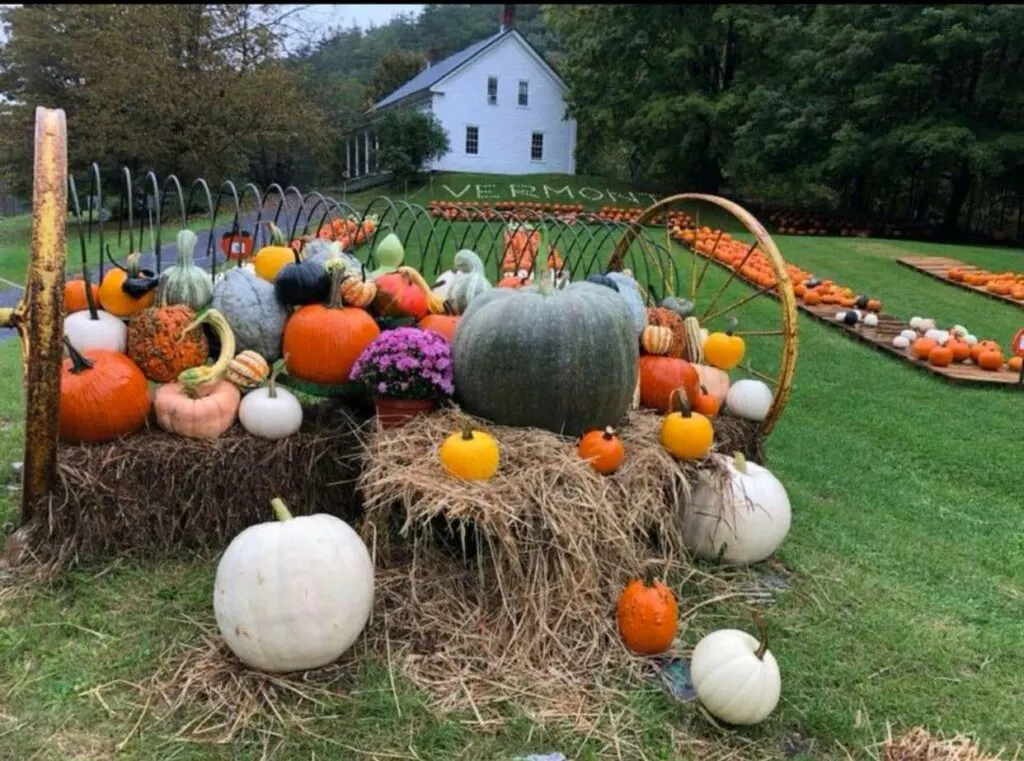 Bright orange pumpkins are a harbinger of fall in Bennington, and there's no better place to pick your favorites than at Armstrong Farm on Route 7 just south of downtown.
Not only is Armstrong Farm a great, family-operated pumpkin patch, but they also sell fresh veggies, pure maple syrup, gourds, jams, and honey! This is a unique destination that you won't want to miss.
Buy Apples and Cider Donuts a Local Orchard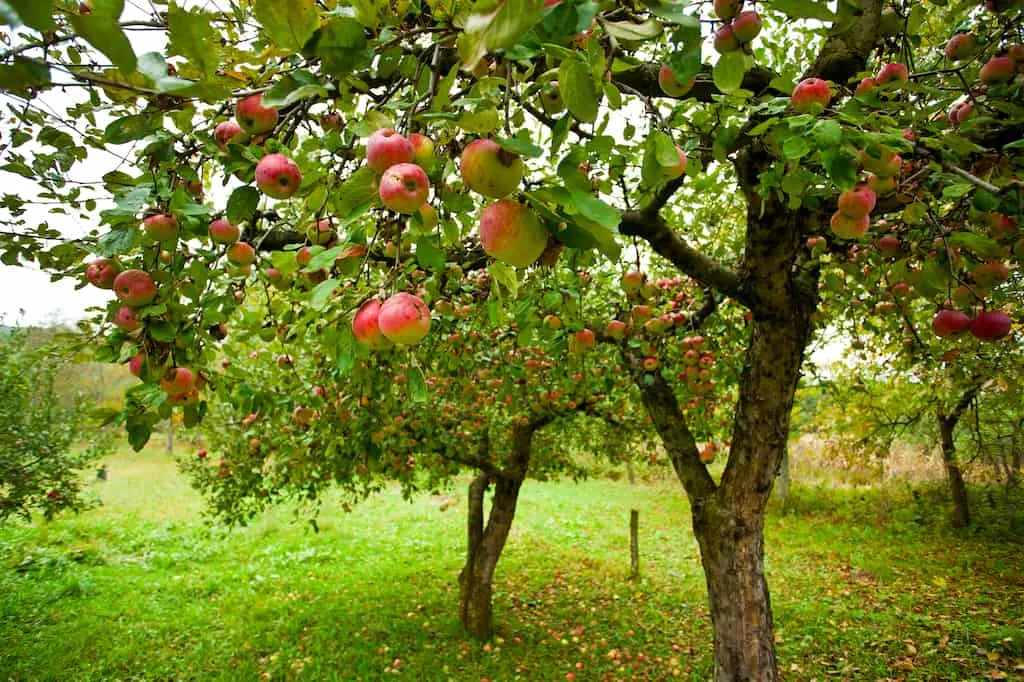 Apple picking is a quintessential fall activity and a fun family outing for all ages, and while Bennington is fortunate to have a great pick-your-own orchard just a few miles from downtown, Terry's Orchard was hit by a hard frost in May 2023, and will not be open for pick-your-own this fall.
Fortunately, you can still buy local apples while you're visiting the area, not to mention scrumptious cider donuts, apple pies, and other farm-fresh goodies.
Propagation Piece Orchard is located at 20 West Mountain Road in Shaftsbury, where it meets Route 7A. They sell lots of apple varieties at great prices, as well as my all-time favorite cider donuts, mums, and pumpkins.
The Apple Barn & Country Bake Shop has been a Bennington icon for more than 50 years. This a fantastic spot to pick up local apples, grab souvenirs to bring home, and stock up on specialty foods.
The Apple Barn is located right across from Southern Vermont Orchard at 604 US Route 7 South in Bennington.
Visit a Local Farm Stand or Market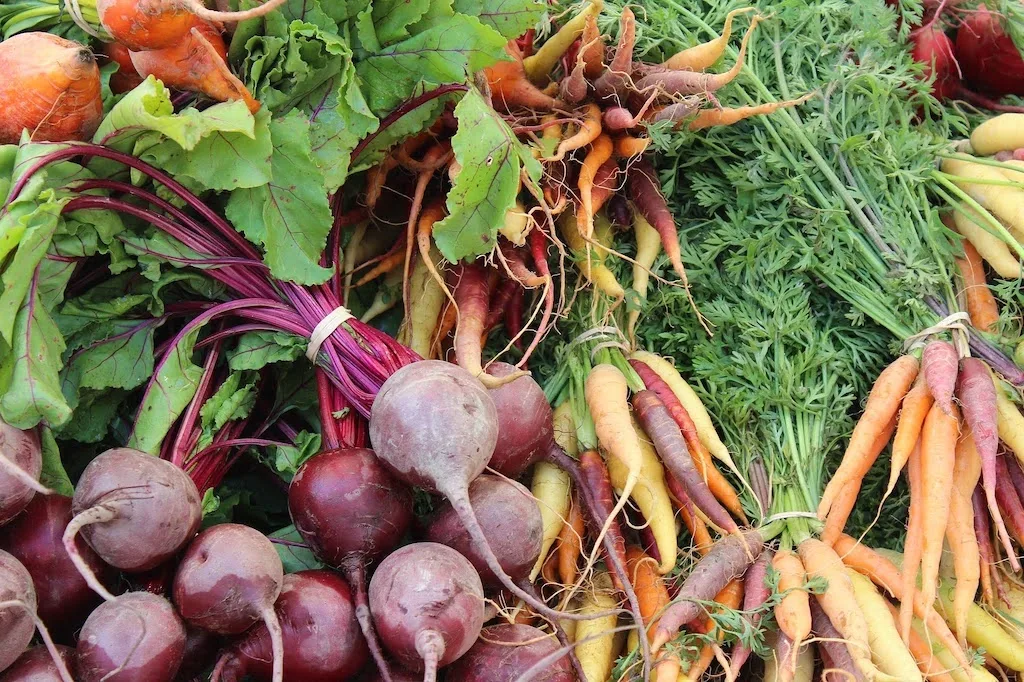 One thing you'll discover when driving Vermont's roads is the sheer abundance of local farmstands, from tiny sheds selling eggs and produce on the honor system, to large farm stands selling everything you might need for a home-cooked Vermont meal.
Clear Brook Farm in Shaftsbury
Clear Brook Farm has been a local fixture in Shaftsbury for 30 years, and while they specialize in farm-grown organic vegetables, it's also your one-stop shop for picnic supplies, meats, cheeses, fresh fruit, and bedding plants.
The farm stand is open from May to October each year and is located at 47 Hidden Valley Road in Shaftsbury, Vermont.
Benmont Produce in Bennington
You don't have to leave town to stock up on fresh produce, corn, and fruit from local farms. Benmont Avenue Produce is a seasonal stand, open between mid-June and mid-October each season.
They are famous for their sweet corn, grown in nearby Greenwich, New York, but you should also visit for the fresh fruit, jams and jellies, hot sauce, and even some succulents for that empty windowsill.
Benmont Avenue Produce is open daily from 11 am to 6 pm. Visit them at 160 Benmont Avenue in Bennington, Vermont.
Go for a Fall Foliage Drive in Southern Vermont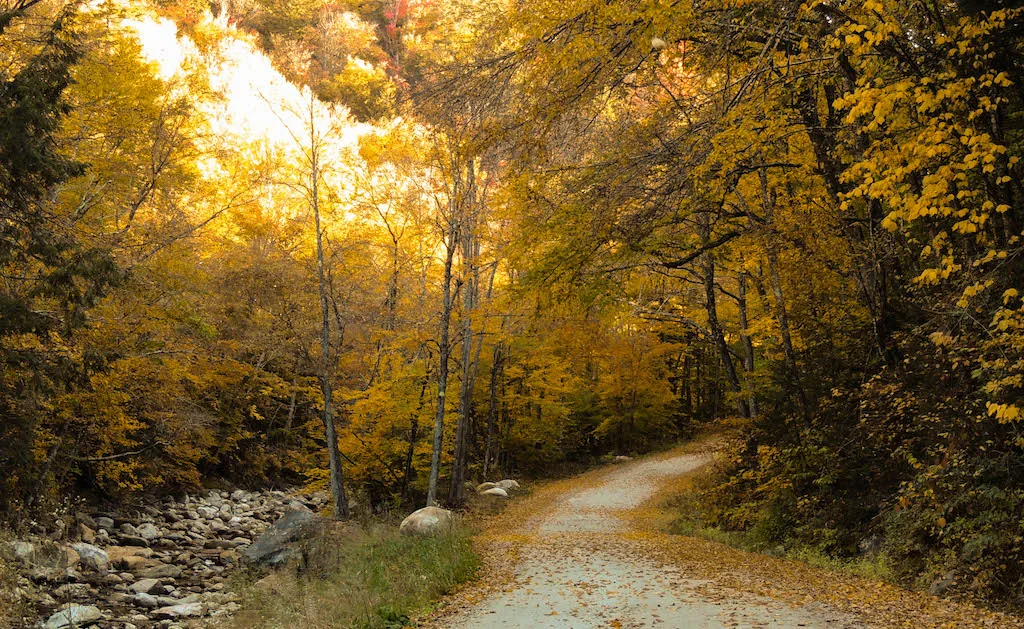 Make your home base in Bennington and embark on a few beautiful fall foliage drives throughout southern Vermont to discover breathtaking views, unique museums and historic sites, and the small New England villages that make this area so special.
Here are a few of my favorite road trips, but don't be afraid to drive around, explore, and maybe even get a little lost.
Route 7A/Route 100 loop: This 93-mile southern Vermont road trip can be done in an afternoon or a weekend, depending on how much time you spend at each stop. It begins and ends in Bennington and takes you through Shaftsbury, Arlington, Manchester, Jamaica, Dover, and Wilmington. I do this road trip every single year in October!

Bennington, North Bennington, and Shaftsbury Loop: Perfect for those without a lot of time to explore this 20-mile loop takes you on back roads through three covered bridges, and on several beautiful dirt roads with spectacular foliage views. Here's a link to the Google Map for this loop.

Kelly Stand Road to Grout Pond: Kelly Stand Road is a seasonal road that closes to traffic after the first snowfall. It's a small dirt road that travels from East Arlington through the Green Mountains to Grout Pond, which is one of the most gorgeous little ponds in early October. Here's a link to the route on Google Maps, which brings you back to Bennington on Route 100 and Route 9 through Wilmington for a 90-mile loop.
Explore the trails around Bennington VT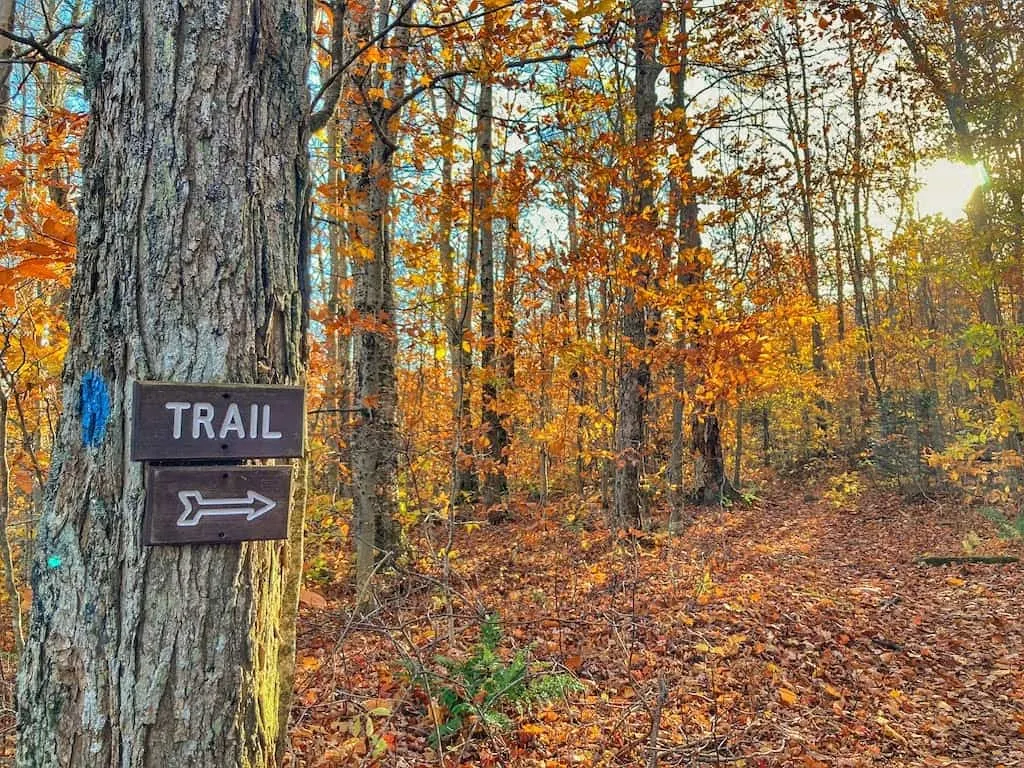 Fall is one of the best times to enjoy the outdoors in and around Bennington, Vermont. The parks, back roads, and waterways are alive with color and just begging to be explored. Here are some ideas for getting outside in Bennington during fall foliage.
Lake Shaftsbury State Park, Shaftsbury
Difficulty level: easy
Length of trail: 1-mile loop
Kid appeal: swimming, a boardwalk through wetlands, decent fishing, boat rentals
Dogs: on leash
Fee: $5 for adults, $2 for children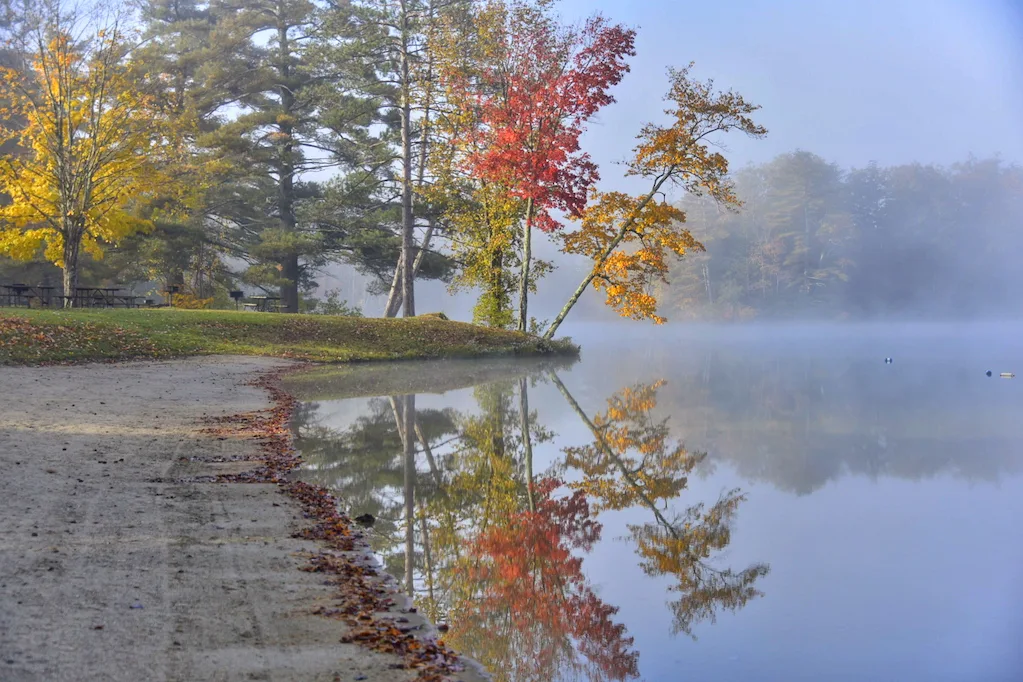 The hike around Lake Shaftsbury is more of a ramble — a mile in length, meandering through the woods, then wetlands, then back into the woods, with a constant view of the lake. Be on the lookout for a variety of birds — waterfowl are plentiful most of the year, and bald eagles and osprey have been spotted on numerous occasions.
Woodford State Park, Woodford
Difficulty level: easy to moderate
Length of trail: 2.7-mile loop
Kid appeal: swimming, playground, boat rentals
Dogs: on leash
Fees: $5 for adults, $2 for kids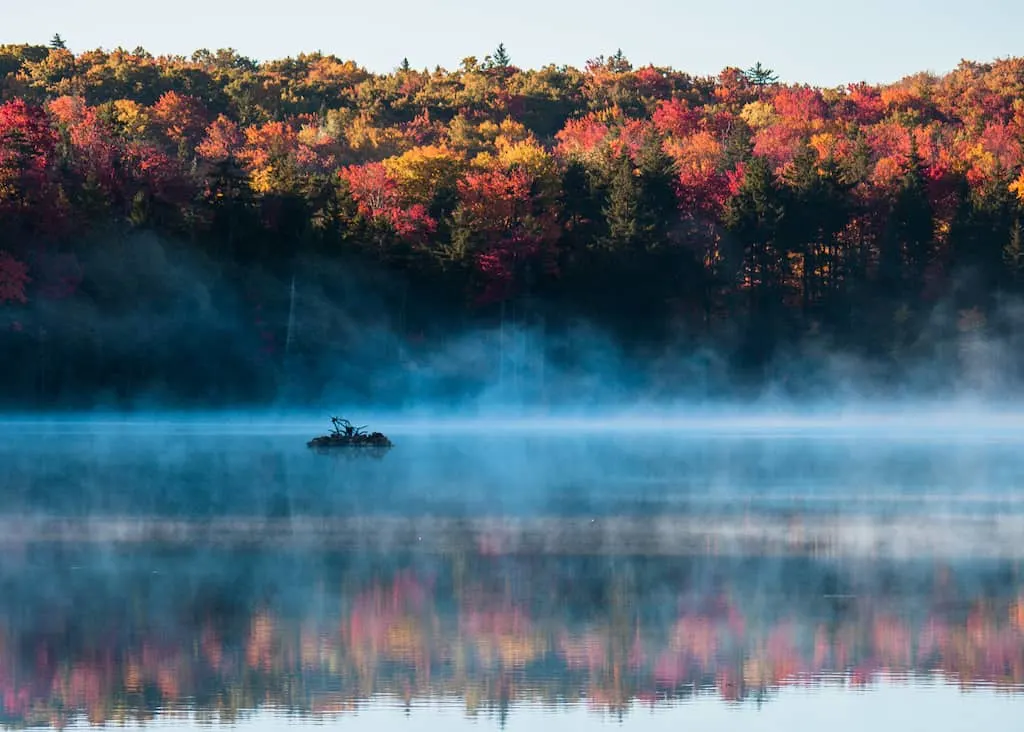 The hiking trail in Woodford State Park brings you around Adams Reservoir, a gorgeous, tree-lined lake nestled in the green mountains about 11 miles from Bennington. Because Woodford State Park is in the mountains, you'll find that it's much cooler here than in Bennington. Definitely pack a sweater or jacket for fall hiking.
Bennington Area Trail System (BATS), Bennington
Difficulty level: easy to difficult
Length of trail: varies
Kid appeal: Mansion, relics, and a cave
Dogs: on-leash
Fees: None
The Bennington Area Trail System is a beloved multi-use trail system on the side of Mount Anthony near the former Southern Vermont College. Not only are the views amazing from this vantage point, but the vast network of trails has something for every type of hiker, from the meanderer to the hard-core adventurer.
Mile-Around-Woods, North Bennington
Difficulty level: easy
Length of trail: one-mile
Kid appeal: Mansion, farm animals, rocks for climbing on
Dogs: yes
Fees: None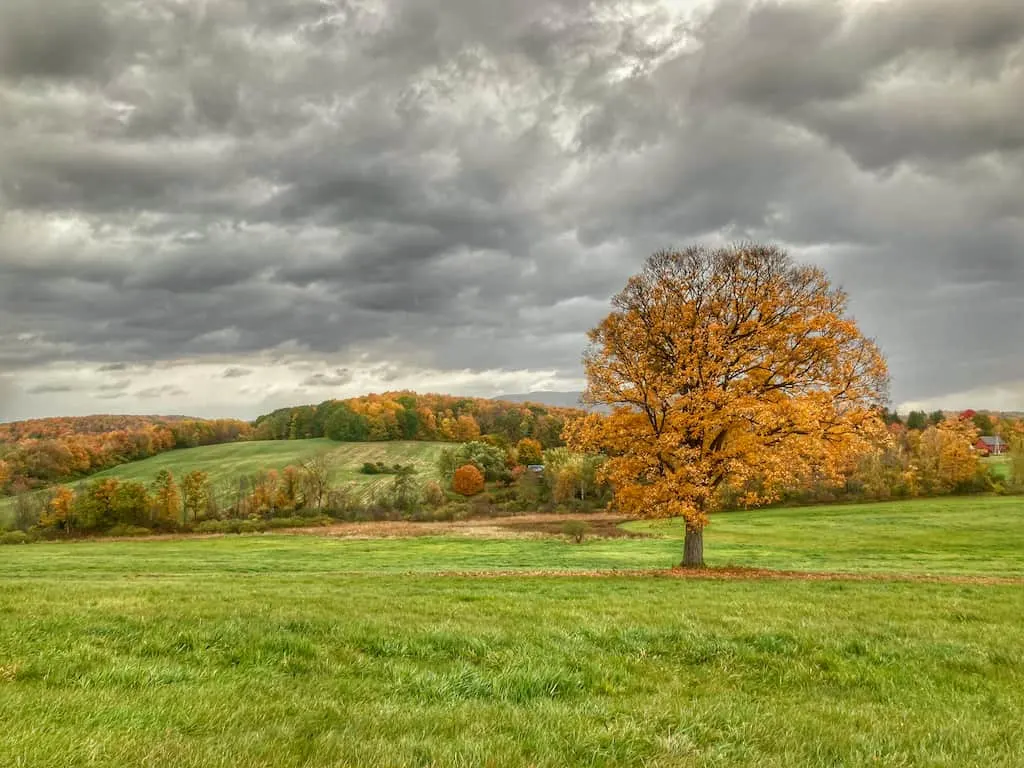 The Mile Around Woods trail sits behind the beautiful Park McCullough house in North Bennington. This loop starts by taking hikers through beautiful farm fields of grazing horses, then meanders through a hardwood forest on a lovely, wide path.
The forest loop is exactly a mile long, but you can make the adventure last by traipsing across several fields, or by visiting the historic Park McCullough House and Hiland Hall gardens.
Park McCullough House is open for tours on Friday, Saturday, and Sunday from May to October. The Hiland Hall gardens have been meticulously restored and are located behind the main house. For an overview of the trails, please visit the Fund for North Bennington.
Discover Bennington's Covered Bridges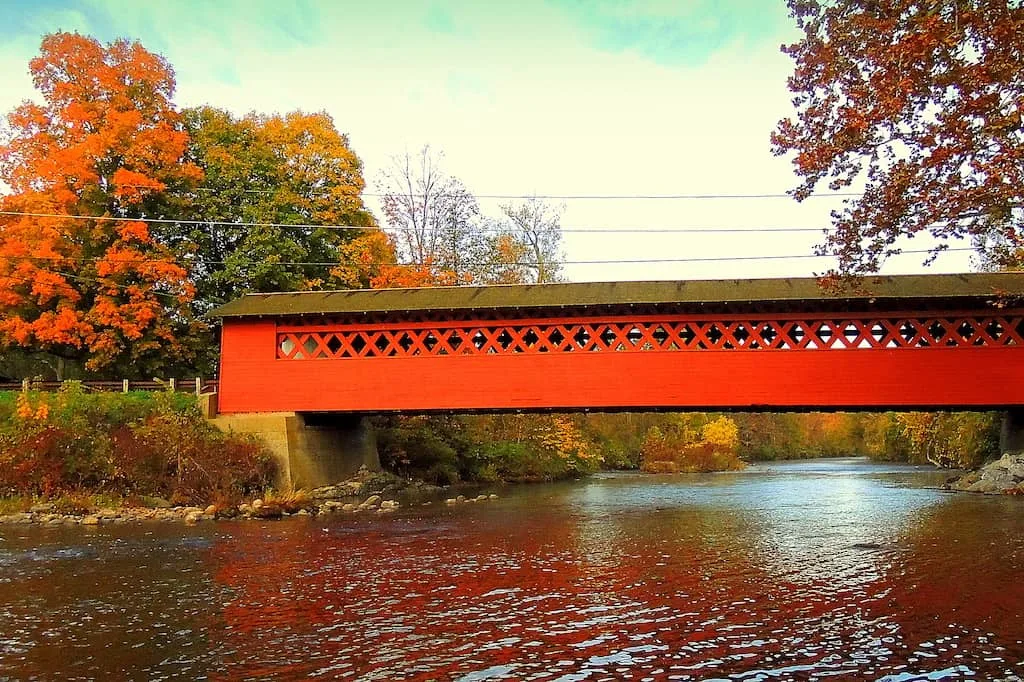 Bennington County is home to five beautiful covered bridges, and you'll find three of them in the towns of Bennington and North Bennington.
All of Bennington's covered bridges cross the Walloomsac River, and they are all within a mile of each other, so you can visit them all in a very short period of time.
There are small parking areas near each bridge, so you can get out and snap some photos. Read more about the beautiful covered bridges in Bennington County.
Tour a Historic Home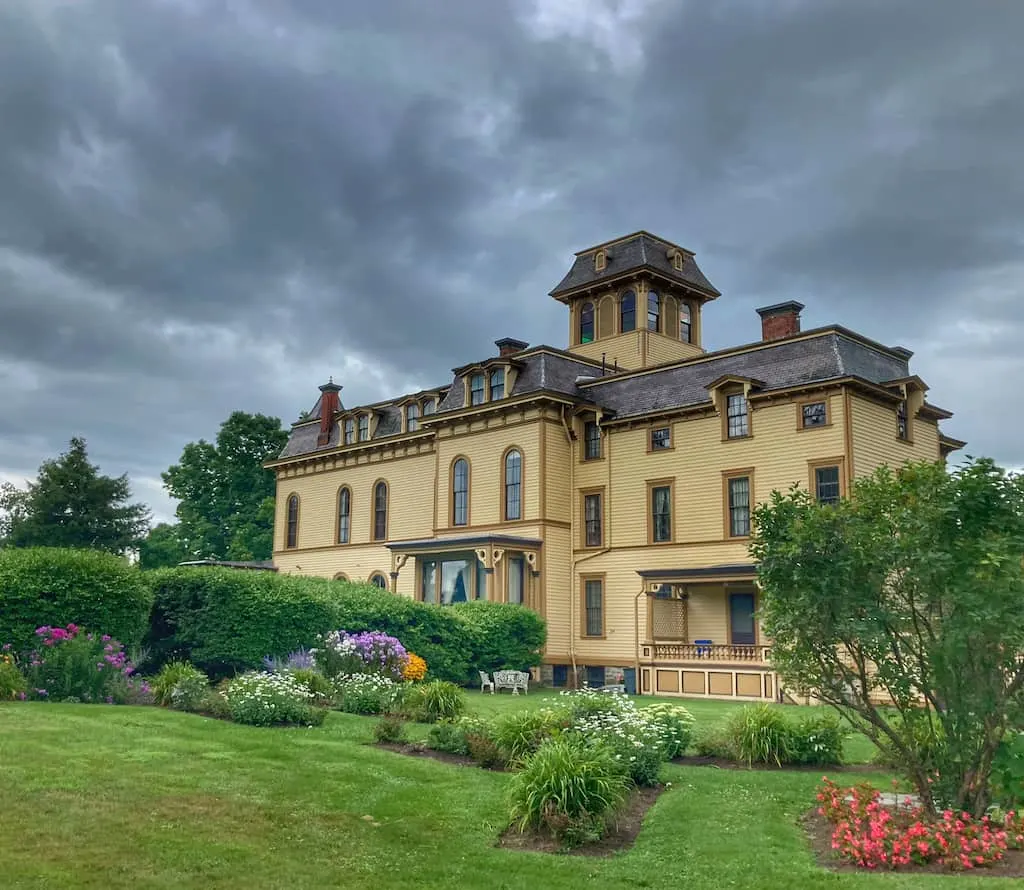 Get a taste of Bennington's history during your fall vacation with a tour of one of these historic homes.
The beautiful Victorian-era Park McCullough House was built in 1864 – 1865 by attorney and entrepreneur, Trenor Park, and is considered one of the finest and best-preserved Victorian mansions in New England.
You can visit this beauty, the working farm behind it, and the lovely, Mile-Around-the-Woods hiking trail (mentioned above) all in one afternoon. Park McCullough House is located in the village of North Bennington and is open for tours on weekends until the end of the fall foliage season. Admission is $15 per person.
For history on a smaller scale, check out the Robert Frost Stone House Museum on Route 7A in Shaftsbury, Vermont.
This literary landmark was home to poet Robert Frost from 1920 – 1929, which was a prolific time period of his writing career. He composed many of his most famous works here, including "Stopping by Woods on a Snowy Evening," which was written on a hot June morning at his dining room table.
The Robert Frost House is open from Thursday – Monday, 10 am – 4 pm, until the end of October.
Fall is one of the most beautiful seasons to explore the historic town of Bennington, Vermont. Whether you visit for an afternoon or a whole week, you'll find plenty to do beyond leaf-peeping.
Where to Next?
Here are a few more beautiful towns to check out while you're in southern Vermont:
Follow us on social media for more Vermont inspiration!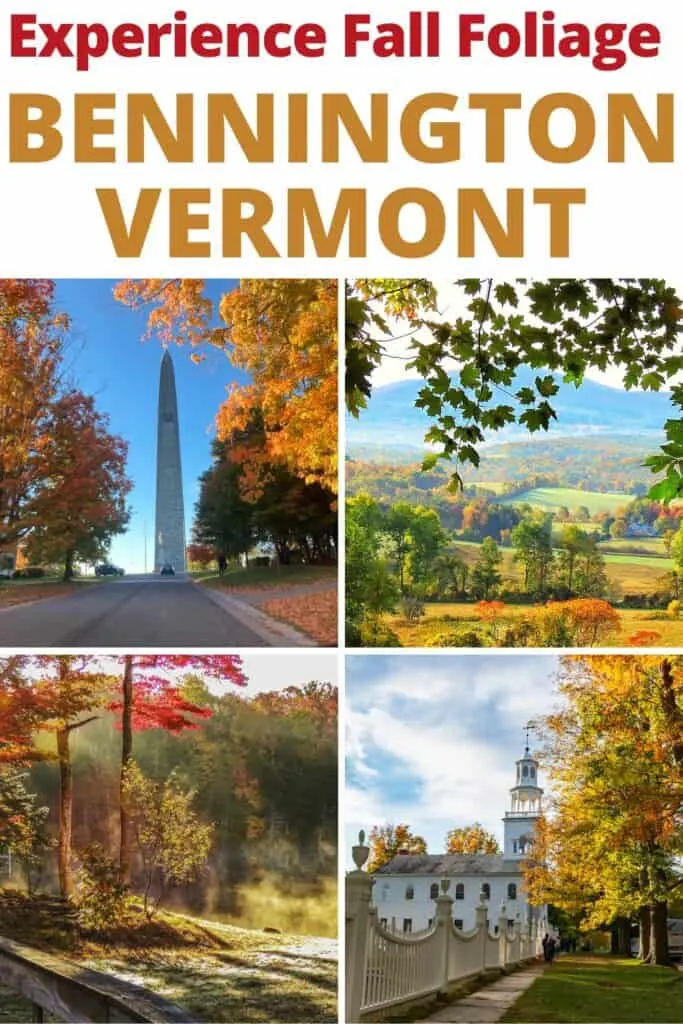 Tara Schatz is a freelance writer, and the founder and editor-in-chief of Vermont Explored and Back Road Ramblers, an American road trip blog. She is also the co-author of the 3rd edition of AMC's Best Day Hikes in Vermont, which was released in May 2023.