Now that the holidays are over, a long Vermont winter stretches out before us. As tempting as it may be to hibernate through these short days and long nights, I can tell you from experience that if you live in Vermont (or visit often), the best way to get through winter is to embrace it!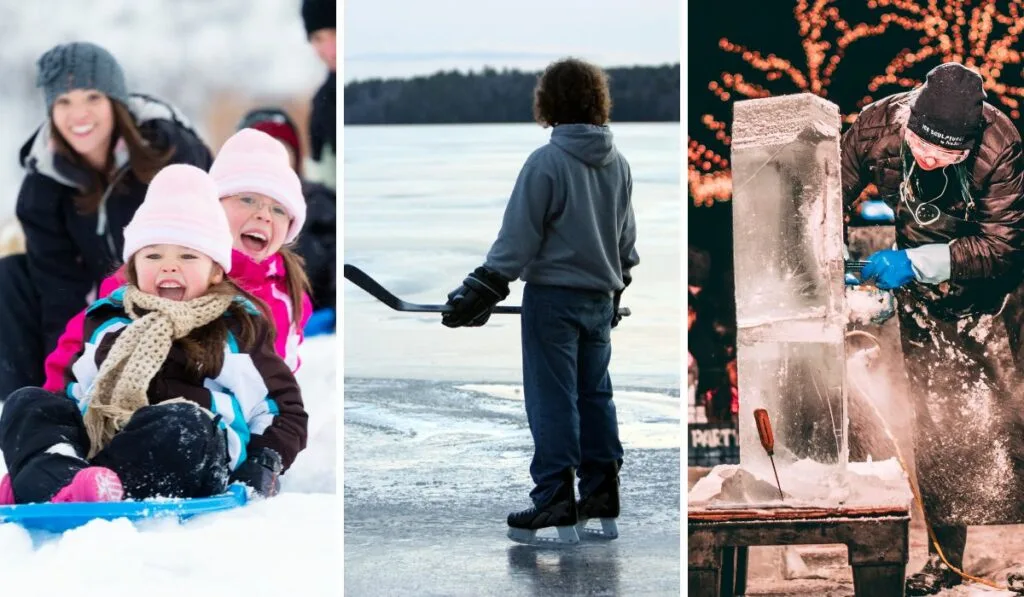 There are oodles of things to do in Vermont in winter, but these Vermont winter events and festivals are celebrated by local communities across the state and are ideal for embracing the cold, snow, and ice. Come soak up winter and then cozy up with your favorite person, beverage, or book near the fireplace for a memorable Vermont winter weekend.
Vermont in January: Events and Festivals
Grafton Ice Bar: Grafton, Vermont
January 6 – 7, 2023 (sold out)
Does sipping libations, munching goodies from local food trucks, and cozying up to an outdoor bonfire with other winter lovers sound appealing? The annual Grafton Ice Bar at the Grafton Inn celebrates local spirits and food, not to mention long winter nights.
The 2023 Grafton Ice Bar is already sold out, so this is your reminder to put this annual 21+ event on the calendar for next year! Your admission includes two drink tickets and a souvenir LED glass.
Where to stay in Grafton: Grafton Inn puts on the Grafton Ice Bar each year, and it's the best place to stay too!
---
Cabot Village 12th Night Celebration: Cabot, Vermont
January 6 – 7, 2023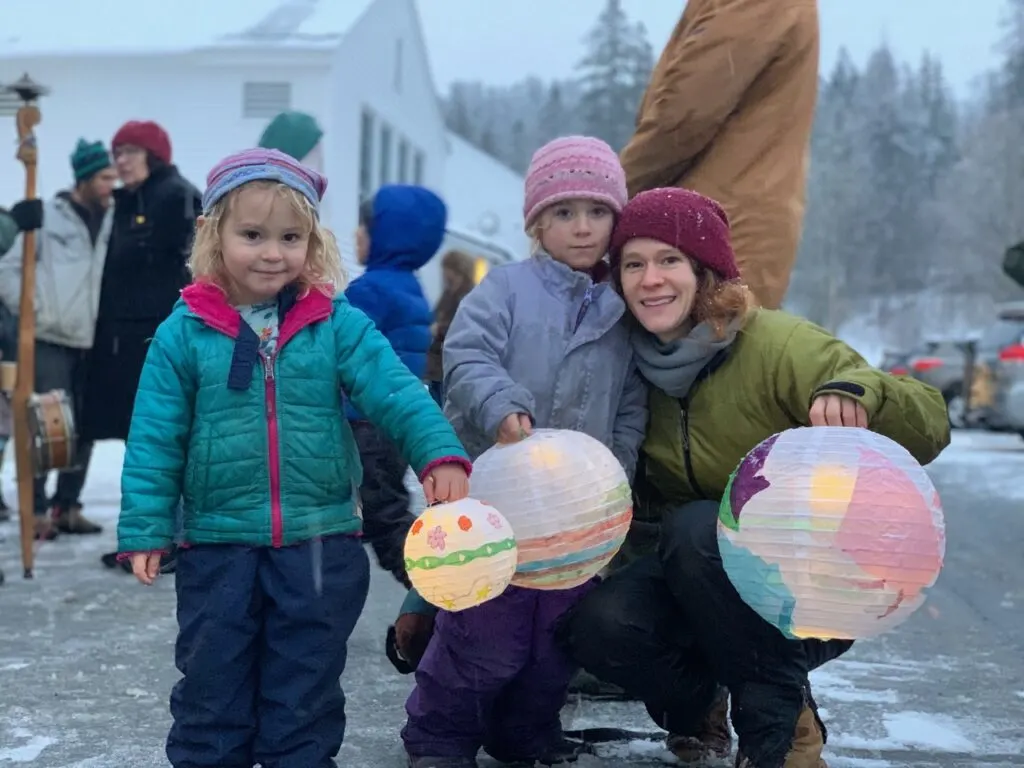 Welcome to the third annual 12th Night Celebration in Cabot Village! This fun event wraps up the holidays perfectly, with live music, storytelling, ice skating, hot cocoa, bonfires, a community dinner, and a sunset paper lantern parade.
Brought to you by Cabot Arts, an organization dedicated to promoting and supporting the performing literary arts and artists in the town of Cabot.
Where to stay near Cabot: With a population of fewer than 300 people, you won't likely find lodging right in Cabot (this cute cabin is an exception). For more options, check out Montpelier just 30 minutes southwest of Cabot. We loved the Capitol Plaza Hotel when we stayed there in 2019. It has since been acquired by Hilton.
---
January 18 – 22, 2023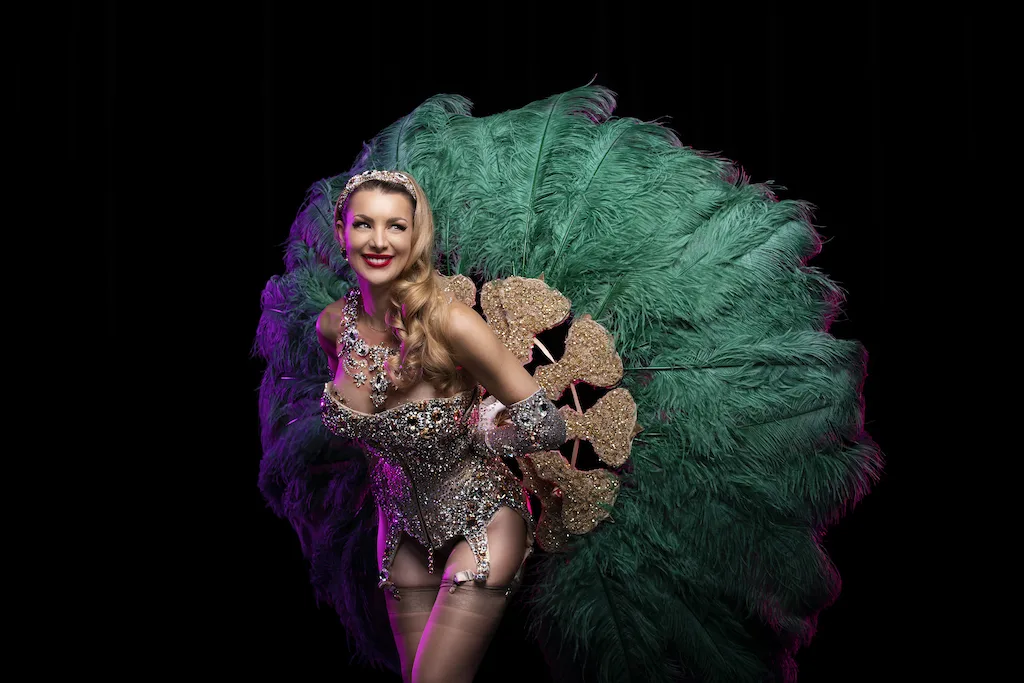 Get ready to heat up those cold winter nights with a multi-day, multi-city festival like no other.
Marketed as New England's largest celebration of body positivity and the burlesque revival, the Vermont Burlesque Festival features five different shows in Burlington and Barre City, as well as classes, comedy, live music, and a silent auction. It's been nominated by Seven Days as one of the "Best Live Arts Events in Vermont".
Buy tickets to the Sneak Peak event in Burlington on Thursday, January 19th, the Granite City Showcase in Barre on Friday, January 20th, or Les Tres Grand Spectacle on Saturday, January 21st. For a full line-up of events and to buy tickets, visit the events page at Vermont Burlesque Festival.
Where to stay in Barre and Burlington: In Burlington, stay at Hilton Lake Champlain, with fantastic views of the water and easy walking to restaurants and shopping. This is also the location for Les Tres Grand Spectacle on Saturday, so you'll be in the center of the activity. In Barre, stay at Firehouse Inn, a renovated firehouse right across from the Barre Opera House (site of Friday night's event).
---
Winter Rendezvous: Stowe, Vermont
January 18 – 22, 2023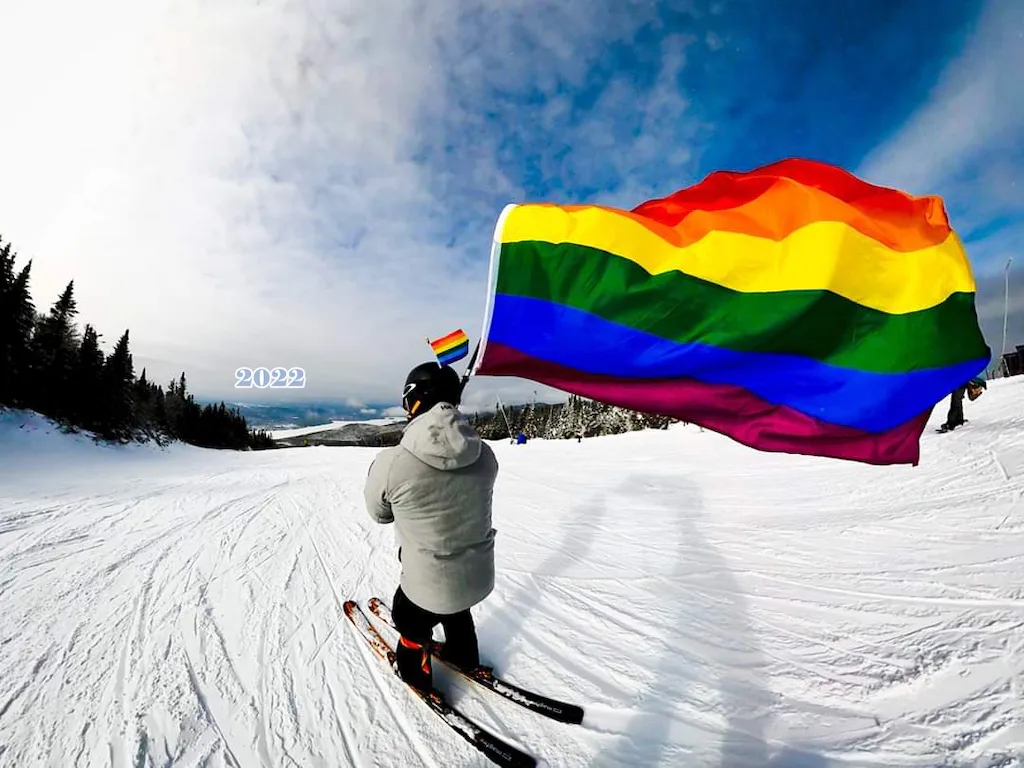 The 40th annual Winter Rendezvous in Stowe is described as "five days of wintery bliss" on their website, and it's the perfect way to fall in love with snowy Vermont winter. Eclectic Festivities include a bowling party, pool party, LGBTQ+ Winter Pride Festival (and Gay Ski Week), live music, drag bingo, theater, cocktails, and a huge dance party.
Coinciding with Winter Rendezvous is the 48th annual Stowe Winter Carnival from January 19-22, 2023. This is a family-friendly, town-wide event with ice carving demonstrations and competitions, the iconic Snow Volleyball tournament, and stargazing at Trapp Family Lodge.
Where to stay in Stowe: If you have tickets to Winter Rendezvous, stay at Topnotch Resort and Spa, the official host of the event. Our second choice is Tälta Lodge Bluebird, which is located on The Mountain Road and very close to Stowe Mountain Resort for skiing.
---
Lunar New Year Festival and Potluck: Brattleboro, Vermont
January 22, 2023
Welcome the new year at the Lunar New Year Festival and Potluck in Brattleboro. This free event is organized by the Asian Cultural Center of Vermont, this annual celebration features activities for all ages, including paper lantern-making, Chinese songs, Korean rope tug, t'ai chi, a Vietnamese dragon dance, and much more.
Where to stay in Brattleboro: We love Latchis Hotel, a historic Art Deco hotel in downtown Brattleboro. It's dog-friendly too!
---
Waterbury Winterfest: Waterbury, Vermont
January 27 – February 5, 2023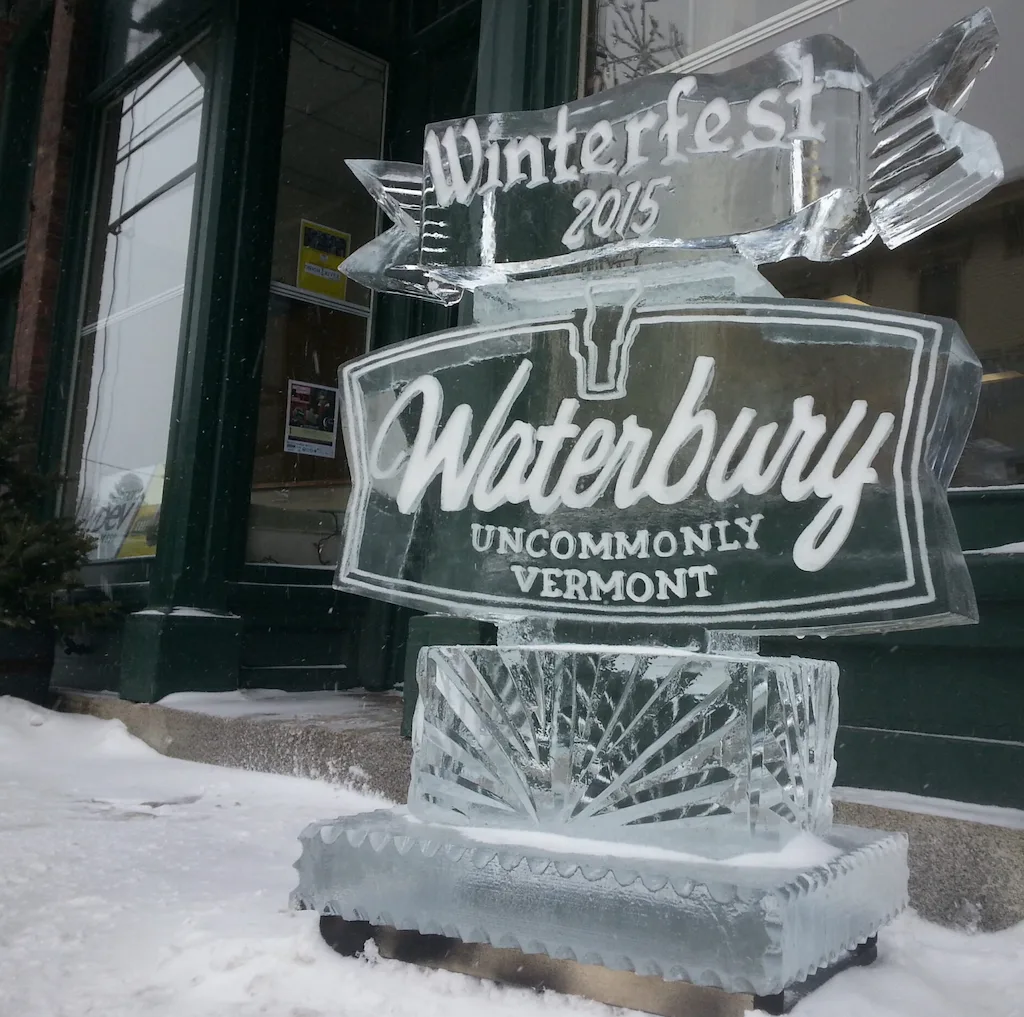 Waterbury Winterfest is an epic collection of special events spread over 10 days. Outdoor events include a rousing game of broomball (basically it's hockey without skates), fat tire demonstrations, cross-country skiing, snow volleyball and soccer, and more. Indoors, you can take part in wine tasting, wassailing, a beer quiz, a silent auction, and a snowball dance.
Most activities are free, with a few exceptions, but many of the events do require pre-registration. Visit Waterbury Winterfest to learn more.
Where to stay in Waterbury: We've enjoyed staying at the Fairfield by Marriott in Waterbury, which has a nice indoor pool, and you can't beat the location.
---
Vermont in February: Events and Festivals
Ice on Fire: Montpelier, Vermont
February 5, 2023
Ice on Fire is a celebration of deep winter, beckoning folks out of hibernation and into the warmth of the Montpelier community. This wonderful event features dance, theater, music, storytelling, and poetry performed by local artists and community members, as well as winter games and kids' activities.
This outdoor event is family-friendly and completely free to attend.
Where to stay in Montpelier: We loved the Capitol Plaza Hotel when we stayed there in 2019. It has since been acquired by Hilton.
---
Great Ice!: North Hero, Vermont
February 17 – 19, 2023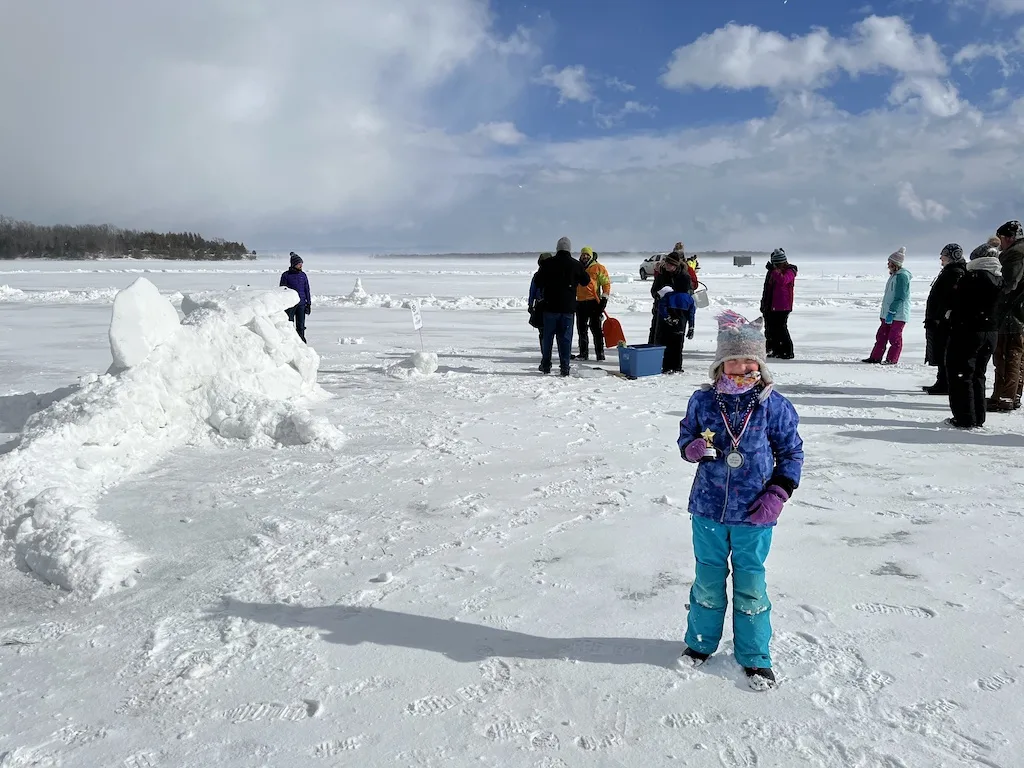 Every winter Great Ice! turns North Hero's frozen city bay into a winter playground for all ages. Festival highlights include fireworks, bonfires, dog sled rides, skating on lighted rinks, cookoffs, and a snow-building competition.
Be sure to do the popular Over n' Back trek, a 1.7-mile trek across frozen Lake Champlain to Knight Island State Park where hot chocolate and refreshments await. The path is ungroomed and figuring out the best way to get there is half the fun. Reliable snow boots work fine, but you can also ski, skate, fat bike, or be dragged on a sled. Whatever works!
Where to stay in North Hero: Winter lodging is very limited in North Hero. Try the Hampton Inn in St. Albans, which is within walking distance of shops and restaurants and has an indoor pool
---
Annual Harris Hill Ski Jump Competitions, Brattleboro, Vermont
February 18 & 19, 2023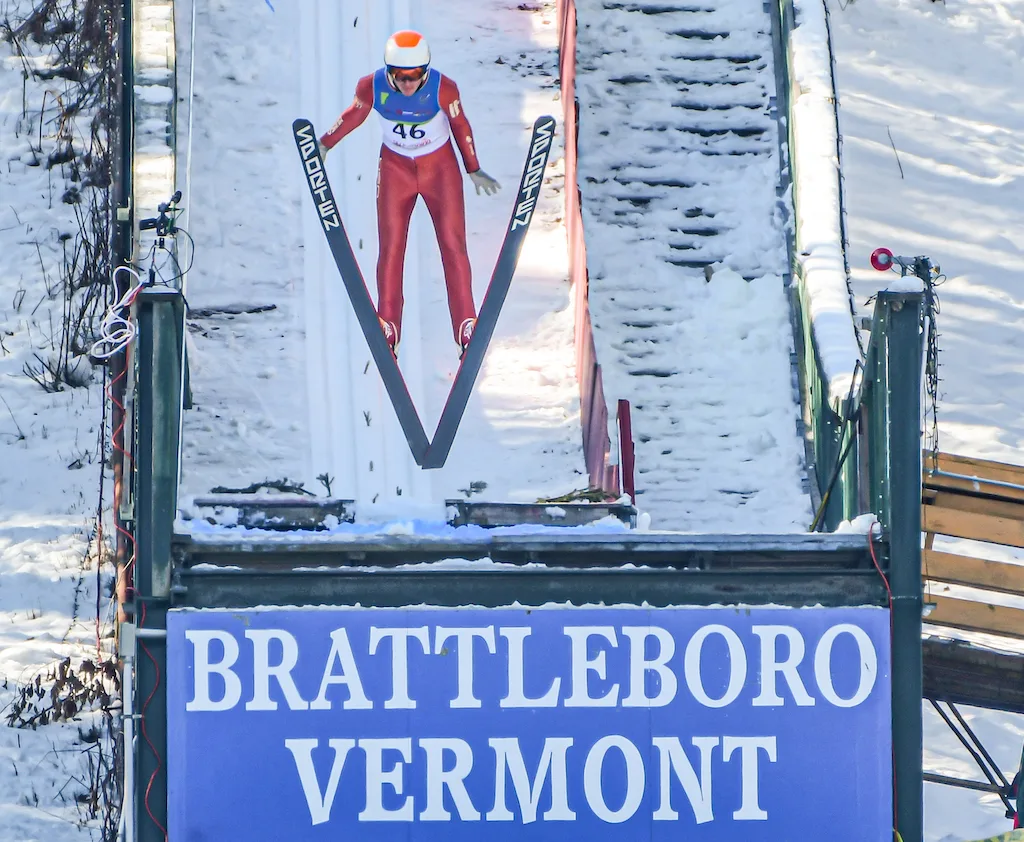 The iconic Harris Hill Ski Jump Competition celebrated 100 years in 2022 and is back this year with thrilling competitions and a new nighttime event on Friday. This long-standing Brattleboro tradition is held on an Olympic-size, 90-meter hill.
The Pepsi Challenge and US Cup take place on Saturday, February 18th, and the Fred Harris Memorial Tournament is Sunday, February 19th. New this year will be Innaugural Night Competitions on February 17th under newly installed lights.
If you've never witnessed the thrill of watching winter high-flyers, you're in for a treat. A field of around 40 of the world's top up-and-coming ski jumpers from the US and Europe are scheduled to compete this year. Jumpers launch from the takeoff and soar more than 300 feet at speeds of nearly 60 mph.
The event has a festive atmosphere for the whole family with food, music, souvenirs, and a beer tent.
Where to stay in Brattleboro: We mentioned Latchis Hotel above, but if you are looking for a budget-friendly option, check out Colonial Motel, which features an indoor saltwater pool and spa.
---
Artful Ice Shanties: Brattleboro, Vermont
February 18 – 26, 2023
Maybe you'll already be visiting Brattleboro for the annual Harris Hill Ski Jump, or maybe you want to make a special trip to check out Brattleboro Museum & Art Center's Artful Ice Shanties at Retreat Farm. The Artful Ice Shanties outdoor exhibit is a place-based celebration of artistic talent, creative ingenuity, and the rich history of ice fishing at the Retreat Meadows.
The Artful Ice Shanties will be displayed on the Retreat Meadows from Saturday, Feb. 18, through Sunday, Feb. 26. Come meander through the village of huts as you sip hot cocoa, provided by the museum. This family-friendly event is free for all ages.
---
Lighten Up: Middlebury, Vermont
February 25, 2023
Bring light to the Middlebury community with a lantern walk through downtown with stops at local businesses offering free outdoor entertainment and food/beverages for purchase.
Lighten Up Middlebury is the perfect way to embrace winter while supporting local businesses. You can even visit Experience Middlebury for directions on how to make your own lantern for the event.
Where to stay in Middlebury: The historic Swift House Inn features beautiful rooms and an onsite restaurant.
---
Newport Winter Festival: Newport, Vermont
February 25, 2023
Newport Winter Festival is a nostalgic step back in time where kids and adults come together to celebrate winter in Vermont. All-day activities take place at Prouty Beach and Gardiner Park in Newport and include skating, bonfires, tubing, sledding, a broomstick tournament, snow sculpture contests, a scavenger hunt, and fireworks.
All ages are welcome at this free event!
Where to stay in Newport: Newport City Inn & Suites features basic comfortable rooms and an indoor pool.
---
No matter how you feel about winter, you're sure to appreciate these Vermont winter events and festivals to help you make the most of the season.
Did we forget your favorite event? Send us an email and we'll check it out!
Follow us on social media for more Vermont inspiration!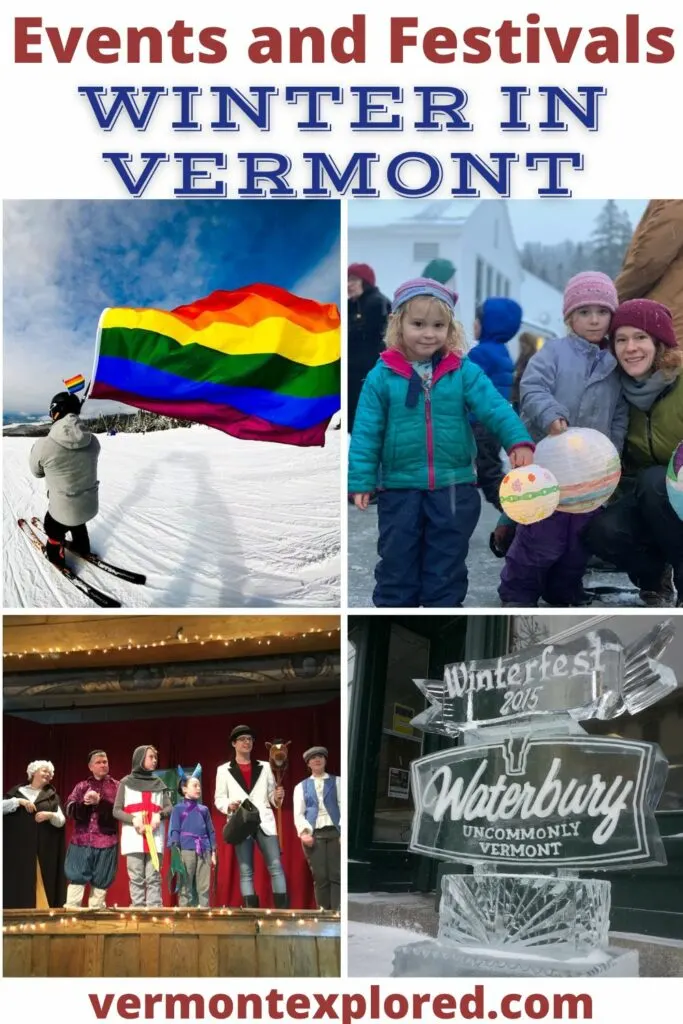 Tara Schatz is a freelance writer, and the founder and editor-in-chief of Vermont Explored and Back Road Ramblers, an American road trip blog. She is also the co-author of the 3rd edition of AMC's Best Day Hikes in Vermont, which was released in May 2023, and the author of 100+ Wonderful Ways to Experience Vermont.