'Tis the season of snow and twinkling lights. The time for eating rich food and buying stuff. Lots of stuff.
If the thought of another year of giving and receiving more stuff than anyone needs is making you anxious, consider giving the gift of a distinctive Vermont experience.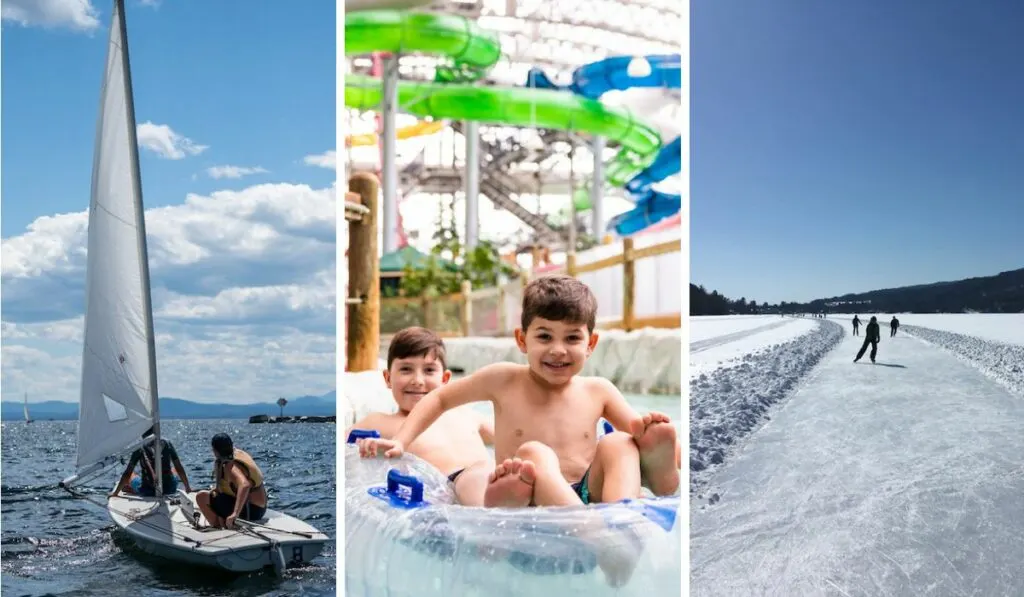 Experience gifts may not take up much room under the tree, but they do inspire adventure and curiosity while providing for all kinds of memory-making.
Another benefit of experience gifts? They give your recipient something to look forward to when the holiday hubbub is over.
A hugely diverse range of small businesses and organizations in Vermont makes it easy to find incredible experience gifts for every Vermont lover on your list.
Here are some fun suggestions for Vermont experience gifts that are sure to delight your loved ones this year.
Vermont Experience Gifts for Kids and Kids-at-Heart
Instead of trying to find the perfect toy to put under the tree or wrapping something up simply because you found it on sale, why not give the kiddos in your life a Vermont experience gift so they can make memories that will last forever?
Here are some Vermont-based gifts that will encourage your kids to get moving, get creative, or use their noggins in the most delightful ways.
Montshire Museum Membership: Norwich, Vermont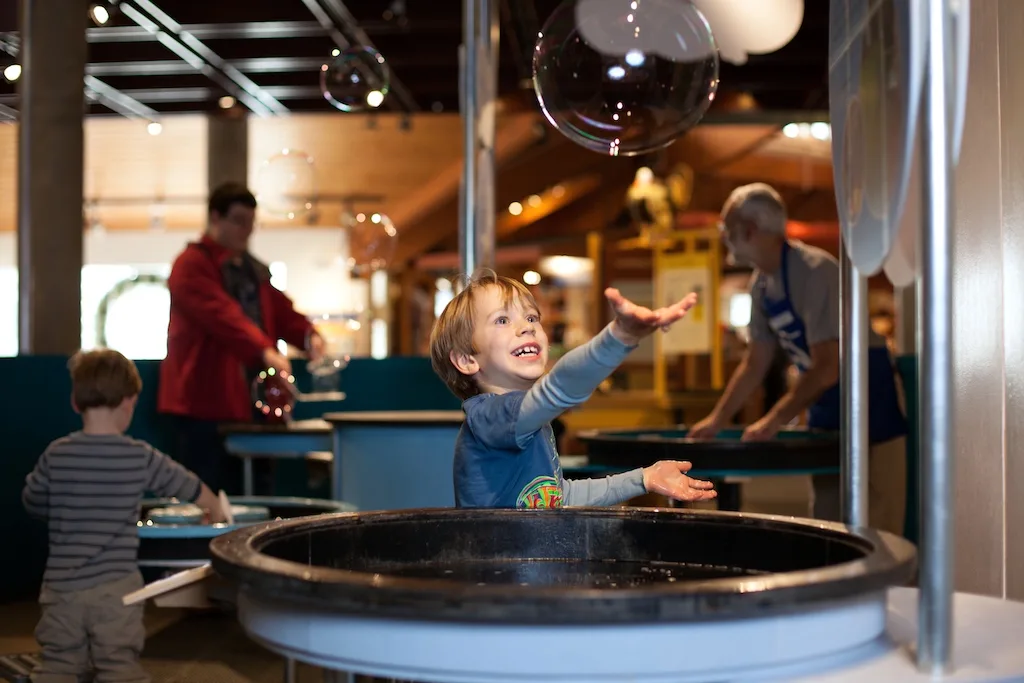 Intriguing hands-on science exhibits, miles of nature trails, and innovative programs and special events are just a few of the many reasons to gift the smallest Vermonters in your life with a membership to Montshire Museum in Norwich.
With more than 150 hands-on science exhibits, Montshire Museum provides endless opportunities for discovery. Inside, kids can learn about the properties of air, the science and art of musical instruments, or the concepts of gravity, momentum, inertia, and turbulence. Exhibits are spread across two floors.
When the weather cooperates, kids can head outdoors to hike a nature trail or explore the interactive water exhibits in the David Goudy Science Park (open from May to October).
Montshire Gift Memberships offer a full year of fun and discovery. Your gift recipient will receive unlimited visits to the Museum, savings on programs and Museum Store purchases, and invitations to exclusive member events.
*Holiday membership special: Purchase any Montshire gift membership between November 25th and December 31st, 2022, and get two additional months free. That's 14 full months of learning and discovery!
Wrapping suggestion: Tuck a Montshire Museum gift membership card into an age-appropriate science book. If you are local, you'll find a great selection at the Montshire Museum Store.
---
ECHO, Leahy Center for Lake Champlain Membership: Burlington, Vermont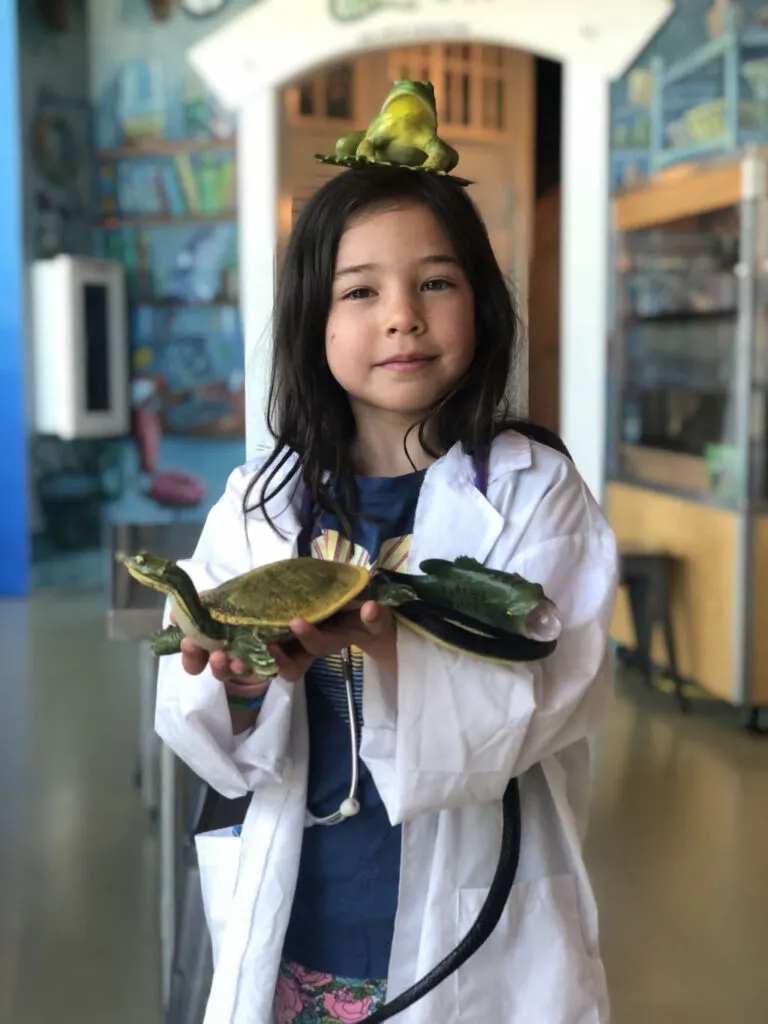 ECHO inspires and engages families in the joy of scientific discovery, the wonder of nature, and the care of Lake Champlain.
Located on the waterfront in Burlington, ECHO, Leahy Center for Lake Champlain includes two sprawling floors of interactive exhibits, live animals, and a 3D theater featuring incredible nature and science films. Special rotating exhibits mean that kids can visit again and again and always find something new to spark their curiosity.
Visitors to ECHO will learn about the plants and animals that live in the Lake Champlain Basin, the amazing natural processes that shaped this part of the world, and even some of the mysteries that are hidden beneath the surface of Lake Champlain.
An annual membership to ECHO includes free unlimited admission year-round, free admission to 325+ museums and science centers through the ASTC Passport Program, a 10% discount at ECHO's Museum Shop in-store or online, plus additional discounts.
*Holiday membership special: Now through January 31st, whenever you buy or gift an ECHO membership — ECHO gives a membership to a family in need.
Wrapping suggestion: Place your recipient's gift membership into one of these ECHO water bottles from Klean Kanteen.
---
Wonderfeet Kids' Museum Membership: Rutland, Vermont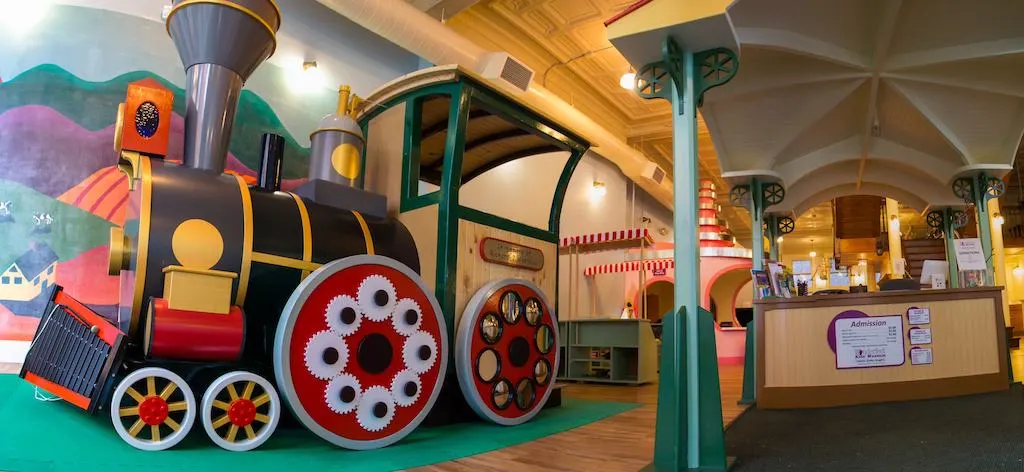 Give the gift of play this year without buying another toy. A membership to Wonderfeet Kids' Museum in Rutland enables your gift recipient to take advantage of free general admission to Wonderfeet for an entire year.
At Wonderfeet, exhibits and programs complement school curricula and reinforce skills needed for academic success. More importantly, Wonderfeet Kids' Museum is a place for early discovery and the development of life-long learning.
Exhibits at Wonderfeet include a wind tunnel, a colorful train, a farmers' market, a diner, and a construction zone, plus spaces for art and creativity, building with Legos, and hands-on learning. There's even a developmentally appropriate space for infants and toddlers to explore.
A Wonderfeet membership starts at just $65, with family pricing available.
---
A Day Pass to The Pump House Indoor Waterpark: Jay Peak Resort, Vermont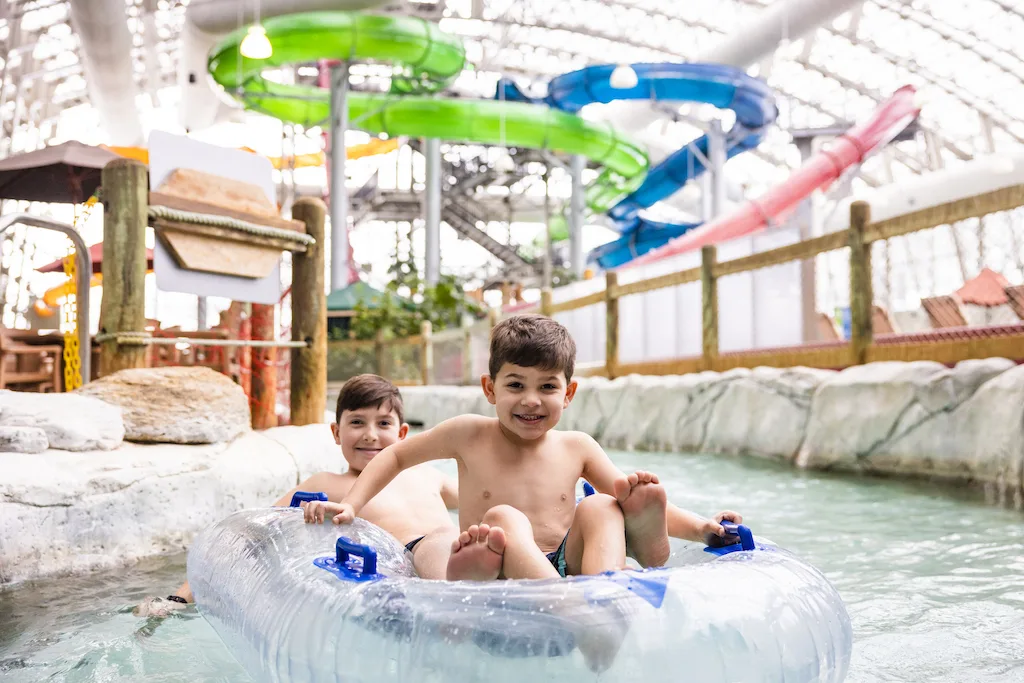 If you're looking for an indoor winter adventure that the whole family will enjoy, consider a day pass to Vermont's only indoor waterpark, The Pump House at Jay Peak Resort. There's something magical about spending a day swimming and frolicking in warm water when it's freezing cold outside, and in the summer, the retractable roof lets in the fresh air and sunshine.
Kids will love the deepwater activity pool with its climbing wall and basketball area, and the most adventurous will enjoy a thrilling ride on one of three slides or the foreboding La Chute. Even the smallest children can splash and play in Mill Pond with its obligatory cannons and a tipping sap bucket.
Day passes to The Pump House are $35 for kids 4-14 and $45 for 15+.
Wrapping suggestion: Wrap your day pass(es) in a colorful beach towel with a pair of swim goggles.
---
Get Air Trampoline Park Gift Card: Williston, Vermont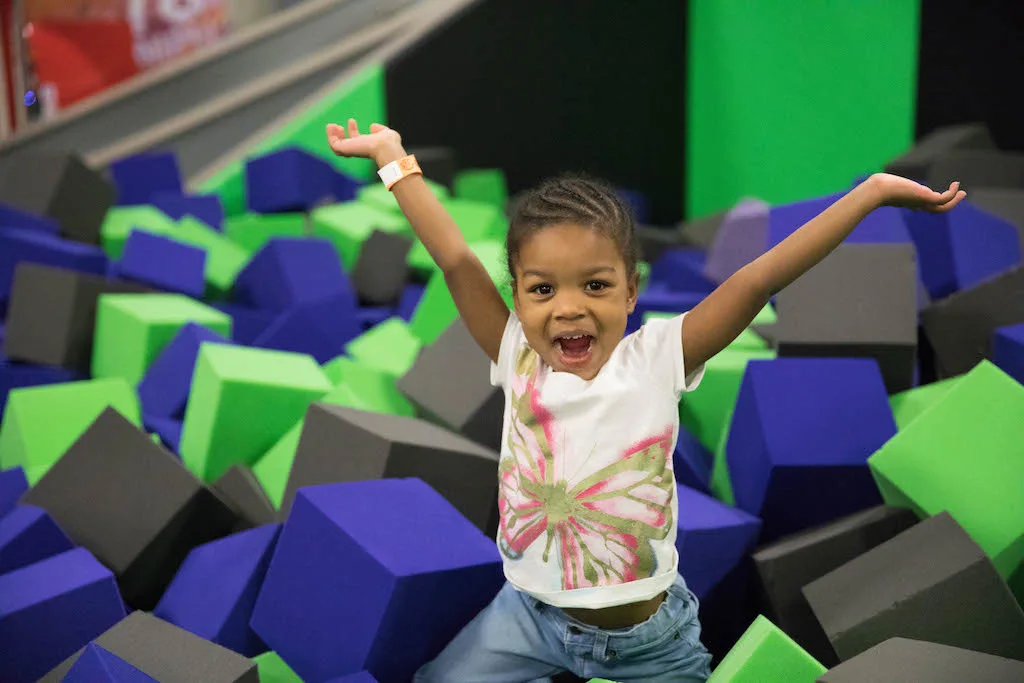 By January, all the holiday hype is starting to wane and the kids are bouncing off the walls. Might as well channel that energy on literal wall-to-wall trampolines at Get Air Trampoline Park in Williston.
Not only does Get Air have thousands of square feet of trampolines, but kids will also find vertical trampolines and a trampoline dodgeball area. The Ninja Course is an adrenaline-pumping race through a maze of walls and trampolines.
Slacklines give kids an opportunity to practice balance without getting hurt, and there's nothing quite like hurling yourself into a giant foam pit for post-holiday stress relief.
A gift card to Get Air is perfect for active kids. Daily deals at Get Air Trampoline Park include Family Night Monday, Twice-the-Time Tuesday, and Wednesday Student ID Night, where your gift will go even further.
Wrapping suggestion: Stick your Get Air gift card inside a pair of non-slip trampoline socks. Jump socks are required for jumping on the trampolines.
---
Also Read: Local Vermont Gifts You Can Feel Good About Giving
---
Vermont Experience Gifts for Outdoor-Lovers
Vermonters are fortunate to have so many opportunities for outdoor recreation, and while skiing may be our most iconic way to spend a winter day, it is by no means the only game in town.
These Vermont experience gifts are sure to please every outdoor lover on your list.
A Membership or Overnight Stay with Vermont Huts: Statewide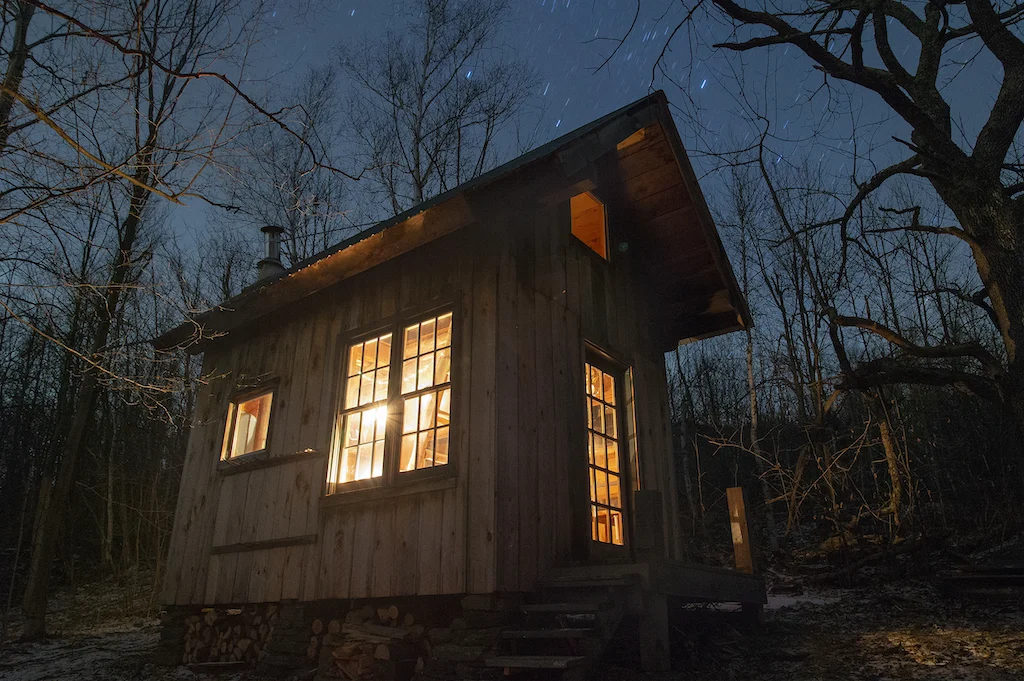 Imagine a cold winter night in Vermont. Snow is falling. The wind is blowing fiercely through the trees. And your loved one is appreciating every moment from the cozy interior of a rustic, backcountry cabin, yurt, or lodge, courtesy of Vermont Huts Association.
The next morning, the world is blanketed with snow, and adventure lovers rejoice as they don woolen base layers and skis to explore the winter wonderland. Thanks to Vermont Huts, these experiences are becoming more common and celebrated in Vermont.
Vermont Huts Association is a 501(c)(3) nonprofit with a mission to provide an enriching and immersive outdoor experience for everyone. By collaborating with partners in recreation, they are creating a four-season hut network across the Green Mountain State to strengthen local communities and foster a deeper appreciation of our natural environment.
Members of the Vermont Huts Association receive early access bookings and reservation discounts while supporting more huts in Vermont. Gift certificates are also available so your recipient can choose where and when they want to adventure in Vermont.
Wrapping suggestion: A Vermont Huts membership and gift certificate would go perfectly with a pair of warm and wooly Darn Tough socks (made in Vermont!).
---
Vermont State Parks Annual Pass: Statewide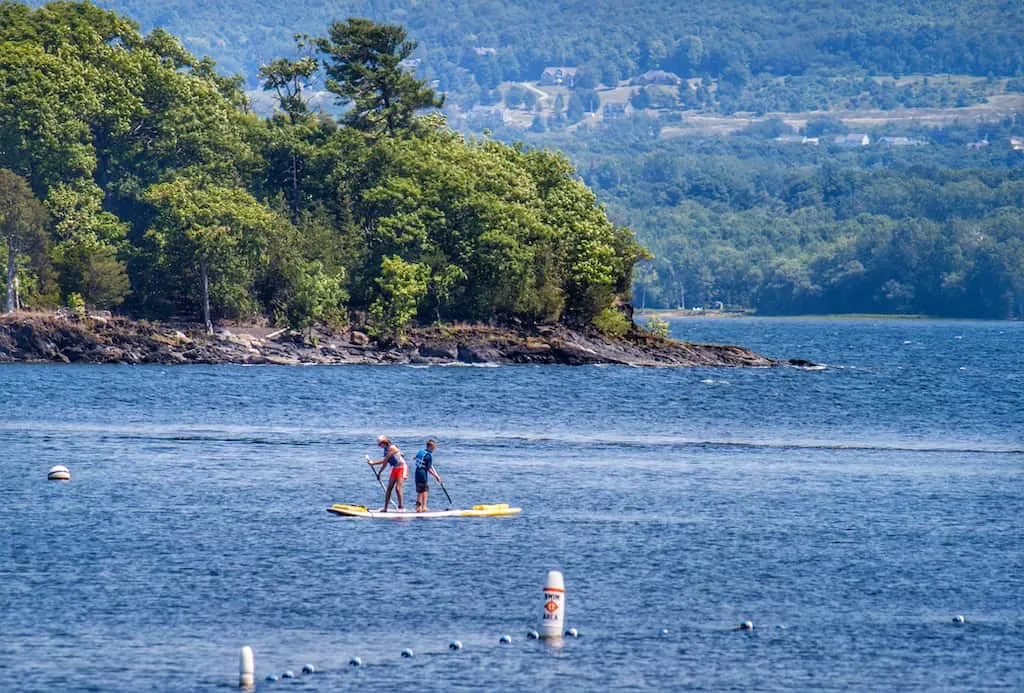 If your favorite person doesn't discriminate about their love for outdoor recreation, consider a gift that will allow them to explore 55 state parks throughout Vermont while supporting the conservation of natural resources and environmental conservation.
Vermont State Park visitors can hike hundreds of miles of trails, rent kayaks, paddleboards, or canoes and paddle remote lakes, relax on a sandy beach, or pitch a tent at one of hundreds of campsites throughout the state.
You can easily give the gift of Vermont State Parks by purchasing an annual vehicle pass, an individual pass, or a punch card. Vehicle and individual passes are good for day use for a whole season, and punch cards are good for 10 visits.
Wrapping suggestion: Stick an annual pass inside a Vermont State Parks trucker hat.
---
Learn more about individual Vermont State Parks by visiting our growing library of park guides.
---
Community Sailing Center Gift Certificate: Burlington, Vermont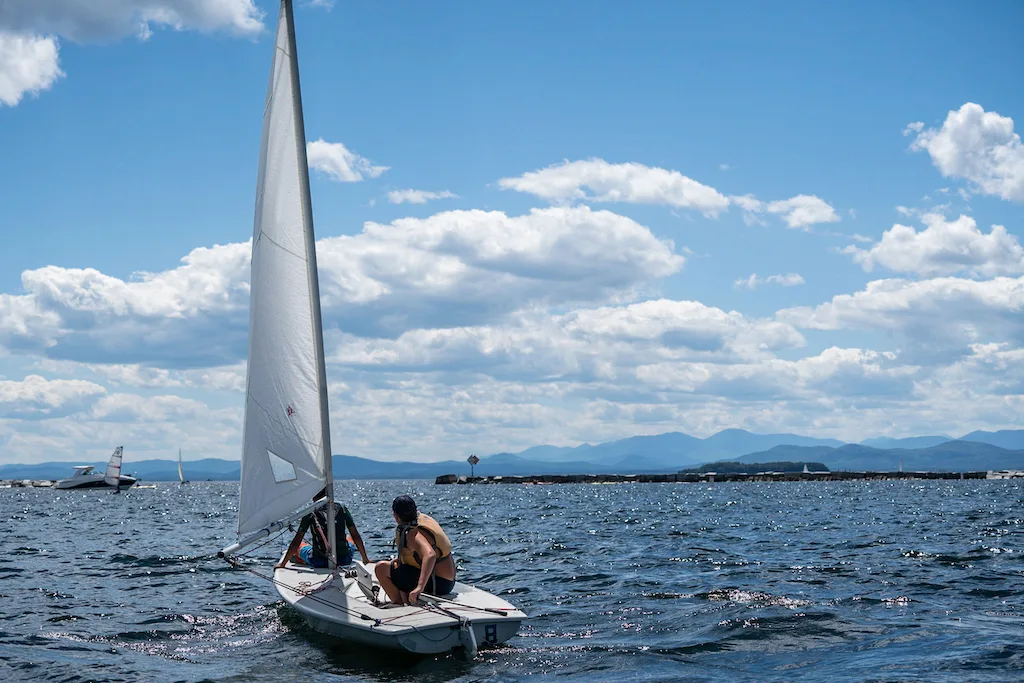 Not only is Lake Champlain one of Vermont's greatest natural resources, but it's also ideal for all types of recreation including swimming, fishing, and sailing. The Community Sailing Center on Burlington Bay has been providing education and recreation to Vermonters and visitors for more than 20 years.
With a mission to encourage and celebrate the responsible use and long term stewardship of Lake Champlain by fostering educational and recreational opportunities for all members of our community, The Community Sailing Center celebrates sailing as more than just a sport, but as a "platform for people from all walks of life to experience the freedom and adventure that comes from harnessing the wind and the water."
Community Sailing Center gift certificates can be used toward an assortment of activities including group sailing lessons, private sailing lessons, kids' camps, and rentals (stand up paddle boards, sailboats, canoes, kayaks). It's a perfect gift for anyone who loves getting out on the water.
Wrapping suggestion: Tuck a gift certificate to The Community Sailing Center in a card with this Lake Champlain decal made by a local Vermonter on Etsy.
---
Winter Skating at Lake Morey Resort: Fairlee, Vermont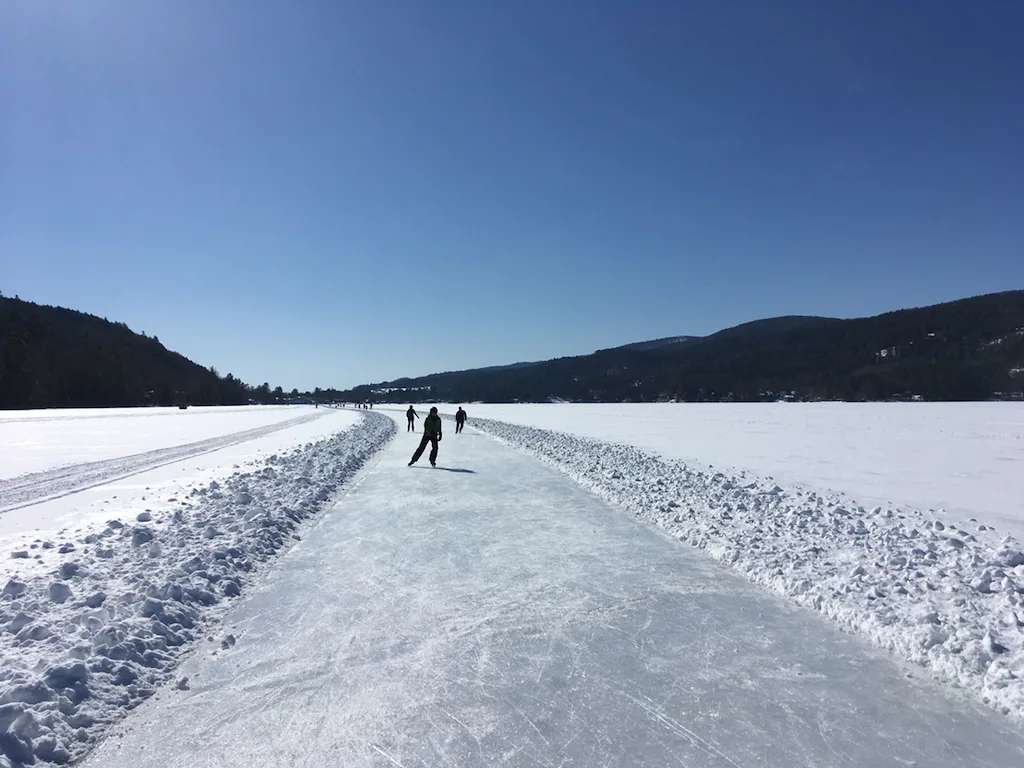 There aren't many ice skating experiences that can hold a candle to gliding for 4.3 miles around beautiful Lake Morey in Fairlee, Vermont. This is the longest ice skating trail in the United States, and it's completely free to use with access at Fairlee Town Beach and Lake Morey Resort, which maintains the skate trail.
The ice is usually thick enough for skating by mid-January, and the snow is cleared with a tractor to make the ice passable with skates. While figure skating or hockey skates will work for skating, this is not the glassy ice of an indoor rink. Nordic skates, which are designed for rough ice and long-distance skating, are much preferred.
Overnight guests at Lake Morey Resort receive complimentary skate rentals, and a night at this beautiful lakefront resort makes an ideal gift for outdoor-loving families or couples.
Wrapping suggestion: Head over to Lake Morey Resort's gift shop to purchase a Lake Morey Resort bottle opener and a gift certificate for a night's stay. Package with a bottle of wine or sparking cider.
---
Ski and Ride Lessons at a Locally Owned Vermont Ski Resort: Statewide
Did you know that only 12 ski areas in Vermont remain locally owned and operated? Check out the above Instagram post from Vermont for Real to learn which ski resorts are still owned by Vermonters, and then consider the gift of a lift ticket or lesson for your favorite winter lover.
Here are some ideas:
Wrapping suggestion: Package lift tickets or gift cards inside a pair of ski goggles or mittens.
---
Lamoille Valley Bike Tours: Johnson, Vermont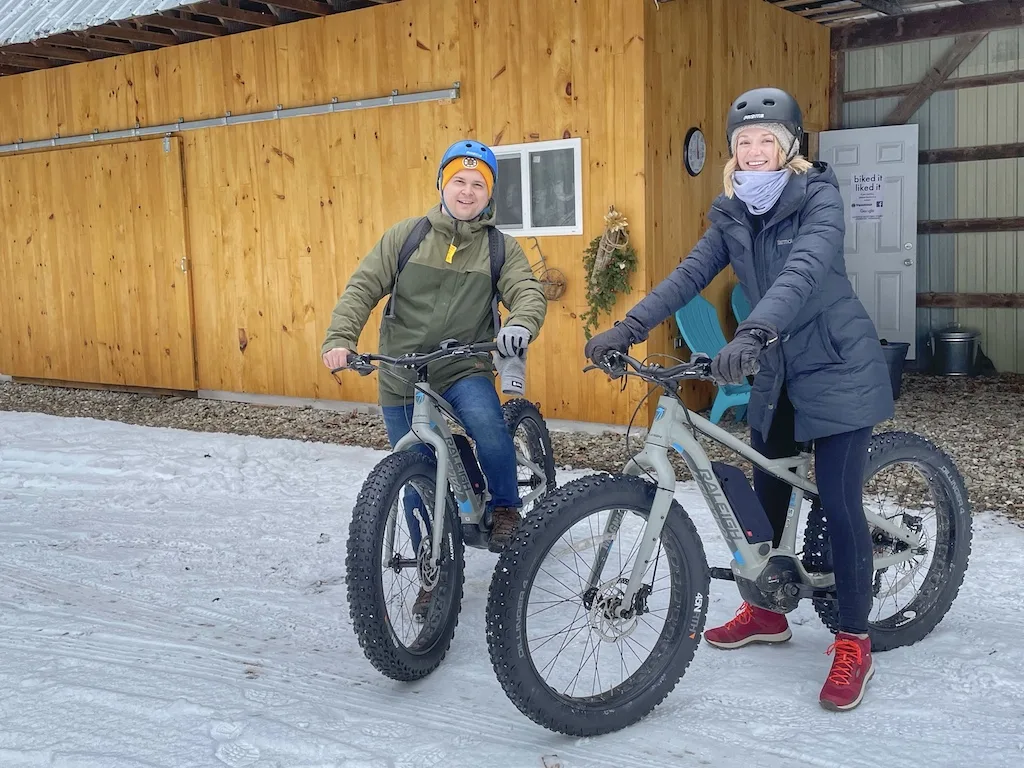 Currently covering more than 35 miles (and growing), the Lamoille Valley Rail Trail is on track to become New England's longest rail trail. This four-season, multi-purpose recreation and transportation corridor across northern Vermont follows the former 93-mile Lamoille Valley Railroad rail line from St. Johnsbury to Swanton.
The best way to explore this beautiful rail trail is by renting a bike (e-bike, regular, or gravel bike) or embarking on an e-bike tour with Lamoille Valley Bike Tours. Located trailside in the village of Johnson, there are endless opportunities for exploring on two wheels.
​The Fireside Fat Tire E-Bike Tour is an ideal winter adventure. The self-guided adventure includes an e-bike rental and helmet. All rides culminate with a delicious fireside hot chocolate and local cheese tasting at the Trailside Bike Center.
Book a tour at Lamoille Valley Bike Tours for any season or give a gift certification so your loved one can choose their own two-wheeled adventure.
Vermont Experience Gifts for Animal Lovers
Looking for Vermont Experience Gifts specifically for animal lovers? Whether your loved one is into sweet Vermont cows or elusive Vermont wildlife, there's an experience gift that will make them smile.
Animal Ambassador Program at Merck Forest: Rupert, Vermont
Merck Forest & Farmland Center in Rupert, Vermont is a sprawling 60-acre working farm, surrounded by a managed forest with 30 miles of trails. Animal lovers in southwestern Vermont can join Merck's Animal Ambassador Program, which is designed to help people develop a closer relationship with the farm animals at Merck Forest & Farmland Center.
The program is just $20 and includes "Meet and Feed" programs, a workshop that covers safety, hygiene, and risk management, and finally, the opportunity to shadow farmers and educators and work with the animals.
Merck Forest & Farmland Center is home to pigs, sheep, chickens, and horses, and the surrounding maple trees are tapped for maple syrup, which is boiled in the spring. The trails are ideal for hiking and cross-country skiing, and there are even primitive cabins that can be rented for overnight use.
Wrapping suggestion: Give an annual membership to Merck Forest or sign your gift recipient up as an Animal Ambassador. Premium memberships include a copy of either Ted Williams' Earth Almanac: A Year of Witnessing the Wild, from the Call of the Loon to the Journey of the Gray Whale, or Chris Salisbury's Wild Nights Out, which both make nice gifts.
---
Vermont Institute of Natural Science Membership: Quechee, Vermont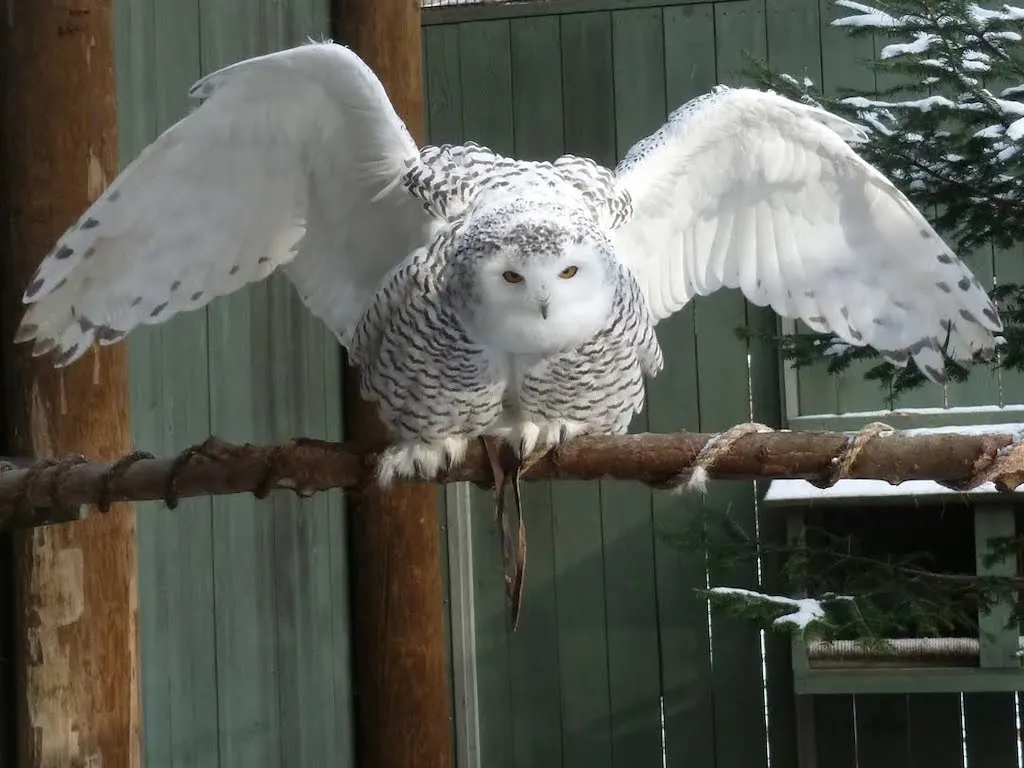 The Vermont Institute of Natural Science in Quechee motivates individuals and communities to care for the environment through education, research, and avian wildlife rehabilitation. The beautiful VINS Nature Center includes indoor and outdoor exhibits featuring a variety of raptors and songbirds, as well as nature trails, a canopy walk, and an adventure playscape.
A one-year membership to VINS enables families to enjoy unlimited visits to the VINS Nature Center, as well as additional day passes to share the experience with friends. Members receive a 10% discount on purchases at the VINS Nature Store as well as special pricing on VINS nature camps.
Wrapping suggestion: Add a VINS membership or admission tickets to one of the beautiful nature games available at the VINS nature store.
---
Billings Farm & Museum Membership: Woodstock, Vermont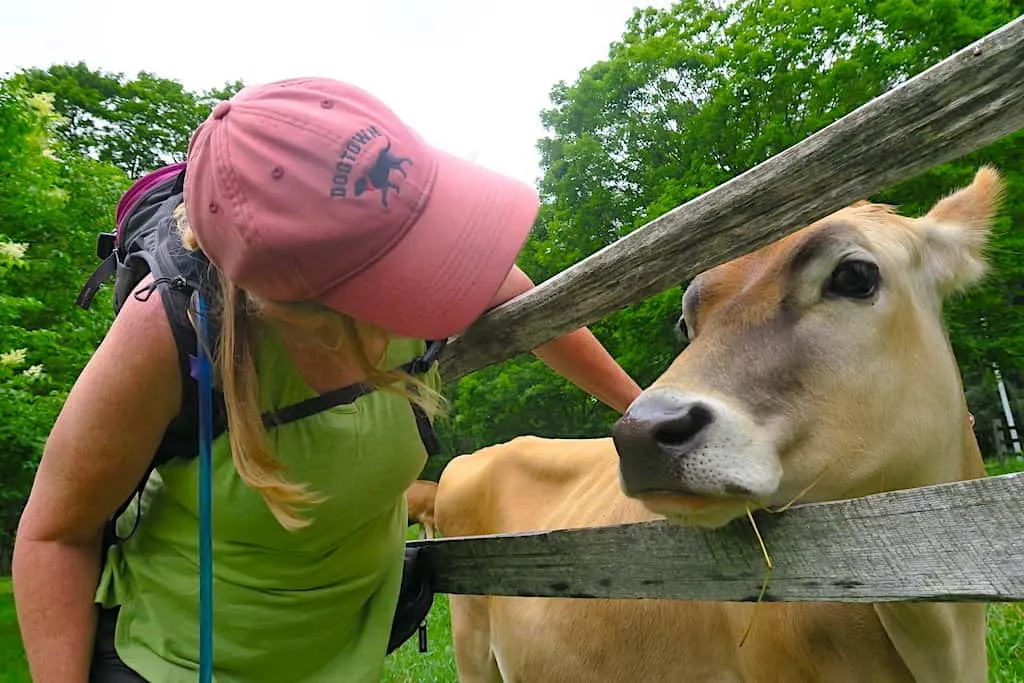 The friendliest cows we've ever met live at Billings Farm & Museum in Woodstock, Vermont. There are more than 70 Jersey cows with calves throughout the year, as well as two draft horses, Luke and Lonnie, two steers, several Berkshire pigs, goats, a flock of Southdown sheep, and heritage breed chickens.
A membership to Billings Farm & Museum gives your gift recipient unlimited admission for a full year, a 10% discount at the Museum Gift Shop and Farmhouse Café, and reduced admission for guests. In addition to befriending the adorable farm animals, guests can explore various farm life exhibits, visit the 1890s Farm Manager's House, and attend special events throughout the year.
Billings Farm & Museum is the premier gateway for interpreting Vermont's rural culture and agrarian heritage, offering diverse, interactive programs that focus on rural life, work, and land stewardship as reflected in the traditions and values of 19th-century farm families.
Wrapping suggestion: A membership to Billings Farm & Museum should absolutely be paired with a block of award-winning Billings Farm Smoked Cheddar.
---
Vermont Experience Gifts for the Continually Curious
For the Vermonter who has everything, these Vermont experience gifts are sure to inspire creativity, adventure, and most importantly, an appreciation of the people, land, and communities of the Green Mountain State.
A Membership to 251 Club of Vermont: Statewide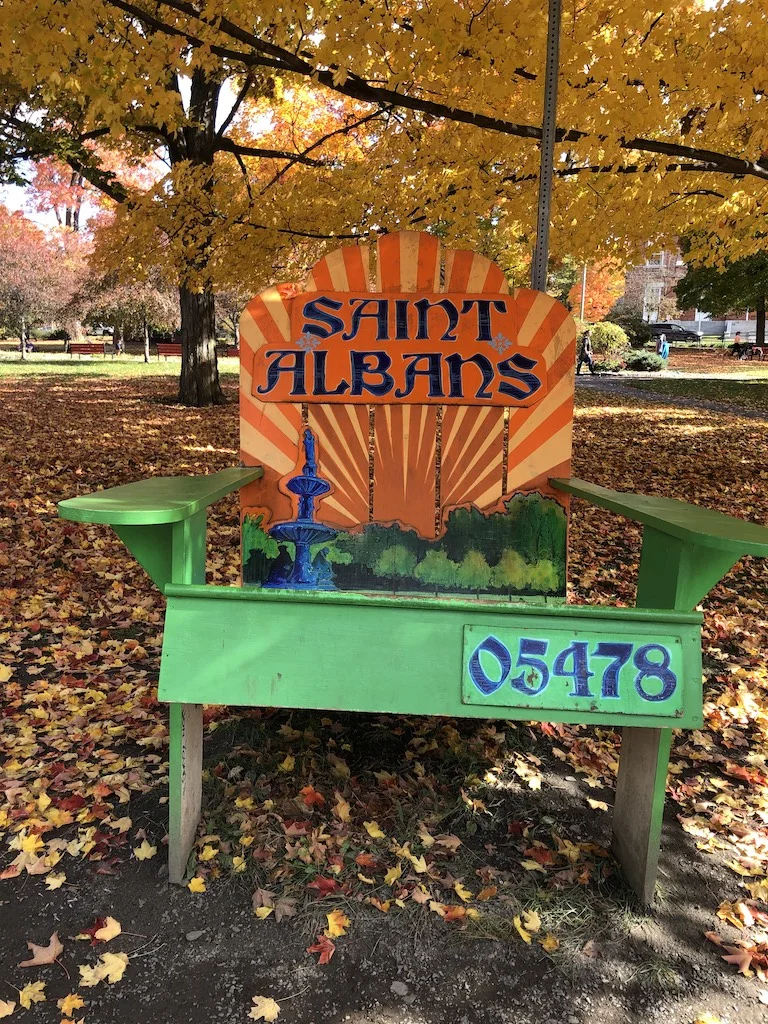 Earlier this year, Essex Junction became Vermont's 252nd town, but the popular 251 Club of Vermont will keep the name it's had since its inception in 1954. The 251 Club is for anyone who aspires to visit all 252 towns across Vermont.
There are no official rules for membership, and the benefits are many. In addition to getting off the beaten path to explore every nook and cranny of Vermont, members receive a subscription to three annual issues of The Wayfarer Club newsletter, a personal profile page to track progress and record notes and pictures, and access to resources, information, and archival material that is only available to members.
A membership to the 251 Club of Vermont is for anyone who wants to dig a little deeper into this special state. It's ideal for new Vermonters, or long-time residents who enjoy exploring. It may even be for you!
Wrapping suggestion: Slip a gift membership into this Vermont Travel Journal, which can be found on the 251 Club of Vermont's website.
---
Learn to Bake at King Arthur Baking School: Norwich, Vermont
Located in beautiful Norwich Vermont, King Arthur Baking began in 1790 as America's very first flour company. While the company's roots are in Boston, it moved to Norwich in 1984 and has been attracting foodies ever since.
Today, visitors can stop by the flagship store to stock up on flour and other baking ingredients, relax with a scrumptious lunch, or buy a loaf of premium sourdough bread. For those that want to explore their culinary creativity, the King Arthur Baking School offers a variety of classes for novice to expert bakers.
Classes are offered virtually, at the Norwich location, or in Skagit Valley, Washington. Sign your loved one up for a specific class (view the calendar here), or purchase a King Arthur gift card so they can choose their own.
Wrapping suggestion: Tuck a King Arthur Baking gift card inside a King Arthur oven mitt.
---
Sip of Burlington Guided Brewery Tour: Burlington, Vermont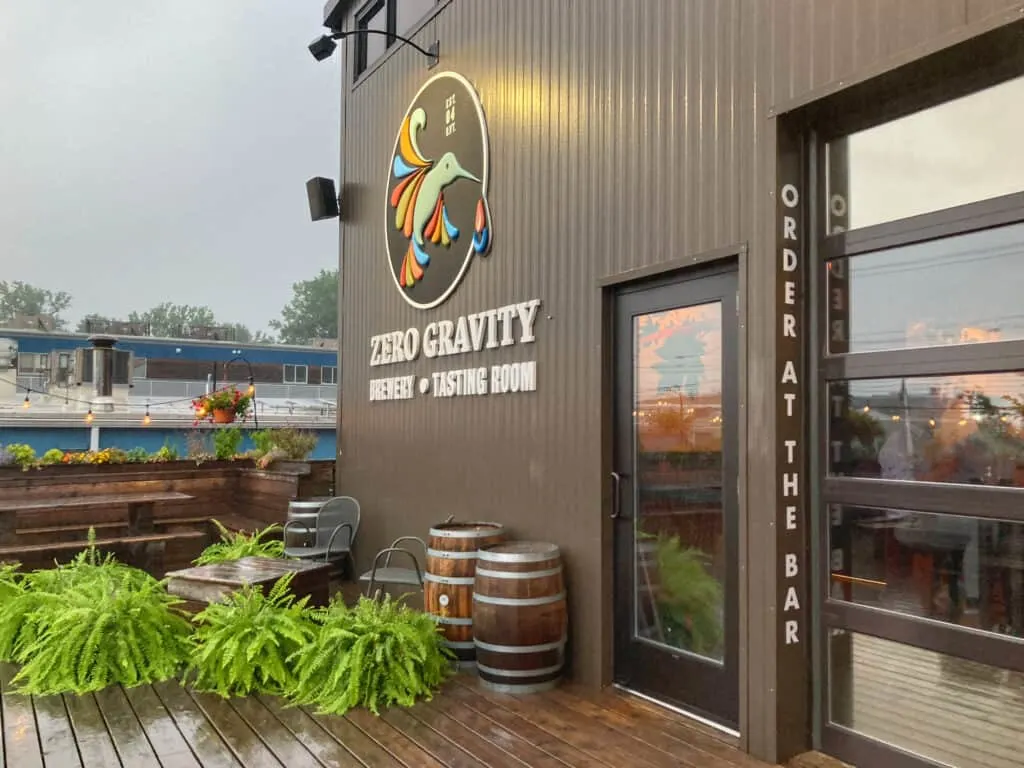 Send the beer aficionado in your life on a guided brewery tour in Burlington, Vermont, where they'll get an insider's perspective on the thriving craft beer scene in Vermont's largest city. Tour participants will visit three breweries, where they will meet the owners and brewers behind Burlington's most iconic pours.
The tour includes tasting 12 beers and snacks, as well as a fantastic tour guide/designated driver who will provide entertainment, history, and brewing knowledge.
Wrapping suggestion: Pair a City Brew Tours gift card with a six-pack of fantastic Burlington beers.
---
Read Next: The Most Incredible Breweries in Burlington, Vermont
---
Do you have suggestions for Vermont experience gifts that we should add to our list? Drop us a comment and let us know!
Follow us on social media for more Vermont inspiration!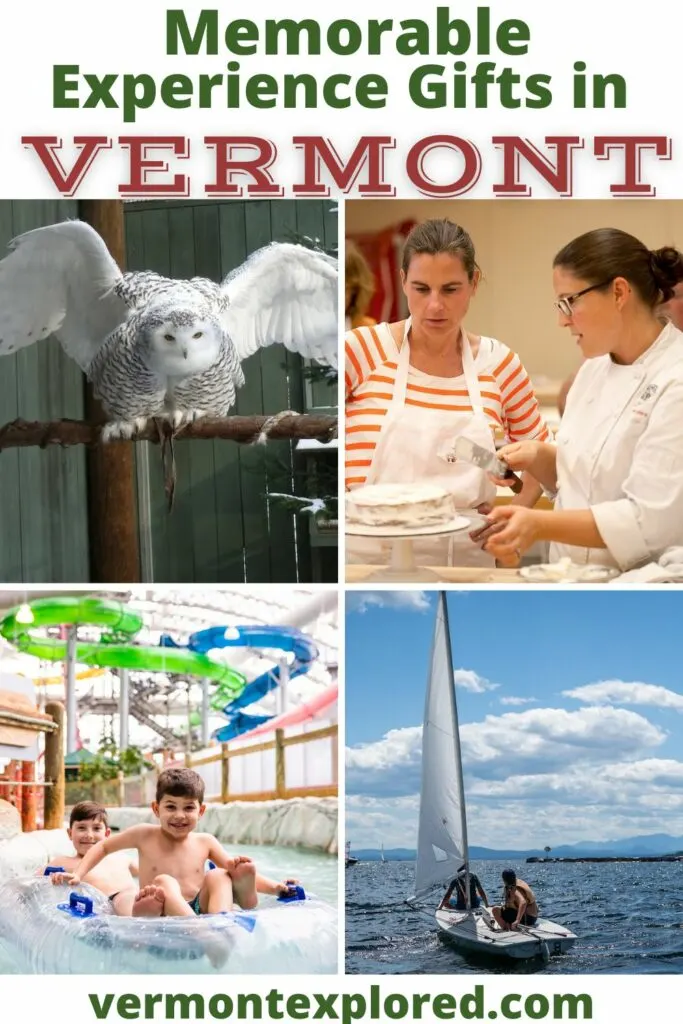 Tara Schatz is a freelance writer, and the founder and editor-in-chief of Vermont Explored and Back Road Ramblers, an American road trip blog. She is also the co-author of the 3rd edition of AMC's Best Day Hikes in Vermont, which was released in May 2023.