Do you love choosing unique gifts for your loved ones while supporting local crafters and businesses? Do you happen to love Vermont or know people who do?
My first suggestion would be to come to Vermont and meander down Main Street in a few of your favorite towns to find unique Vermont gifts for everyone on your list, but I know that's not possible for everyone.
Instead, let's take a look at Etsy for some easy online shopping.
Not only are these awesome Vermont gifts inspired by the Green Mountains, but they were also created here! Every gift you buy below will help support a Vermont creator or small business owner in Vermont.
And while it may not be quite as fun as shopping your favorite Vermont Main Street, it's a close second.
Here are some of our favorite Vermont gifts just in time for the holidays!
Vermont Stickers: Give a Little Piece of Vermont
Who doesn't love a great place-based sticker? Vermont stickers make great stocking stuffers, or you can slip one into a holiday card for all the Vermont lovers in your life. Here are some of our favorite made-in-Vermont stickers.
Vermont Bear Sticker
---
Die-Cut Lake Champlain Sticker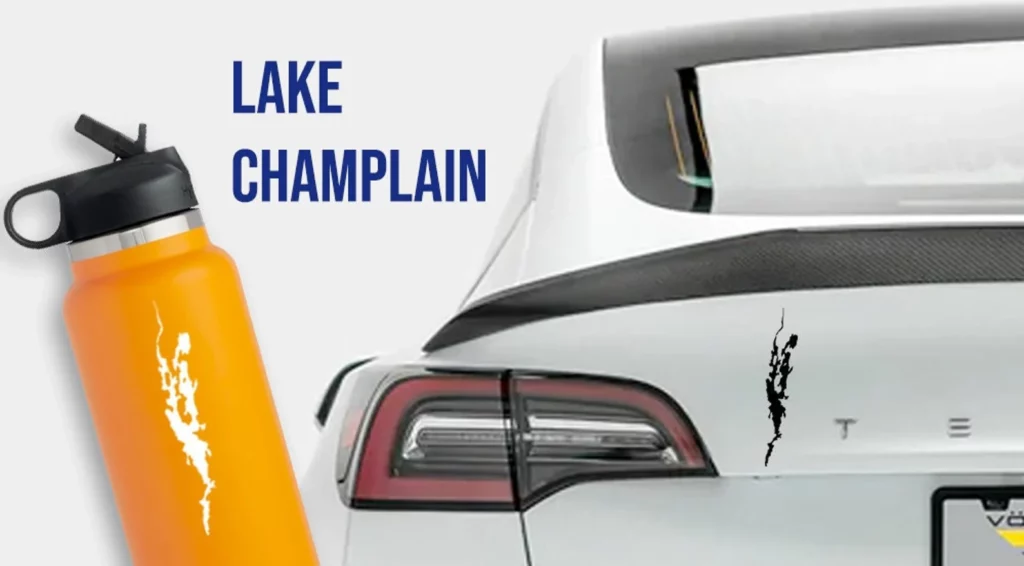 Anyone who has spent time exploring Lake Champlain will recognize its unique outline. This unique illustration features a die-cut image of Lake Champlain, Vermont's largest and most beloved lake.
The handmade vinyl decal is rated for 6+ years of outdoor use and comes in several sizes from 4 – 12″, making it a perfect decal for windows, water bottles, laptops, and vehicles. Michael is a Vermont Etsy seller based in Poultney, Vermont.
Michael's company, CreativeMediaVT has lots of other sticker designs available in their Etsy shop, many of which feature Vermont and its beautiful lakes.
This little gem of a sticker would make a great stocking stuffer for anyone who longs for those gorgeous Lake Champlain sunsets!
---
Vermont State Quarter Sticker
---
Unique Vermont Clothing
When you search within the confines of your brain for the perfect gift and you still draw a blank, consider a Vermont t-shirt, hoodie, or hat. Most items are relatively inexpensive, and you can never have too many t-shirts, right? All of the clothes featured below include unique Vermont graphics, perfect for just about everyone on your holiday gift list.
Green Mountain Girl Cotton T-Shirt
---
Dad Hat: Sunset over Camel's Hump
---
Made in Vermont: For the Littlest Vermonters
---
I'd Tap That Vermont Maple Tree Sweatshirt
---
---
Vermont Jewelry: Add a Little Bling to the Holidays
Made-in-Vermont jewelry for everyone on your list. These beautiful creations are an understated way to give someone a little piece of the Green Mountains.
Mount Mansfield Necklace
---
Vermont Leather Bracelet
---
Tiny Vermont Necklace
---
Miscellaneous Vermont Gifts
The following Vermont gifts don't fit into any one category, but you can be sure they are unique creations that have been made with love in Vermont.
Vermont Charcuterie Board with Pottery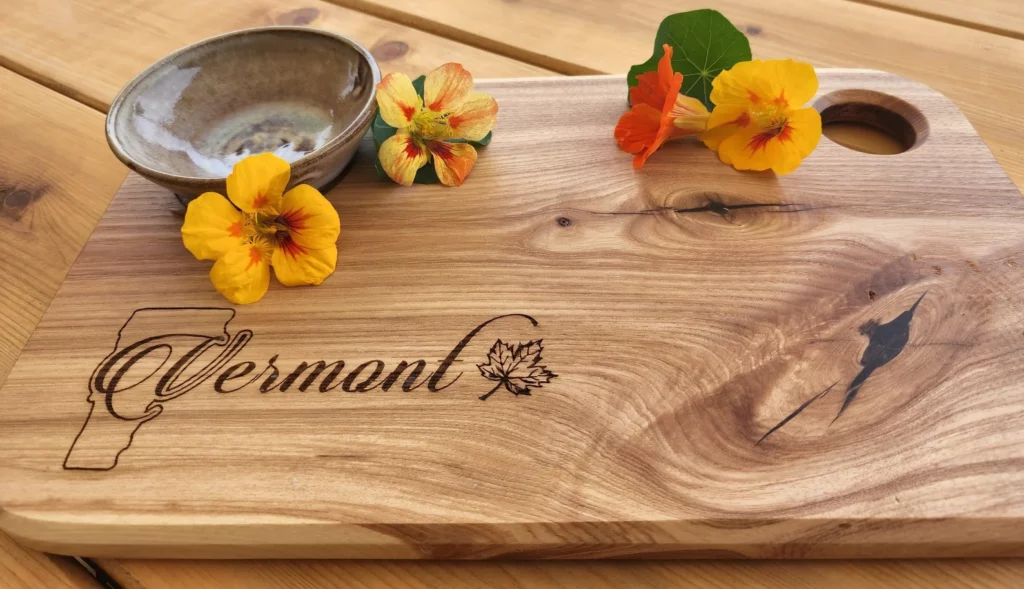 This lovely hand-crafted charcuterie board was created from local Vermont ash trees and laser engraved with the outline of Vermont, the name of the state, and a small maple leaf. The board is then finished with food-grade wax. The small bowl is hand-thrown, glazed, and fired, and is perfect for adding your condiment of choice.
Boards are 14″x 8 1/2″x 3/4″ Bowls are 3 1/3″-4″ in diameter.
Joe Lemieux owns Meadhill Rustic, an Etsy shop that specializes in wood tea light holders and these gorgeous charcuterie boards. His studio is located in Derby, Vermont.
---
Vermont Maple Gift Box
---
Hike Vermont Tea Towel
---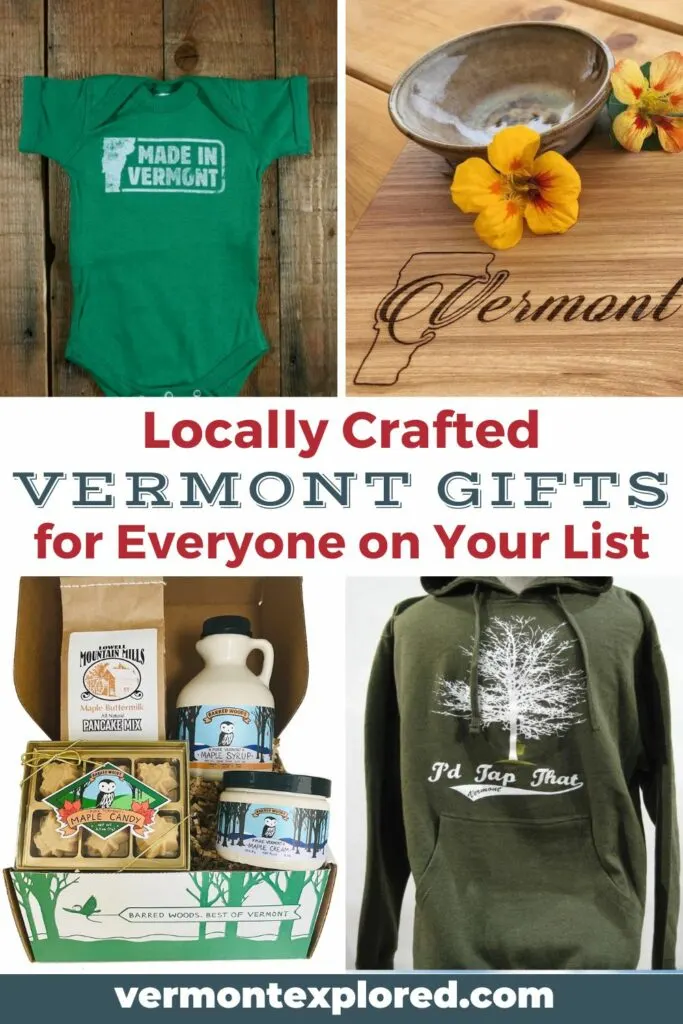 Tara Schatz is a freelance writer, and the founder and editor-in-chief of Vermont Explored and Back Road Ramblers, an American road trip blog. She is also the co-author of the 3rd edition of AMC's Best Day Hikes in Vermont, which was released in May 2023.