Travel restrictions and guidelines change frequently, so be sure to check with the destination before visiting. Also, this post may contain affiliate links from which we earn a small commission.
The Vermont camping season is short, and for a small state, there are a whole lot of beautiful places to lay your head, from state parks to national forests and private campgrounds. Our favorite Vermont camping opportunities are off the beaten path a bit and often feature a fun cast of critters that double as camp hosts. I'm talking about Vermont farmstays – private camping or glamping on the same Vermont farms that contribute so much to our rural landscape and way of life.
Private farm campsites allow campers to connect with the natural world in a whole new way. Whether it's frolicking with baby goats, harvesting your evening meal, or simply pitching a tent in a pasture, each farm camping experience in Vermont is unique (and awesome).
Why Go Camping on a Farm in Vermont?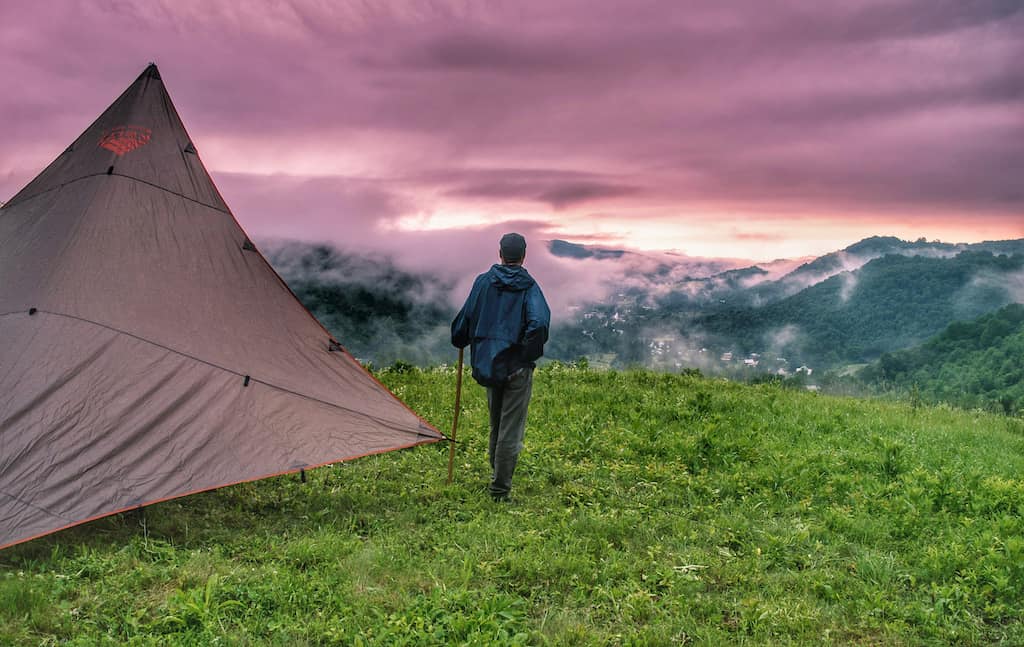 Managing private campsites gives farmers an additional income stream, which can be a lifesaver during economic downturns. As a bonus, you often have an opportunity to meet the farmers, hang out with cute farm critters, and sample some of the best food money can buy.
In 2021, as we navigate the hopeful end of a year-long pandemic, farm camping is a way to avoid some of the crowds that are flocking to our parks and natural areas. Outdoor tourism is huge right now!
We'd love to share some of our favorite Vermont farm camping experiences with you. Farmstays may just be my new favorite way to pitch a tent or embark on a New England glamping adventure.
Where to Book Your Vermont Farm Camping Experience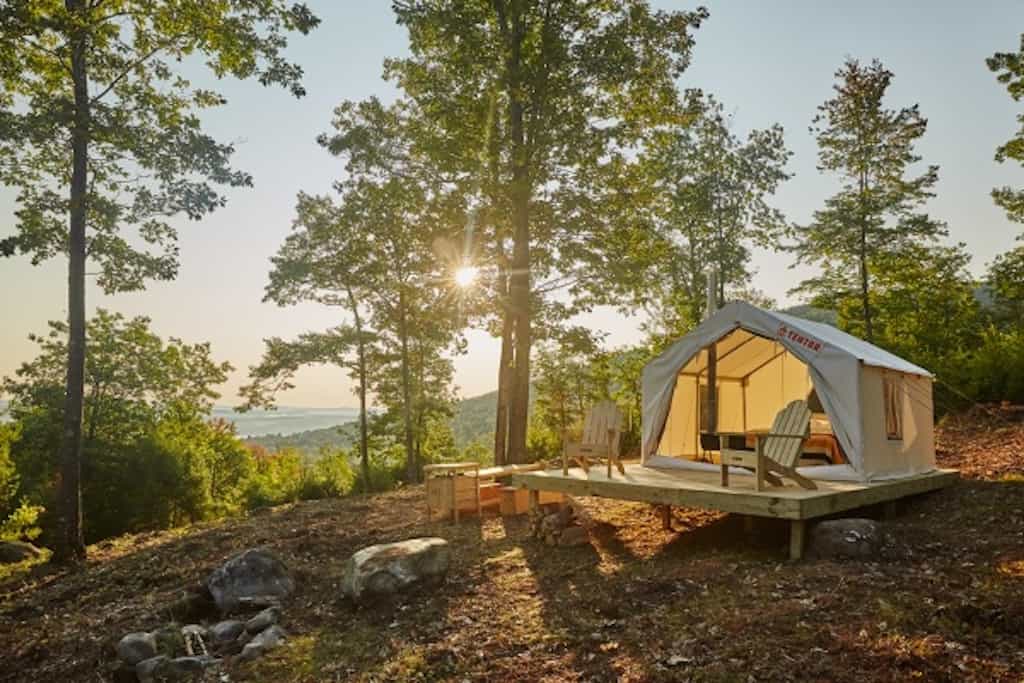 Various online platforms have jumped on the farm camping bandwagon, so if you don't know where to start, start here:
Tentrr
Tentrr connects USA-based landowners with people looking for unique camping opportunities. There are currently two tiers of camping, Tentrr Signature and Tentrr Backcountry. The Signature sites include a platform, canvas tent, woodburning stove, and camp furniture and are set up by the Tentrr team. Signature sites are fully private – out of view of houses and roads, with very little road noise, and typically cost $100 and up per night.
Backcountry sites are just as private as Signature sites but require campers to bring and set up their own gear. These sites are significantly cheaper – starting around $20 a night. The majority of Tentrr's sites are currently in the Northeast US, but they are expanding quickly.
Camping with Tentrr gives you complete solitude from the rest of the world, which is one of the reasons we love it.
Hipcamp
Like Tentrr, Hipcamp aims to connect landowners with campers, and their online booking platform currently lists thousands of unique properties around the United States, ranging from $10 patches of land to unique glamping properties that cost hundreds of dollars per night.
Properties range from totally off-grid wilderness camping to treehouses, yurts, and cabins. Many Hipcamp sites are not secluded, so be sure to read the listing carefully so you know what you're getting.
If you're into photography, Hipcamp also has a field scout program where you get paid to camp, review, and submit photos for each listing. I was a Hipcamp field scout from 2015 to 2017, and we had the opportunity to check out dozens of properties all around the Northeast.
My only issue with Hipcamp is that there is very little oversite as to who can list their property, so not all of the sites are awesome. Do your research beforehand, and try and stay in sites that have already been reviewed. If you're new to Hipcamp, you can use our referral code for $10 on your first camping trip.
Airbnb
Yes, Airbnb has farm camping options that are more like glamping retreats. You can stay in cabins, treehouses, yurts, bell tents, and more. Booking your Vermont farmstay through Airbnb will also allow you to combine your adventure with farm-based experiences like milking cows, getting to know miniature horses, and landscape photography.
Because Airbnb is so well known, you will find that there are lots of reviews for most sites, making it easy to book your perfect spot.
The downside is that you will have to browse through lots of unrelated properties – city apartments, sprawling mansions, and spare bedrooms before finding your perfect farmstay. Still, if you've got time to waste spend, you'll likely come across a hundred different places you want to check out. Or is that just me?
Glamping Hub
Glamping Hub is kind of awesome because it has been able to specialize and dedicate their platform to listing unique glamping properties around the world. Our own Glamping Hub experiences have been awesome – listings have been accurate and sites well-cared for.
You won't find straight-up camping on Glamping Hub, but some of the glamping sites are beyond awesome. All sites have a strong outdoor element, whether they are located on sprawling ranches or deep in the woods. Farmstays are very common on Glamping Hub and definitely worth checking out.
Harvest Hosts
Harvest Hosts is new to me, but the concept is really cool. It allows campers with self-contained RVs (with onboard toilets) to buy an annual membership and then stay at participating farms, vineyards, and other properties for free. Because I don't have an RV, I can't speak from personal experience, but I know a lot of full-time travelers who use Harvest Hosts and love it.
There are currently more than 700 participating properties across the United States, and it seems to be growing quickly. If you've tried Harvest Hosts, drop us a comment. I'd love to hear about your experience.
Our Favorite Farm Camping Experiences in Vermont
Now for the fun part. The following farm camping properties in Vermont are amazing! Some are totally primitive, and you will have to bring all of your own gear. Others are a little more luxurious, and allow you to just show up with your camp food and a nice bottle of wine. We'll let you know how rustic each one is so you can choose your ideal farm camping adventure.
Pitch Your Tent in a Field of Wildflowers at Free Verse Farm in Chelsea, Vermont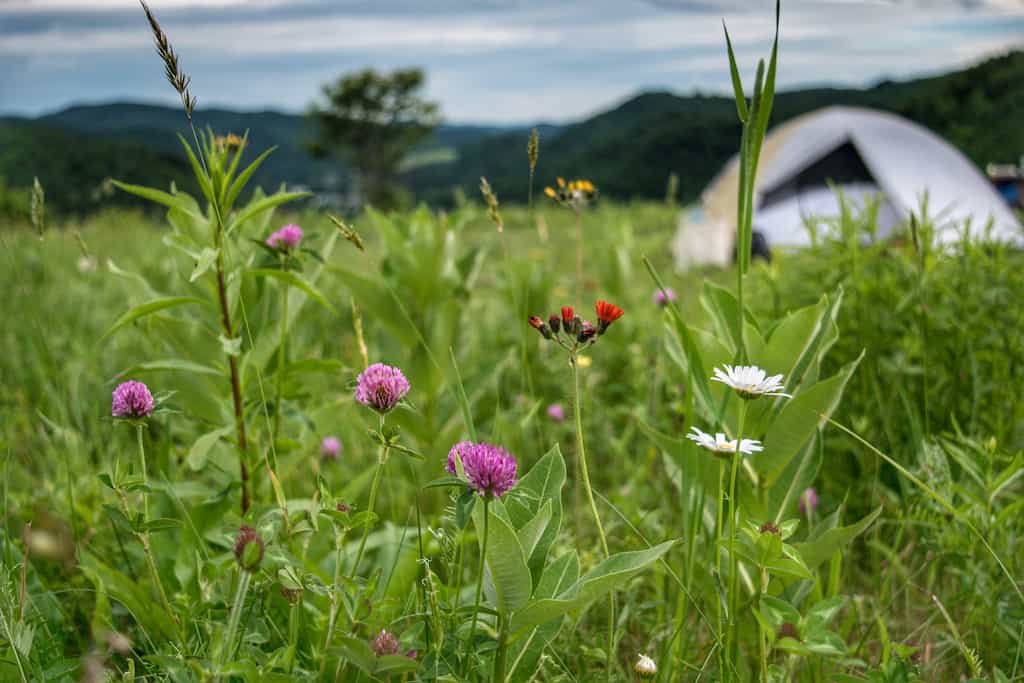 Free Verse Farm grows herbs in the mountains of Central Vermont. It's a bucolic setting and it's up there with some of the best camping views we've ever experienced. In fact, this is one of Eric's all-time favorite camping trips. He is a sucker for mountain farms, and he loved every minute of our time at Free Verse Farm.
Misha and Taylor sell their herbal teas, remedies, culinary treats, and body-care products online and at local farmer's markets. Lucky for us, they've also started renting pasture campsites for campers looking to get away from it all. The private campsites are set on the side of a hill with killer views of the valley. Beef cattle roam the pastures, and wildflowers dot the landscape.
The dirt road up to the sites is suitable for most vehicles, but probably not RVs or trailers. Basic campsites include a picnic table and a fire pit, and the outhouse is a short walk from camp.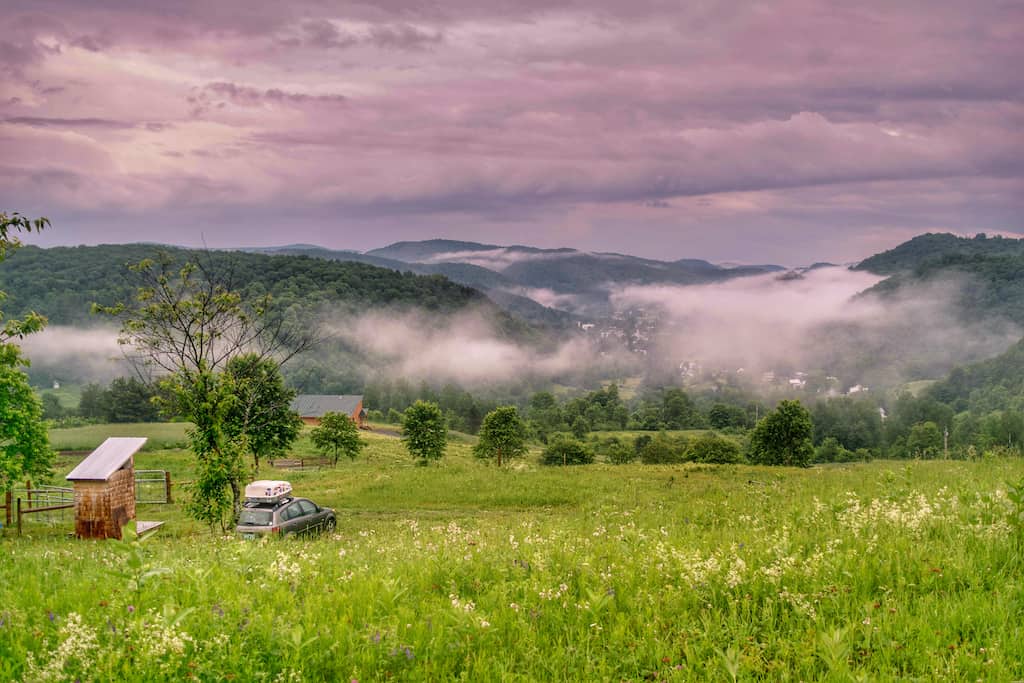 Misha and Taylor have a wide range of herbal products for sale at the farmhouse, as well as seasonal produce from their kitchen garden. Book one of their beautiful campsites or their sweet vintage camper on Hipcamp.
What we loved about Free Verse Farm: The breathtaking view!
Something to consider: Potable water, a shower, and a sink are all available at the farmhouse, but it may be a bit of a walk from your campsite.
Stay in a Meadow Cabin or a Vacation Home at Stony Pond Farm, Fairfield, Vermont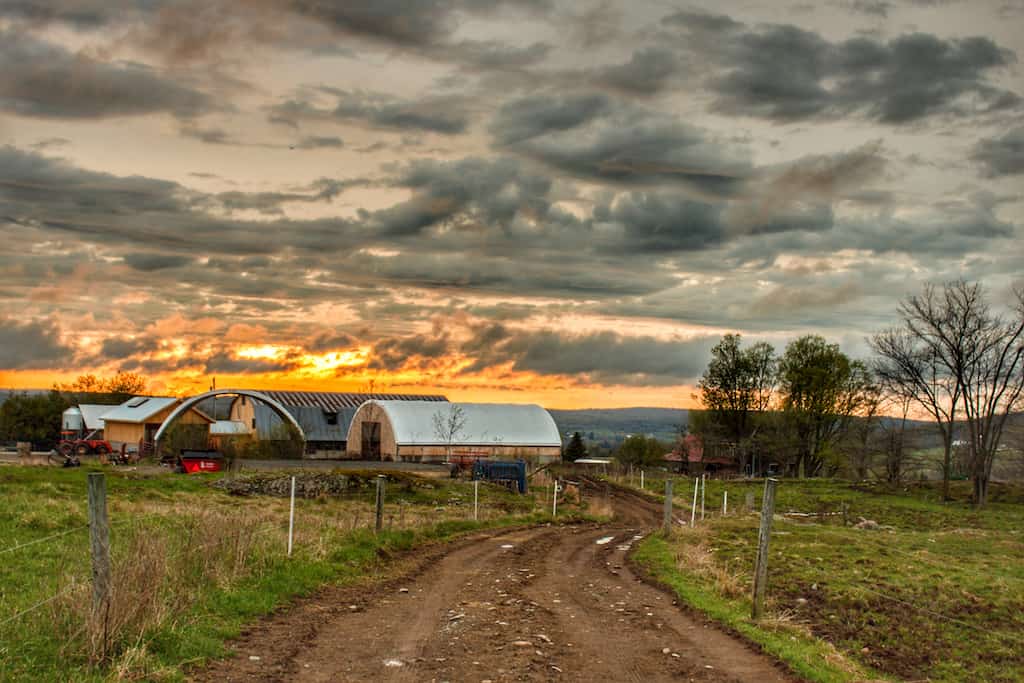 Vermont glamping at its best, at Stony Pond Farm, you can choose to stay in the Pond House, which is open year-round and includes a wood-burning stove and a full kitchen and bathroom.
If you don't mind roughing it a bit, then book the rustic meadow cottage, which includes a loft bedroom, a composting toilet, and a small kitchenette. It's perfect for two people.
Stony Pond Farm is an organic dairy farm in Fairfield, Vermont — not far from St. Albans and the shores of Lake Champlain. It's a bustling working farm, but both rentals feel secluded and private.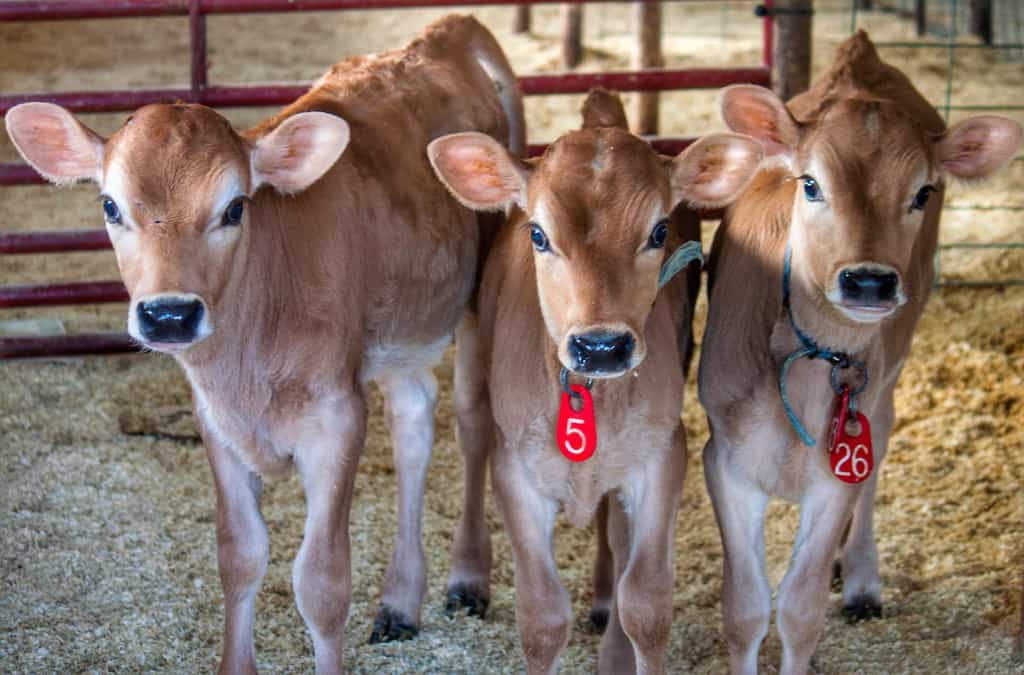 While this is an awesome spot to unplug and relax, we'd also recommend exploring St. Albans and checking out the Missisquoi National Wildlife Refuge (the only national wildlife refuge in Vermont). You can book your stay at Stony Pond Farm through Airbnb.
Our favorite thing about the mountain cabin at Stony Pond Farm: Hanging out with the cows and the farm pups. Oh, and the steaks were divine.
Pitch Your Tent on a Mountain Top at Mountain Home Tent Sites in Tunbridge, Vermont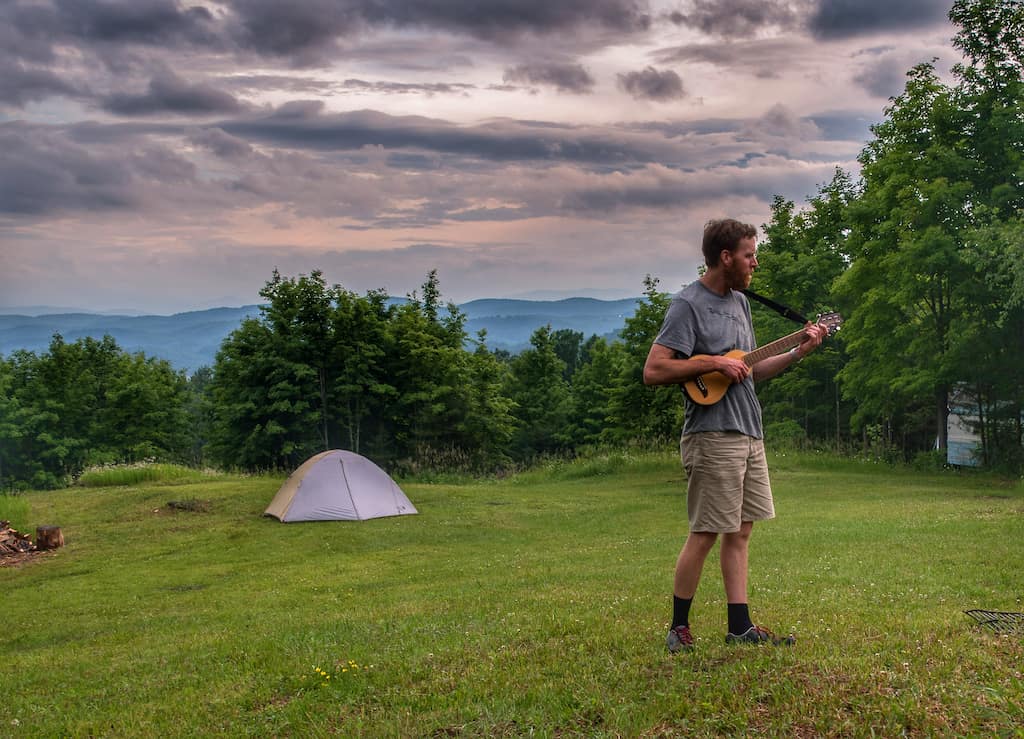 Just a few miles south of Free Verse Farm (mentioned above) is the perfect spot for a mountain getaway. Mountain Home Farm is a 200-acre dairy farm specializing in artisan butter, buttermilk, and ricotta cheese. Expansive pastures are surrounded by wild forests, and the views from the hill-top camping area are spectacular.
A common area with a huge fire pit and a picnic area is perched on the top of the hill, and four private campsites are dispersed along the edge of the forest. Hiking trails crisscross the land, taking you through fields and forest, downhill and back up again. If you call ahead, Evan will be happy to thaw out some ground sausage for your camp meal, and the handcrafted butter is a must. You can book a night or a week at Mountain Home Farm on Hipcamp.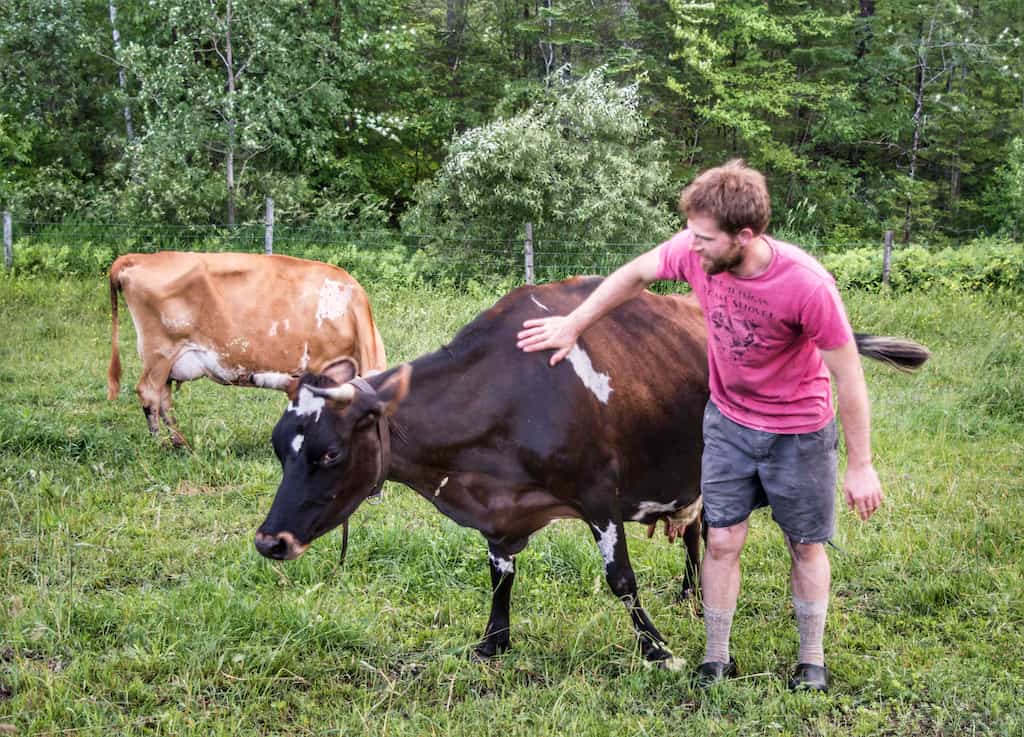 What we loved about Mountain Home Farm: Total privacy. And the butter.
Something to consider: The road to camp is suitable for 4X4 vehicles only, but you can park at the bottom and walk up, or hitch a ride with your gear in Evan's truck. Also, there is no potable water at camp, so be sure to pack it in.
Stay in an Open-Air Cabin on Tanglebloom Flower Farm in Brookline, Vermont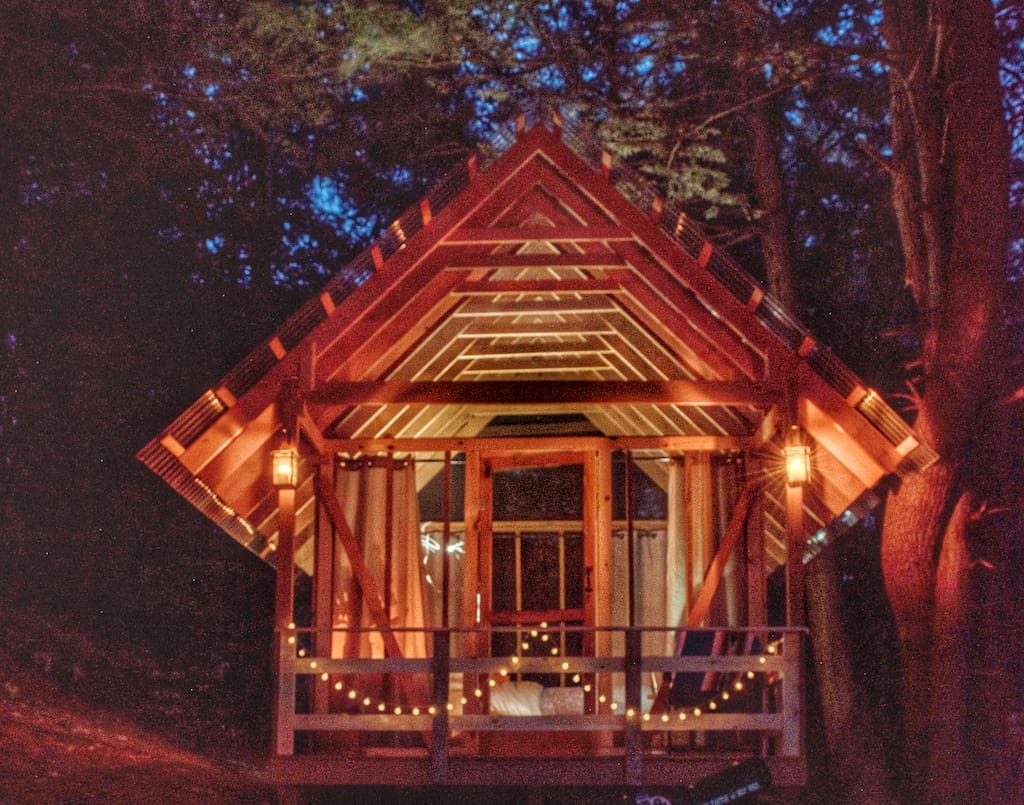 If ever there was an idyllic setting for a romantic retreat, Tanglebloom Flower Farm has got to be it! A variety of flowers are cultivated on a sunny acre surrounded by trees in Southern Vermont, not far from the bustling town of Brattleboro. Just paces from the rows of colorful blooms is a secret path that meanders into the woods.
The rustic, open-air sleeping cabin is just big enough for a bed, a small table, and a chair, yet it is airy and open to the sights, sounds, and smells of the surrounding forest. The Tanglebloom cabin features an outdoor fire pit, table, and kitchen area, plus a private outhouse.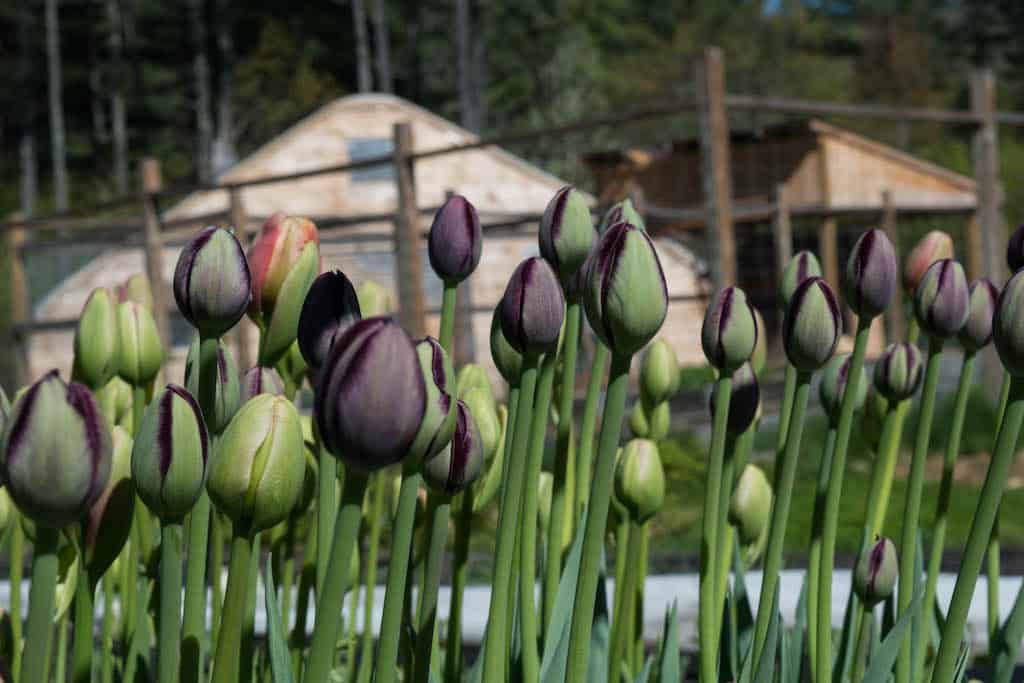 Relax near a crackling fire, take in the peekaboo view, or meander through the woods as the sun sinks behind the trees. A night at Tanglebloom is truly good for the soul. Book your stay on Airbnb or Hipcamp.
What we loved about Tanglebloom Farm: Flowers everywhere!
Something to consider: There's an awesome swimming hole under the West Dummerston Covered Bridge, about 6 miles south of the cabin.
Rent a Camping Cabin at Merck Forest & Farmland Center, Rupert, Vermont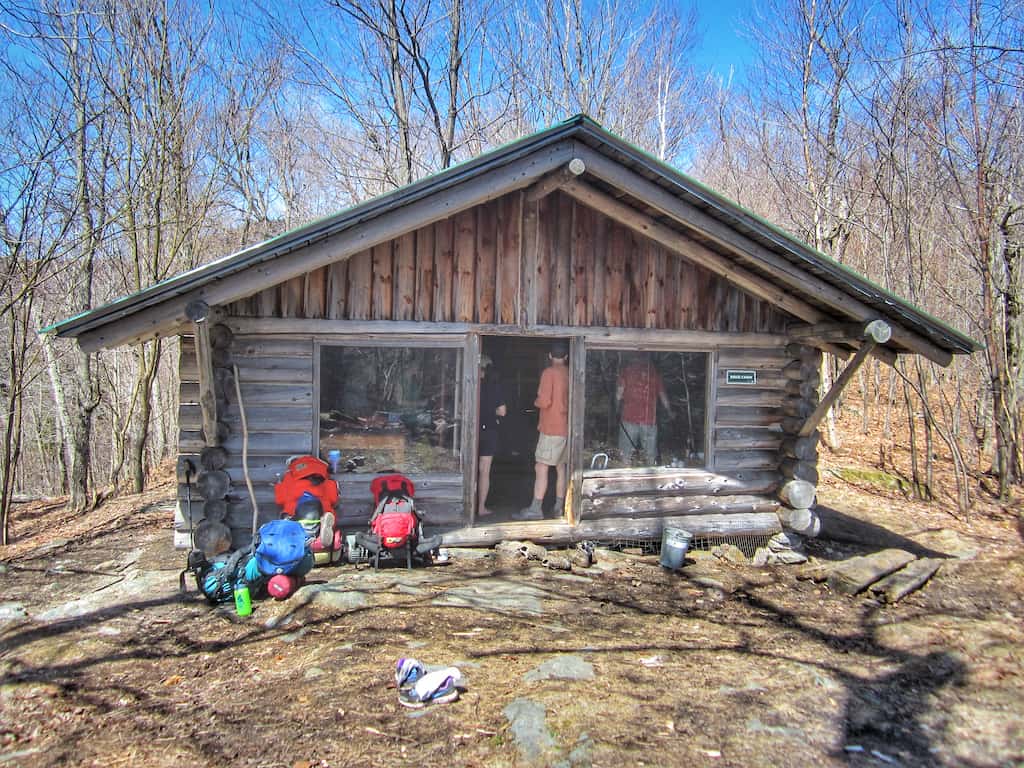 Welcome to Merck Forest & Farmland Center in Rupert, Vermont! This awesome nonprofit maintains eight beautiful Vermont cabin rentals on more than 3,000 acres of wilderness. They also maintain 30 miles of hiking trails, a huge maple sugaring operation, and a working farm with a variety of pastured farm animals—draft horses, chickens, sheep, and pigs.
Each camping cabin is unique and lovely in its own way, nestled in its own little bit of paradise. Cabins sleep between two and fifteen people, and chopped and split firewood will be waiting for you when you get to your cabin. Some of the cabins are easy to get to, requiring just a quick walk from the visitor center with your gear, while others involve a bit of trekking, skiing, or snowshoeing to find your retreat.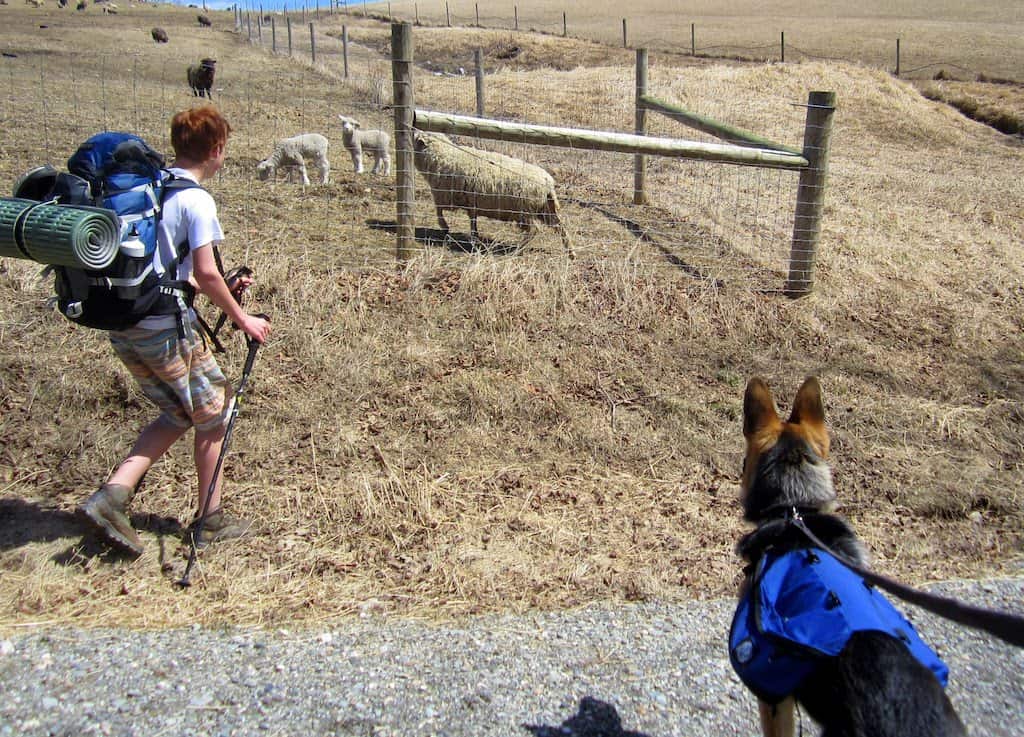 Our favorite part about these rustic cabins in Vermont? All of them are dog-friendly, and they are completely secluded from the rest of the world. We have yet to see another person while staying here. It's pure bliss!
Vermont camping cabins can be reserved on the Merck Forest & Farmland Center website.
---
Private farm camping opportunities are a great alternative to busy campgrounds — offering plenty of privacy, along with gorgeous scenery, unique accommodations, and oftentimes fabulous food.
If you're looking for something different to do this weekend, I highly recommend these beautiful and unique Vermont campsites and cabins. Support Vermont's local farm economy and book a night or a weekend away. I promise you won't regret it!