While March is definitely still winter in Vermont, spring makes a few guest appearances if you know where to look. The sun is rising earlier. Buds are swelling on the trees. And the distinct smell of maple syrup is on the air all over the state.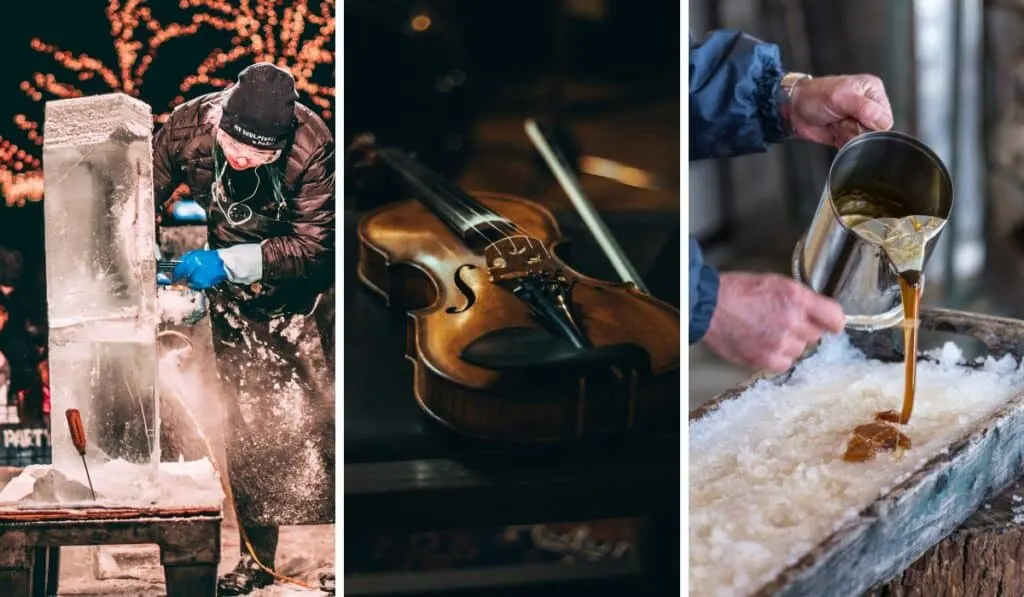 Whether you're hoping to hang on to those special snow days for a bit longer or are itching for sandal weather, March in Vermont is likely to give you a taste of both.
These spectacular March events are perfect for embracing both winter and spring in Vermont. So pack your winter boots and your sandals and get ready to celebrate March in Vermont.
Ice Bar 2023 in Burlington, Vermont
March 3 and 4, 2023
Burlington's most anticipated and lively winter event happens in early March at Hotel Vermont, where you can spend four hours sipping frosty cocktails, rubbing shoulders with giant ice sculptures, and listening to tunes with hundreds of other lively patrons.
This is the 11th annual Ice Bar, and they just keep getting better. As of this posting, Saturday's tickets are sold out, but there are still a few left for Friday night.
This is one weekend when you hope for freezing temps – let's hope the weather cooperates. This is a 21+ event.
Where to stay in Burlington: For this event, you will want to stay at Hotel Vermont and take advantage of their special Ice Bar packages.
Vermont Flower Show in Essex Junction, Vermont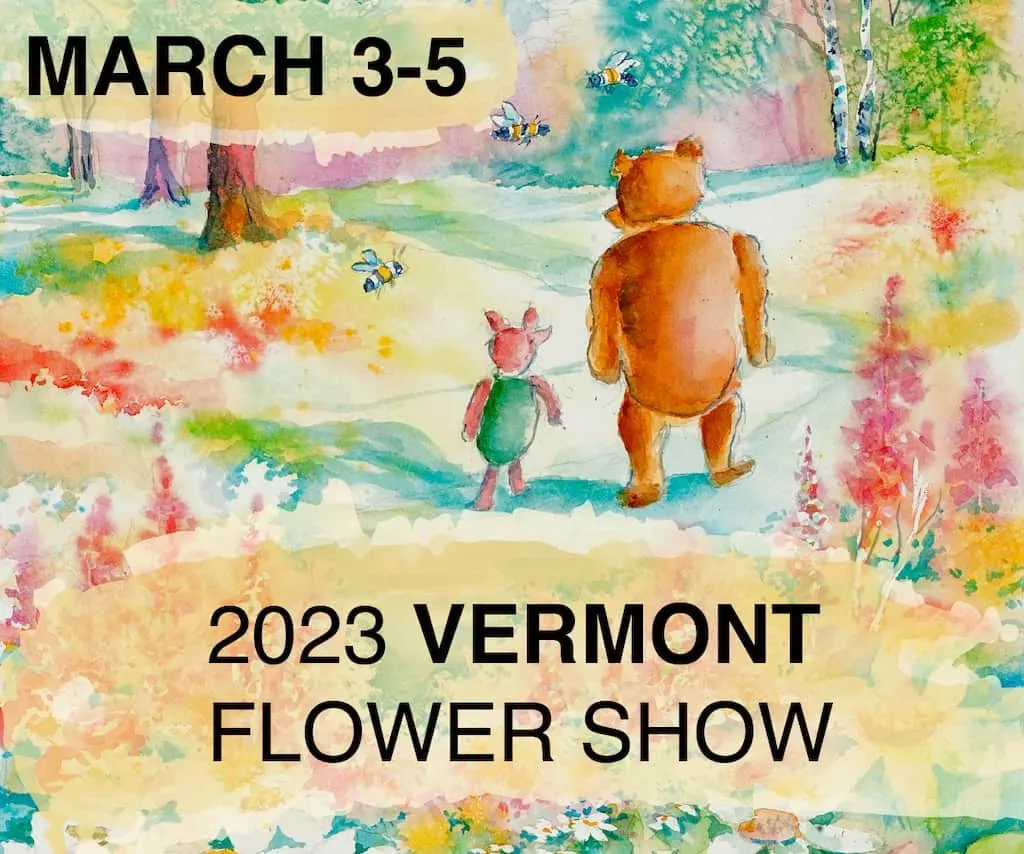 March 3 – 5, 2023
There is no better way to break out of hibernation and celebrate March in Vermont than to surround yourself with colorful, fragrant blooms while planning your 2023 garden. The annual Vermont Flower Show takes place at the Champlain Valley Exposition over a delightful three days.
The 2023 Vermont Flower Show Grand Garden Display theme will be Out of Hibernation! Spring Comes to the 100-Acre Wood, an adaptation of the world and magic of Winnie the Pooh, by A. A. Milne.
Check out more than 100 flower and garden vendors and 35 educational seminars and hands-on workshops. You'll have spring fever before you know it!
Circus Spectacular in Brattleboro, Vermont
March 4 and 5, 2023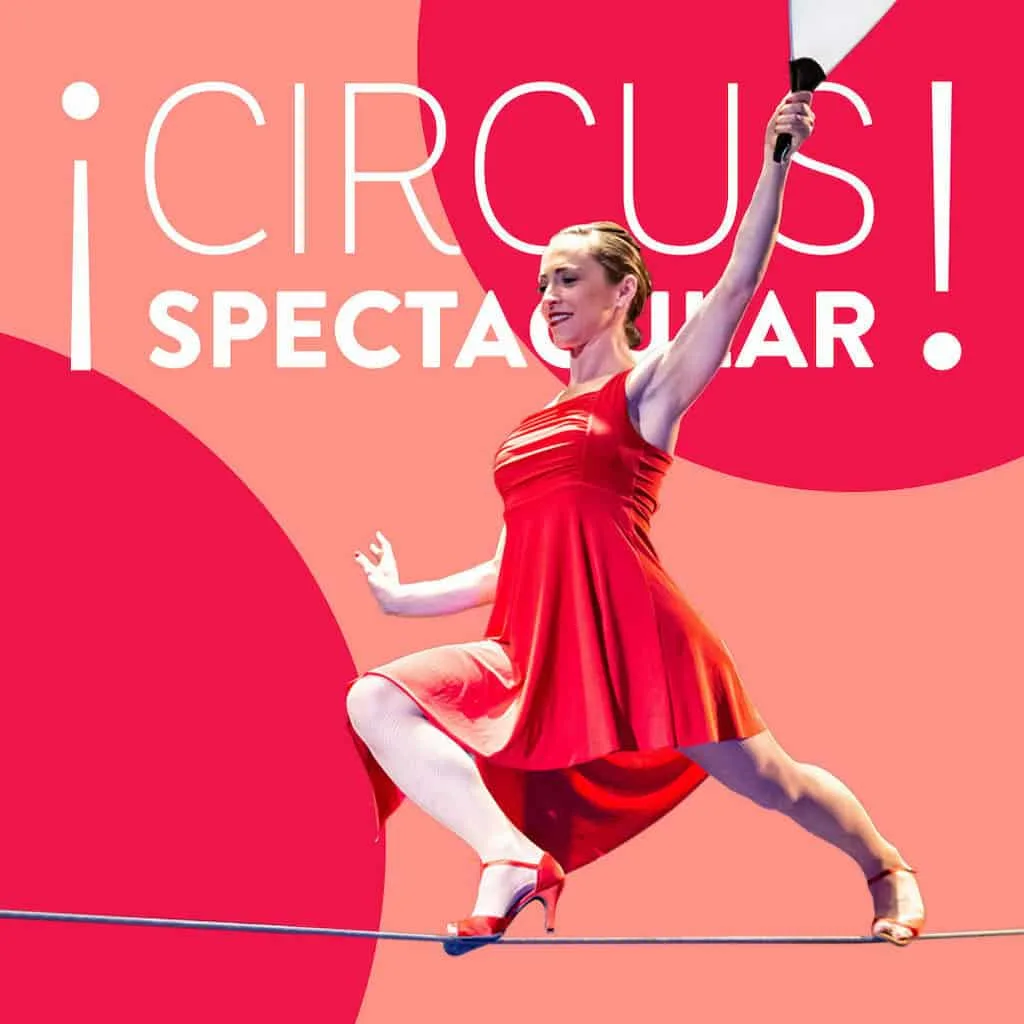 Join the New England Center for Circus Arts for an evening of incredible, world-class entertainment for the entire family.
The Circus Spectacular is a dazzling fundraising event and a unique opportunity to see some of today's most renowned high-flying aerialists, acrobats, and jugglers.
Offered live on the Latchis Theater stage and via LiveStream if you prefer to watch from the comfort of your own home.
For those who don't know, the New England Center for Circus Arts in Brattleboro offers a fantastic selection of classes and workshops for all skill levels. NECCA's mission is to empower a community of artists, students, and staff to strengthen their skills and achieve their goals through the joyful and transformative power of circus arts.
Ice, Ice, Baby! Live Ice Sculpting Event in Burlington, Vermont
March 4, 2023
What better way to say goodbye to winter than a stroll on Church Street in Burlington? Throw in a few spectacular ice sculpting demonstrations and you'll wish winter would last forever. Sorry, folks – this is March in Vermont, and we can't stop spring from coming!
Head to the Church Street Marketplace for Ice, Ice Baby! on March 4th from 11 am to 1 pm to watch eight ice sculptors turn blocks of ice into works of art (weather permitting).
Hope on the Slopes at Jay Peak, Vermont
March 5, 2023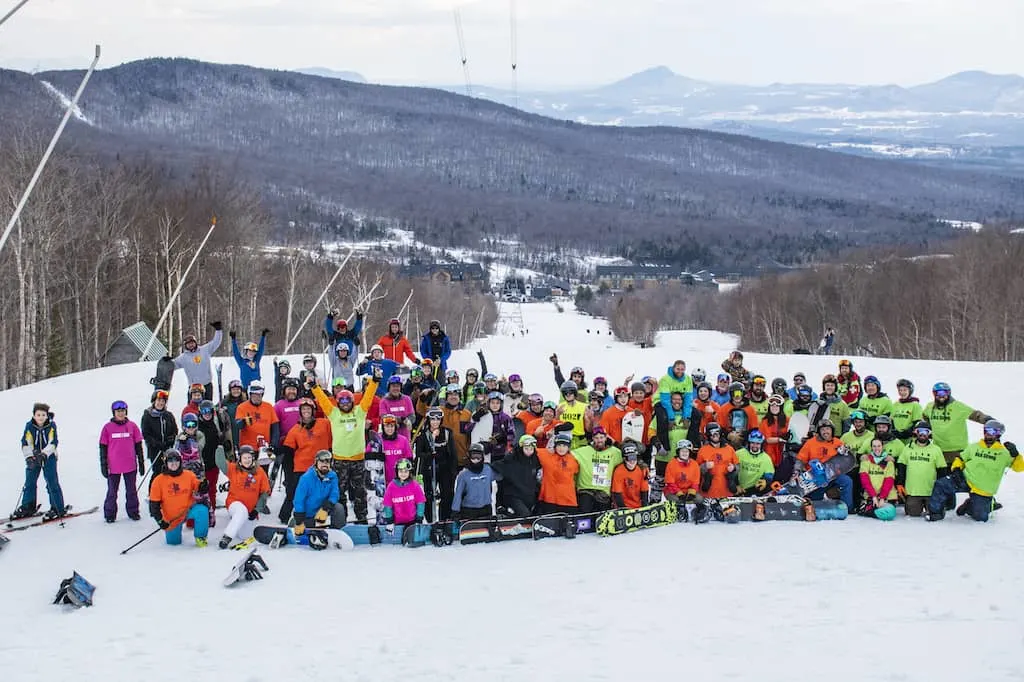 Join the American Cancer Society Hope On The Slopes At Jay Peak, an annual event where participants and volunteers come together to honor cancer survivors, spread the word about reducing cancer risk, and raise money to help the American Cancer Society save lives.
This is the 13th annual Hope on the Slopes, and there are numerous ways to participate. You can join an existing team, start your own, or volunteer at the event. However you choose to become involved, this is a fun event working towards meaningful change.
---
Also Read: 10 Fun Things to do During Mud Season in Vermont
---
Burlington Irish Heritage Festival
March 11-18, 2023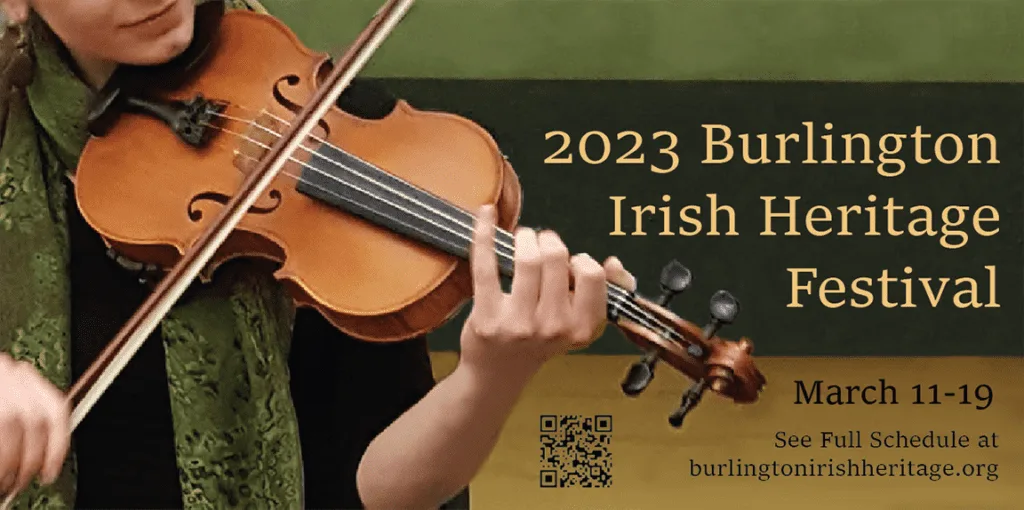 The 28th annual Burlington Irish Heritage Festival will include a special tribute concert to retired Senator Patrick Leahy (on March 11), as well as music, dance, and poetry throughout the state in the week that follows and leads up to St. Patrick's Day.
Special events include a community ceili, an introduction to the Irish language, children's crafts, movies, and the grand finale, a Festival Ceili at City Hall, Burlington.
Check out Burlington Irish Heritage Festival for this year's line-up of events.
Cure for Cabin Fever Weekend in Montpelier, Vermont
March 17-19, 2023
Whether you've got cabin fever or spring fever, the best cure is to visit downtown Montpelier for Cabin Fever Weekend. Take advantage of dozens of sales at your favorite shops, tour Green Mountain Cemetery, do some yoga, and visit the Capitol City Farmers' Market.
Montpelier is the perfect place to celebrate the beginning of spring in Vermont!
Homesick Shred and Culture Festival at Stratton Mountain, Vermont
March 24-26, 2023
You may or may not know that the sport of snowboarding is said to have gotten its start at Stratton Mountain in southern Vermont. Come celebrate the history, tradition, and progression of snowboarding with an event that brings the community together through a shared love of a beloved winter sport.
HOMESICK makes its debut March 24-26 with three days of competition for all ages and abilities, art, photography, speaker series, vintage board room, and more.
This new event will be a homecoming for the Who's Who of Snowboarding, led by Olympic Gold Medalist Ross Powers, who still calls Stratton home, along with today's leading athletes like Zeb Powell and amateurs, young and OG, to compete where it all began.
Maple Open House Weekend, Statewide
March 25-26 and April 1-2, 2023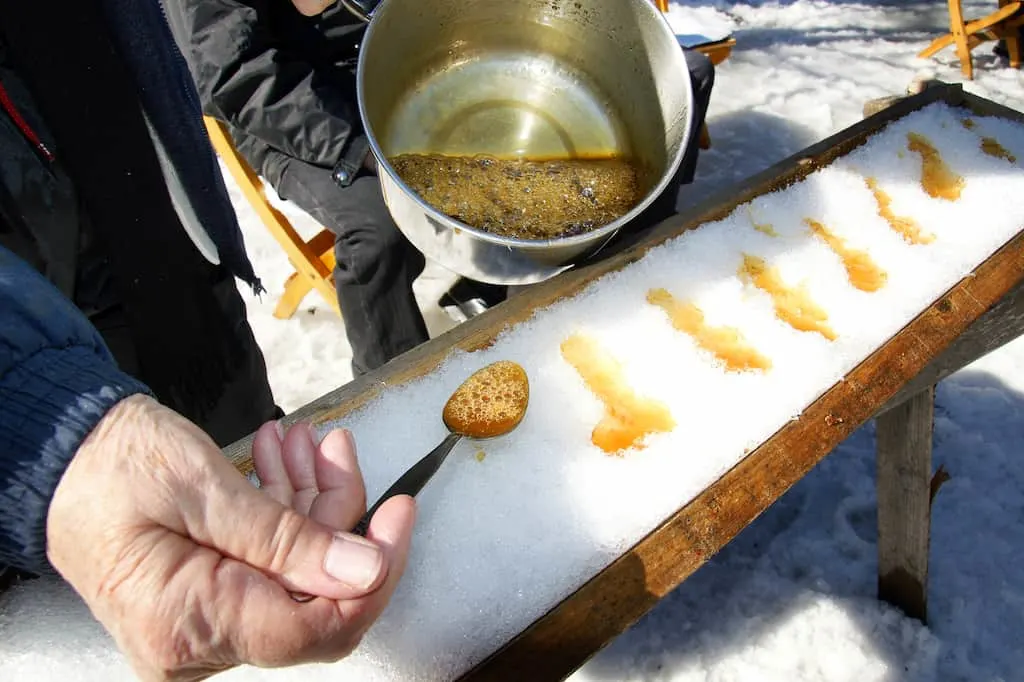 Maple syrup, how I love thee! I can't imagine life without this iconic and decadent sweetener. Help me pay tribute to my favorite food and visit a local Vermont sugarhouse for Maple Open House Weekend (actually, it's two weekends because maple syrup is ALL THAT).
Spring Maple Open House Weekends celebrate the first crop of the season as Vermont's sugar makers open the doors of their sugarhouses and invite visitors in to experience the joys and traditions of pure maple syrup.
Wherever you happen to be in Vermont, there's a sugarhouse ready to welcome you. Because March in Vermont definitely means maple syrup!
Vermont Craft Beer and Chili Stroll in Wilmington, Vermont
March 31, 2023
If you've been reading Vermont Explored for any length of time, you probably already know that Wilmington is one of my favorite small towns in Vermont. It's got mountains, a big shining lake, and an adorable downtown. And apparently, it's also got craft beer and chili. What's not to love about that?
Be sure to head to downtown Wilmington on March 31 from 4 to 6 pm. Listen to live music, stroll the street, and taste 20 craft beers and 15 different chilis. Then, check out the after-party at Valley Craft Ales from 6-7 pm. Registration will open at 3:45 at the Southern Vermont Deerfield Valley Chamber of Commerce.
---
No matter how you feel about March in Vermont, you're sure to appreciate these almost-spring events throughout the state. Did we forget your favorite event? Send us an email and we'll check it out!
Follow us on social media for more Vermont inspiration!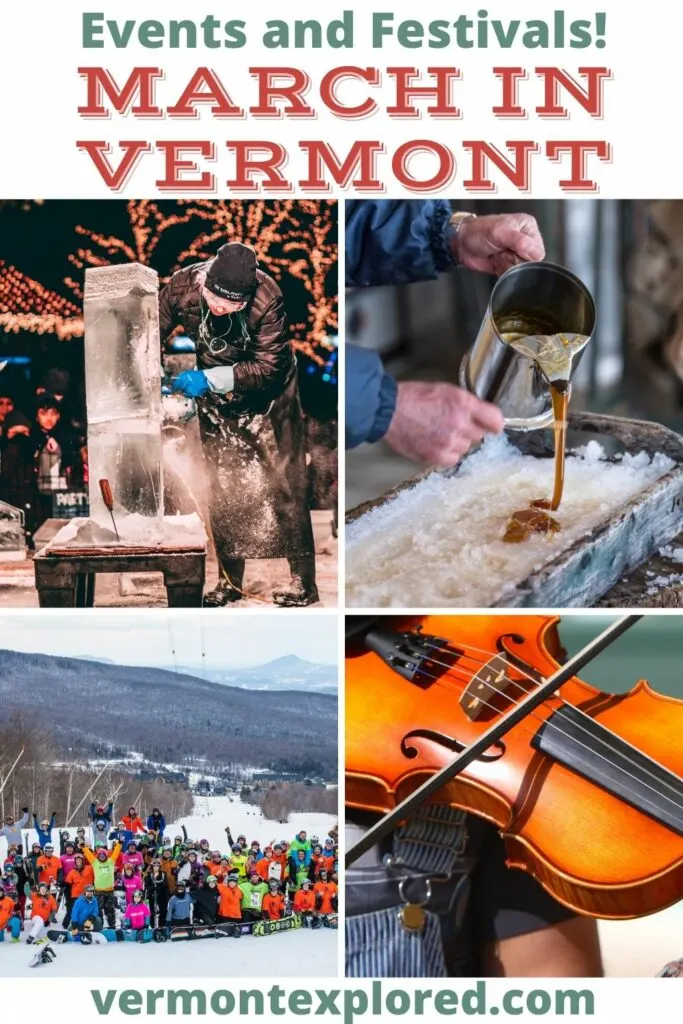 Tara Schatz is a freelance writer, and the founder and editor-in-chief of Vermont Explored and Back Road Ramblers, an American road trip blog. She is also the co-author of the 3rd edition of AMC's Best Day Hikes in Vermont, which was released in May 2023.