If not for maple syrup, March in Vermont would be all about mud season. Thank goodness that the grey days and muddy roads of early spring go hand-in-hand with one of Mother Nature's most wonderful inventions!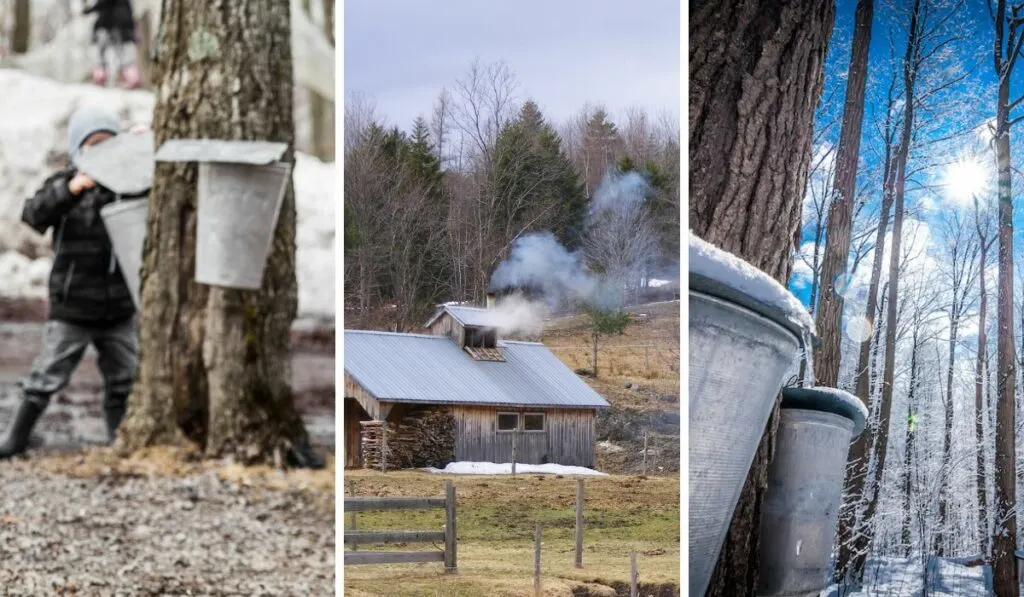 Drive any back road in Vermont during February and March, and you will undoubtedly come across metal buckets hanging on roadside maple trees and lines of plastic tubing running from sugarbush to sugar shack, where clear maple sap is magically converted into pure maple syrup.
Vermont's 600+ sugarmakers produced 2.5 million gallons of maple syrup in 2022, leading the country in production.
What's even more exciting is that many Vermont sugar shacks open their doors to the public so that the rest of us can learn how maple syrup goes from tree, to tap, to table each spring.
2023 Vermont Maple Open House Weekends
The sweetest weekends in Vermont will celebrate the 2023 crop of maple syrup. Visitors will dig into pancake breakfasts, try sugar-on-snow, enjoy horse-drawn wagon rides, and learn about the maple sugaring process with sugarhouse tours.
This is an ideal weekend to visit Vermont, celebrate a time-honored tradition, and stock up on maple syrup and maple products for the coming year.
This year's two Maple Open House Weekends will be March 25th and 26th and April 1st and 2nd, 2023. The Vermont sugar shacks listed below are all taking part in the festivities, and you can find even more participants at Vermont Maple Sugar Makers.
What's more, many of these Vermont sugar houses are open to the public during maple sugaring season (outside of Maple Open House Weekend).
Ready to take advantage of Vermont's sweetest season? Put these 12 Vermont sugar shacks on your must-visit list!
Vermont Sugar Shacks Map
There are Vermont sugar shacks to visit all over the state, but the ones listed below are generally open to the public for tours and farm visits. Stop in during Vermont Maple Open House Weekend!
The Sugar Shack in Arlington, Vermont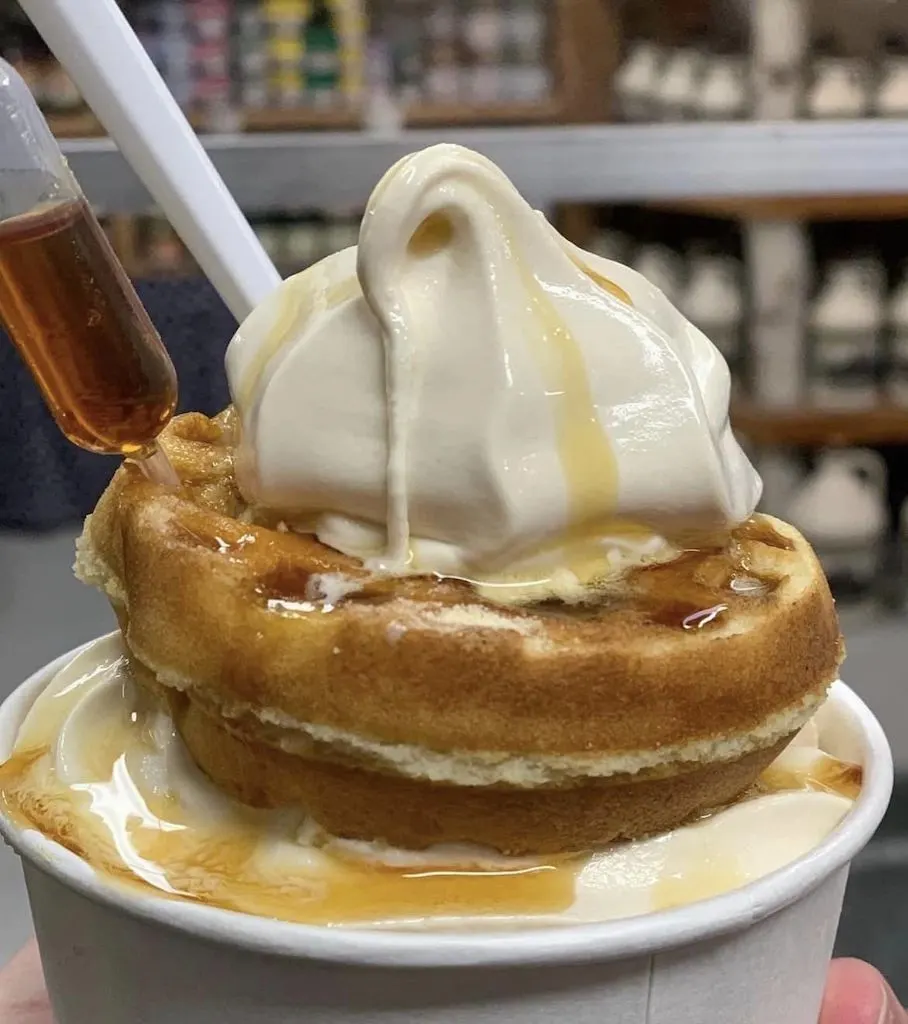 Not only can you witness maple sugaring in person at The Sugar Shack in Arlington, but you can also indulge in delectable maple creemees (or maple waffle sundaes!), purchase real maple syrup and other goodies, and check out the onsite Norman Rockwell exhibit.
The Hawley family has more than 90 years of experience producing award-winning maple syrup, which they sell in four different grades. Samples are available every day, and you can also purchase Vermont products and souvenirs, cheddar cheese, jams, jellies, and fudge. Fresh-baked goodies are created daily, including cider donuts, pies, and maple-frosted cookies.
During Maple Open House Weekend (March 25 and 26), The Sugar Shack will be giving tours and free samples, as well as free silver dollar pancakes from 10 am to 2 pm. There will be syrup giveaways and plenty of maple products for sale.
The Sugar Shack is currently open Thursday through Monday from 9 am to 4 pm (5 pm on Fridays and Saturdays). Visitors are welcome to pop into the sugar house to watch the maple-sugaring process firsthand.
Green Mountain Sugarhouse in Ludlow, Vermont
Located on beautiful Vermont Route 100 in North Ludlow, Vermont, Green Mountain Sugarhouse is open year-round. The red-roofed sugarhouse is perched on the edge of Lake Pauline, and there's no better place to relax with a maple creemee.
In addition to pure maple syrup, Green Mountain Sugarhouse produces other maple specialties including maple cream, maple candy, and maple nut brittle.
Green Mountain Sugarhouse will be participating in Vermont Maple Open House Weekend on March 25 and 26, 2023. They will be serving sugar on maple creemees and donut holes with maple cream from 10 am to 5 pm.
Outside of maple weekend, the sugarhouse is open daily from 9 am to 6 pm.
Merck Forest & Farmland Center in Rupert, Vermont
A visit to Merck Forest & Farmland Center is an experience that can't be duplicated. This nonprofit working farm and forest in Rupert, Vermont includes sixty acres of farmland that are managed using low-impact, ecologically-sensitive practices.
Visitors to the farm can say hi to the animals and purchase farm products, including pick-your-own blueberries (in the summer), pastured pork, grass-fed lamb, fleece products, and of course, real maple syrup.
Merck Forest is comprised of more than 3,100 acres surrounding the farm, with 30 miles of trails in the Taconic Mountains. The terrain is perfect for snowshoeing or cross-country skiing in the winter and hiking in the summer.
This forest also provides an abundance of maple syrup. Merck Forest taps approximately 2,900 trees and invites the public to learn more about the process.
Merck Forest & Farmland Center will celebrate Maple Open House on Saturday, March 25, from 10 am – 2 pm. Visitors will be treated to tapping and boiling demonstrations, storytelling, children's activities, farm animals, and more. A $5 suggested donation per person is appreciated.
---
Read Next: Delightfully Rustic Cabin Camping at Merck Forest & Farmland Center
---
Morse Farm Maple Sugarworks in Montpelier, Vermont
Morse Farm Maple Sugarworks, Vermont's oldest sugarhouse, is an 8th-generation farm in Montpelier that loves visitors.
They offer free sugar house tours and tastings throughout the season, as well as multimedia displays, a nature trail, a country store, and an outdoor Vermont farm life museum.
Morse Farm is open daily year-round. Visitors can walk the "maple trail' winding through the sugarbush and visit Rex and James, the Morse Farm goats. Pieces of folk art and antique farm implements can be found throughout the property.
Be sure to try one of Morse Farm's famous maple creemees, which are available all year long.
Sugarbush Farm in Woodstock, Vermont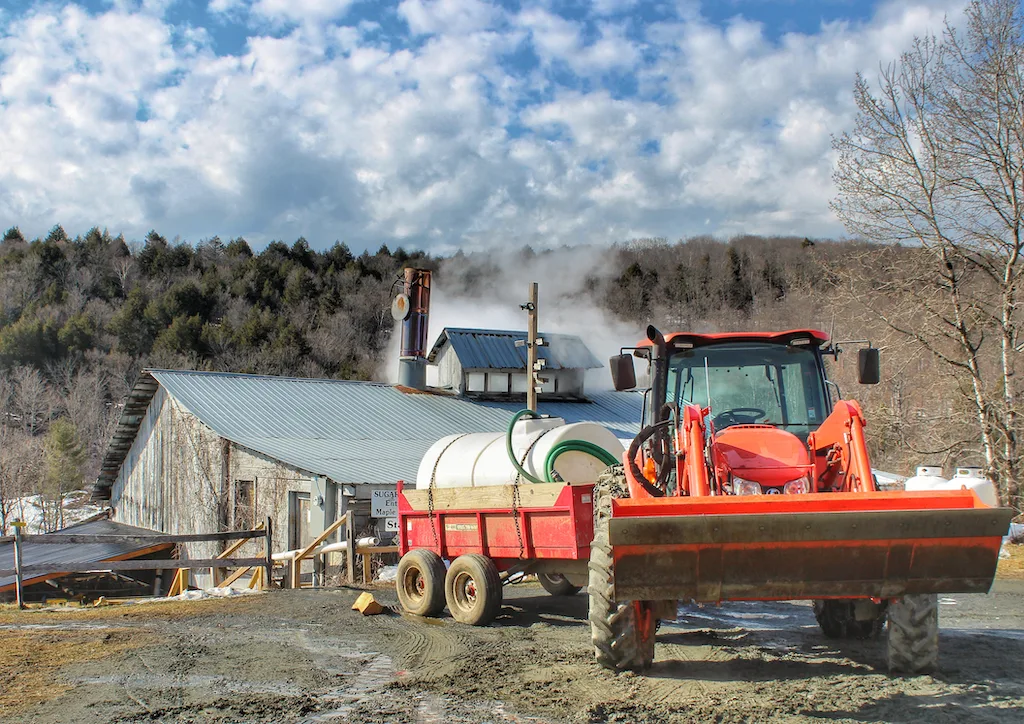 Sugarbush Farm is located on 550 beautiful acres outside of Woodstock, Vermont. Not only does the Luce family make wonderfully rich maple syrup, but they also specialize in award-winning cheese, including extra sharp cheddar and smoked maple cheese.
Sugarbush Farm is open every day from 9 am to 5 pm. During sugaring season, you can visit the sugar house and learn more about the art of making maple syrup. During other times of the year, you are free to walk the sugarbush and watch a short video about how maple syrup is made.
You will likely find delicious cheese samples to savor and farm animals to visit with. The views are gorgeous no matter what time of year you choose to visit
During Maple Open House Weekend, Sugarbush Farm will be offering tours and providing samples.
---
Read Next: Plan a Fall Weekend in Woodstock, Vermont
---
Bragg Farm Sugarhouse and Gift Shop in East Montpelier, Vermont
With more than 2,200 traditional sap buckets and a wood-fired evaporator, Bragg Farm Sugarhouse and Gift Shop in East Montpelier has been making syrup the old-fashioned way for eight generations.
The Bragg Farm sugarhouse is open year-round, not to mention the enticing maple ice cream parlor and gift shop, which carries a large selection of Vermont crafts, gifts, and specialty foods.
During Maple Open House Weekend, Bragg Farm will be open from 8:30 am to 5 pm. Stop in for a maple creemee or milkshake, maple frosted donuts, or sugar on snow sundaes, before visiting the farm goats.
Take a free guided tour of the sugarhouse and sample Vermont's finest maple syrup before choosing a bottle to bring home for your pancake breakfasts and maple lattes.

Baird Farm in North Chittenden, Vermont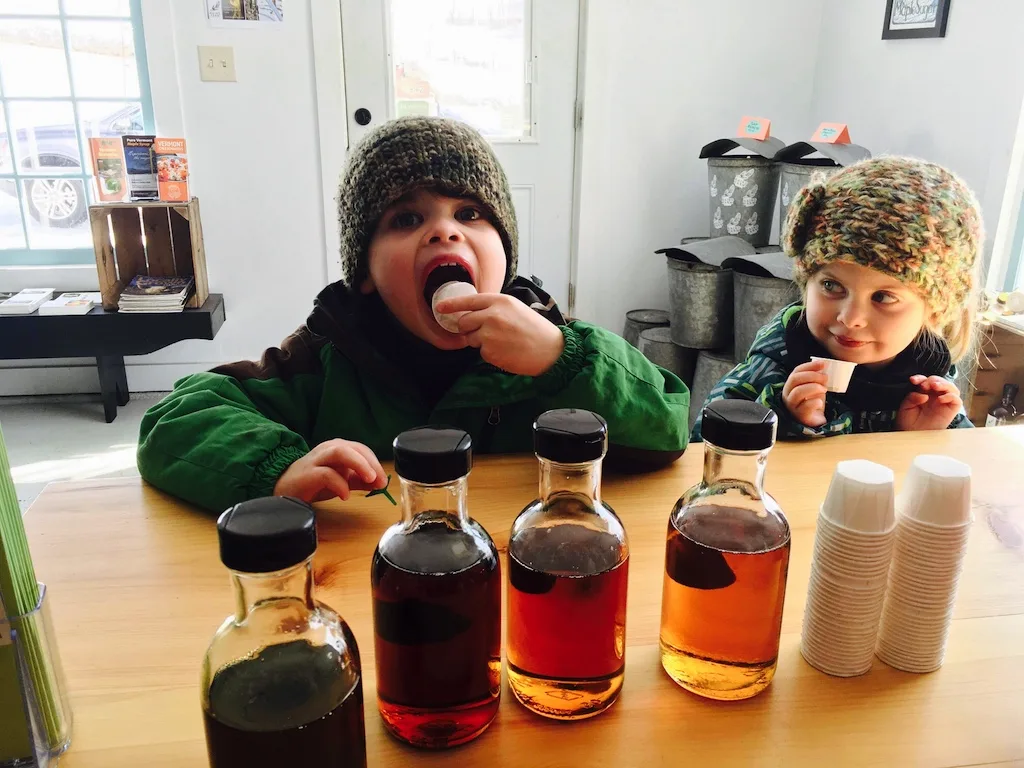 Established in 1918, Baird Farm encompasses 560 acres of forest and fields in North Chittenden. The farm is known for its certified organic maple syrup, as well as maple syrup infused with either mint or spruce tips (great for cocktails).
Baird Farm is participating in Vermont Maple Open House Weekend on March 25 and 26 from 10 am to 4 pm with free sugarhouse and sugarbush tours, maple tastings, free rosemary waffles, outdoor maple activities and giveways, and tree tapping demonstrations at 1 pm.
Mount Holly Beer Co. will be serving maple-themed beer and the farm store will be open for purchases.
Outside of Maple Open House Weekend, Baird Farm is open year-round from Wednesday to Monday, 9 am to 5 pm. Free tours must be booked in advance.
Bread Loaf View Farm in Cornwall, Vermont
Bread Loaf Farm maintains a 30-acre sugarbush in Cornwall, Vermont, just three miles from Middlebury College. Head sugar maker, Kenn Hastings manages the sugarbush and produces intensely flavorful maple syrup and maple products for all to enjoy.
Bread Loaf Farm is dedicated to combining time-honored maple sugaring practices with cutting-edge technology to produce the richest, most delicious syrup imaginable.
Throughout the year, Bread Loaf View Farm hosts numerous community-wide gatherings including pancake breakfasts, group tours and special events.
Mahar Maple Farm in Middletown Springs, Vermont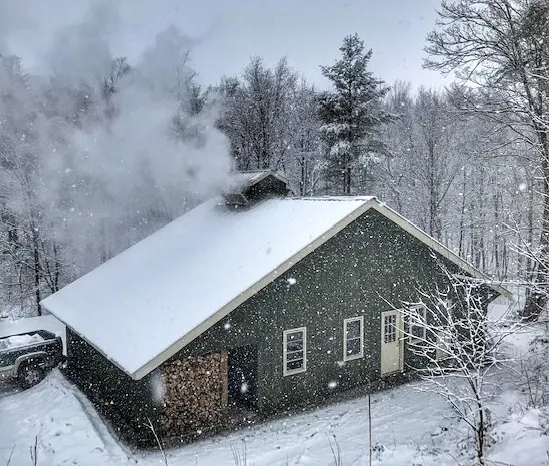 Welcome to Mahar Maple Farm, where the Durfee and Mahar families together have created a small maple sugar farm in the beautiful, picturesque mountains of Middletown Springs. Mahar Maple Farm combines traditional sugaring techniques with modern technology to make flavorful, award-winning Vermont maple syrup.
The sugarhouse will be open for Vermont Maple Open House Weekend. Visitors are welcome to visit the state-of-the-art, wood-fired evaporator in a spacious sugarhouse. There will be free samples, maple snacks, and specialty maple products for sale.
You are welcome to visit Mahar Maple Farm outside of Maple Weekend, but appointments are suggested as boiling times and days are weather dependent.
Judd's Wayeeses Farms in Morgan, Vermont
Formerly the Wayeeses Boys Camp that operated from 1923 until World War II, Judd's Wayeeses Farm in Morgan is a fourth-generation sugaring operation specializing in pure maple syrup and maple sugar.
You can visit the farm anytime, and purchase syrup at the onsite cannery, or strap on snowshoes to trek about a mile to the sugarhouse. To find out if they are boiling in the spring, give them a call at (802) 895-4418.
Want to spend more time in the region? Rent the nearby cottage on Seymour Lake in the summer months for $125 a night.
Shelburne Sugarworks in Shelburne, Vermont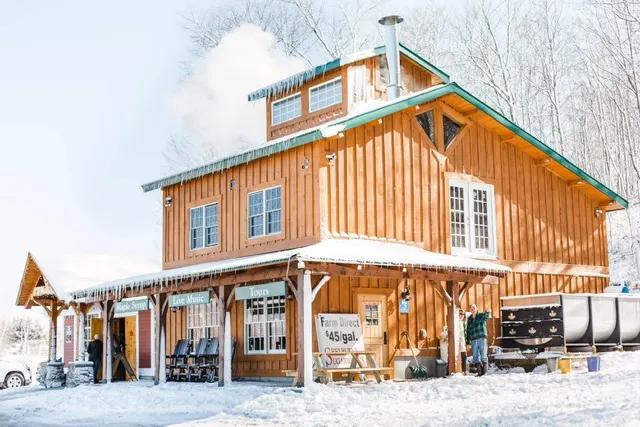 Shelburne Sugarworks is a third-generation operation that started during World War II when Marjorie Palmer began making maple syrup when traditional cane sugar was rationed.
Since those humble beginnings, the Palmer family has expanded the sugarhouse and incorporated new technology, including a natural-gas-fired evaporator, expanded tubing and vacuum systems, and a reverse osmosis system for more efficient processing.
Shelburne Sugarworks opens the doors to its post-and-beam sugarhouse every weekend from March 11 to April 2, 2023, from 12 – 5 pm.
During Vermont Maple Open House Weekend, they will offer free samples, maple cotton candy, maple ice cream, and guided tours. Don your snow boots (or snow shoes) for a walk in the sugarbush.
The 170 acres of woodland trails around Shelburne Sugarworks are open for hiking and mountain biking all year.
Trapp Family Lodge Sugarhouse in Stowe, Vermont
In the early 1940s, the von Trapp family toured the United States as the Trapp Family Singers before eventually settling in Stowe, Vermont. Today, visitors are welcome to come stay in their Austrian-style lodge on 2,600 acres. Trails crisscross the property, and there are several restaurants and a brewery onsite.
Every March, when the days become longer and warmer, maple sugaring begins at Trapp Family Lodge, where 800 gallons of maple syrup are produced the old-fashioned way, using sap buckets and a wood-fired evaporator.
Visitors can book a Maple Sugar Tour during their visit It's a casual, 0ne-mile hike around the property where you learn about maple sugaring before enjoying a tasty treat. While you're there, you can visit with the lambs and cows, hike or bike a trail, or dine in one of the fantastic restaurants or the Von Trapp Brewery.
---
Read Next: Easy and Moderate Day Hikes Near Stowe, Vermont
---
More Vermont Maple Events to Check Out in 2023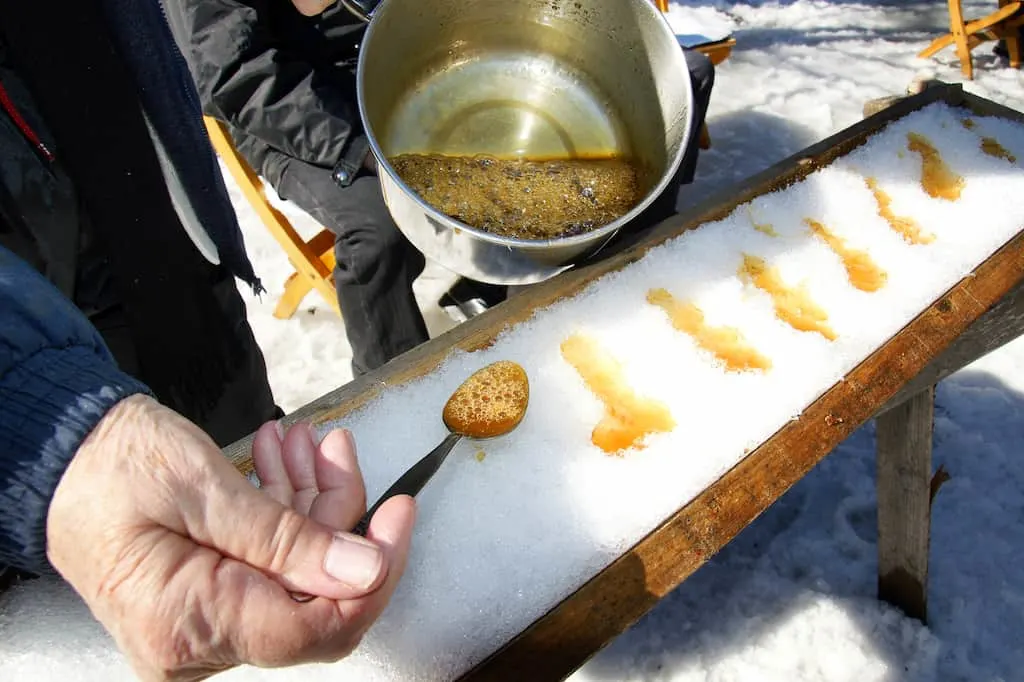 Vermont Maple Open House Weekend may be the most anticipated maple event of the year, but it's not the only one! Here are a few more ways to indulge in and learn about Vermont's liquid gold!
---
Follow us on social media for more Vermont inspiration!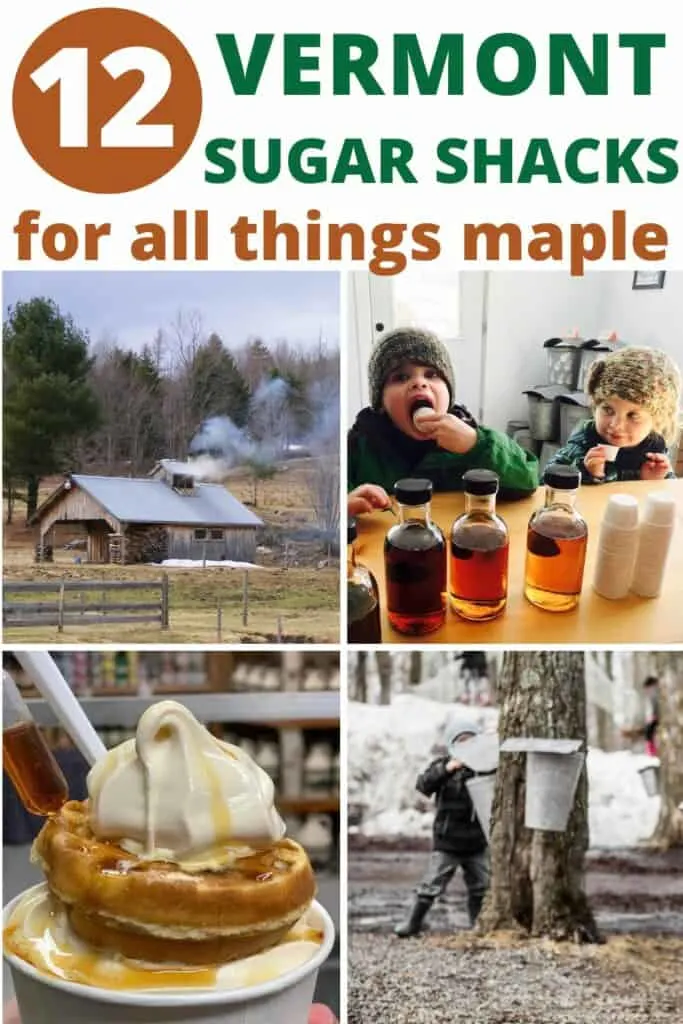 Tara Schatz is a freelance writer, and the founder and editor-in-chief of Vermont Explored and Back Road Ramblers, an American road trip blog. She is also the co-author of the 3rd edition of AMC's Best Day Hikes in Vermont, which was released in May 2023.