Travel restrictions and guidelines change frequently, so be sure to check with the destination before visiting. Also, this post may contain affiliate links from which we earn a small commission.
Whether you're just starting out as a photographer, or you've been at it for years, there's a good chance that the allure of Vermont in the fall will be too much to resist at some point, and you'll become a bonafide leaf peeper.
I've lived in Vermont for a good portion of my life, and I didn't become a leaf peeper until a few years ago when I started taking photography seriously. Now when October hits, I have a plan in place, and it usually involves getting up early every morning for two weeks, and driving the back roads of southwestern Vermont, which in my opinion is one of the best places to photograph fall foliage in Vermont!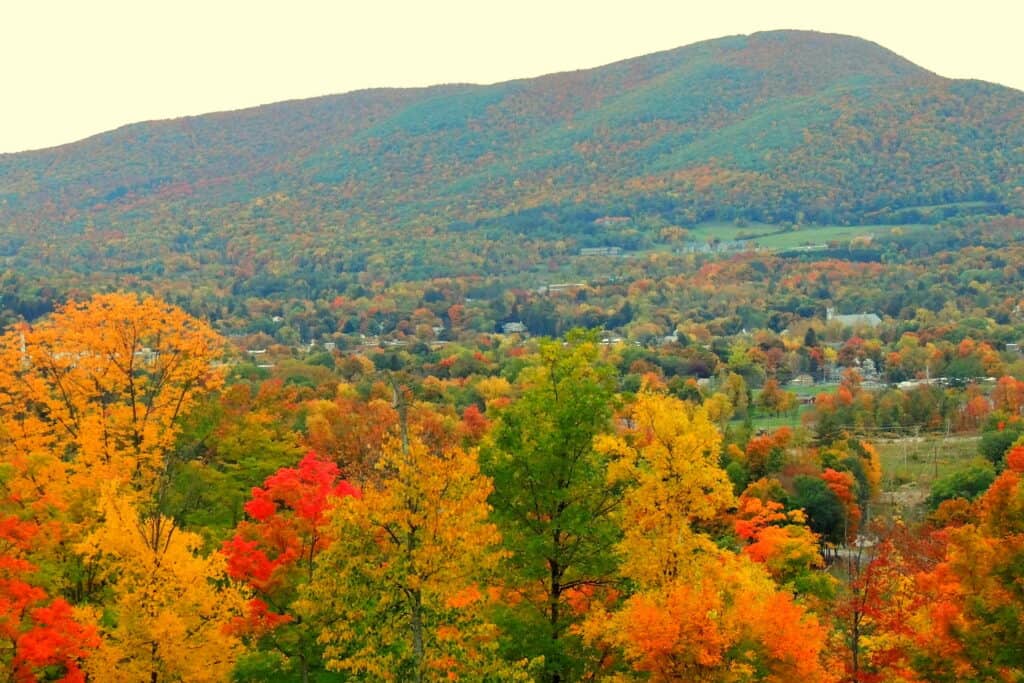 When to Photograph Fall Foliage in Southwestern Vermont
The leaf-peeping season is unpredictable, but you'll always find varying levels of color during the first two weeks of October in Southern Vermont. Generally, the best colors come after a rainy summer. During dry summers, the leaves fall early and are a bit more drab.
Bennington, Vermont is nestled in a valley between the Taconic Range to the west and the Green Mountains to the east. In early October, when the leaves begin to turn, I head into the mountains on either side for the best color. After a week or two of shooting in the mountains (depending on the weather), I set my sites on the back roads, farms, and villages in the southwestern Vermont valleys.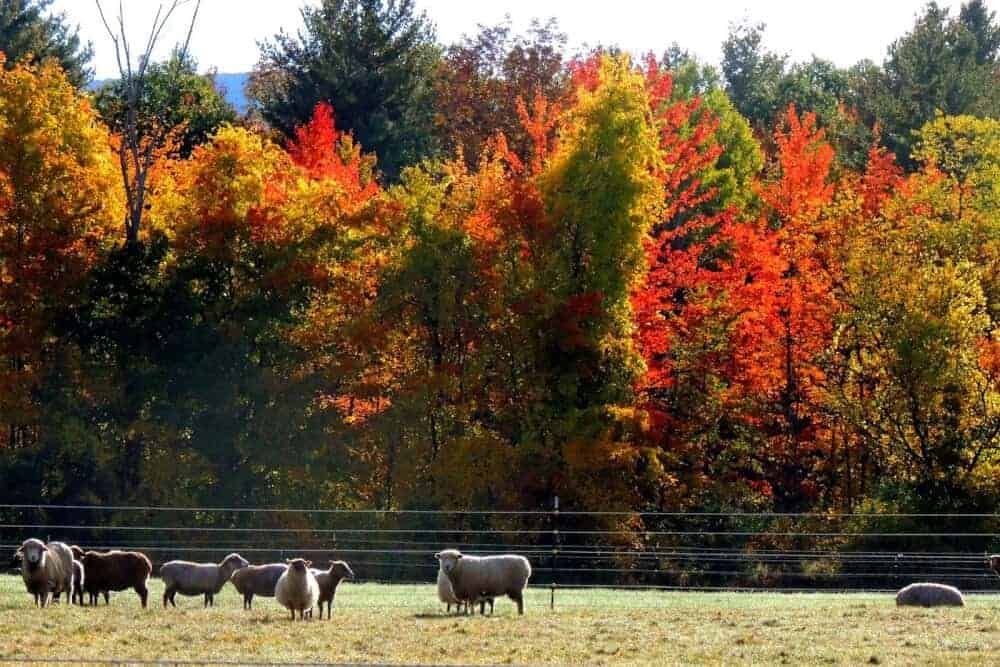 Southern Vermont is my home. The back roads, mountains, and valleys around Bennington are where I learned to take photos and fell in love with landscape photography.
I could not write a post like this about any other place in the world. I truly believe I have traveled and photographed every back road in Bennington and Windham Counties, but for this post, I'm going to focus on Bennington County, otherwise, I would have to write a whole book!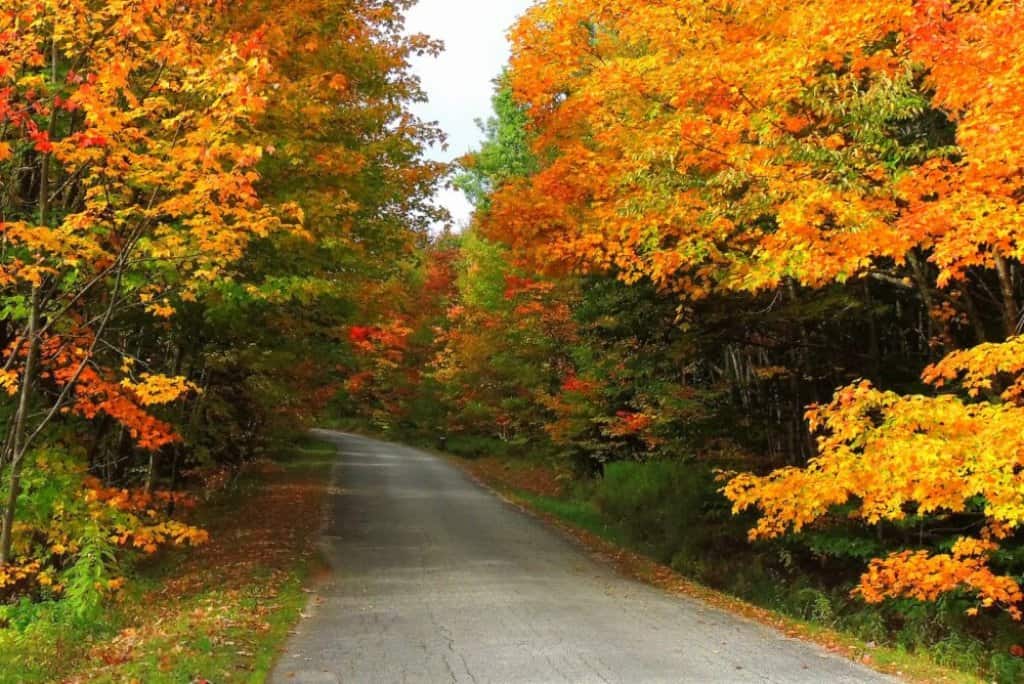 When I visit a new place, the first thought that crosses my mind is, "Where can I get a good cup of coffee?" My second thought is usually, "Where can I capture the beauty of this place with my camera?" I may cover that first question in another post, but for now, let's talk about the best places to take fall foliage photos in southern Vermont.
These are some of my favorite spots to take fall foliage photos in Vermont, but they're great spots for landscape photography in every season, not just fall!
Woodford, Vermont: Green Mountains Turned to Gold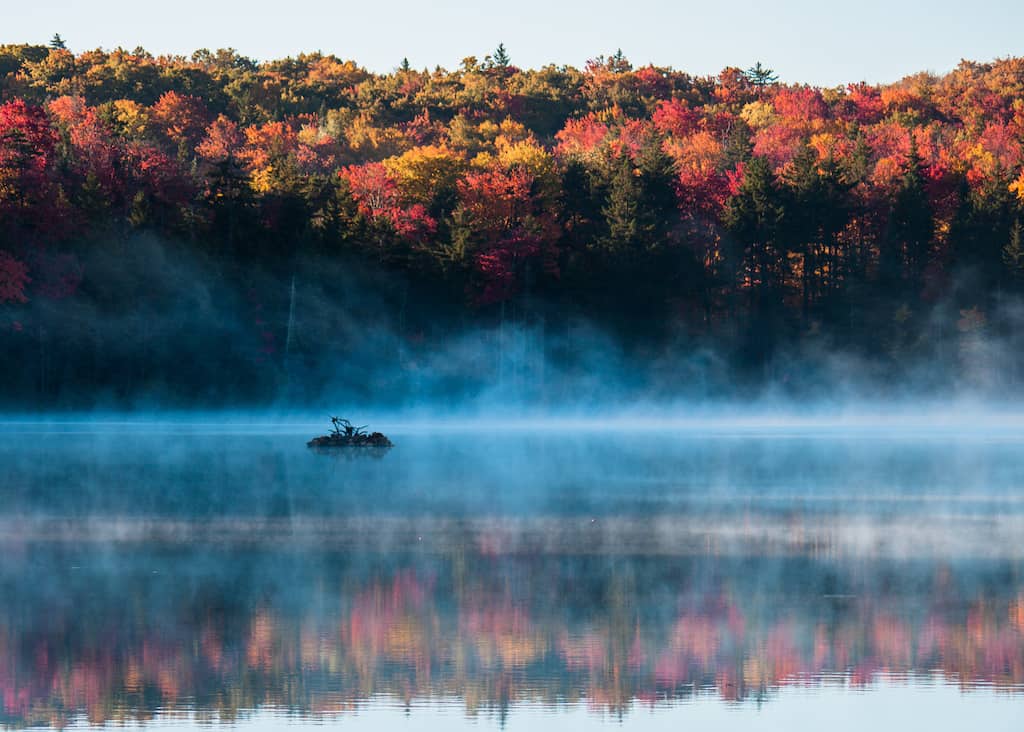 Woodford State Park, Woodford, VT
Woodford State Park is open from Memorial Day until the 2nd Monday in October each year. It's my favorite spot to walk our dogs, and I always bring my camera, because you just never know. The day that I forgot to bring my camera was the time we saw a moose munching on leaves in the beaver meadow.
Peak foliage usually happens here in early October, and if you come in the early morning, you will often catch a nice fog coming off of the lake. There's a trail around the lake, which takes about an hour to walk, and you'll find lots of photo opportunities on the trail. The fee to get into Woodford State Park is $4 for adults and $2 for children.
Roaring Branch Swimming Hole, Woodford, VT
In the summer, it's a lively swimming hole. In the fall, it's a lovely spot to take gorgeous fall foliage photos. Bring your tripod and capture the moving water as it tumbles over the rocks, and don't forget to wear sturdy footwear.
To get to the swimming hole, drive east on Route 9 from Bennington toward Woodford. As soon as you see the Woodford/Bennington town line sign on the right, put on your right turn signal and pull off the road into the roadside parking area. Walk down the trail to the river with your camera.
Appalachian Trail Footbridge, Woodford, VT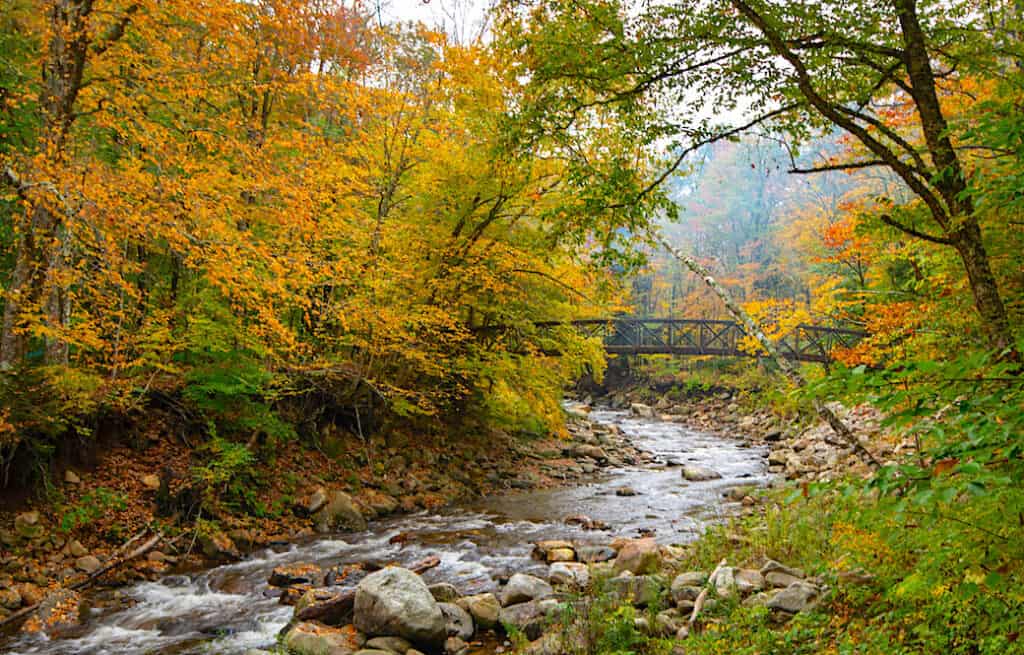 The Appalachian Trail runs right through Woodford on its way from Georgia to Maine. If you have time, you can hike a bit in either direction through the fall woods with your camera, but if you want a roadside photo opp, simply park in the lot and walk to the northbound trailhead. Here you'll find a lovely footbridge crossing the Roaring Branch River.
I did a few senior photo shoots here a few years ago in October, and it's been a favorite spot for fall photography ever since. To get here, drive on Route 9 east from Bennington and turn into the Appalachian Trail parking lot on the left as soon as you see the Green Mountain National Forest Sign.
Shaftsbury, Vermont: Hills, Valleys, and Farms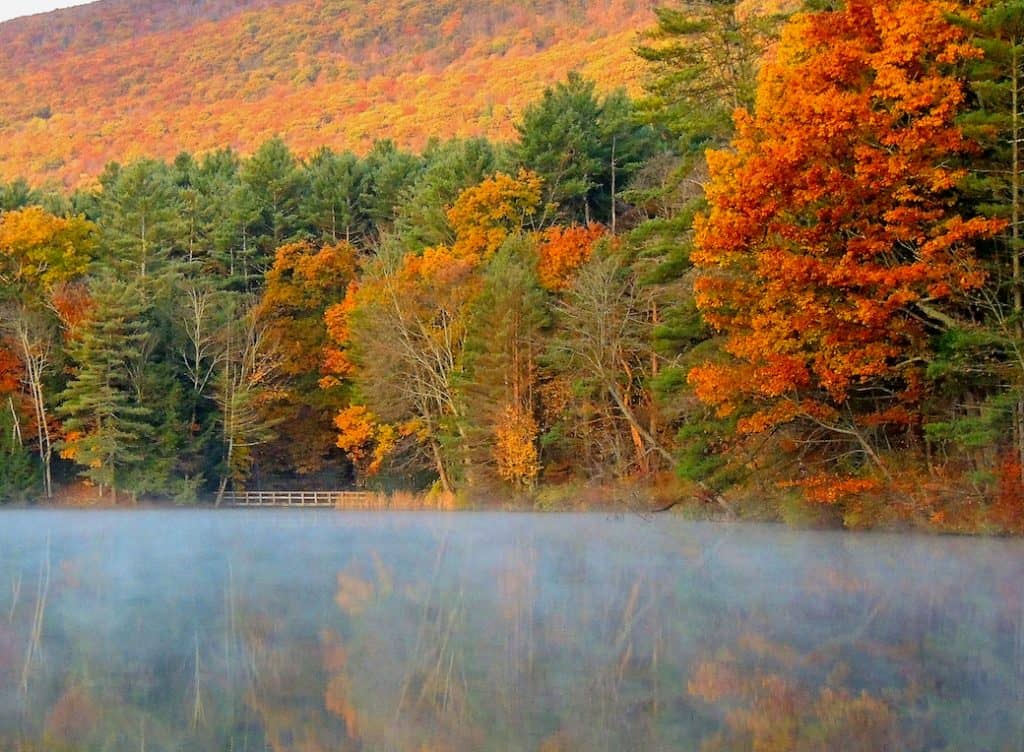 Lake Shaftsbury State Park, Shaftsbury, VT
Another favorite for capturing foggy lakes, reflections, and waterfowl, Lake Shaftsbury State Park officially closes after the 2nd Monday in October. If you visit later in the season, you can still park outside the gate and walk in. It's another good spot for dog walking in the early morning.
There is a one-mile trail around the lake with a beautiful boardwalk through wetlands and several pretty footbridges. Lake Shaftsbury is in a lovely valley surrounded by hardwoods, and the colors usually start to peak during the second week of October. To get here, head north on Route 7a from Bennington. Lake Shaftsbury State Park will be on the right about 1/2 mile after Clear Brook Farm.
Old Depot Road, Shaftsbury, VT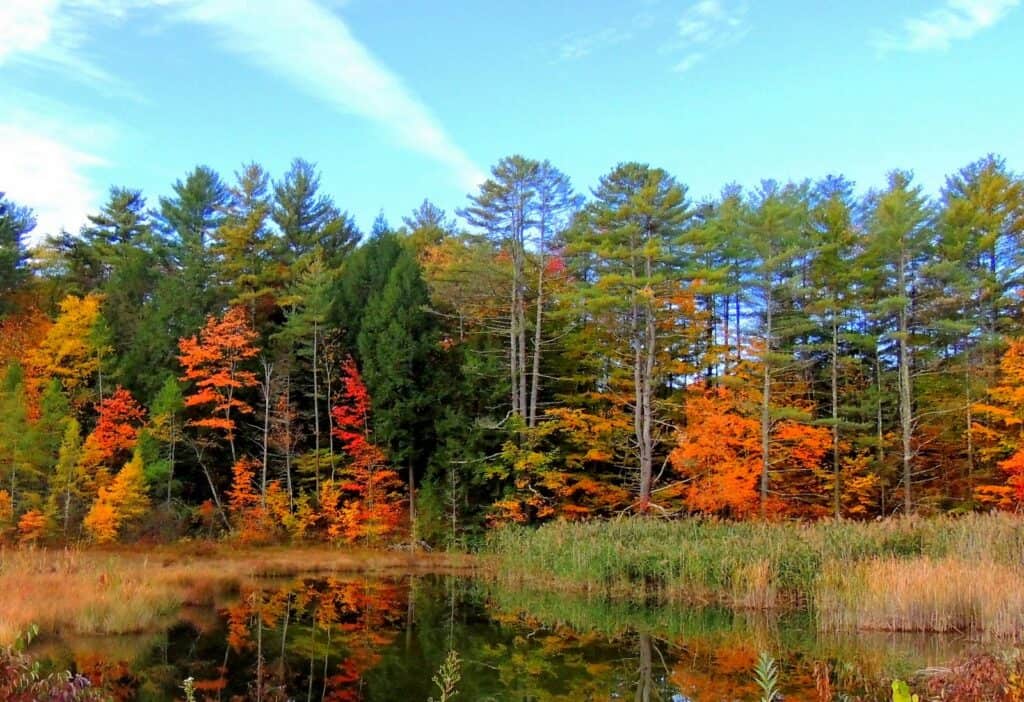 We've seen moose on Old Depot Road as well, and this road offers up a good mix of woods, farms, and beautiful wetlands with mountains in the background.
There are two entrances to Old Depot Road – right off of Route 7A in Shaftsbury, and another in Arlington. It makes a nice driving loop in the fall, especially if you stop at Propagation Piece Orchard on 7A in Shaftsbury for donuts and cider, or at the Chocolate Barn for the world's best ice cream.
Bennington, Vermont: History, Mountains, and Long Views
Old Bennington, VT
Judging by all the tour buses I see here in the fall, Old Bennington has got to be one of the most photographed places in Vermont during fall foliage. For good reason, too!
A walking tour through Old Bennington will provide lots of opportunities for fall foliage photos.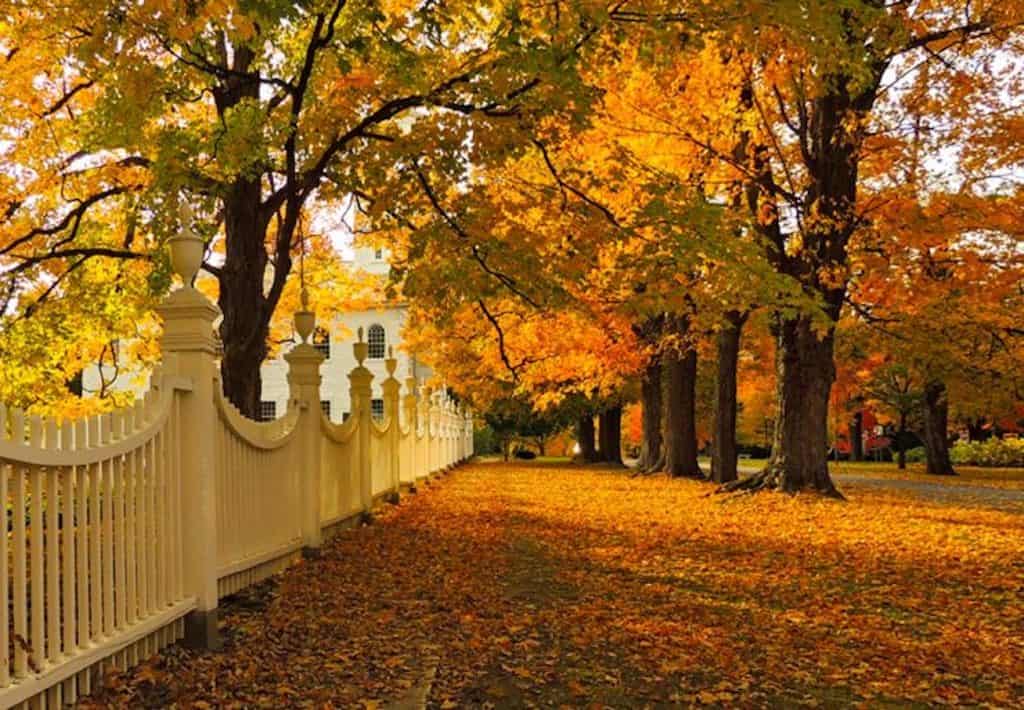 Park your car near the Bennington Battle Monument and walk down Monument Avenue. Visit the Old First Church – isn't that white fence divine? The graveyard behind the Old First Church is home to some really old gravestones as well as the gravestone of Robert Frost. Check out the Bennington Museum if you have time, and walk on the Wildflower Trail.
Colors peak in Bennington later than in the surrounding hills – the second week of October in most years.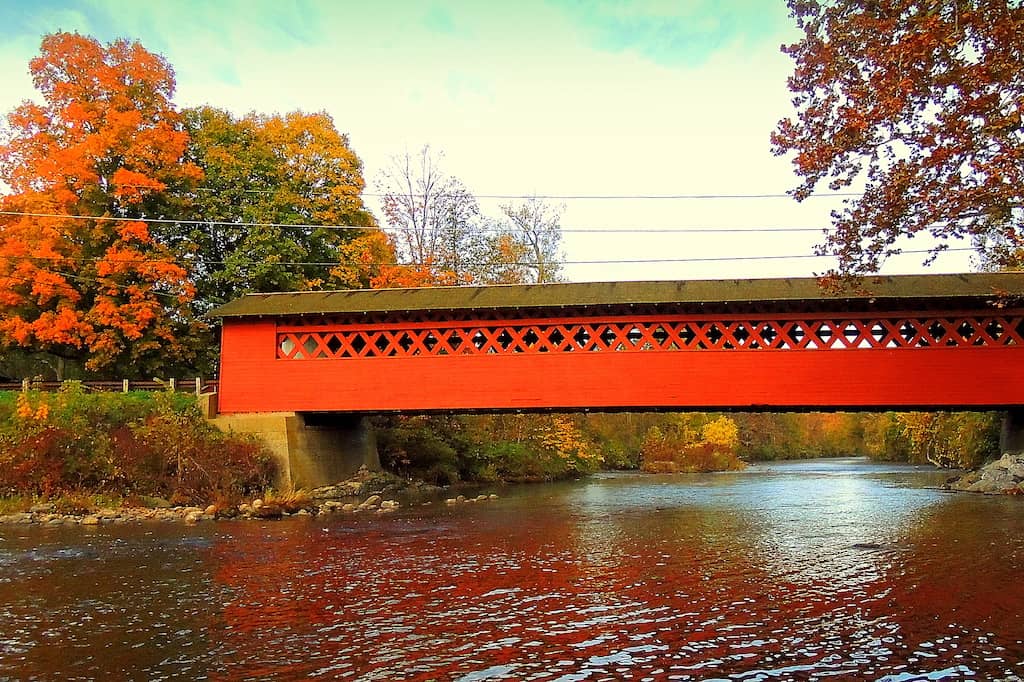 Bennington Area Trail System, Bennington, VT
After checking out Old Bennington, travel on Monument Avenue and turn right into the former Southern Vermont College Campus. The BATS trailhead is located on the right-hand side. Trails wind through both meadow and woods on what was once the campus of Southern Vermont College.
Everett Mansion, while currently closed pending a sale, is quite photogenic. Hopefully the grounds around the mansion will be open soon, but there are still plenty of lovely trails that are open for hiking and mountain biking.
The meadow paths will give you the best views of the surrounding Green Mountains and the Bennington Monument. It's also a great spot to watch the night sky. Check out the BATS website to learn more and download a trail map.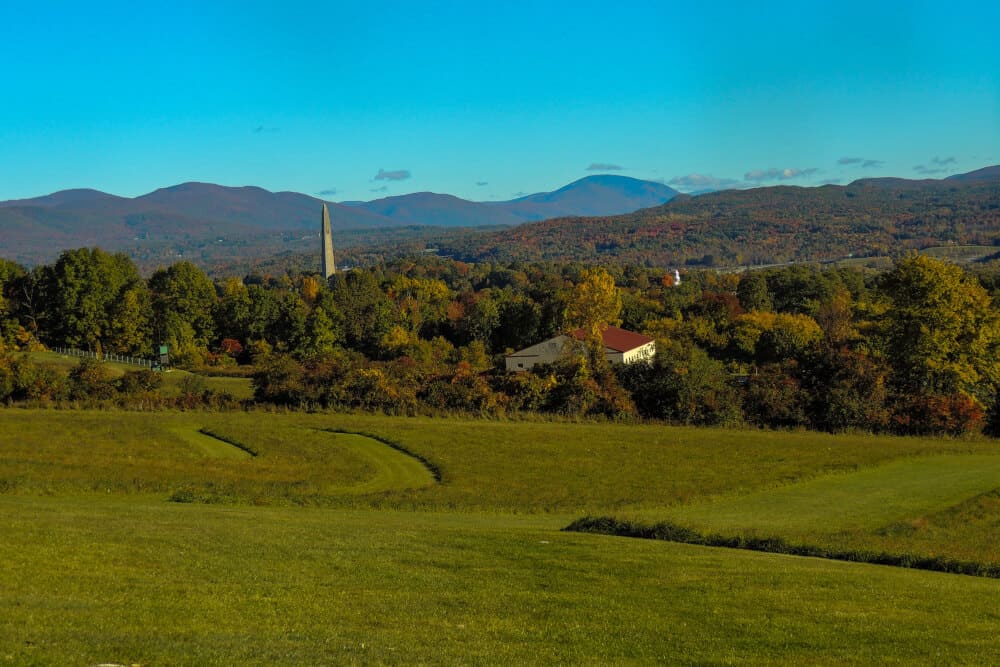 Mt. Anthony Road, Bennington, and Pownal, VT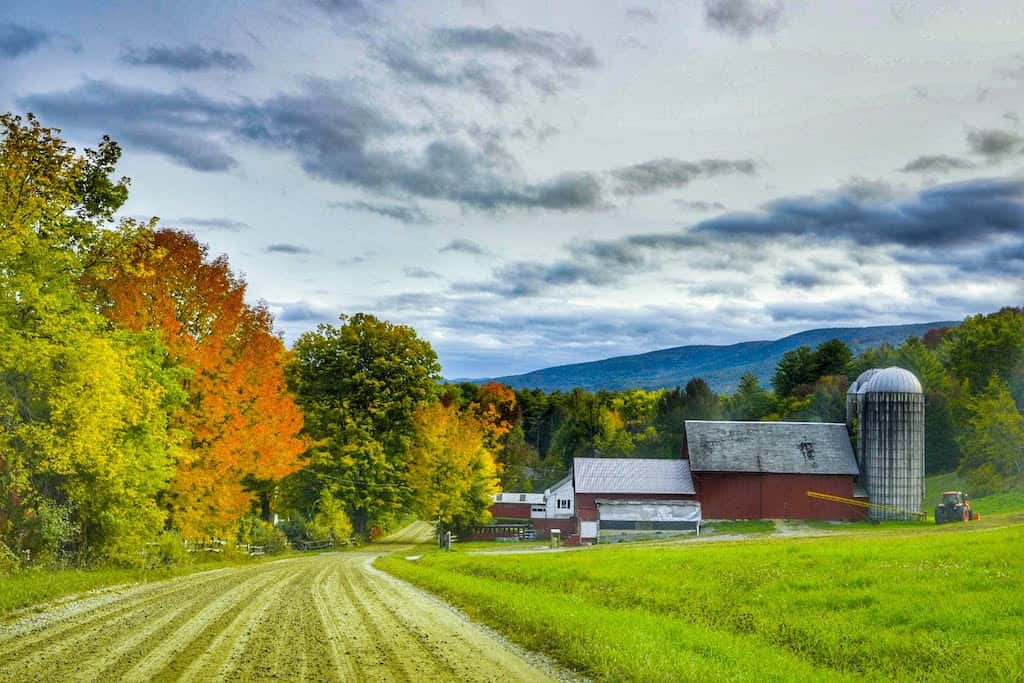 Mount Anthony Road is a dirt road that connects Route 9 in West Bennington to Pownal, which is just south of Bennington. It's a narrow, windy road, traveling through stands of stately hardwoods, and then opening up to incredible views of Mt. Anthony.
Highlights of Mt. Anthony Road include an unmarked waterfall locally known as the Tubbs (look for a small parking area lined with boulders, but no signs), beautiful old barns, farm animals, and stone walls. I prefer photographing Mount Anthony in the late afternoon, just before sunset. Mid October seems to be peak foliage here.
North Bennington, Vermont: Small Village Life Surrounded by Farms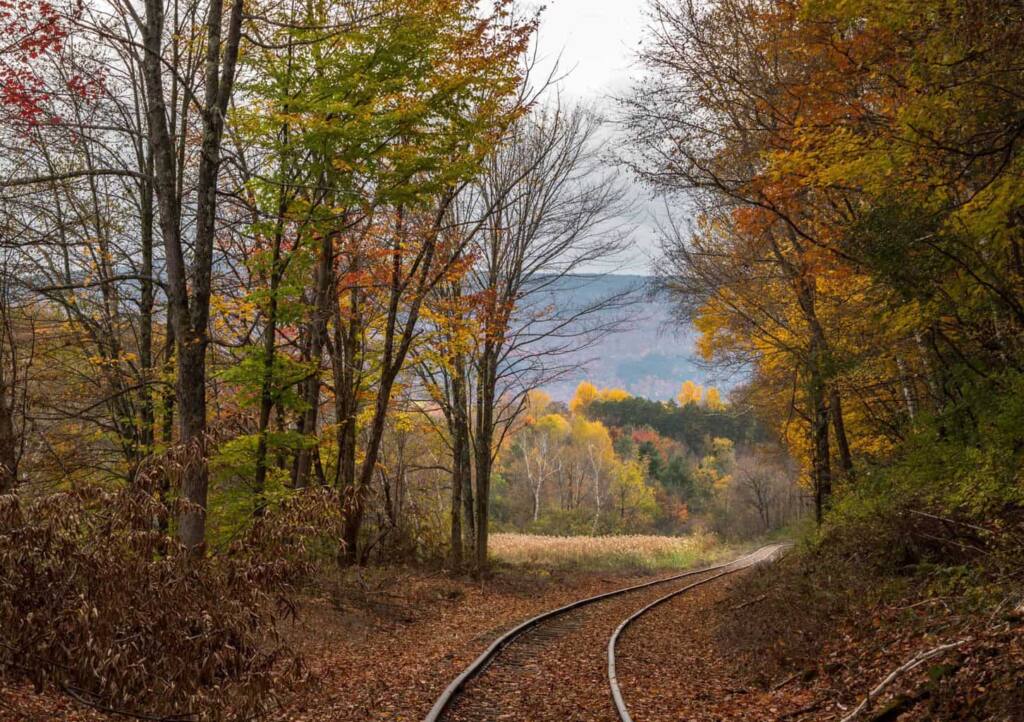 Meyers Road, North Bennington and Shaftsbury, VT
Another favorite dirt road, Meyers Road starts on Route 7A in Shaftsbury, turns into Cross Hill Road in North Bennington, and pops out just on the border of New York and Vermont on White Creek Road. You'll find fabulous views of Mount Anthony to the south, as well as rolling hills and plenty of farms.
This is one of those roads that you'll drive on once, and swear that you're going to move to Vermont for its pastoral beauty. It's a gem! This area usually peaks around October 10 (judging from all my past photos).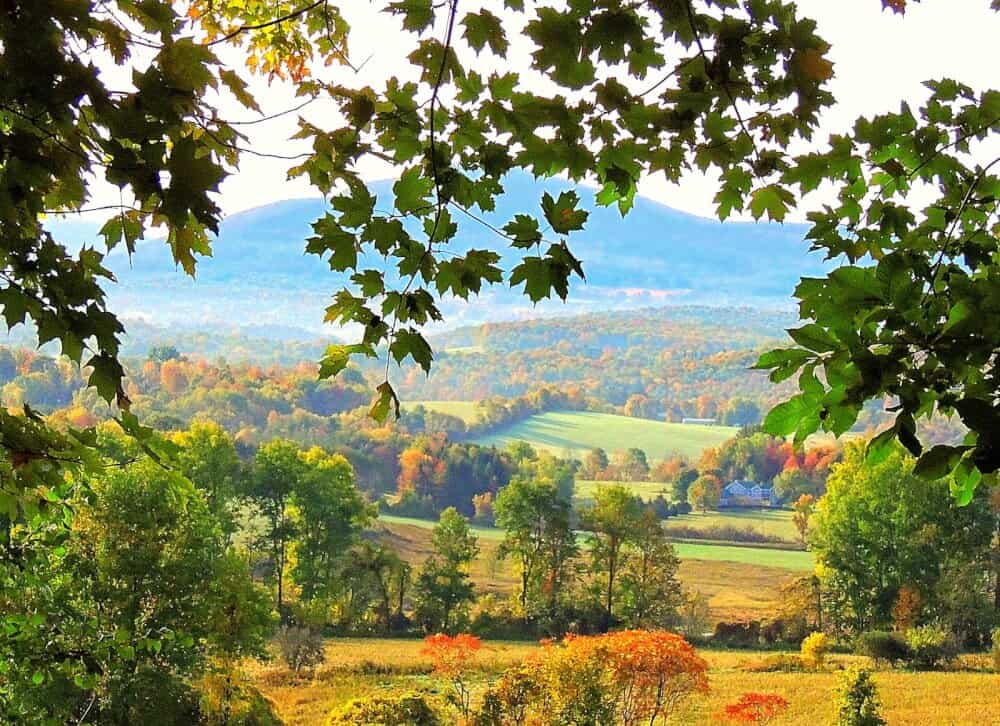 The Mile Around the Woods and Park McCullough House, North Bennington, VT
This special place is a popular walking spot for locals, and it offers up some pretty spectacular scenery in every season. Park your car on McCullough Road, just past the Park McCullough House and walk through the fields and woods. You will have some amazing 360-degree views when you get to the top of the high meadow.
Fall foliage photo opps include distant hills and mountains, a beautiful old hardwood forest, and a pasture full of draft horses. The grounds of the Park McCullough house are gorgeous as well. Early morning in mid October is the best time to take photos.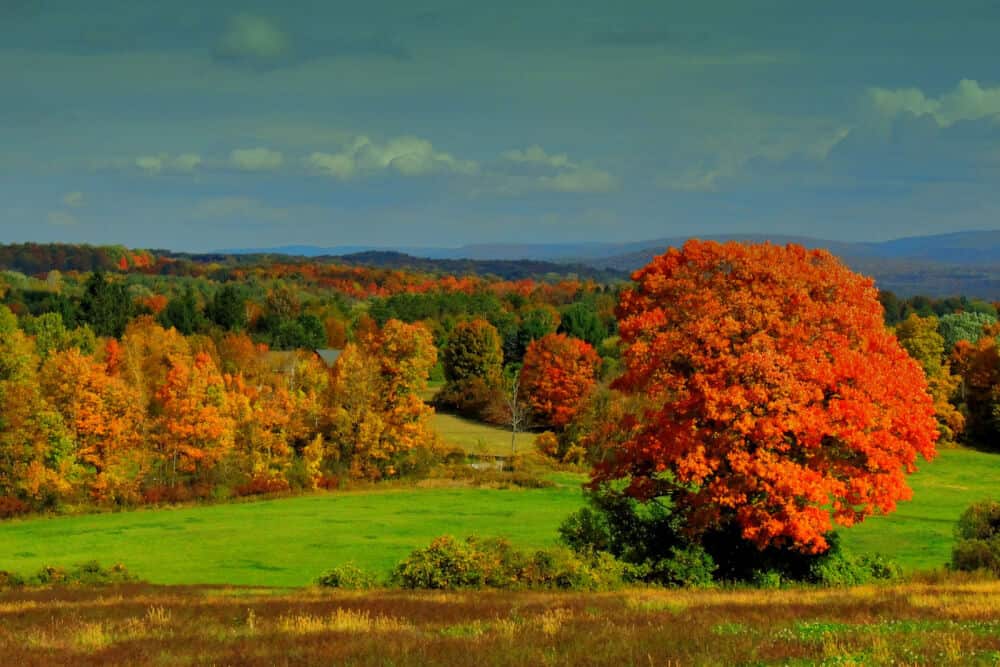 Arlington, Vermont: Gateway to the Mountains
Kelly Stand Road, Arlington, VT
Kelly Stand Road takes you deep into the mountains of the Green Mountain National Forest so you can explore places like Stratton Pond, Grout Pond, and Somerset Reservoir. We'll talk about those lovelies in another post, but Kelly Stand Road is worth meandering along without a destination in mind. It is currently my favorite back road for fall foliage photography in Vermont.
It begins in East Arlington and will take you all the way to Wardsboro if you want to go that far (do it!). If you're driving on route 7, get off at the Arlington exit. Take a right on South Road and then a right on Kansas Road, which turns into Kelly Stand Road.
This narrow dirt road follows alongside the Lyman Brook for many miles. It's closed and gated in the winter, but in the fall you can probably travel the whole length of the road without seeing another car, especially if you plan your drive on a weekday morning.
The road itself is the main attraction here, along with the bubbling brook and the incredible fall colors. Because the road travels mostly through the forest, you can get good shots at any time of day.
For the best fall foliage shots, head to Kelly Stand Road in early October.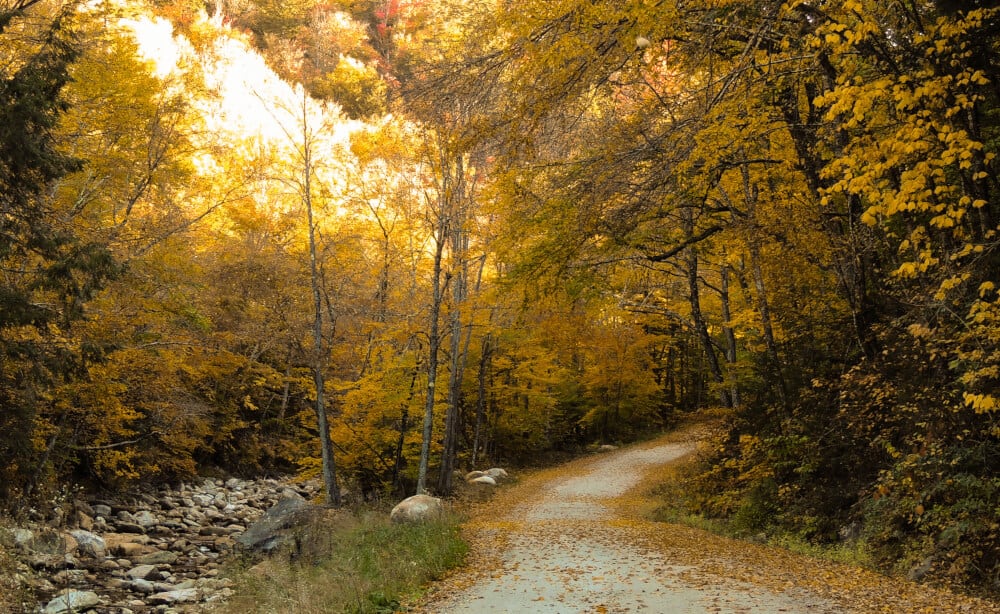 Manchester, Vermont: A Lovely Village with Pastoral Views
Manchester Village, VT
An early morning visit to Manchester Village is an absolute must! You can park in town near the Equinox Hotel and wander around on foot before driving north to the Northshire Bookstore (best bookstore in the state!) and cafe.
There are some nice trails into the hills behind Burr and Burton Academy and you should also explore Dellwood Cemetery and Hildene (entrance fee) while you're here. Early to mid-October is usually the best time to capture fall colors in Manchester.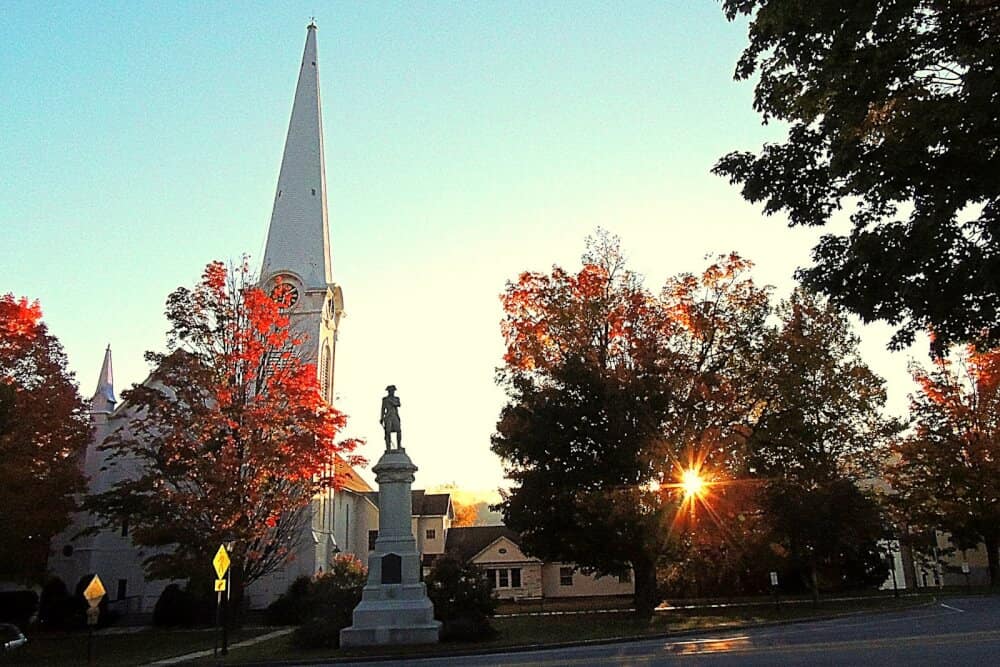 Southern Vermont Arts Center, Manchester, VT
After wandering around Manchester Village, take West Road up to Southern Vermont Arts Center. This is a multi-dimensional arts organization offering exhibits and classes throughout the year. The grounds include large, outdoor sculptures and walking trails, with fabulous views and great fall colors.
So there you have it, my all-time favorite places for fall foliage photography in Bennington County of southwestern Vermont. If you've got a passion for photography and fall colors, I hope this post will help you plan your getaway. I'm also more than happy to answer any questions you might have in the comments below.
---
Can't get enough of fall foliage in Vermont? Neither can I! Check out these posts to read more!
---
I'd love to hear about your favorite spots for capturing the beauty of fall, in Vermont, or wherever you happen to be.