Tucked away in a not-so-remote part of Shaftsbury, Vermont is a one-of-a-kind vacation rental. A place where luxuriously modern amenities have been combined with eye-popping vintage relics in ways that are both surprising and delightful.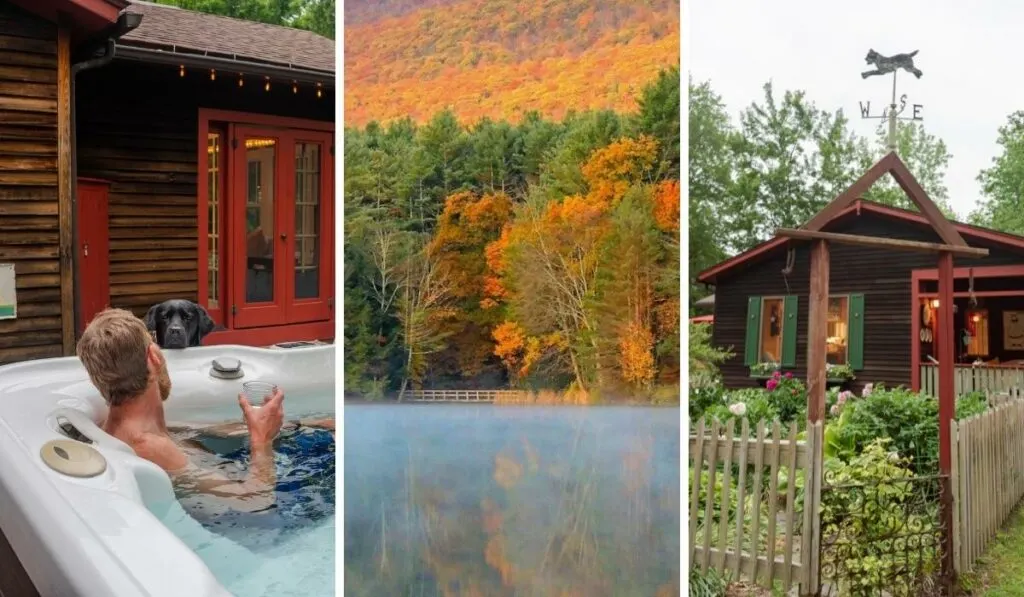 While Velvet Antlers Cottage has been a beautiful work in progress for 20+ years, its availability as one of the most unique vacation rentals in Vermont is a more recent development. With room for six guests, this dog-friendly cottage is the perfect rural escape in southern Vermont.
Carol, the proprietor and host of Velvet Antlers, is a graphic designer by trade, but it's obvious that collecting, repurposing, and designing interiors is her passion.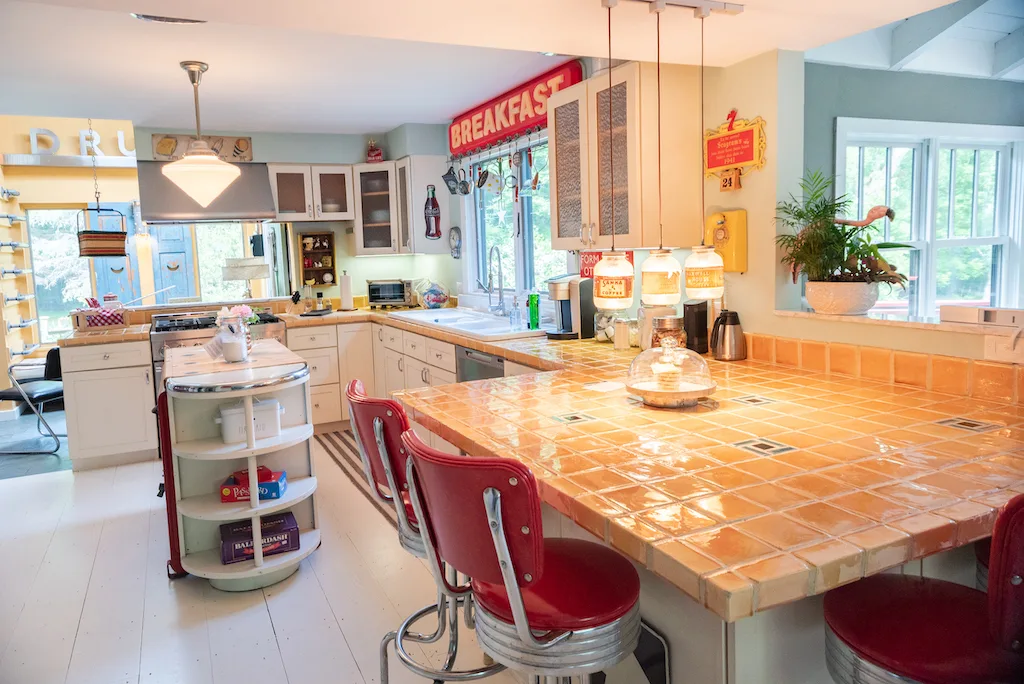 The space she has created is both bold and tranquil. Antiquated and modern. Above all else, it is welcoming — giving visitors a thousand reasons to live in this perfect Vermont moment — in this perfect Vermont spot.
Eric and I were fortunate enough to escape (just 10 miles from home) to this magical cottage in Shaftsbury this summer. We celebrated the last day of his teaching career with a blissful soak in the hot tub under the canopy of a billion stars and decadent s'mores around the fire pit.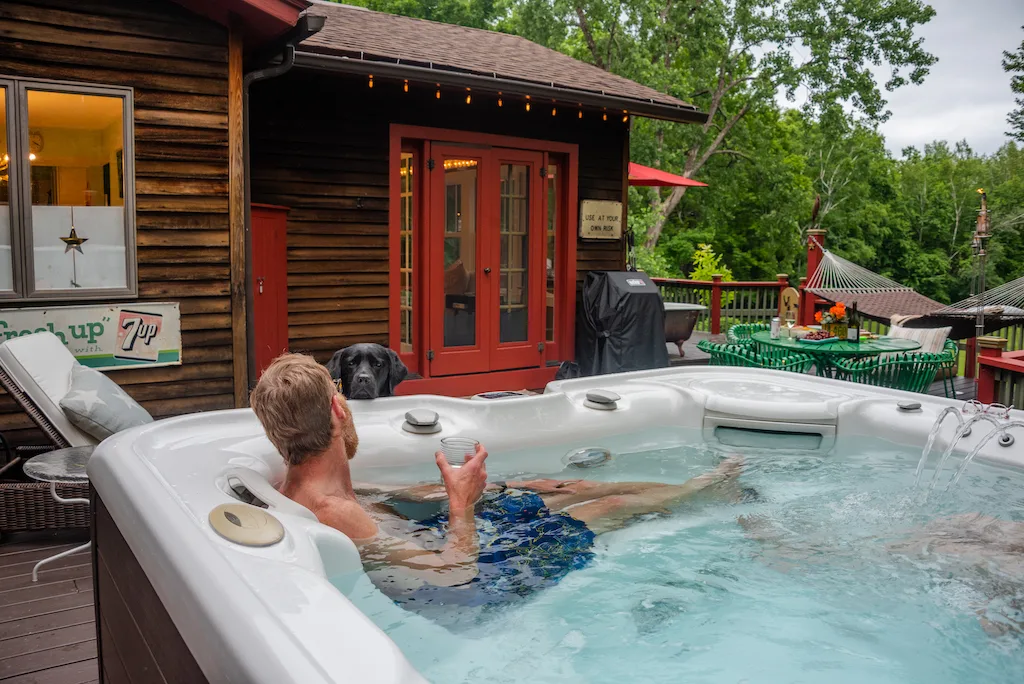 Whether you prefer to be indoors or out, a stay at Velvet Antlers is a captivating experience and a fantastic home base for exploring the best spots in southwestern Vermont.
Welcome to Velvet Antlers!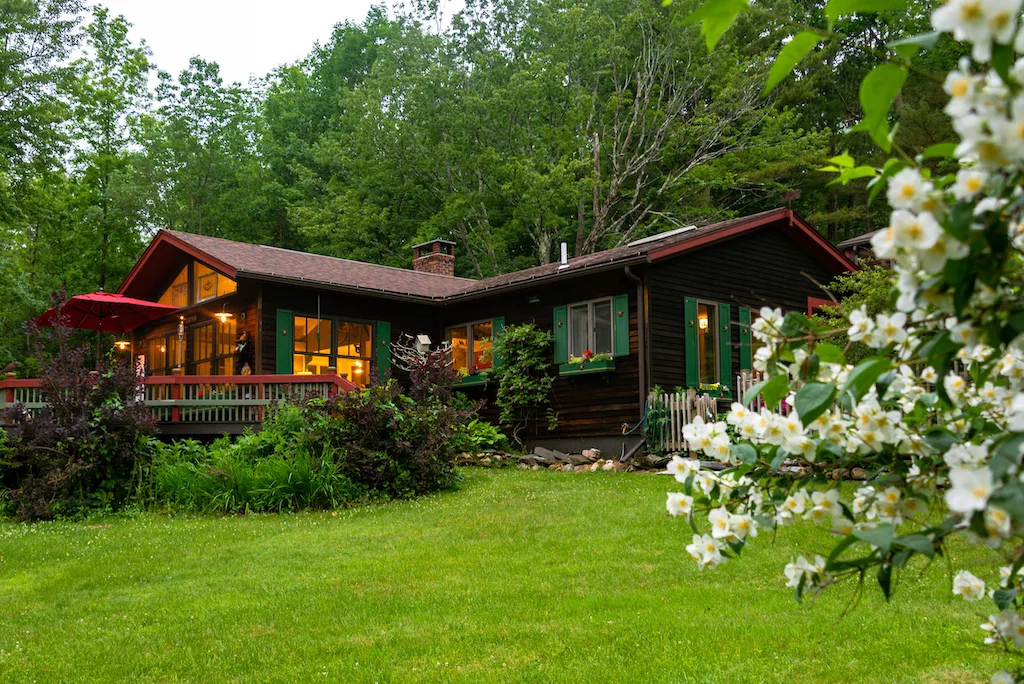 There's an instinctive letting go that happens the moment you enter the oasis that is Velvet Antlers Cottage in rural Shaftsbury, Vermont.
Perhaps it's the fact that every whimsical detail inside and out of this special home makes you grin with appreciation. Or maybe it's the quiet serenity that envelopes you as you indulge with a glass of wine while taking in the woodland views from the hot tub.
Leave your worries at the door and prepare for a little bit of Vermont bliss.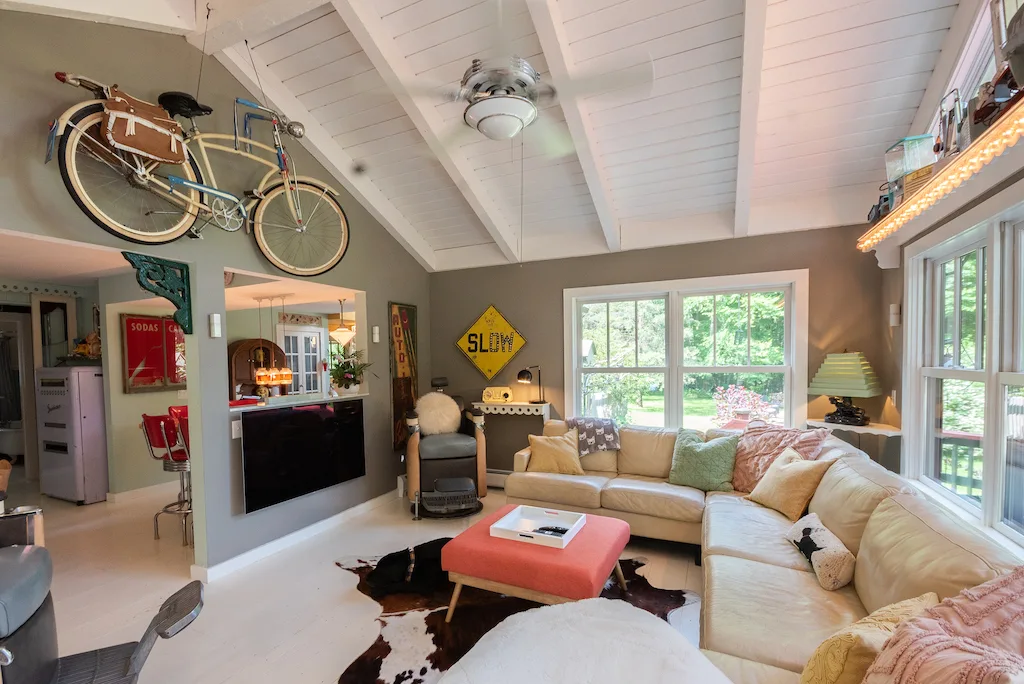 There are retro antiques to admire throughout the luxuriously decorated home, not to mention games to play (table tennis, anyone?), meals to indulge in, and a whole lot of comfy nooks to relax in.
Amenities and Details to Help You Plan Your Trip
Velvet Antlers cottage is located in rural Shaftsbury, Vermont. The property is dog and family-friendly, but it also works well for a friends' or couples' getaway.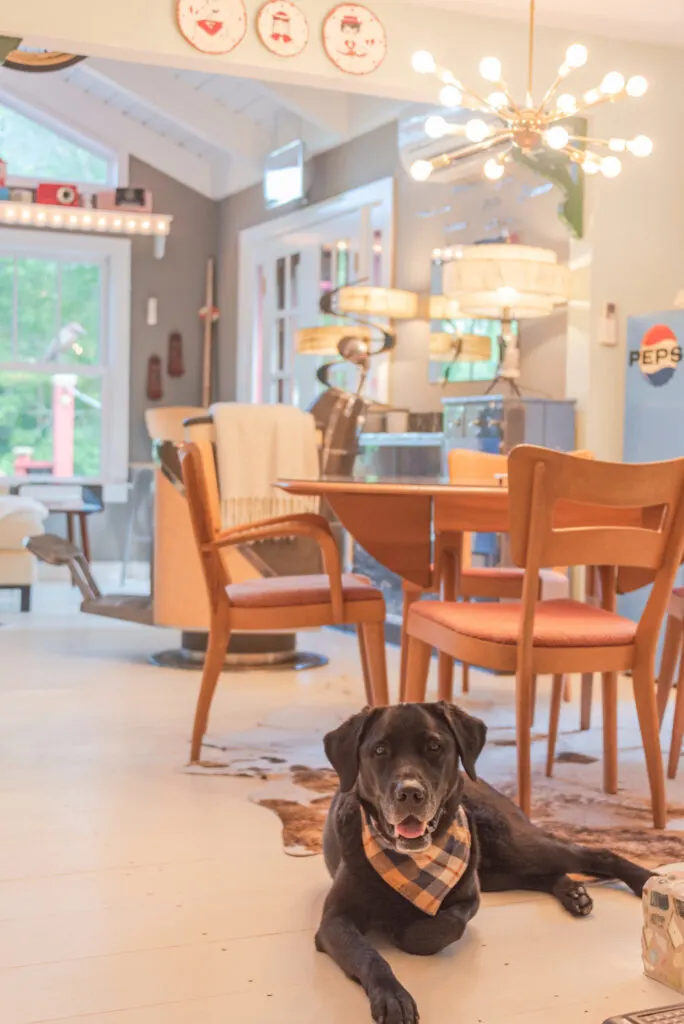 Here are all the best details to make your stay memorable for all the right reasons:
Two bedrooms (one with a queen-size bed and one with a full-size bed)
A cozy sleeping loft (with a custom-size mattress)
A bathroom with a clawfoot tub and shower
Five-person hot tub
Beautiful, gated deck with lounge chairs, a dining area, a hammock, and an outdoor shower
5 acres of lawn and gardens
20 acres of woods
A fire pit with ample seating (s'mores fixings are provided)
A gas and propane grill
Smart TV with Bose surround sound
Gourmet kitchen with designer appliances
A downstairs rec-room with a ping pong table, a fitness area, washer/dryer, retro video games, and a sauna
Explore the Shires of Vermont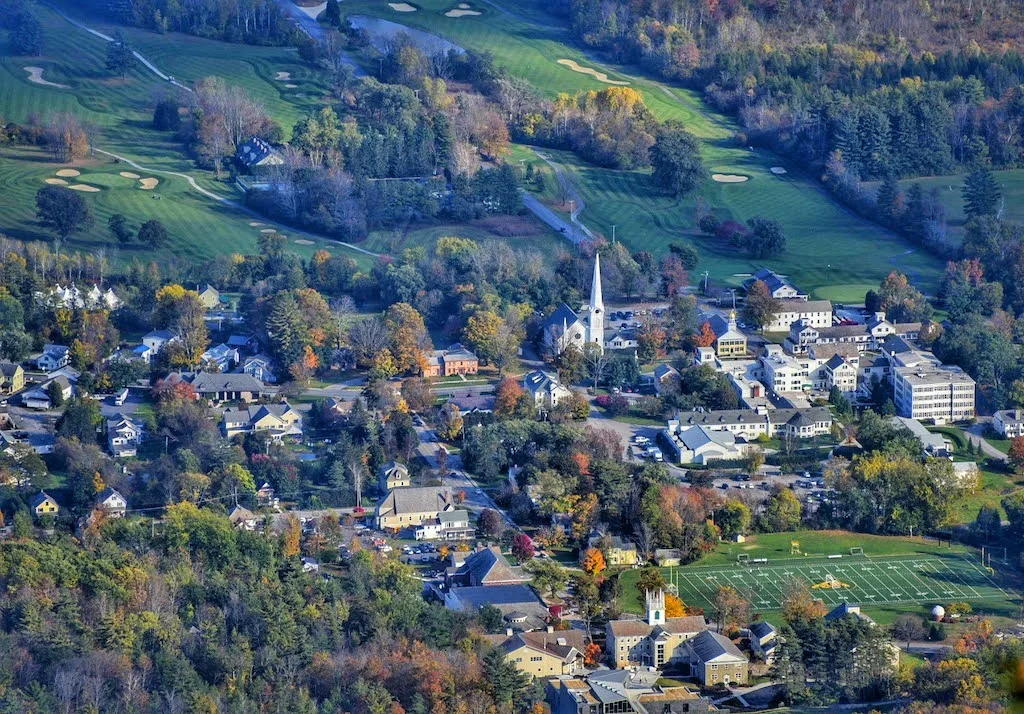 Southwestern Vermont includes the shire towns of Bennington and Manchester, as well as a handful of rural communities and small villages that make up the region known as the Shires of Vermont.
Discover Manchester, Vermont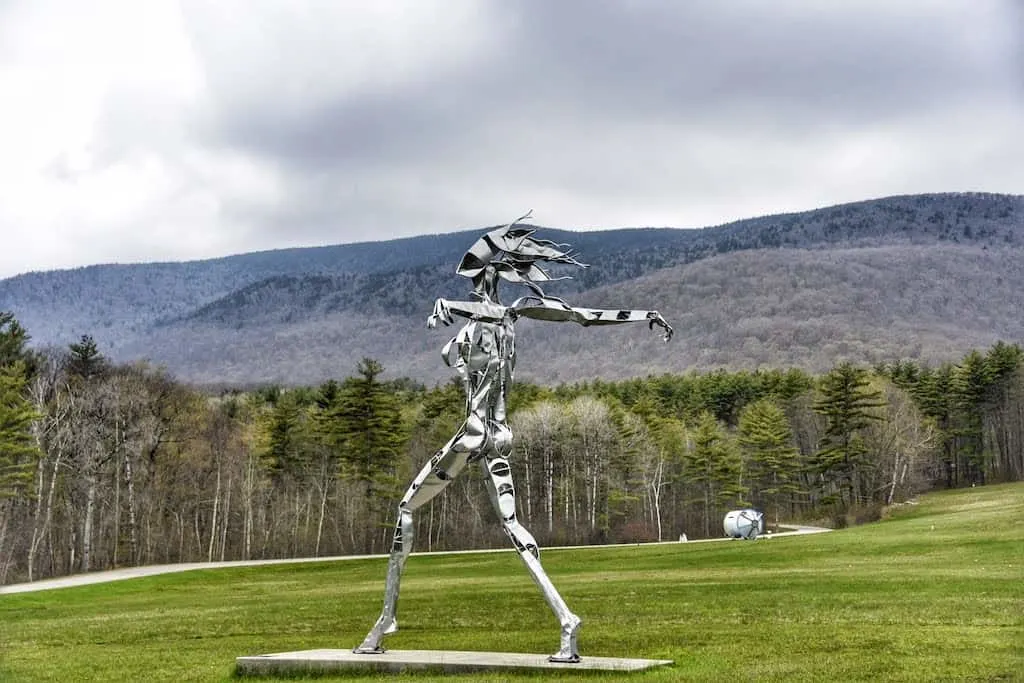 From Velvet Antlers cottage, you can easily hope on Vermont Route 7A and head north to the iconic village of Manchester. Best known for its high-end outlet shopping and mountain scenery, this gem of a town is a day-tripper's dream.
Here are a few things you won't want to miss in Manchester:
Need more ideas? Here are 17 things to do in Manchester, Vermont.
Explore Bennington, Vermont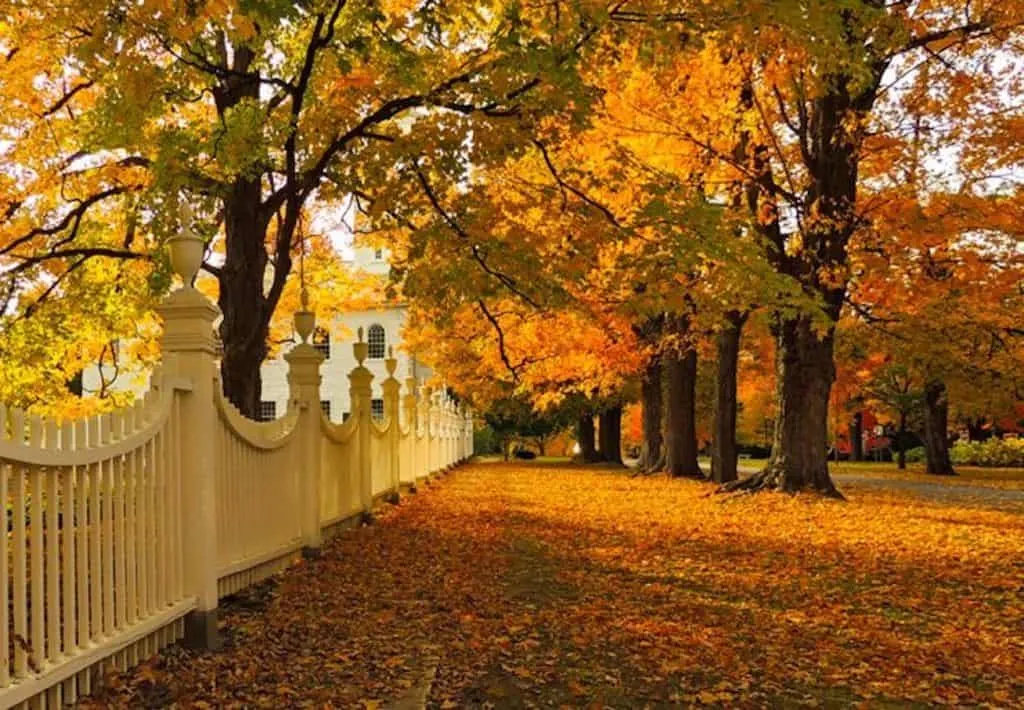 History and outdoor lovers will want to head south to Bennington, where you can hike or bike in the Green Mountains, visit the tallest man-made structure in Vermont, and enjoy a local craft brew afterward.
Here are some of the best things to do in Bennington (our hometown):
Take a Self-Guided Walking Tour of Old Bennington: Stately old homes, the gravesite of Robert Frost, and the beautiful Old First Church are just a few of the historic sites that attract visitors to the village of Old Bennington.
Enjoy the views from the Bennington Battle Monument: Not only is this the tallest structure in Vermont, but it's also the most-visited state historic site.
Discover Vermont art and history at Bennington Museum: Best known for housing the largest collection of Grandma Moses paintings in the world, explore permanent and rotating collections of thought-provoking and history exhibits.
Bike or hike at BATS: Here's a little-known secret — the BATS (Bennington Area Trail Network) system features some of the best views in all of southern Vermont!
Need more ideas? Here are 11 things to do in Bennington, Vermont.
Plan a Shaftsbury, Vermont Staycation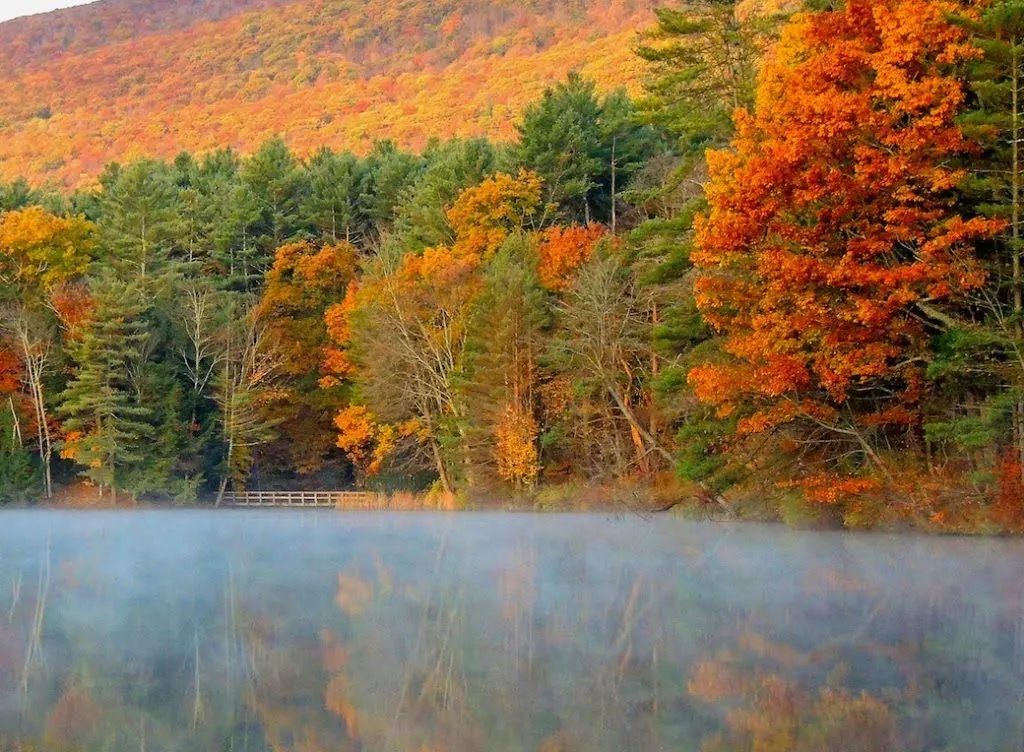 Want to spend less time being a tourist and more time relaxing at your vintage cottage? We don't blame you a bit. Here's a weekend itinerary for when you're craving a staycation!
Shaftsbury is about equidistant between the towns of Manchester and Bennington, and while it may have more cows than residents, this tiny town is home to Vermont's best ice cream, one of the most awesome farm stands in the state, and a beloved state park where you can swim, hike, and picnic while enjoying bucolic mountain views.
All of the outings included here will bring you just a few miles from the cottage, so you can make the most of your time there.
Day 1: Check-in to Velvet Antlers. Sip a glass of wine. Put on your favorite music and unwind in the hot tub.
Day 2: Head to Lake Shaftsbury State Park, where you can picnic on the lawn, walk the one-mile loop around the lake, or go for a swim.
On the way back to the cottage, stop at the Chocolate Barn for their world-famous ice cream, and pick up fresh meats, veggies, and bread from Clear Brook Farm.
Cook up a fantastic meal in Velvet Antler's gourmet kitchen. Enjoy an outdoor fire and roast some marshmallows as the sun sets on your perfect day.
Day 3: Coffee and a relaxing breakfast on the back deck, followed by another soak in the hot tub before packing up and heading back to the real world.
Let's make this trip a reality! Book your stay on Airbnb.
---
Follow us on social media for more Vermont inspiration!
Tara Schatz is a freelance writer, and the founder and editor-in-chief of Vermont Explored and Back Road Ramblers, an American road trip blog. She is also the co-author of the 3rd edition of AMC's Best Day Hikes in Vermont, which was released in May 2023, and the author of 100+ Wonderful Ways to Experience Vermont.